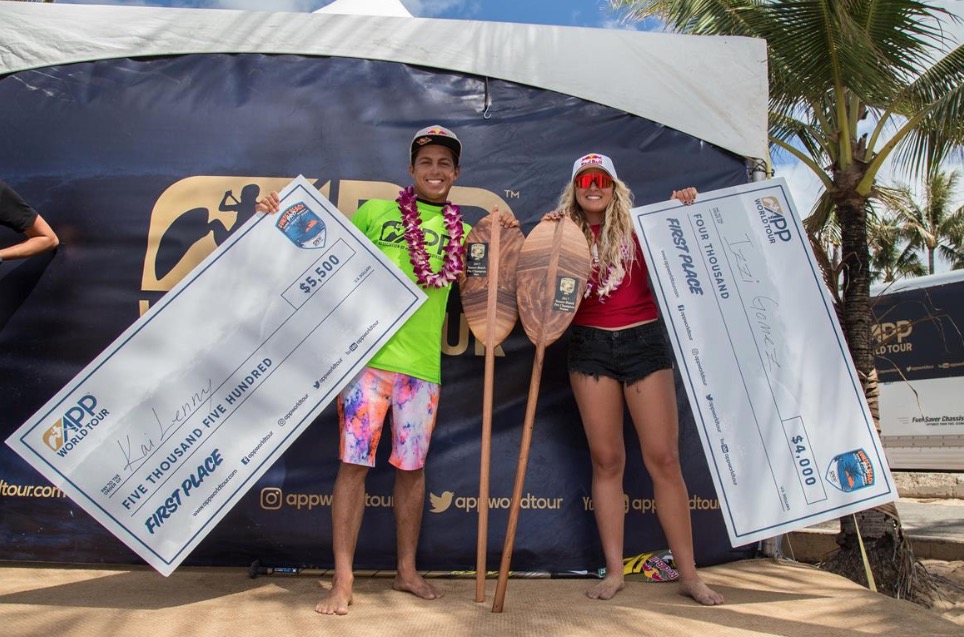 Kai Lenny surges back to the top after a dominant performance to take the 2017 Professional World SUP Surfing Title
Kai Lenny stormed onto the Stand Up Paddle scene as a 17 year old talent, entering the inaugural Sunset Beach Pro back in 2010, hoping to prove to his elders that he had what it took. His talent was much talked about on Maui, so he was awarded a wildcard into the Main event as a result of the Tour and Na Kama Kai's commitment to support the future of the sport through this new World Championship Tour.
Suffice it to say, that Kai Lenny not only proved his worth, but went onto win back to back Sunset Beach Pro and World Titles in 2010/11, then again, in 2013/14 – somehow winning at Sunset for Kai was an indicator for his World Title aspirations.
While the Brazilian phenom Caio Vaz was able to steal the show in 2015/16 for both the Sunset Beach Pro and the World Title, 2017 saw the return of a re-invorgorated Kai Lenny, at the ripe old age of 24, and the setting of a new performance bar at Sunset Beach with an impressive perfect 10-point ride on the Final day of competition.
Kai has flourished across many sports over the past few years, but his dominant presence in Stand Up Paddling has remained unquestionable, and he is once again the man to beat. So a big congratulations to our newly crowned Professonal SUP Surfing World Champion for the 2017 season, Kai Lenny.
Izzi Gomez continues her dominance in the women's field to secure her 4th consecutive APP World Surfing Title
It is hard to believe that Izzi Gomez (Starboard) is not even 18 years old yet, but has already left an incredible legacy in the sport of Stand Up Paddling. And the scary thing about it all, is that she has only just begun her trajectory in the sport, with it all in front of her.
In the early days of her career, Hawaii was her weak point of the year, as she always came back strong to take the 3 World Titles she has secured to date. But in 2017, with a shift to the powerful Sunset Beach in epic conditions, Izzi was able to hold her own and take the victory amidst an increasingly impressive pool of Women talent such as Shakira Westdorp (Starboard), Fiona Wylde (Starboard) and 2013 World Champion Nicole Pacelli from Brazil.
It is an exciting time in the sport for women Stand Up Paddlesurfers, as the new blood such as Annie Reickert and Lara Claydon (Starboard) from Maui are making their presence felt to complement an already stacked field of highly competitive Women. Izzi's 4th World Title is therefore even more credible given this development in the sport as she will be looking to match Kai Lenny's tally in 2018 with an exciting season to come on the APP World Tour.
Bernd Roediger steps up in 2017 to post a 2nd place finish overall
Bernd Roediger has long been a multi talented athlete from Maui, excelling in both Windsurfing and Stand Up Paddling and showcasing his skills at a competitive level in all aspects of the sport. Clearly feeling at home at Sunset Beach, in 2017, Bernd secured his 2nd consecutive final's berth at this event, leaping up two spots to finish in the runner up position to team mate Kai Lenny.
Bernd's versatility and ability in surf of all shapes and sizes is unquestionable, and now his confidence and competitive ability is building to consistently see him perform at the highest level of competitive SUP Surfing.
Fiona Wylde catches one of the 'waves of the event' and posts another impressive 2nd place finish on the APP World Surfing Tour
Fiona Wylde (Starboard) secured the APP World Racing Title in 2016, and also made a statement as to her intentions in Surfing with an impressive 2nd place finish in 2016 on the Surfing World Tour. This doubtless positions her as one of the most well rounded athletes in the sport and a true double threat.
In 2017, as the rounds progressed at Sunset, it quickly became clear that Fiona was a favorite for the event win, with dominant performances throughout and as she dropped into what was without doubt one of the waves of the whole event. Her comfort level in the waves of consequence at Sunset Beach was clear, and her ability to read the complicated line up impressive.
While it didn't take her all the way to a win in 2017, she was able to finish runner up for the season and there is no doubt that Fiona is one of the leading contenders for 2018, both in Surfing and Racing, but also for the Overall Title.
Giorgio Gomez climbs the ranks to finish in 3rd place overall in 2017, with an impressive performance on his backhand at Sunset
Giorgio Gomez has long been one of the up and coming US talents in SUP Surfing, with a dynamic and radical style that reflects his shortboard background. However over the last season, there has been a clear progression in both his contest smarts, but also his comfort level in waves of consequence: surfing Sunset on your backhand is a great deal more challenging than on your forehand, something that is clearly reflected not only in the results on the APP World Tour over the past 8 years, but also across all surfng contests at Sunset Beach.
In 2017, Giorgio was able to figure out the line up and adapt his vertical backhand attack to devastating effect, taking out some of the biggest names in the sport on his way to the final. A podium, 3rd place finish is a great result for Giorgio and a clear sign of things to come for this young American talent as he will be able to approach the 2018 season with newly found confidence and experience that will serve him well in his quest for a World Title.
Shakira Westdorp once again shows signs of brilliance to finish in 3rd overall as she guns for the APP World Surfing Title
Shakira Westdorp (Starboard) is no stranger to heavy waves, and her comfort level was illustrated at this year's Sunset Beach Pro, as she attacked the line up and dominated her heats all the way to the final. Her progressive and aggressive style of surfing has caught the judges eye and establishes her as one of the prime contenders for a World Title over the coming years.
Finishing in 3rd place for 2017 will instill further confidence in her ability, but also experience to be able to navigate the challenging pathway to the APP World Title, something that she is clearly capable of securing, but has eluded her thus far.
World Champions will be Officially crowned and celebrated at an Official APP event to be announced
So congratulations to our new World Champions, Kai Lenny (Title #5) and Izzi Gomez (Title #4) and to all our Podium Finishers. We will be hosting an Official World Championship Crowning event before year's end at a location and time to be announced shortly. Stay tuned for more at www.appworldtour.com and across our social media channels @appworldtour
About the APP World Tour and the Waterman League
The Waterman League is an event management and media production company headquartered in Hawaii focused on developing multi-disciplined water sports. The term 'waterman' refers to versatile athletes who can engage in various forms of water sports at the highest level.
As founders of the Professional World Championships for paddlesurfing (also known as stand-up paddling), the Waterman League has been crowning Men's and Women's Professional World Champions for both racing and surfing since 2010, with flagship events across the Americas, Asia, Europe and the Middle East, now branded as the APP World Tour.
The APP World Tour produces a complete inventory of programming, including live and post produced broadcasts from all its events, with distribution to over 100 countries worldwide via premier global networks such as CBS Sports and Fox Sports Australia, supported by IMG Media.
Information is available at appworldtour.com and fans can follow events @appworldtour on Facebook and Instagram.