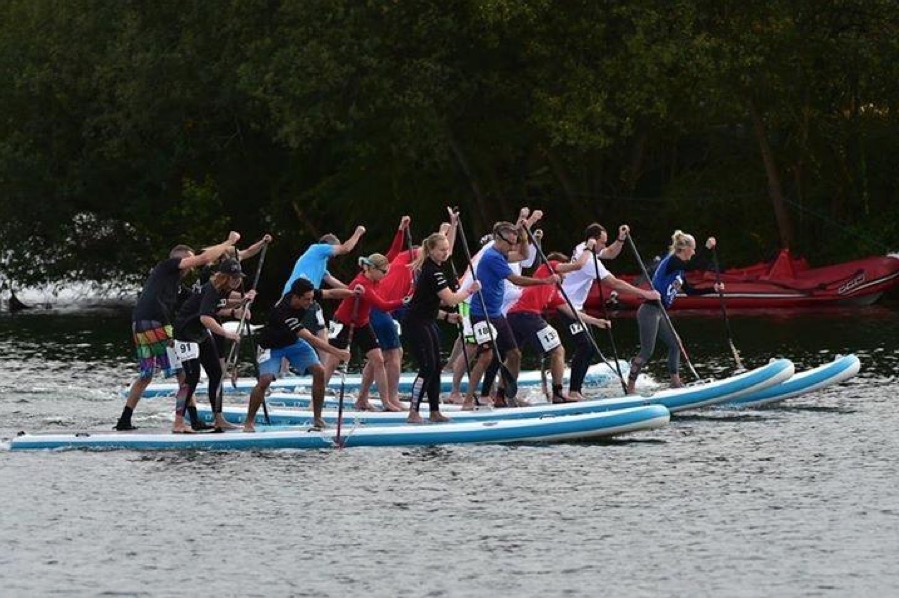 The British SUP Club Championships is more than just another race in the UK SUP calendar. It's not just about individuals competing for their own podium results. It's the club team results at the end of the day that really matters. This format of racing with the SUP clubs at the heart of the event has given more people their first taste of racing as a team, than any other event in the UK and maybe the world. At SUPboarder we look forward to seeing race formats like this happening around the world in the future. But until then, we hear from Lauren Newman & Fiona Batson from Bray Lake Watersports, about the one and only British SUP Club Championships…
What it takes to put on the biggest SUP competitive race in the UK?
"A lot of hard work, endless cups of coffee / tea (with biscuits of course)"
On the 30th September 224 paddlers took part in the British SUP Club Championships at Bray Lake Watersports making it the biggest competitive paddle board race in the UK.
Now in its 5th year, the Club Championships have shown to be one of the UK's most popular events, with participants and clubs consistently growing year on year, 2017 saw 16 clubs from around the UK including 6 attending for the first time, descend on Bray Lake with paddlers aged from 5 years old to 70 years old.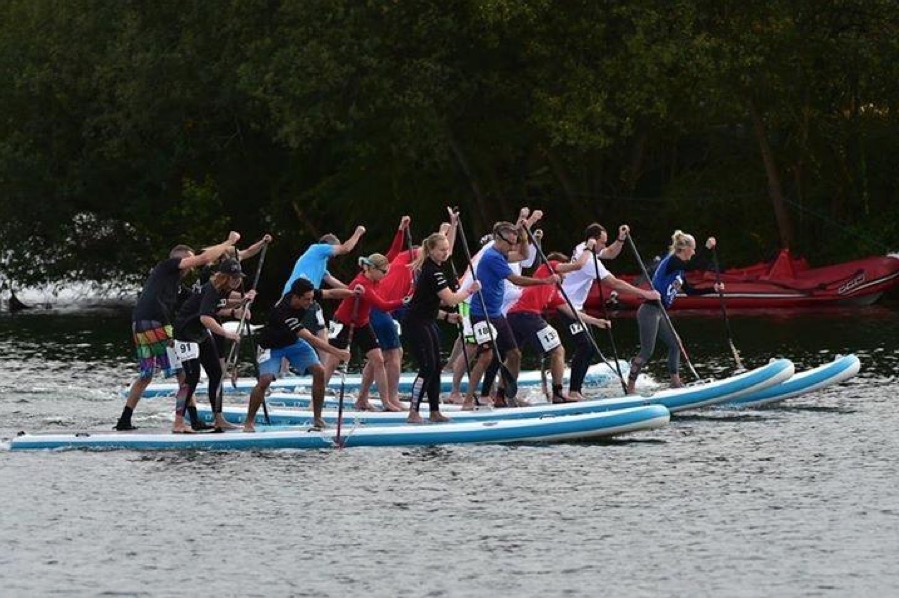 This year saw Bay SUP keeping hold of both the British SUP Club Champion and Junior SUP Club Champion title, with newcomers Team N1SCO in second place and Bray Lake in third. It was a fantastic day, with SUP'ers taking part in distance &
technical races then to ensure the paddlers didn't have too much time to rest, individual sprint and team relay events took place immediately after, followed by XL and Dragon racing. Whilst this was all going on, the juniors were busy doing their own events, consisting of sprint, survivor, distance and technical races. This year we had 40 juniors racing with 20 of them under 10 and if we can keep them keen the future for SUP looks bright.
The Club Champs takes around 9 months of work to put on and requires a lot of attention to detail and a brilliant team.
Each year we aim to give out as many medals and trophies as possible and to keep their design fresh and different and remembering to cover all the categories being raced. With over 200 people wanting to race we needed to put on a lot of races and have a lot of medals, this year we handed out 60 trophies and 162 medals.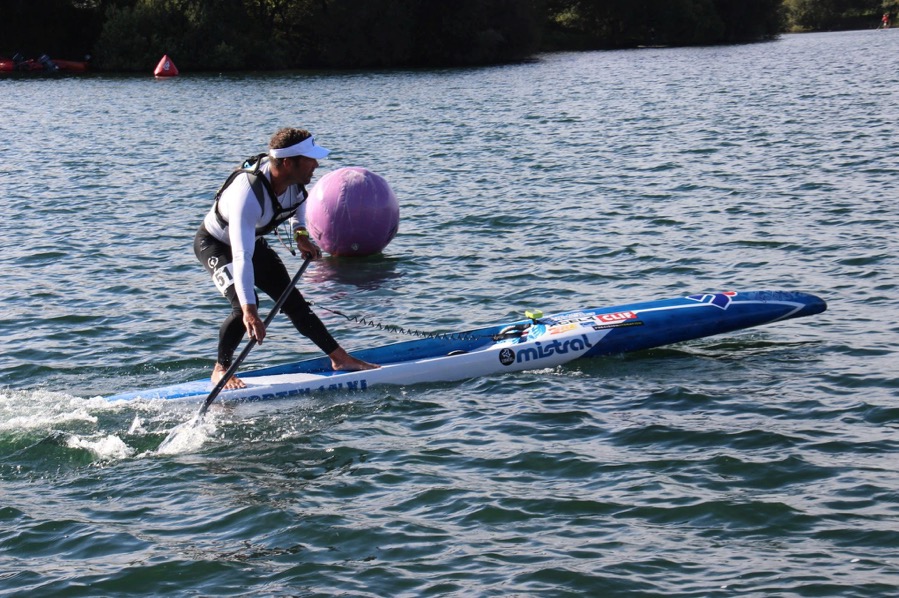 Club Packs were made up of all the information. Hundreds of emails were sent, countless images of the lake were printed to work out courses and even the parking was a whole challenge in itself.
This year we had fantastic support from Fanatic, Starboard, Red Paddle Company & Black Project who sponsored races. Palm & Sunnto who supplied goodies for winners. This year we also reached out to brands outside of the sport and were lucky enough for Mcvities and Cano water to donate some of their products for paddlers so keep them hydrated and well nourished for the day.
The event started early doors with parking from 6am and people queueing for bacon sandwiches from 7am and getting warmed up for their races. The races started at 10am and continued on till 5.30pm.
The day had a great atmosphere with people cheering on their teams, countless photos taken and smiles all around.
After the races had come to an end we celebrated the winners and handed out all the trophies meanwhile the kitchen was getting ready to feed the masses and so the BBQ kicked off 200 burgers and countless pots of coleslaw were used.
I'm not sure anyone can say what time it finished as parties around the lake carried on into the night but isn't that a sign of a great day.
The British SUP Club Championships started back in 2013. Bray Lake were given the opportunity to run a SUP event at Dorney Lake by F3 events a local Triathlon/Swim events company alongside one of their own events. After a few drinks Simon Frost and Sam Ross came up with the club race format allowing people to not only race for their own glory but for the glory of their club too with the main aim of getting individuals to galvanise SUPers to formalise groups into clubs and to get those new SUP into some fun racing while being supported by their local club.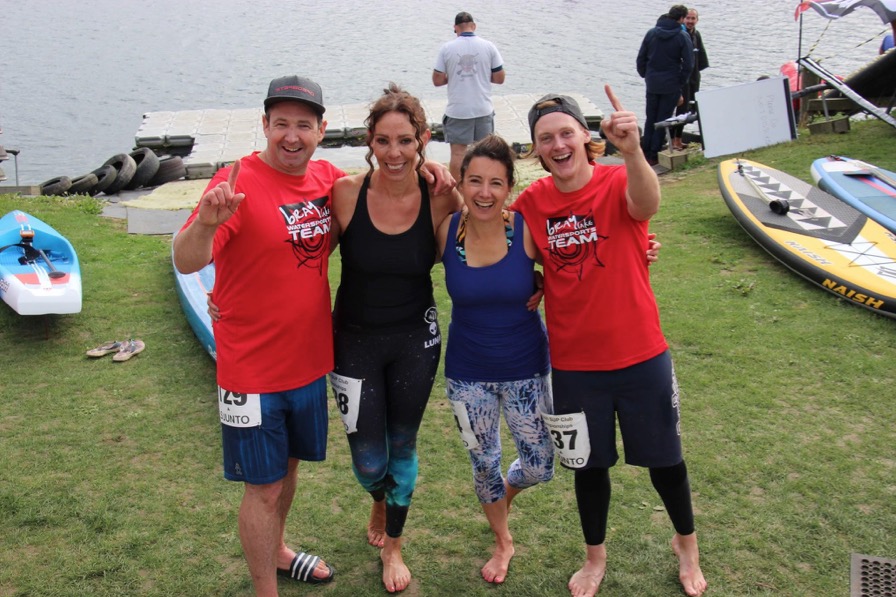 BlueChip: "We at Blue Chip had a lovely day and it was a great introduction for those who have never raced to get the feel of it and supported by a team. Also good for seasoned competitors as plenty of opposition! Great fun races too – don't lose those!!"
1066 SUP: "Thank you so much for a fantastically organised event! The 1066 team all really enjoyed it and we'll definitely be back next year"
BaySUP: "A fantastic event run by Bray Lake and Sam Ross Watersports. Great to see the numbers increasing each year which means clubs are thriving which is where the future is and always will be"
Thomas Harrison: You all did a brilliant job and I thoroughly enjoyed the day. It's the first SUP race I've done and loved it. Also I'd like to thank Marcus (Team Bray) who beat me fair and square it was a privilege to race against him