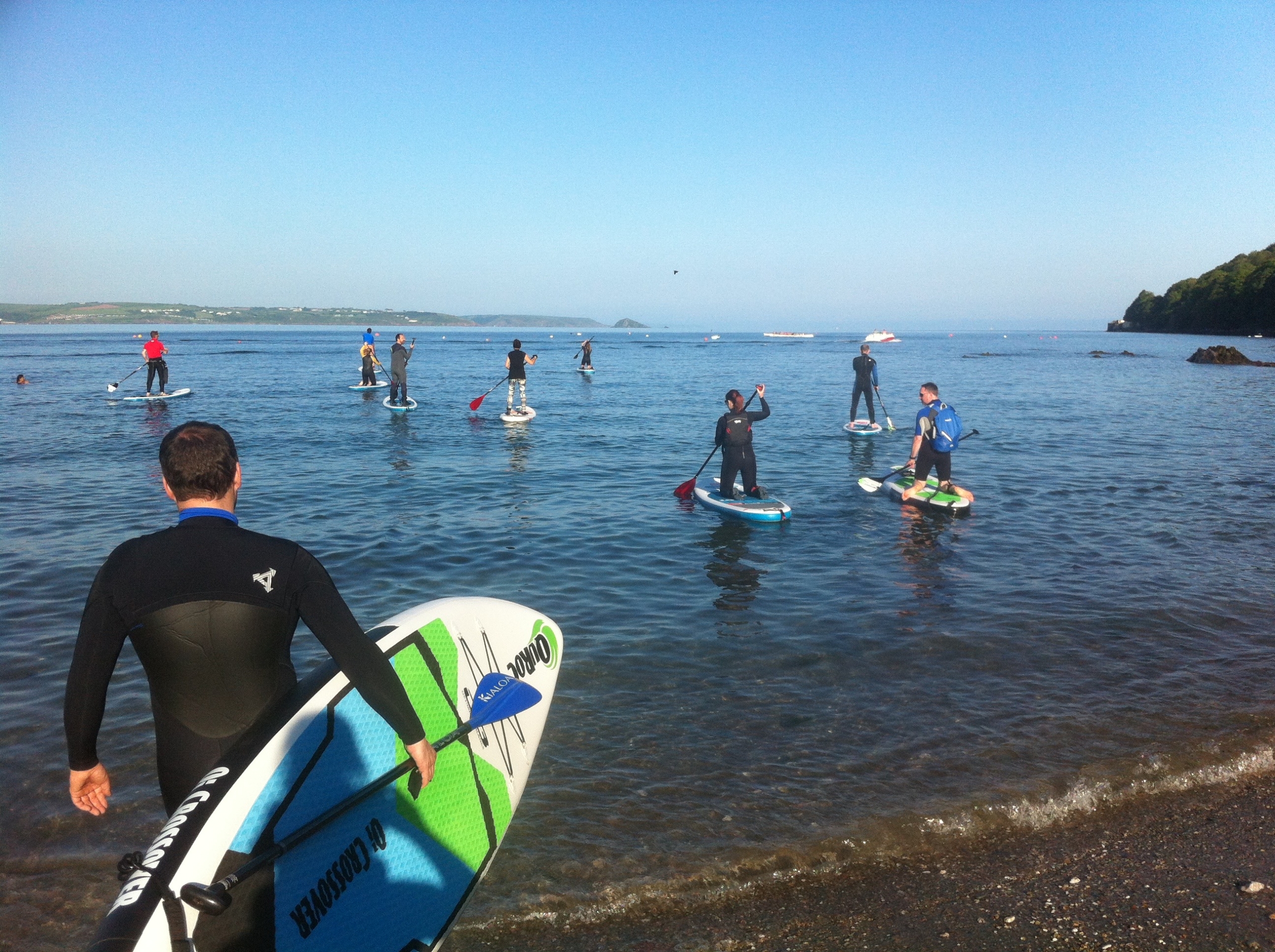 Gone are the days when you would go paddleboarding at your local beach and people would stop and stare at you walking on water, and then you'd spend 10 minutes explaining what Stand Up Paddleboarding is on returning to the beach. SUP is now much more well known to the general public and is being participated by hundreds and thousands of people around the world each year. But what knowledge has also become very well known to the general public is the cost of SUPs too! Whether it be an inflatable (iSUP) or hard board they're not cheap. And unfortunately it's the high price of SUP boards that is attracting some lowlife to our happy healthy sport.
Just recently a local SUP surf school in South Devon had 9 of their inflatable Red Paddle Co boards stolen from the back of their trailer early one evening. As you can imagine the local SUP and surf community are outraged about the loss of these boards, from a company that it well respected and has got thousands of people onto the water over the last few years.
Here we talk about looking after your boards, what you can do if your board becomes stolen and what to look out for if you are buying used kit on the second hand market…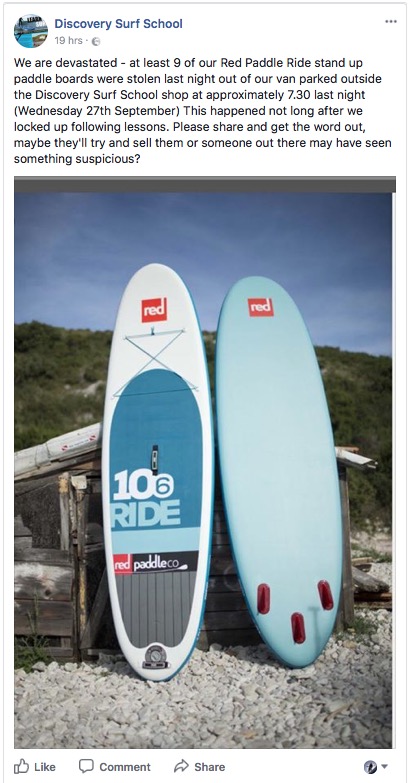 We are devastated – at least 9 of our Red Paddle Ride stand up paddle boards were stolen last night out of our van parked outside the Discovery Surf School shop at approximately 7.30 last night (Wednesday 27th September) This happened not long after we locked up following lessons. Please share and get the word out, maybe they'll try and sell them or someone out there may have seen something suspicious? Words : www.discoverysurf.com
Not a one off
Unfortunately this is not an isolated case. Over the past 5 years since we have been running SUPboarder we have heard of SUP thefts increasing around the world. And the good trusty, as tough as nails iSUP is more often than not the board of choice for the thief – being easy to transport and sell on various selling sites across the world.
So what can you do about it?….
Keep an eye on it
Obviously you're going to want to make sure your SUP isn't lying in your front lawn or open garage over night that's for sure. But it looks like we are all going to have to be a bit more careful about where we leave them in the day too, on the beach or when we are having a bite to eat at lunchtime. Even more so if you own a well known board brand that many people have and recognise as being wort decent money.
On the roof of the car it is always worth locking it on if you are going to leave it for a long period of time, especialy out of view.
Serial numbers
Pretty much every SUP made today has a serial number of some kind. Marked by the fin box, leash plug or by the hard board air value. If you have an iSUP it's normally around the inflation valve or leash. The best thing to do is to take a picture of the serial number. Then if ever your board is stolen you will have a record of its personal ID number which might be enough to provide its your board to the police or a seller, if you manage to track it down. This is a must for the common and most popular models of boards.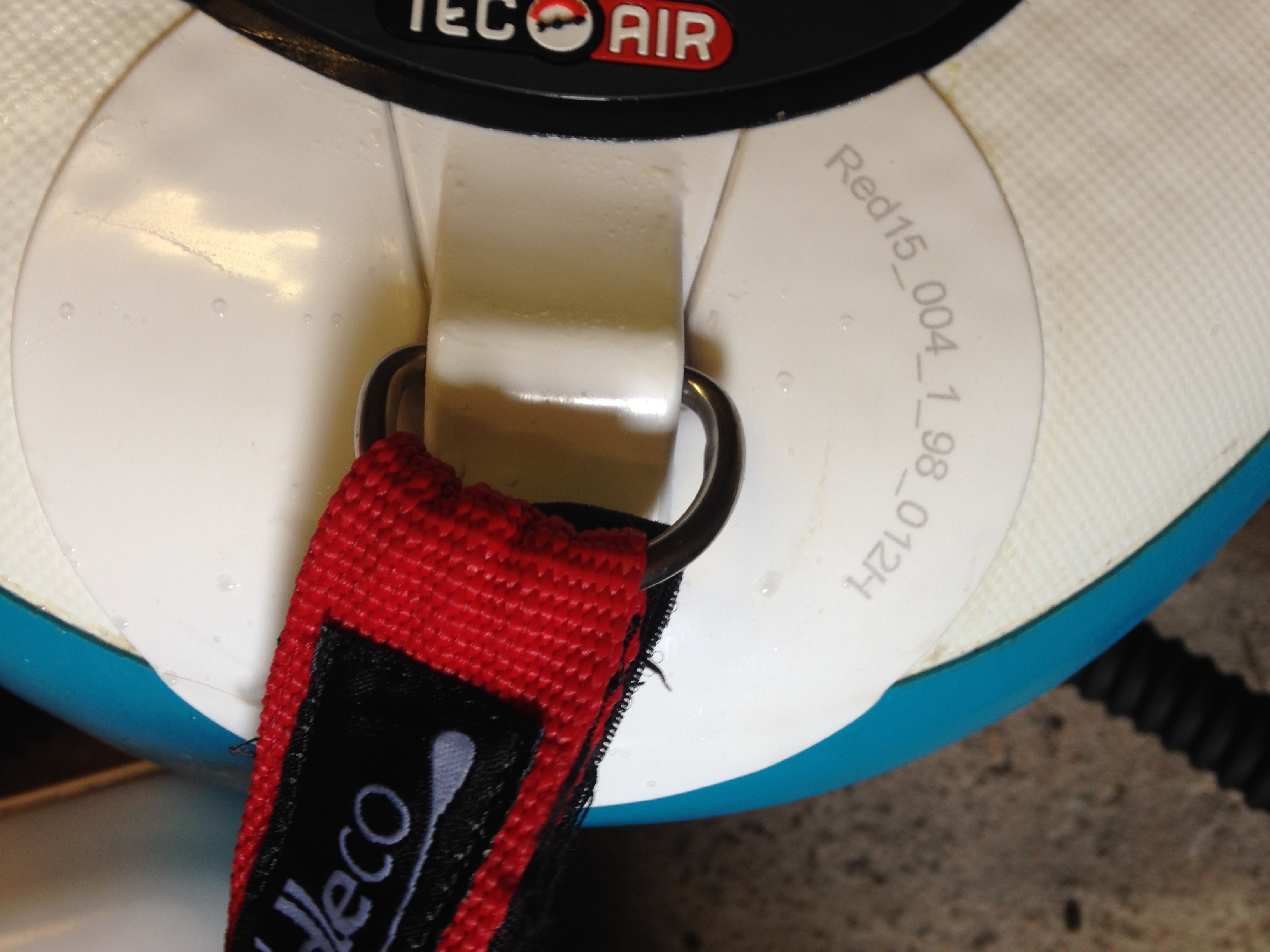 When buying a used SUP
If you going to be buying a used SUP, which most of us will be at some point in our paddling lives, keep an eye out for the unusual:
Someone who has no idea what they are selling and just looks out of place selling it!
If the board has been heavily used/sun bleached deck pad etc… ask how old it is and is it an ex school board? They should be able to tell you about the boards history.
Buying ex-school equipment is very common and you will usually get a good deal. But just ask yourself does this all add up? Why is it cheap?
Does it come with all the accessories ie… bag, pump and fins? 90% of boards will be complete including everything but this isn't always the case for all ex-school boards. Many SUP schools may choose to buy their iSUP boards without bags and pumps to keep the cost down. If you are buying a board like this, the seller should be able to tell you why it isn't a full package. If not, then think again!
Check serial number isn't damaged.
Unfortunately board theft will always be a problem around the world, but by being aware of the risks and keeping your kit in sight as much as possible you can reduce the chances of it happing to you. We hope you find these tips useful and we hope that this feature reaches someone who can help a SUP school get back to what they do best….
If you know anything about these missing boards or can help Discovery Surf School track down any of their kit you can contact them via their Facebook page here : www.facebook.com/discoverysurfschool.