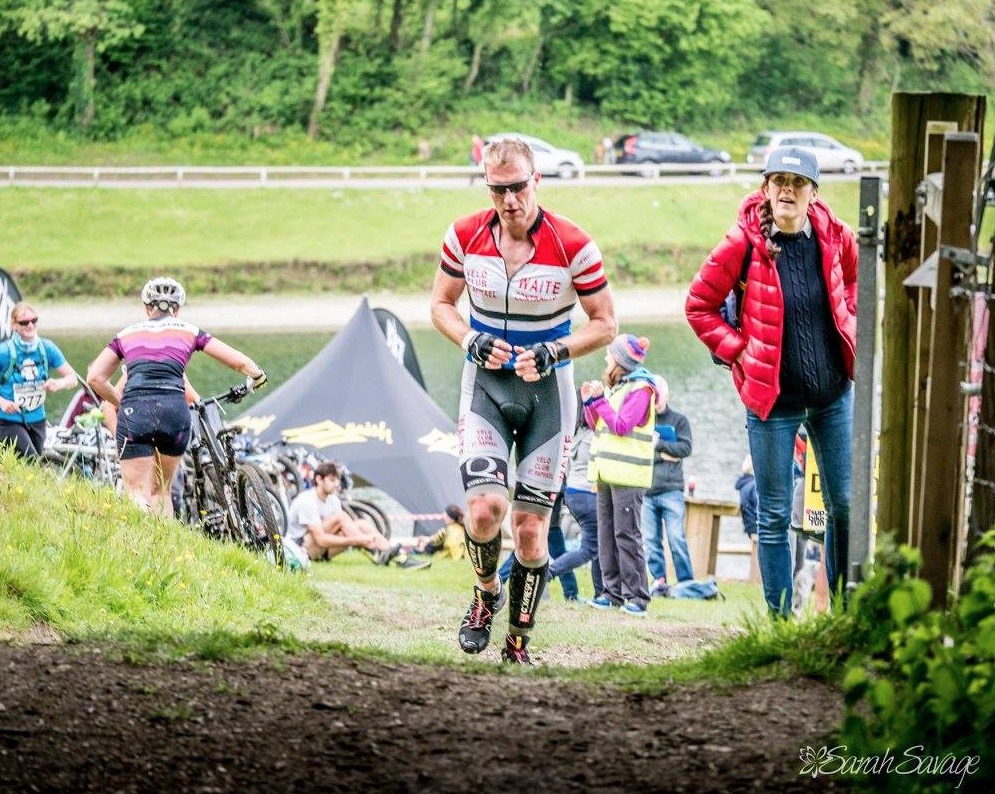 SUP triathlons… what's involved, what do you need and how do you train for one? Experienced triathlete and passionate paddleboarder Bryce Dyer is not afraid of the wet and muddy stuff! And Bryce explains how despite having completed at a high sporting level himself, the new breed of triathlons, such as supbikerun are great fun for all ages and abilities, and accessible for anyone wanting to give them a go. So if you're interested in doing something different with your SUP this summer read on…
A survivors beginners guide to SUP triathlons!
What is a triathlon? Well, in simple terms it's generally always been seen as an endurance event that comprises three separate phases of swimming, biking and running that you undertake consecutively. It challenges a range of skills and abilities and depending on which bar story you believe, originated in France well over a century ago. Roll the clocks forward a bit and around 3-4 years ago, some bright spark decided it might be better if we all stayed a little drier for a change so switched out the swim for a SUP leg instead. As a result, the SUP triathlon was born and this new style of challenge is another variation for us to choose from in the rich tapestry of SUP paddling and racing.
My own voyage into triathlon started way back in 2002. In fact, it was helped along by someone very familiar from the UK SUP community as it was multiple national SUP champion (and then elite triathlete) Ryan James who took me out for my first hard bike ride. He rode, I blew and the rest of the story ends in a sugar crashed haze in a local Sainsbury's. (Note: 12 years later, he did the same to me again when I bought my first SUP race board – I really should stop asking him).
When you read about its early accounts, triathlon was generally undertaken by those who just wanted to test their limits. Egos were rare, lycra even rarer and sports nutrition generally only went as far as a jam donut, some Jelly Babies and a wing and prayer. In many ways though, events like SUPbikerun are closer to triathlons original concept (and in particular, the Park Run or cycle sportif concept) than they are with contemporary swim bike run triathlons. It's not a race, it's a challenge. Instead, in the 4 SUP triathlons I've done, I've seen all shapes and sizes, all ages and backgrounds and a start time of your own choosing which has allowed me those 'special' moments to relieve yourself in the toilets with those pre-event nerves over and over again until you are ready to finally start and get on it.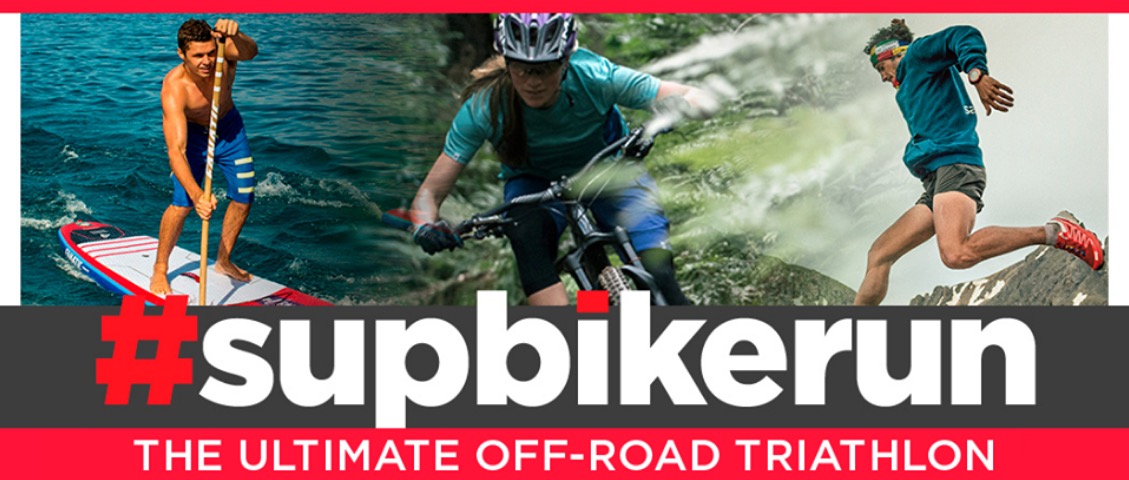 So if you're up for the challenge, what do you need? The reality is a board and paddle (although these can often be hired), a bike, and a pair of running shoes. That's it. The type of board doesn't matter. Sure, you'll see clowns like me on some kind of high octane race board but we're few in number. The majority have grabbed long or short, inflatable or rigid and made their way down to the water's edge. As for the cycle leg (which comes second), a mountain bike is a good place to start – particularly if it's an offroad event. The bikes are comfortable, durable and generally reliable. Suspension forks aren't mandatory but it can smooth the ride and make your day a little more comfortable. You'll need a helmet too. As for the run, a (broken in!) pair of running shoes that you're willing to get muddy are fine.
The distances of such events vary from those that might take an hour or so upto something of four hours plus. That length isn't to be underestimated (particularly as you're going to burn through a lot more calories doing this than if you'd just gone for a long paddle). It's good to stretch your limits but its sensible to go for a distance that you think you can achieve without the need for supplemental oxygen and a priest reading you your last rites for your first one.
With this in mind, how do you train for one? That's a more complex question and would be based upon your background, your goals and your current level of fitness. We'll save that one for another day. However, if you're cautious, it is possible just to rock up and do one without doing too much specific training at all. In fact, for all 4 of my experiences I did no more running than a couple of short 20 minute runs the week before to make sure I wouldn't suffer too much post-race soreness of my body betting on red (and likely coming up black) when dealing with the impact of gravity. For cycling, putting a few rides in of at least the race distance is as useful for checking the bikes reliability as it is for your confidence.
As things stand though, I've listed a few tips for you to think about that might help you through your first experience:
If it's your first one, train to

complete

, not

compete

. These events are relaxed affairs and if you haven't done any kind of triathlon or multisport event before, go into it with the target of wishing to get to the finish line. Push things too hard or put too much pressure on yourself to achieve an arbitrary time and you'll possibly end up unnecessarily disappointed or unable to finish at all. Start conservatively – I don't recall hearing anyone ever say they underpaced a triathlon. It's an aerobic effort and you'd be working at an intensity that you could likely hold a strained conversation if needed. As far as everyone is concerned, it's an adventure, not a race.
Joe Athlete is rare. Job Normal is the norm. When you arrive at your event you may well see the odd soul looking a tad serious or someone with equipment that makes yours look like something out of the dark ages. Don't worry about it. That's just as likely to be indicative of their wallet, not their actual ability. I like using good gear but in my first bike time trial a few years back, I was caught, dropped and then thrashed by someone riding a bike with panniers. I can guarantee that most people there are as nervous as you and are more Alistair Vauxhall driver then Alistair Brownlea. Don't let your imagination work overtime.
Triathlon is one sport, not three. Try and look at the event as one continuous act of you in motion. The clock doesn't stop when you do. As a result, it's sometimes worth backing off in your stronger legs to save energy for your weaker ones. In addition, if you need to slow down, that's fine – but keep moving forward. Walking is slower than running but it's still covering the distance. There's no shame in it and everyone making it to the end is equal.
Energy is like a bucket with a hole in it. This is an analogy I use a lot. No matter how much you eat or drink, your body can't process it and store it at the rate you'll likely be burning through it. By eating and drinking, you're keeping that bucket fuller but in the end, it's still going to run out. The key is delaying that point until you're at the motorway services on the way home worrying about whether to have cheese with that Whopper than being halfway through the bike leg. As a result, use sports drinks, energy gels and soft bars throughout your race (and try these beforehand). Little and often. Use the transitions to neck a gel quickly and make sure that you have access to fluids on the bike (as this is the easiest place to get it on board).
Perform 'brick' workouts. In triathlon parlance, bricks are training sessions that bolt together two or more disciplines. In other words, going for a bike ride and then going for a run immediately after it. The key thing that novices don't realise is that biking or running isn't the same as biking and running. The blood has to move from some muscles to new ones and go from rolling along to then dealing with your body mass. For myself last year (at 6ft 3 and then pushing 15 stone), that's no joke. I looked like an extra from the Walking Dead for 10 minutes at least. However, you can train to minimise this sensation. Doing a 20 minute bike ride and then running for 5-10 minutes off of it is a nice little session to drop in a few times before you do your first one to get used to the sensation of your legs not being physically available for a little while. Running off the bike is like leaving a pub after midnight on New Year's but your legs will return….. eventually.
Transitions are free speed. As I mentioned earlier, the clock doesn't stop so when you move from one discipline to another, this is known as 'transition'. There are two of these in a triathlon T1 (board to bike) and T2 (bike to run). You might find you want to put a pair of socks on or get some fluid down you but try not to spend any more time here than you need to. If you do a quick search online you'll see the faster people nearly always have the faster transitions. They get in, get sorted and then get going. Get what you need but don't make a package holiday out of it.
Accept certain simple truths that somewhere along the line, your wheels may well come off…… but that's ok (as so will everyone else's). This is one of the biggest and most useful psychological techniques I've ever learnt in sport. There is a pretty good chance the race is going to prove mentally or physically challenging at some point. This is fine – if it wasn't a challenge, what's the point ? Take comfort in the fact everyone is going to go through this whether they are at the front or at the back of the field. Beyond the smiles, scowls or bravado, things will get challenging sooner or later. The greater the challenge, the greater the satisfaction (sounds like a T' Shirt slogan). Trust me, you'll be glad you did it at the end.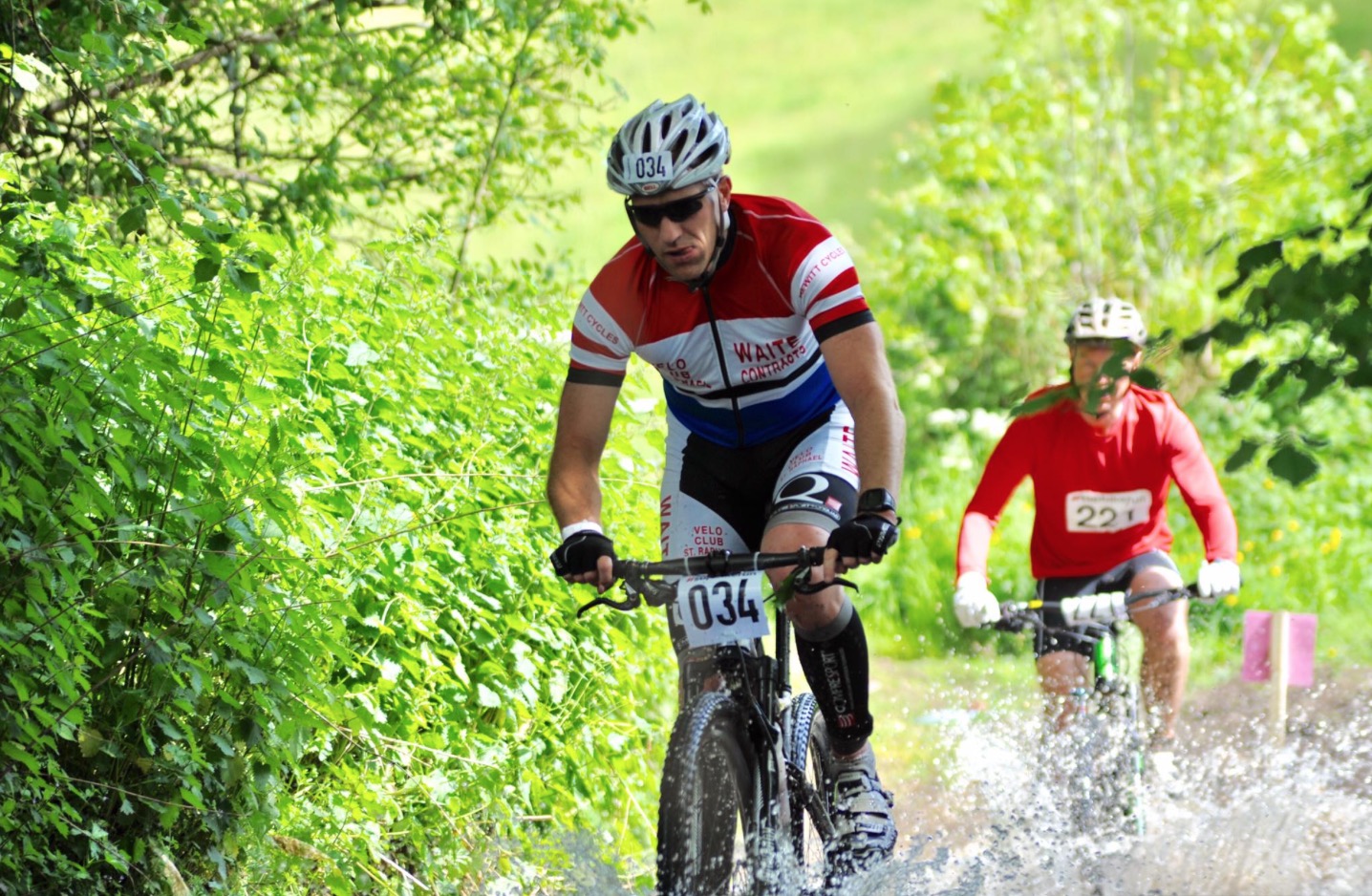 Dr Bryce Dyer competed in his age group for the GB team for years, won best rookie at the Quadrathlon World Championships and once had the ridiculous idea of doing an Ironman in shark infested waters in a silver wetsuit (thereby being blissfully ignorant that he was resembling a 6ft fishing lure). He now races SUP's for Naish UK.
For more information about supbikerun events check out their website.
The next supbikerun event will be taking part at Clumber Park on 2nd-3rd Sept 2017. Don't miss out.