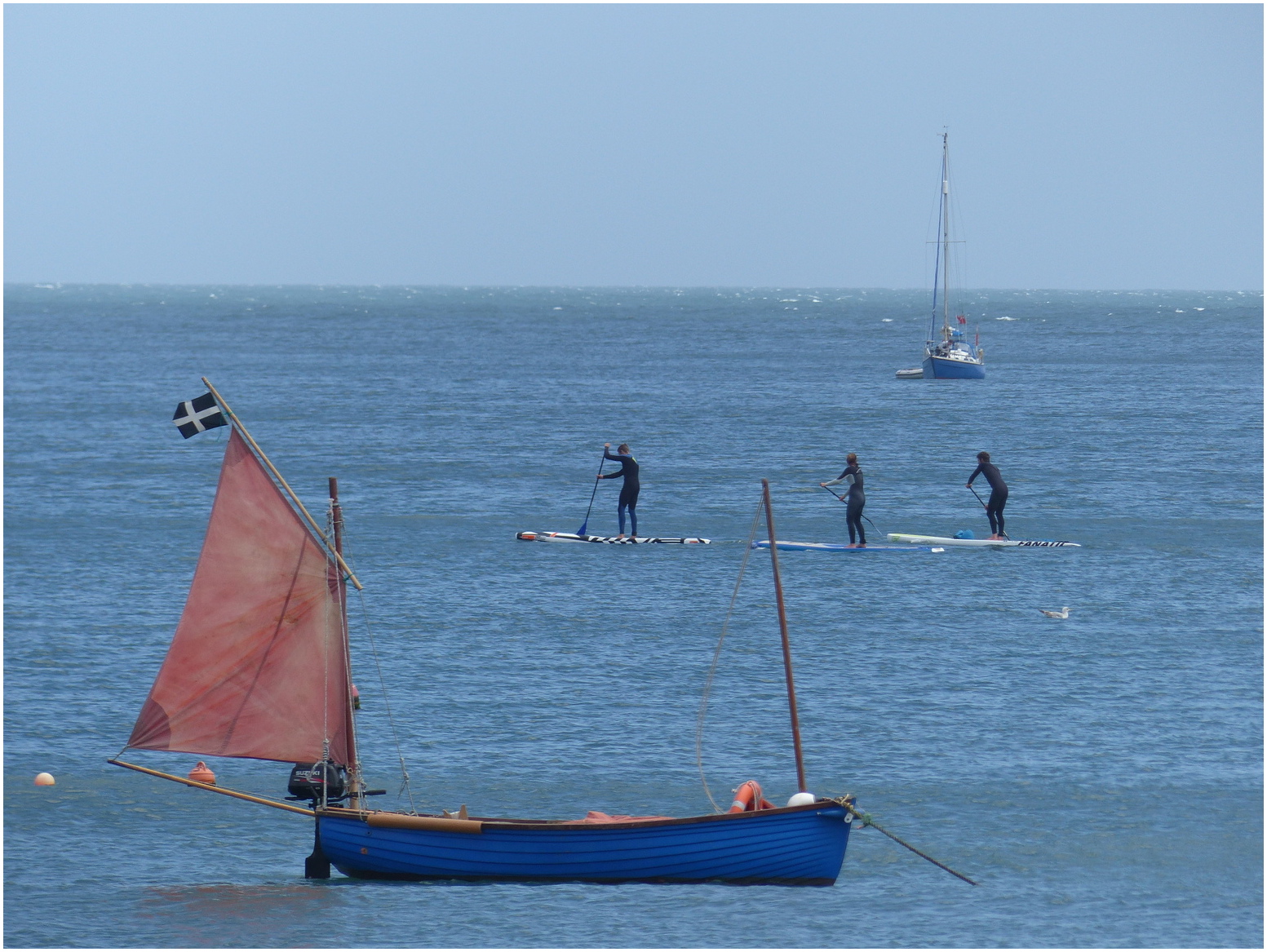 So you have the weather forecasting sorted and you know where to get your weather forecast from and how to read it (until they change the layout anyway!) But do you know where to paddle in your local area in certain weather conditions? Or maybe you're going on hoilday and you want to find some nice places to surf or flat paddle.
To help you find the right spot on the day you will need to be looking at weather forecast sites like we covered in the last feature and also looking at the possible paddling areas from a birds eye view. In this feature we are going to be covering how to get the most out of your paddling day, by considering the local land and seascape and up to date weather forecasts, and predicting what the conditions will be like at different spots in the local area…
Get orientated
Wherever you are in the world, to get the most out of your paddling it's so important to have a good understanding of your surrounding area. Knowing how the landscape and seascape work together, which way the beach faces and which way the rivers flow is vital to be able to make good paddling choices. That doesn't mean you always have to know which way is north at any give time! It means if you can understand which cliffs and hills provide shelter from winds in certain directions you'll nearly always be able to find a suitable paddling spot, even when the weather seems against you. Choosing the right location on the day can make all the difference between having a great paddle and an awful paddle! So it's well worth knowing what your local paddling area looks like and making the right choice!
The easiest way to do this is to get the map out. Whether its a traditional paper one or google earth both are great ways to quickly and easily identify potential paddling locations. You'll often be surprised to see how much water there is nearby and how many paddling options there are!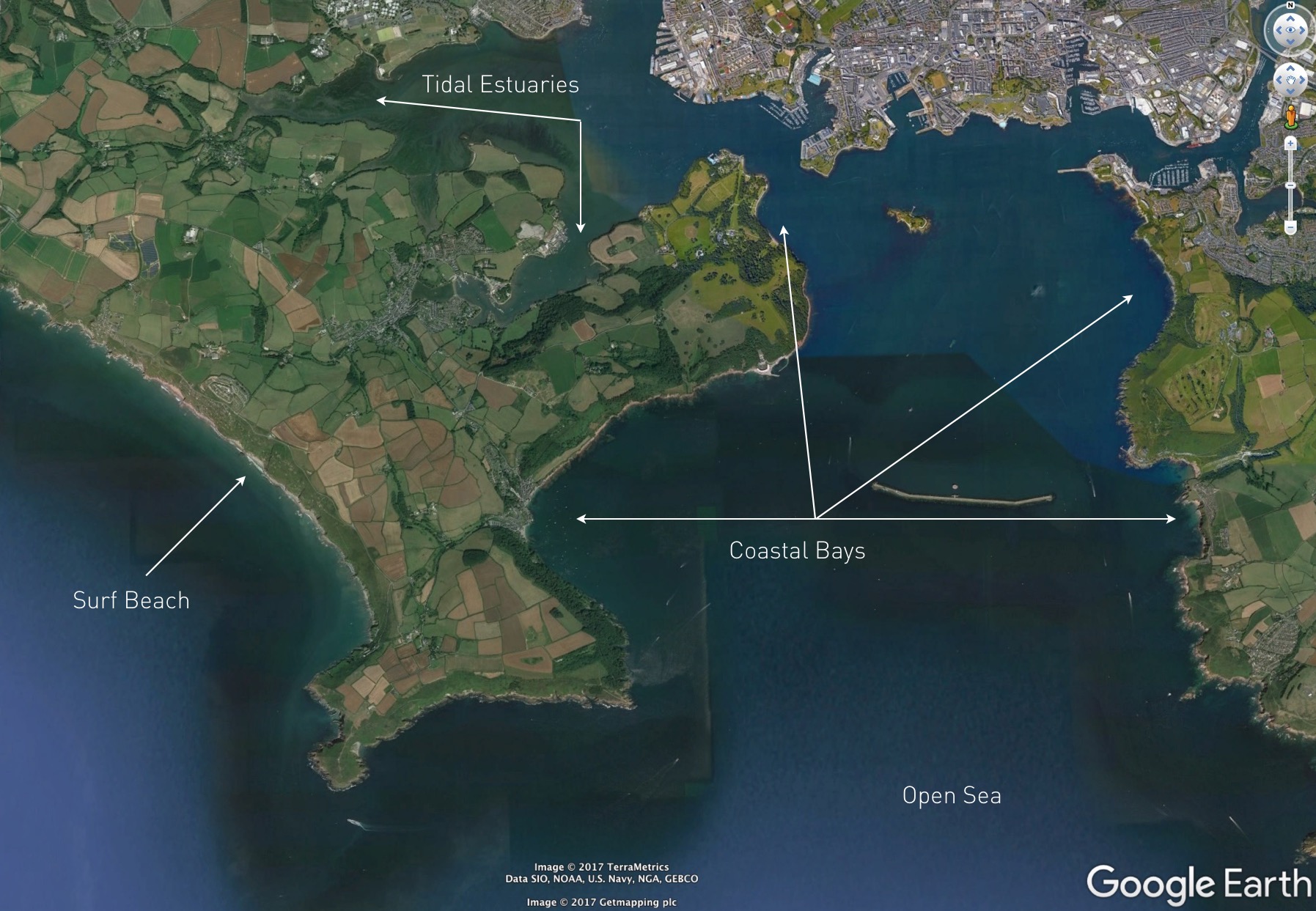 Above is a screen shot from google earth oriented north to south. From this shot we can see river, estuary coastal bays, beaches and open sea. All potentially good paddling spots, but all on different days and in different forecasts. Once you have a bit more understanding of your local paddling area, go back to your weather forecasting websites, and put them together.
Get your forecasts
If we look at screen shots from two weather forecasting sites windguru and magic seaweed, along with the map we can accurately plan where best to go paddling on a certain day.
Looking at the weather forecasting sites we can clearly see that the wind is coming from a north westerly direction (arrow pointing to where it's going) and it's pretty light, dropping off throughout the day. There is a SW swell and pleasant sunny conditions forecast throughout the day. High tide is at 11:44am and low at 5:40pm which will impact some of our paddle choices e.g the tidal estuaries which will only be able to be paddled approx a few hours either side of high water. Picking the right spot will allow us to paddle in pleasant conditions any time of the day. Just remember to consider the tide times if you choose an estuary paddle location!
If we wanted to go for a flat cruise or maybe a bit of flat water race training we would be looking for somewhere easy to paddle where there is shelter from the wind and as little chop/waves as possible. To go surfing we obviously need swell, and ideally light offshore winds to make the wave faces smooth/clean.
By looking at the weather forecast it helps us predict what the water states will be like at different areas on the map allowing us to find where the best, most sheltered, paddling spots will be. The map clearly shows a number of suitable paddle locations on this particular forecast. The light blue areas on the map are very flat calm waters which are sheltered from the wind because of the land. The further away from these sheltered areas you go downwind the choppier and rougher the water state will be. As far as SUP surfing goes, the wind is cross shore on the surfing beach which makes difficult surfing conditions and choppy wave faces. So although there will be swell it's not the best or easiest day to go surfing! Probably a good idea to save the surfing for another day.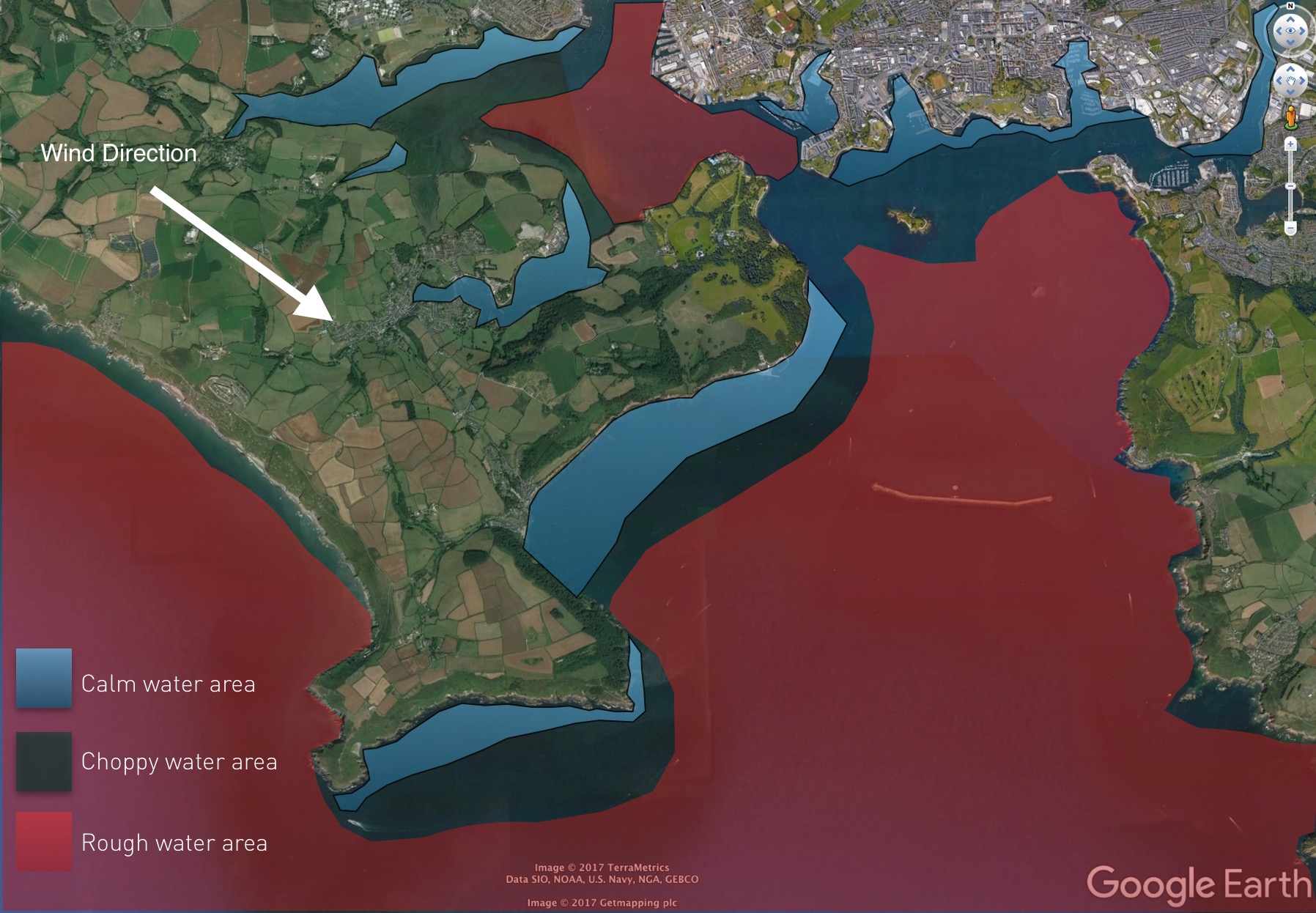 Same place different forecast
If we look at the same location on a different day, with a different weather forecast you can see the suitable flat paddling areas are very different. The weather forecast is saying the wind is stronger and from the East. So even though the calm paddle spots marked in blue are there, they aren't as big as before because of the wind being stronger. The wind is dropping off into the evening so there would be more calm water available to paddle then. But remember the tide is now high mid afternoon at 4:07pm so any tidal spots would not be possible to paddle until approx after lunch up until early evening (afew hours either side of high tide).
The wind is in a much better direction for clean surf conditions (off shore) at the beach but the forecast is saying the swell is small and therefore may not be big enough to break or be ridable. But if it's your first time it could be a great opportunity to get out and paddle in some fun sized,clean, small waves. Offshore winds are great for surf conditions but please beware of strong offshore winds which can easily blow you out to sea if you're not a strong paddler.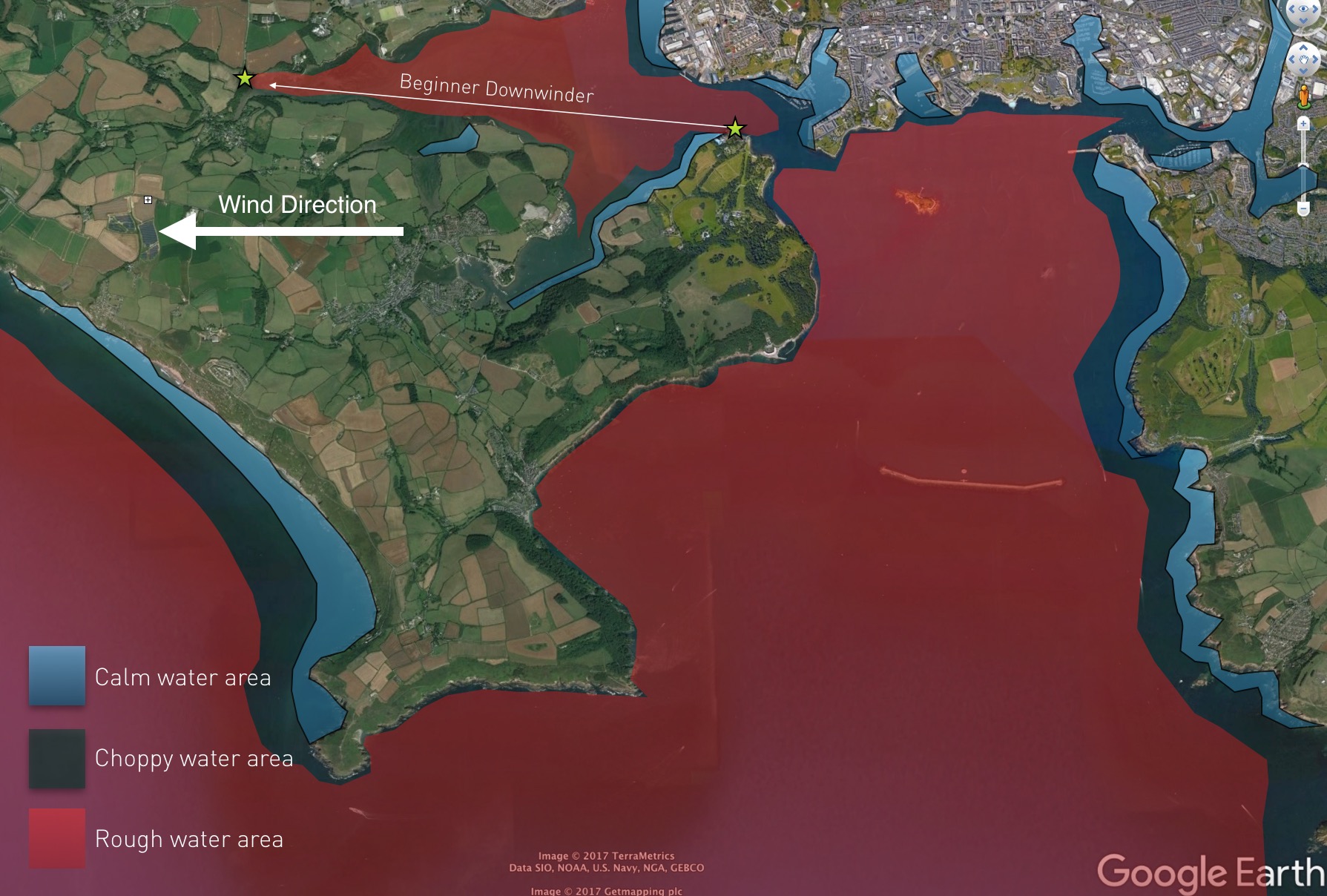 So as you can see, different forecasts can provide many different paddling opportunities, especially in areas with peninsula's and jagged coastlines.
But what can you do if you get weather that doesn't lend itself to your local paddling spots or is stronger than you would have liked? Well, as the tide comes in you could try your first estuary downwinder (marked between the stars) with a friend. Sticking close to shore these are ideal conditions to try something new. Just consider how you're going to get back because you won't be wanting to paddle all that way back against a headwind!
There is usually always a spot you can paddle or a SUP discipline to try. But understanding your local weather forecast and knowing your local area is key to getting the most out of any paddling day. So to help you find that perfect safe paddle spot, check out maps of your local area and keep watching the weather!.
You may also find the new GeoSUP app very useful for finding new paddle spots around the globe. As more paddlers save and upload their local paddle routes including what conditions they are suitable for paddling in, it will make it easier and safer to search and discover new places.
So what are you waiting for?! Look at the weather forecast, look at a map and get paddling!