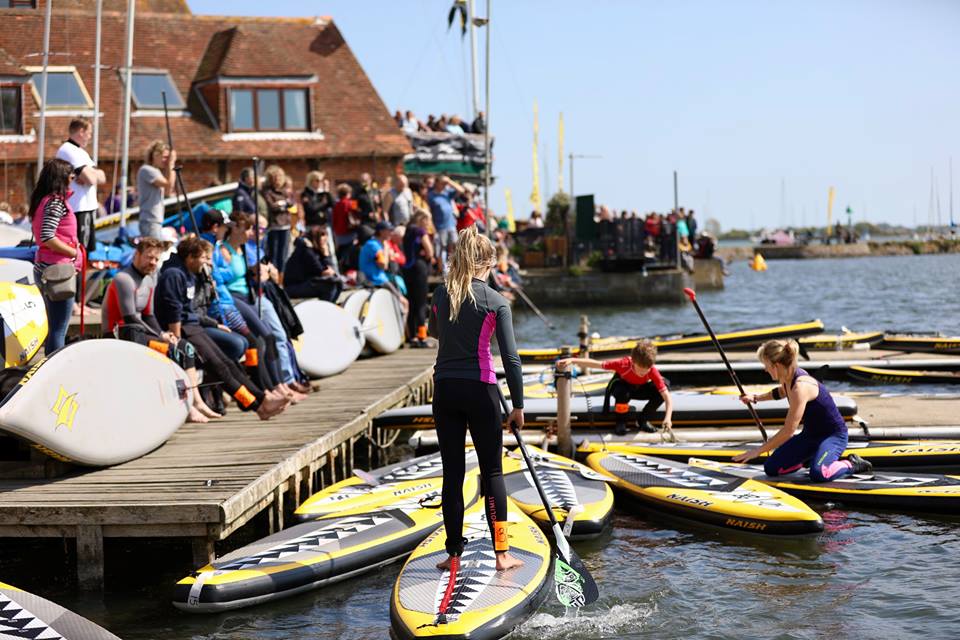 SUP racing is all about having the fastest latest kit, being a committed racer and getting on the podium… yes?!! No, not necessarily!
Naish N1SCO racing has brought a whole different aspect to racing, making it accessible and fun for every level paddler. Suitable for all ages and abilities, and with a relaxed athmosphere N1SCO racing allows everyone to get involved. It's more about having fun on and off the water, and meeting like minded paddlers, than being the first to the finishing line on the newest kit (although that's always nice too!)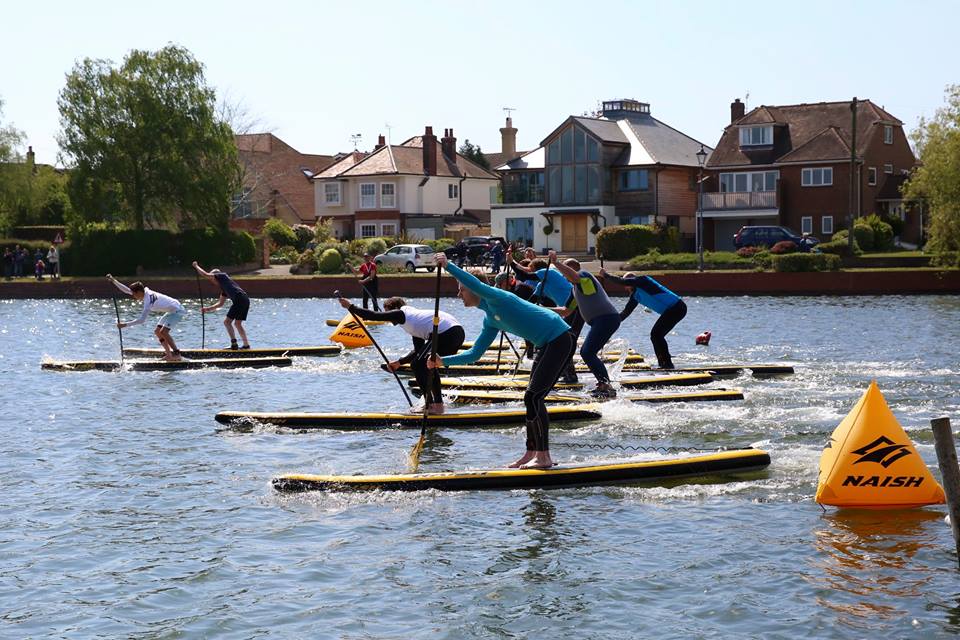 With the entire fleet required to race on a Naish One Design 12'6" x 30" inflatable SUP, and with different age categories, it's a level playing field. So if you've got a shiny hard race board, leave it at home! And if you don't have a board, no worries you can rent one.  With the racing format consisting of sprint, medium and long distance races, every paddler has lots of opportunity to get on the water and show their paddling potential. You certainly won't be standing around getting cold!
Yes, some of the top racers from across the country will be there taking part and battling it out for a place on the podium, but you don't have to call yourself a "SUP racer" to take part in a N1SCO event. In fact far from it. Even if you only stepped onto a SUP the day before, if you're willing to get involved and get wet then you'll be welcomed at any Naish NISCO event. Even the UK N1SCO European Championships which is the next event taking place in Swanage 10-11th June is open to all ability paddlers. It will be the same format as all other N1SCO events and a great opportunity to enjoy some fun racing, explore and paddle somewhere new, meet other paddlers from across the UK and Europe, and pick up afew top tips from those at the front of the fleet. 
There are passionate SUP racers, and then there are a whole new breed of what you call, 'super passionate N1SCO racing addicts!'
If you don't believe us, check out what some of these Naish N1SCO participants have to say about the events…
"I've done three events and have to say N1SCO racing is addictive fun! Not only does it take you to beautiful places whilst giving you an overwhelming sense of achievement. It also welcomes you to a fabulous community of athletes and enthusiasts or actually just kind people whose humour and spirit of adventure carries you along. It's friendly, and as a novice to any sprint or endurance event I was made to feel welcome. Each event is professionally organised from racing a train to paddling 10km up to the majestic Welsh national stadium. At the N1SCO nationals there was a race for everyone's abilities and tastes. Sprints with a pile up around a buoy turn, a technical course and of course the open water distance event. Then you get the wild card, a mass sprint which creates a spectacle and a few splashes for family and public spectators to enjoy. I just love it. I may not get podium places with prizes and medals but I do get the best belly laughs which to me are priceless. I'd say to anyone slightly tempted just do it, you won't regret having a go but be warned once you've tasted the fun you'll be hooked!" – Elaine Farquharsen
"I haven't been racing long but the N1SCO series has rapidly become the highlight of my calendar. Five (or more!) chances to beat your racing nemesis can't be bad….and this is exactly what N1SCO offers. If something hasn't gone quite right in one race, or if something works really well, you don't have to wait weeks to give it another go, you just take what you've learned into the next one straight after. If you didn't learn anything and just had a blast, then great! I really enjoy the close proximity of the racing. The broad spread of paddling ability means there's usually a number of others that will match you for speed. I find I'm constantly swapping places around the buoy turns with the same people, while apologising for somehow getting the board stuck between their legs! All of this is good natured and there's usually plenty of words of encouragement from others, along with the odd 'oops' and 'sorry' as their board mounts yours! Racing aside, the venues are always in great spots and there's usually plenty of other things to do in and around the area. The other N1SCO racers and organisers are a friendly bunch and will guarantee a warm welcome and a great days racing!" (Or two for Swanage) – Jon Hughes
"I had no idea what to make of the N1SCO circuit, but the event was local and more than reasonably priced so I thought that I would give it a go. The one design nature of the boards really appealed to me. You don't have to be the fittest of paddlers, there is someone to paddle against at every end of the spectrum. I had no idea what to expect of the race format. Sprints, super lap…I've heard of them and watched the videos but what were they actually like to paddle in? There was a great sense of being part of an event. Everyone talked to everyone, were happy to share tips or cheer new found friends along. The one design format works in so many other sports, and it certainly seems that N1SCO is making it work in SUP. I'm hooked! I signed up for the Europeans the next day!! – Richard Thoroughgood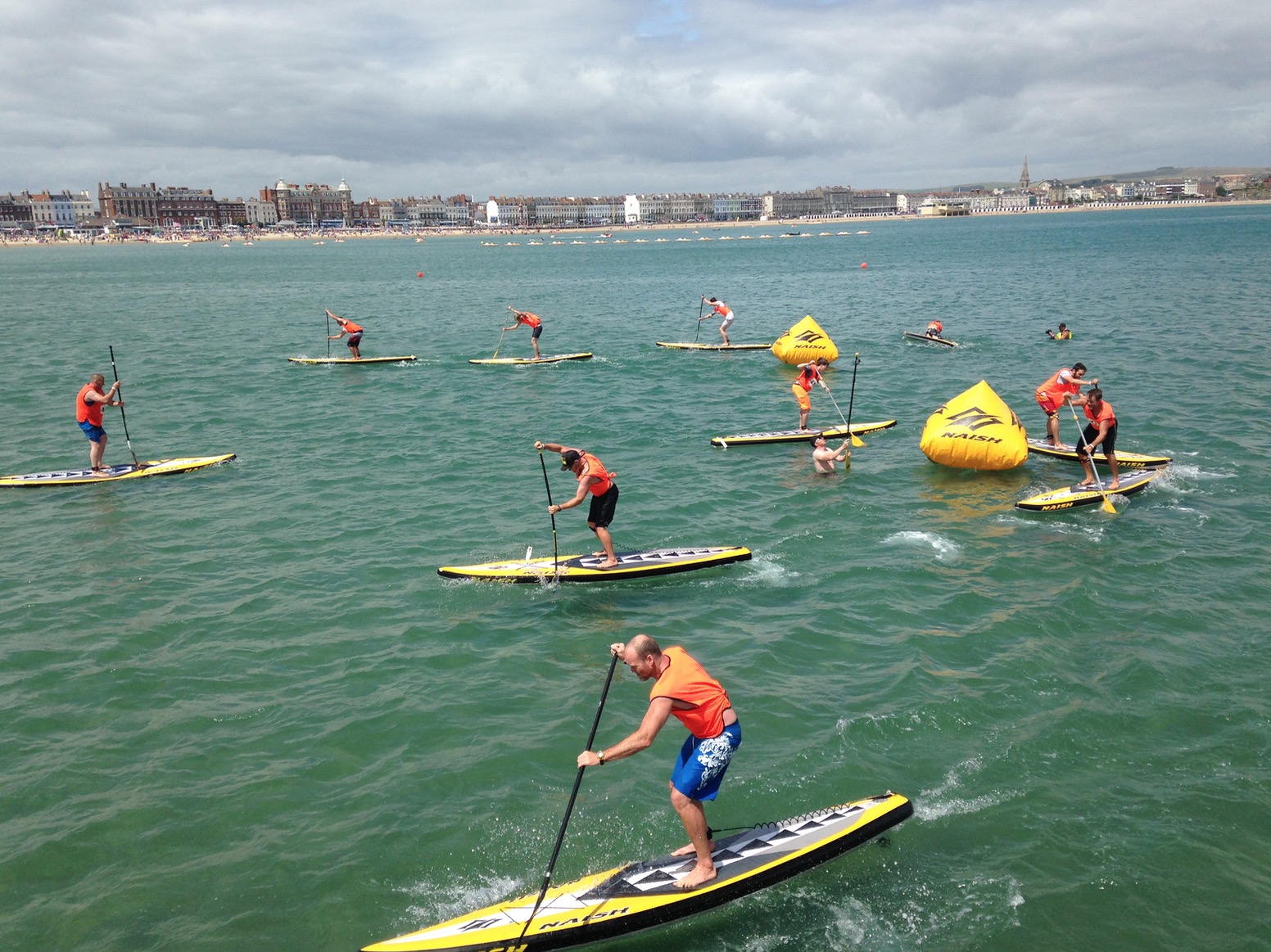 "I have raced hard boards for about 3 years and was invited to take part in the N1SCO series.  I thought going back to an inflatable would be difficult but quite the opposite!  The lack of the "latest/narrowest/fastest" board brings us all back to a pretty level playing field and it is SO much fun.  Sprints, technical and longer distance racing means you really do get the most out of your day and the confidence levels of even the most modest beginners, really soars.  A fantastic idea which is proving it's success by it's rapidly growing numbers.  I'm hooked!" –  Sarah Elizabeth Thornely
"N1SCO racing has literally everything! The field of racers around N1SCO are so friendly, every time I go to an event I get talking to new people.The racing is just the right balance between being challenging, and being achievable! A total beginner could happily paddle each event and finish the same race as a top paddler would find having to work really hard to win! Because everyone is on the same board, the racing becomes really competitive! Everyone has somebody they want to beat! It's surprising how much you learn, between races paddlers are more than happy to help out some of the newer paddlers with things such as their stroke, how to get round a buoy, or how to draft the person in front of you!" – George Cornwell-Brown
"I initially got involved with N1SCO with the aim of helping out with the organisation due to the nature of my job.  However I was soon convinced by Alex from Naish that the racing was aimed at all abilities – so I signed up. On the day I was amazed how friendly and supportive everyone was and because the boards were the same no one was disadvantaged by kit. I will certainly be having another go very soon" – Jayne Lake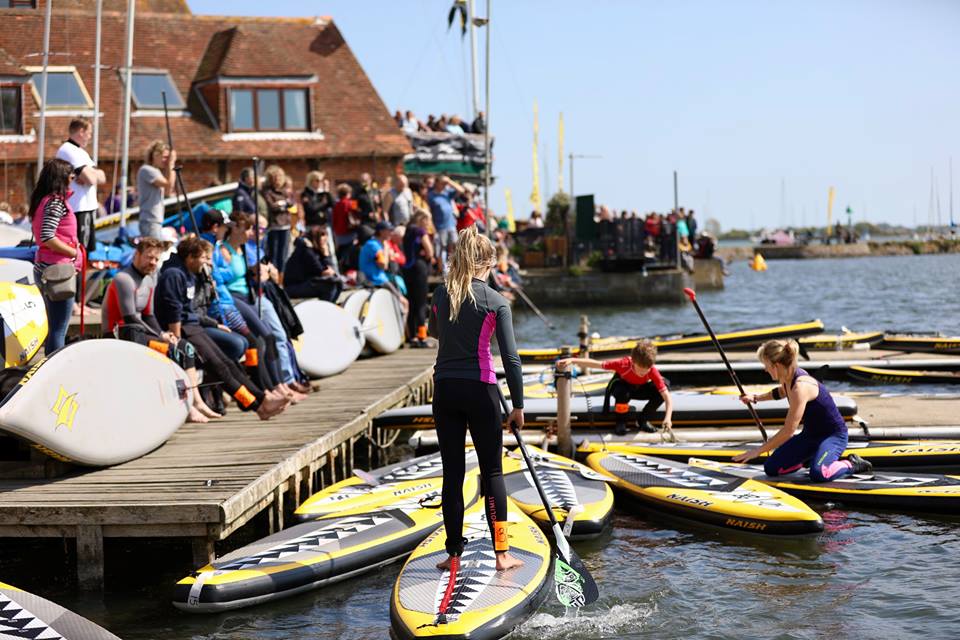 "Three years ago I met Alex from Naish UK and got involved in the N1SCO Racing. It's been a fantastic way to compete, and I have made good friends. The whole idea of NISCO racing is great and there are so many advantages to using a N1SCO board. The fact that everyone is using the same board makes the racing very fair so you are all competitors and not just who has the big bank account that can afford the latest carbon race board! Then there is all the age group category's, which means the old guys like myself don't have to race the young guys. Instead we can have our own little battles, and every time we race on any given day, any of us could get a win. Living in Ireland and racing in the U.K. the N1SCO is the easiest way to travel with kit – just roll it up, put it into its bag and off you go. Airports are no problem with your N1SCO because you just check it on as a bag. It's that easy – no more hoping the hard 12'6 race board comes out in one piece!" – Keith Gorman
"They're definitely not getting easier! A really, really physically tough day, but they're always great fun!" – Ben Fisher (2016 Naish N1SCO Champion)
Every year Naish UK give 10 paddlers the opportunity to experience the Naish UK Race Scene by being part of the N1SCO SUP fleet. By just committing to attend a min 6 race events the lucky selected paddlers are loaned a board for the season to use as they wish. A great way to experience SUP racing and have lots of water time without having to buy your own kit. Find out more about the 2017 UK Naish NISCO race team.
If you're still unsure as to whether Naish NISCO racing is for you, check out the previous SUPboarder article 'Why get involved in Naish NISCO racing?'
And for more information check out SUPboarders 'Top 10 tips for NISCO racing' and 'How to train for a NISCO event'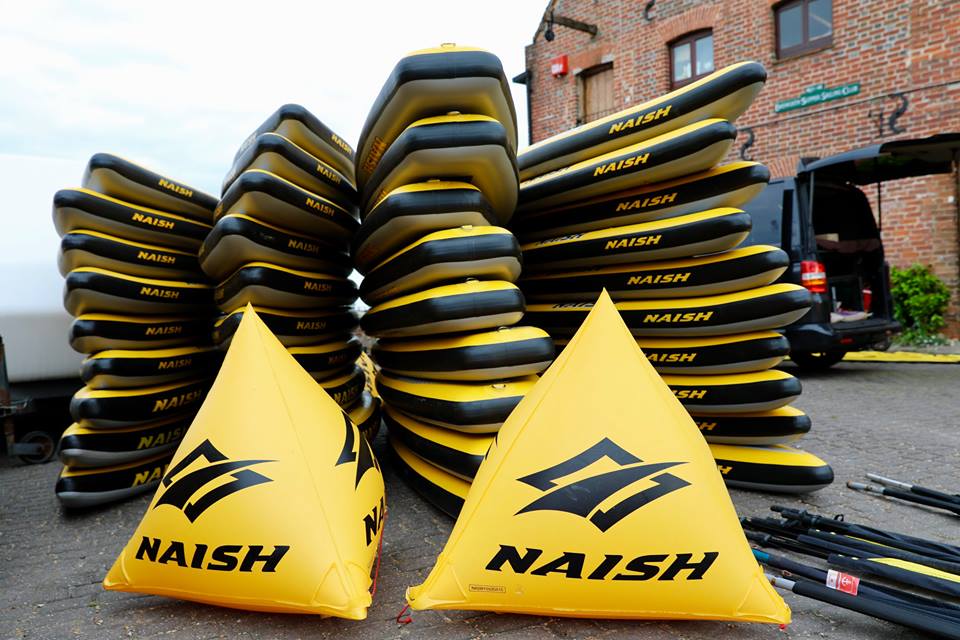 Next N1SCO Events…
The next UK Naish NISCO events will be taking place on:
10th-11th June 2017 at Swanage (European Championships)
8th July 2017 at Bray Lake (Inland Championships)
For more information about the events including schedule, format, categories, pricing and location click here.
Please note : Online registration for the NISCO European Championships (suitable for all abilities) closes on 8th June. So if you're keen to get involved in some fun SUP racing in Swanage in afew weeks time ENTER NOW.