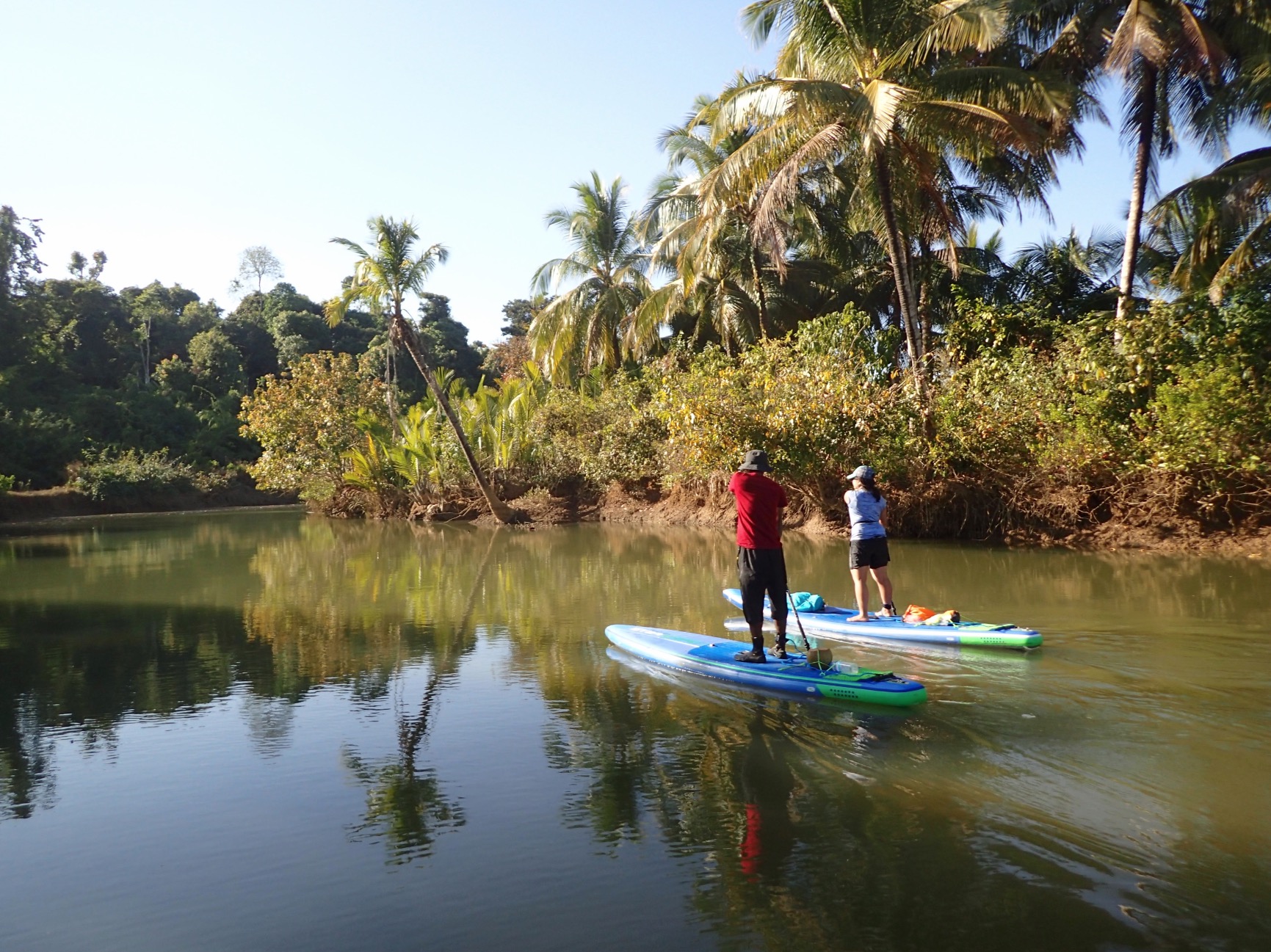 SUP is a unique and low impact way of exploring our beautiful planet. However if we don't protect our marine environments then this may not always be the case. Paul Hyman of Active 360 in London, recently took his board and paddle to the Mangrove forests of Myanmar to discover how together we can help save these endangered habitats, which ultimately affect us all. Mangroves grow in 121 countries around the world and play a vital role including absorbing CO2, providing protection from extreme weather, and protecting marine life. However Mangrove forests are disappearing at an alarming rate at a time when the world needs more food to sustain a growing population and ways to reduce CO2 in the atmosphere. Paul tells SUPboarder about his plans to develop sustainable SUP travel in Myanmar to benefit not only the local ecology system but also the local community and world as a whole…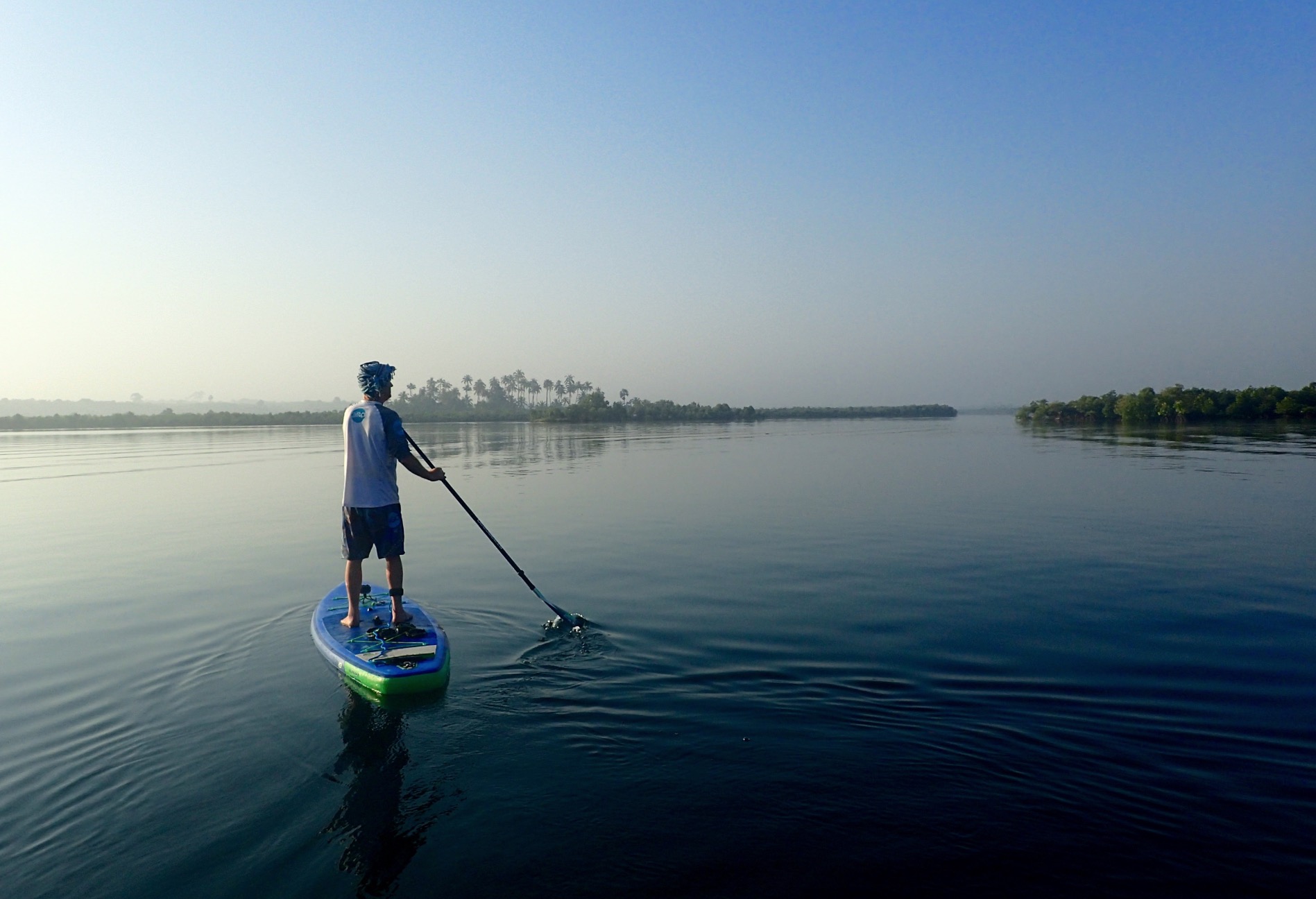 Myanmar, formally known as Burma, was mostly closed to tourists for over 50 years, but now, the country has opened up its doors and is looking for a way to bring sustainable low-impact tourism to this diverse country.
In 2016, we were asked by WaterTrek and Worldview International Foundation (WIF), to undertake a project to find out how we could get more people involved with watersports and to help out with conservation projects, such as ocean clean-ups and planting mangroves.
Myanmar's coastal mangroves were once plentiful, but a combination of natural forces, such as the build-up of sediment and deforestation has left them under threat. Mangrove trees are routinely cut down for charcoal and firewood, they have also been cleared to provide more space for intensive prawn farming and for paddy fields.
Mangroves provide more than just fuel and habitat for the unique flora and fauna that thrive there; they also absorb up to five times more Co2 than any other trees and they can offer protection against extreme weather – acting as the first line of defence against cyclones and storm surges, helping to slow such forces down.
In 2008, 138,000 people were killed when Cyclone Nargis sent a large storm surge 40 kilometres inland along the densely populated Irrawaddy Delta.
While the future of the mangroves is uncertain, organisations such as WIF, are helping to restore these important and fragile environments. National parks such as the Thor Heyerdahl Climate Park are trying to reverse the decline.
After a few days in Bangkok to pick up some new Starboards and to hook up with my Watertrek colleague Melanie Joe we flew into Yangon, a major city in the south of Myanmar. We then took a 250-kilometre journey to the Shwethaungyan Mangrove plantation, part of the Thor Heyerdahl Climate Park. After an eight-hour bus ride, we had to finish the last hour of our journey on motorbike taxies that took us down a rough dirt track coastal road to the village. It was well before dawn when we set off on the bikes. The head light of Mel's bike broke so the riders had to navigate using the light on my bike!
The next day, we finally got to see the village in all is beautiful glory, traditional and unspoilt, this remote settlement is split in two by a wide river mouth. The locals use a ferry to get around and nearby there are undeveloped sandy beaches.
However, no matter how far you wander off the beaten track, some of the more unpleasant aspects of modern life are never far away. While the beaches are wild and stunning and for the most part pristine, they are in places marred by plastic pollution. Bags, fishing nets, plastic bottle and wrappers have washed up or been discarded along the sands.
Our first job of the day was to help with the village beach clean-up. Joined by a crowd of school children, their teachers and locals, we helped remove truckloads of trash from the waterfront – making it look beautiful again. We had plenty of fun with the local kids trying to communicate with them in our non-existent Burmese and their poor English.
The rest of our week was dedicated to exploring the mangrove plantations. Htoo Lwin a mangrove researcher, from Worldview International Foundation joined us, imparting fascinating facts on this exotic habitat. Paddling past these strange trees, whose roots sit above the mix of salt and freshwater, is a surreal experience. They tower above us and look like they could uproot themselves and walk away at any minute. We also had the privilege of planting some mangroves under the expert eye of Aye Lwyn and his team.
By the end of our time in the Mangrove plantations of Thor Heyerdahl Climate Park, we had met some colourful local characters, found some fantastic SUP routes and sampled some delicious local cuisine. The Myanmar mangroves lend itself well to sustainable SUP tourism and marrying the trip with conservation will help not only the secure the future of the mangroves but also the local population.
What's next?
In November 2017 we plan to organise a group to explore the Mangrove plantations of the Thor Heyerdahl Climate Park. The trip will include sunset paddles, planting mangroves, beach clean ups and coastal paddling.
Words : Paul Hyman (Active 360)
Register your interest through the Mangroves of Myanmar Facebook Page or through info@active360.co.uk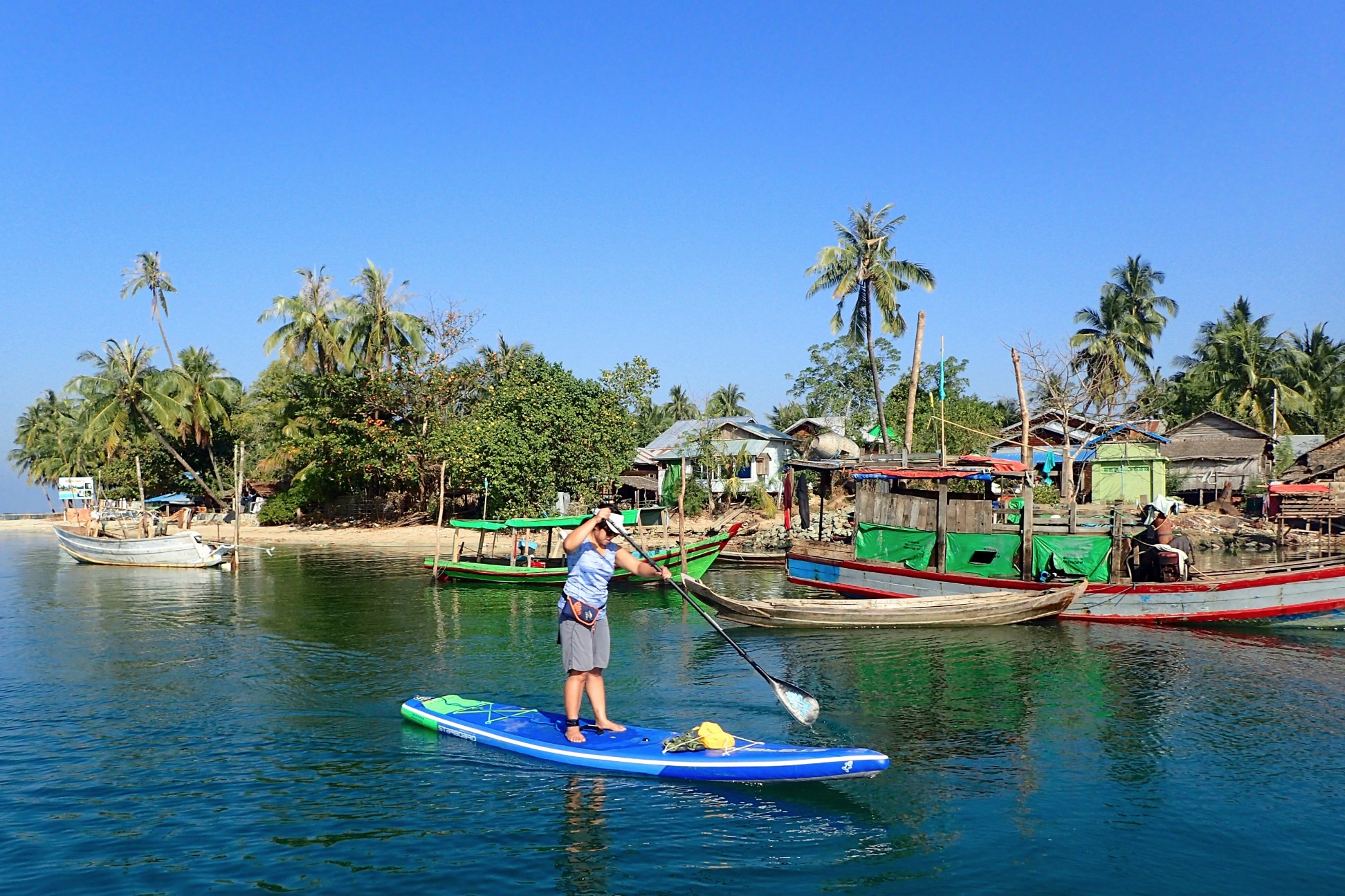 This sounds like a fantastic opportunity to enjoy some sustainable SUP travel in a beautiful part of the world, whilst playing an important role in helping protect our planet and ensuring SUP is enjoyed by many future generations to come.