https://vimeo.com/197382383
"A journey, a dream or an adventure should never loose the uncertainty, and always keep the chance to make something seemingly impossible possible. " – Thomas Oschwald.
Fanatic rider and extreme paddler Thomas Oschwald is always on the look out for a new challenges, in SUP as well as everyday life. He loves the freedom and uncertainty that challenges bring, and the opportunity to make the impossible possible. He's never one to take the easy route!
Thomas has recently returned from his latest 2 week 'Polar Light Expedition' in Norway where he paddled through the fiords to the North Cape in the tracks of the polar lights… in freezing temperatures and mostly in the dark! SUPboarder caught up with Thomas to find out more about his epic paddle adventure, including what planning and kit is required to paddle in such a harsh environment…
(Click on each photo to enlarge)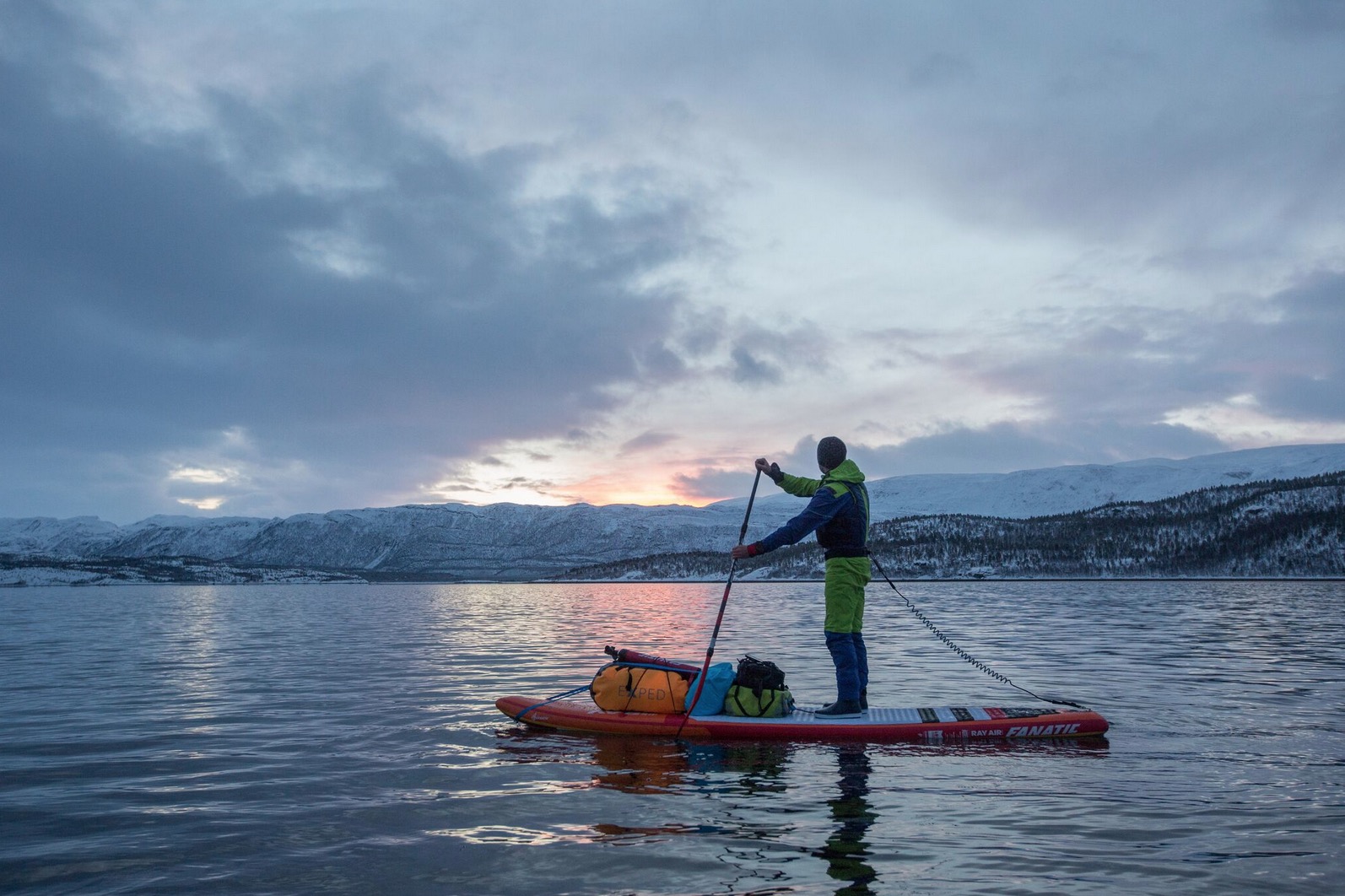 SB/ Thomas, tell its a bit about your latest expedition.
At the beginning of December I started my expedition in Tromsø, Norway. My plan was simple: on the waterway I would paddle for 2-3 weeks on my SUP, in the footsteps of the polar lights. For 500km I would be surrounded by nothing but darkness, coldness, and unknown waters. But with plenty of time and excellent kit I was looking forward to the freedom! The plan actually went quite well and so I reached the North Cape in just 2 weeks. On my way, however, I had to make some adjustments. For example, I didn't cross any large fjords for safety reasons and the last leg I had to go on foot because of a storm. Adjusting my plan and facing unforeseen challenges is the real adventure for me and the part I love. But you do not have to travel to the end of the world to challenge yourself and be challenged by nature. Micro-adventures or micro-expeditions can be experienced at home as well as in the fjords of Norway. To enrich everyday life with adventure is something that I unfortunately miss more and more in our society.
SB/ When and how did you come up with the idea of 'The Polar Light Expedition'?
I like spontaneity and uncertainty; but on the other hand, I also attach great importance to the planning of an expedition. Since I am deliberately moving in civilized surroundings and looking for adventure in my everyday activities, the planning is mostly limited to the organizational aspects. I had the idea to paddle to the North Cape a year ago, but I did not prepare until 2-3 months before. A year ago, it was only a vague idea, which became more and more a concrete plan. Paddling alone and without support over long distances requires above all mental skills. From my past expeditions and micro-adventures I know that I am mentally very strong. Therefore, I rarely train for an expedition, rather, I test my kit in advance, so I know it well and know how to look after it. Thanks to my sponsors EXPED, FANATIC and ION, I have great kit and am able to implement a concrete plan within a very short time.
SB/ How long did it take you to plan the trip?
I really do not plan very much! I like to decide spontaneously and therefore deliberately leave a lot of uncertainty. But this mainly refers to the actual expedition or in this case the two weeks I paddled from Tromsø to the North Cape. The route was very roughly planned. I did not know how dark it would actually be! Or how it would be with the winds and currents. I like to deliberately not plan these aspects so I can make decisions on the ground. The planning gives me my direction, starting point and my goal. What happens in between I like to leave to a certain extent to chance! That's why I researched primarily on the internet and, with the corresponding information and my experiences, put together a theoretical plan that I could then live out in reality. I plan my kit carefully, especially my media kit for documenting the expedition as there are many things to consider and I can not simply take all my equipment. I therefore have to make important decisions re kit in advance, which can then have an influence on my entire journey!
SB/ Did you paddle completely solo?
Yes, most of my expeditions and micro-adventure are solo projects. I like to challenge myself and be responsible for all my decisions during the tour. When I am on the road/water, I move not only through nature, but also through my own world of thought. I like to travel alone. However, I am happy to return home to the company of friends and family.
SB/ What SUP kit did you take and what influenced your kit choices?
After I paddled 1500 km to the North Sea about three years ago from Rheinquelle, I always use the Fanatic Ray Air Premium 12'6 "x 32" or 11'6 "x 31" with a three-part carbon 80 paddle for all my tours and expeditions. This setup offers the perfect mix between robustness and weight. Both are crucial factors that can decide success or failure. But equally important is the confidence in the equipment. Because when I go to my limits, I must be able to trust that I have chosen the best material for my project. Bad material is the worst and most dangerous in challenging situations. At Fanatic I am very well cared for and have a wide selection of boards to choose from. For each expedition I have always found the appropriate SUP and I am sure that I will continue to do so also in the future. Thank you Fanatic for the support and the innovative products.
SB/ What other kit did you take onboard?
Similar to the SUP equipment, I have been trusting the Exped brand for many years with equipment for overnight accommodation. From my tent to my sleeping bag, my lounge mat to my waterproof packing bags Exped offers me top-notch Swiss quality. Whether summer or winter, there is always the right equipment. Every sportsman knows how important recovery is during training, and on an expedition that is no different. I have a very simple quality test: the more often I wake up on an expedition in the morning and feel that I am lying in bed at home, the better the equipment is! On my 500 kilometers to the North Cape, I almost felt at home. Thanks Exped for the relaxing nights.
SB/Paddling must have been tough. What paddling conditions did you experience?
The weather was a little crazy! In the first week the temperatures hardly rose above -5 degrees Celsius and it snowed. In the second week they barely dropped below 5 degrees Celsius and it rained practically every day for several hours. It was almost always cloudy, so I could hardly use the light of the full moon. Because of the bad weather, I also had to wait a whole week before I saw the northern lights for the first time. Even though it danced between the clouds in the sky for only an hour or so, it was a breathtaking moment for me, which gained even more importance by the effort and the long wait. Besides the temperatures and the precipitation, the wind influenced my expedition strongly. Right from the start, I had to adjust my route and abandon the crossing of larger fjords. The waves were too big, and along with the darkness and currents, the risk would have been too high. I always look for challenges in the mental and physical area but never in risky situations. Otherwise the wind was on my side since he mostly blew from south-west direction, so I practically always had a tailwind. In addition, I was able to use the tidal currents, which were particularly pronounced in the narrow fjords. In the course of the expedition I noticed more and more how important it is to listen to the forces of nature. So I planned my day with the tidal currents and when a storm swept over the sea just before the North Cape, I simply completed the last leg on foot. Why fight nature when she can support me?
SB/ Staying warm and yet not overheating when paddling in such harsh conditions must have been difficult. What did you wear when paddling?
On the water I wore a breath-active dry suit. Depending on the temperature, I placed more or less layers of clothing underneath. Since I always wore a life jacket, which protected my upper body from the cold, the Ion base layer was mostly enough. A downpipe ensured enough heat on the legs. In order to protect my feet from the damp, I wore rubber boots, which I could combine with a dry suit. The feet had to remain dry in any case, otherwise they would be chilled in a very short time, since they are hardly moving when paddling. From the second week I protected my hands with the Open Palm Mittens 2.5 from Ion, which were very good for paddling and for the operation of the camera and the drone, since I could fold them back easily. In the first week it was so cold that I had to wear normal mittens. I bought some more gloves in Tromsø as spare. I ensured I always had dry spare clothes, which I could wear in the evening in the tent.
SB/ Paddling in the dark in freezing conditions is not something to be taken lightly. What safety precautions did you take?
In addition to the dry suit and the life jacket, I always had a GPS emergency system, which I could call for help in case of an emergency. In addition, I adapted my route because of the high waves and paddled only in the protected fjords. The main road from Tromsø to the North Cape always ran parallel to my route, so I had not only an additional orientation, but also more safety through the lights of the cars. In all my adventures, however, the respect for the natural forces is the most important factor to be able to safely return home. I am looking for the limits in my physical and mental abilities but not in dangerous situations.
SB/ What did you eat and did you carry all your own supplies?
At the start in Tromsø I had provisions for a week, and I had planned to re-stock again in Alta a week later. However, it soon became clear that my new route was past many small villages, where I could stock up with provisions. I found water either in small streams, which flowed into the fjords or I melted snow. At least once a day, I cooked a hot meal to get enough energy for the next day. Meanwhile, I tried to maintain my energy balance with bars, chocolates and dried fruits.
SB/ Where did you sleep?
Except for a few exceptions, I always slept in the tent, as it usually snowed or rained in the night. If I could not erect a tent for space reasons I found a rock formation as a night camp. Since my sleeping bag had a waterproof cover, this was also very comfortable in light rain.
SB/ You captured your expedition beautifully in your film. What media equipment did you take?
The documentation of any expedition is a challenge in itself! Since I document everything myself and with photos and videos, I use the cameras remote control. On this expedition I had to make sure that the cameras made good pictures despite poor light conditions. For the first time I also took a drone with me. I had to wait a long time, for them to come up with the DJI Magic Pro – the ideal drone on the market for my kind of self-documentation. The compact size and the autoprograms of the Drone are awesome and enable me to use them very simply. My equipment was as follows:
• Canon 5D Mark III
• Canon EF 16-35mm f / 2.8L II USM
• GoPro Hero 5
• DJI Magic Pro
• Three additional rechargeable batteries and one power bank per unit
• I-Phone 6s for live documentation
SB/ You must have seen many amazing sights, but what were the highlights of your trip?
When I saw the polar lights for the first time in my life after a long exhausting week. This moment was just breathtaking. There were also many smaller highlights, such as the dolphin encounter, the beautiful scenery, conversations with local fishermen, the chocolate mousse which I saved for arriving at the North Cape, and the first sunbeam which appeared after two weeks through the window of the plane. All these experiences and many more made this expedition unique.
SB/ How did you feel the first time you saw the lights?
It was a breathtaking moment. Most of all because I had to wait a whole week until the clouds finally lifted and I saw the northern lights for the first time in my life. It was as if heaven was dancing. I was so happy. Unfortunately after just half an hour the spectacle was already over as thick clouds pulled up. But I think because it was such a brief moment, it made the moment more special and a moment I will never forget.
SB/ What would you say were the biggest challenges of your trip?
The darkness challenged me the most. Despite the cold, strong winds and the tidal currents, I was able to deal well in the 3-5 hours I had twilight light, but as soon as it was dark, the conditions for paddling were a lot harder. Therefore, I had to adjust my route, the original route would have been much too dangerous.
SB/ Did you have any big surprises along the way?!
When I was recording with the Drone, a group of Orcas suddenly appeared in the distance, which swam in my direction. On the window of the drone it was already warning me that the drone had a low battery charge and so I did not know whether I was now friend or food for the Orcas! On the same day, I found an island in a fjord and enjoyed the feeling of living alone on my own island. The temperatures in the second week were also surprising. The warm temperatures just above freezing were pleasant, but the rain not quite so!
SB/ How did it feel coming to the end?
Even though I got accustomed to the harsh conditions, I was happy to return home. An adventure for me always consists of: departure, fulfillment and homecoming. Each phase of the journey has its own special charm and together they are the reason why I will always look for new adventures. After such an expedition, the everyday items are given a very special significance – a sun beam, a table to work on and having a home make me happy and satisfied.
SB/ So what's next for Thomas Oschwald?!
I will definitely go back to Norway. The next time I will visit the country in summer. There are already first ideas and plans flitting through my head. They are still vague thoughts, but with each passing day they become more concrete. As soon as they form a concrete plan, I will tell you!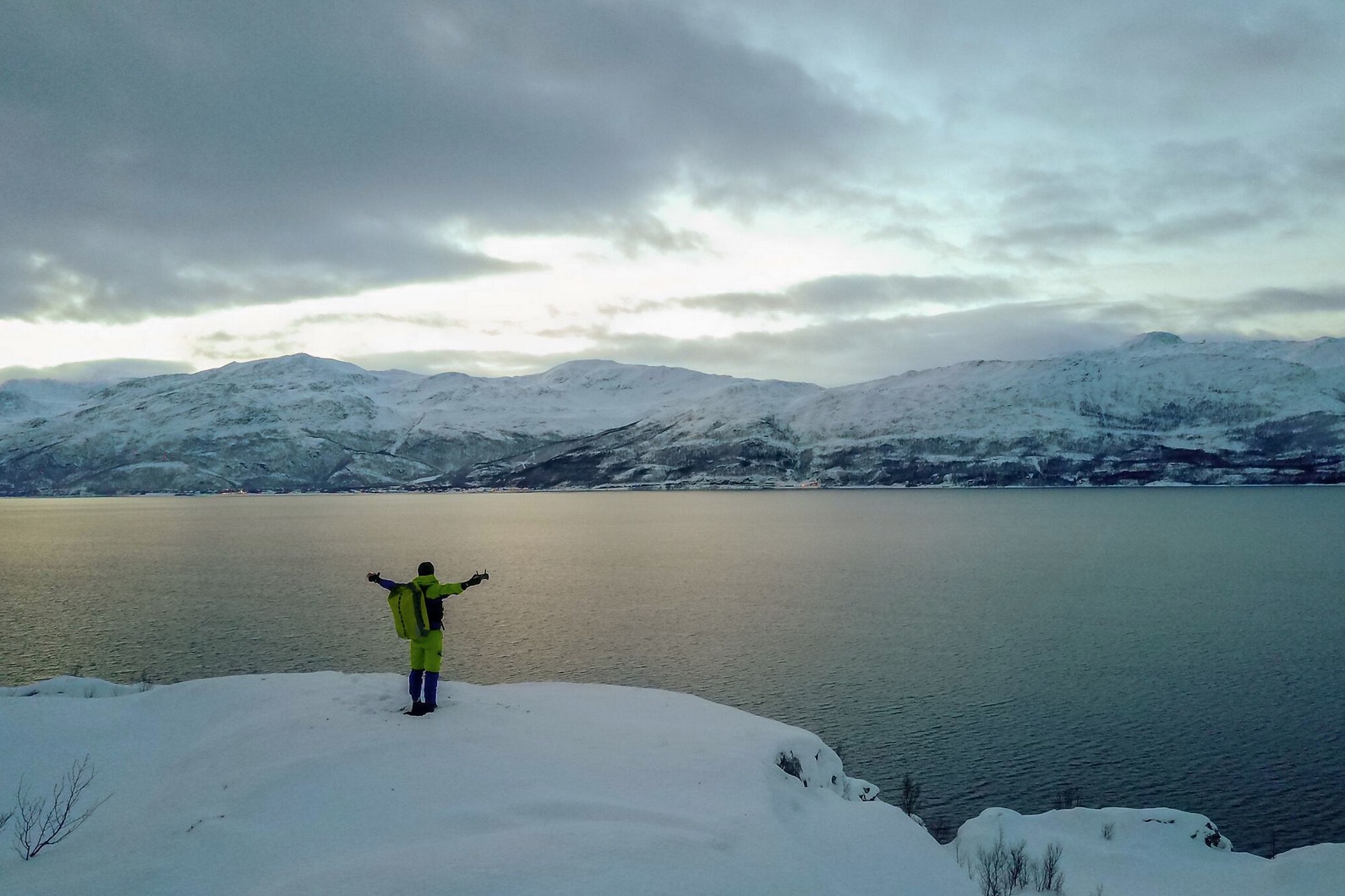 What a fantastic paddling achievement Thomas. You've shown that with some careful planning, sensible kit choices and respect for nature and the weather anything is possible. You've just got to follow those dreams and set those challenges!
To find out more about Thomas Oschwald and his latest challenges check out his facebook page and website. For more information about Thomas's kit check out the Fanatic and Ion websites.