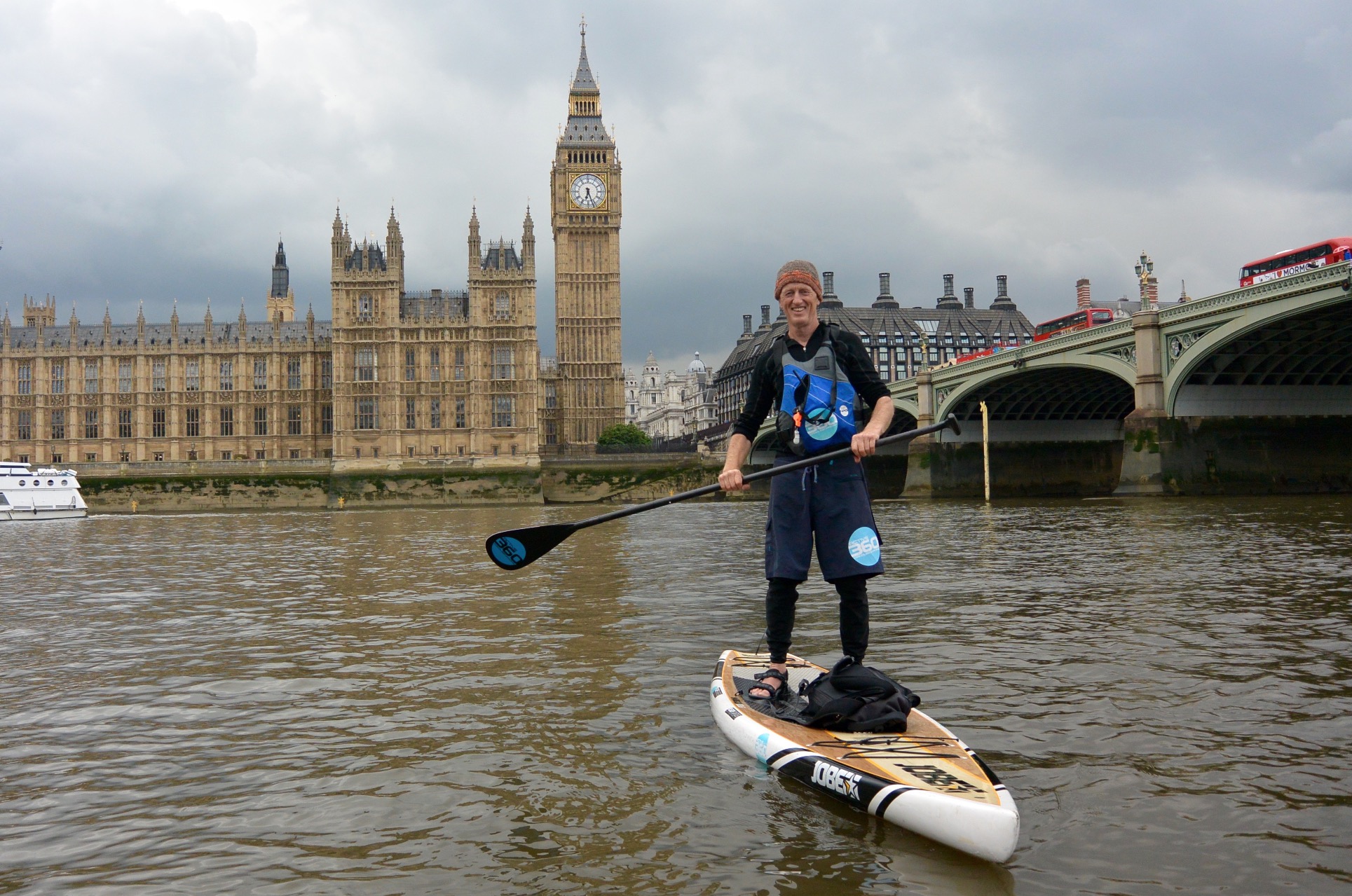 SUPing in Central London (or not as the case may be!) has been the focus of much discussion over the last few years following the numerous restrictions put in place by The Port of London Authority. Many paddlers including Paul Hyman (from Active 360) felt that many of these paddling restrictions were un-justified and unfair. Rowers and kayakers could paddle there, so why couldn't SUPs? Obviously some river rules and restrictions are necessary, and should be followed by everyone to ensure everyones safety. But why should SUPers be treated differently from other water users in central London?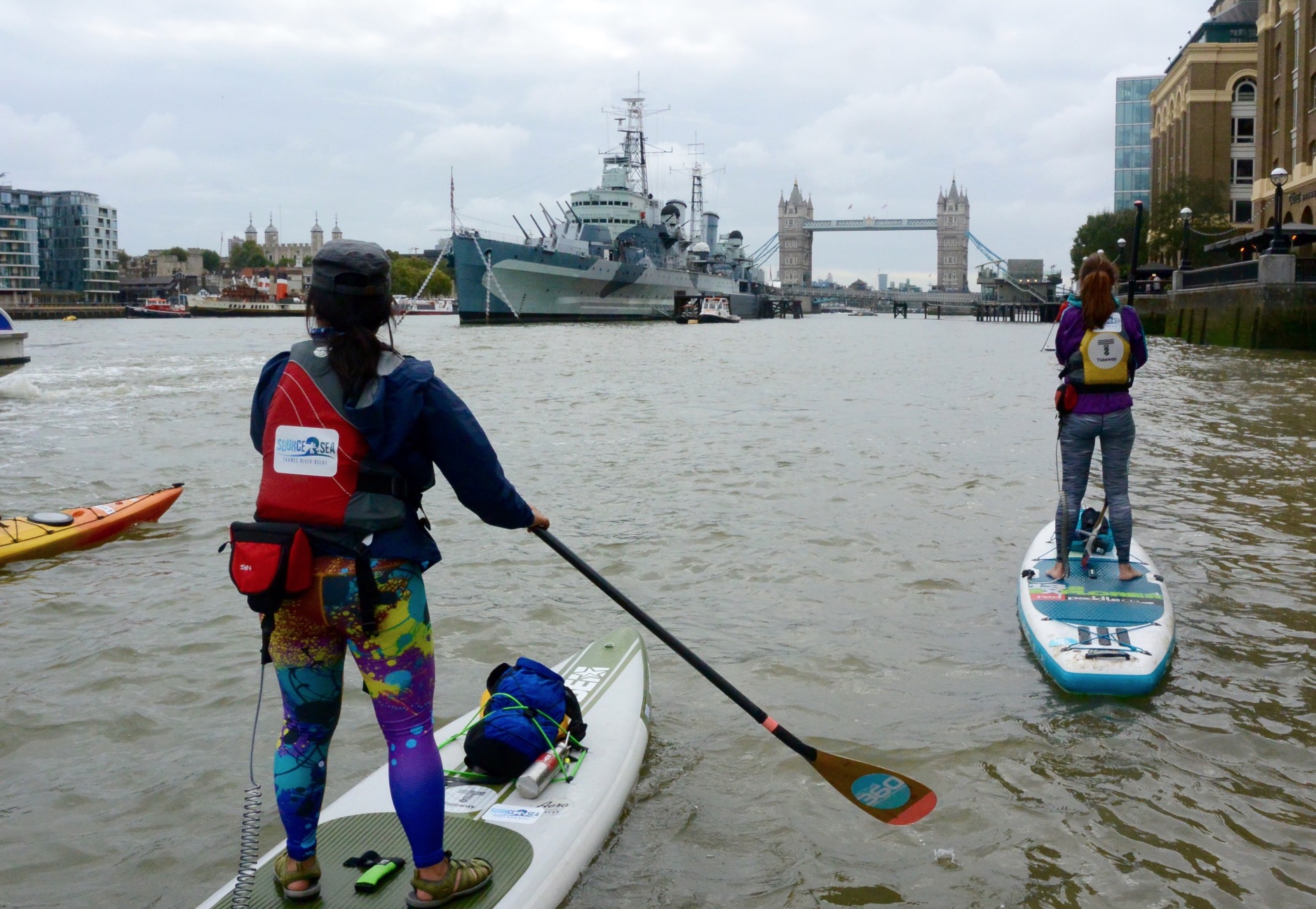 Paul has played a vital role in demonstrating to those making the decisions, including the  PLA, MP's and the chief harbourmaster, how SUP can be just as safe as other watersports with the correct skill, knowledge and understanding. The Thames Skills and Knowledge training programme set up by Paul, has played a big part in allowing paddlers to demonstrate they have the necessary skills to paddle safely in central London.
Paul provides us with an update of what's been happening in London and what the current paddling restrictions are…
The Port of London Authority (PLA) had in 2010 limited SUP to upriver of Vauxhall Bridge and decided to extend this upriver to Putney Bridge making all of central London out of bounds. No risk assessment had been carried out to justify this further restriction and I felt it to be an arbitrary decision. There had been a few issues with groups of paddleboarders paddling into central London and not following river rules pre 2011 but since this there had been no significant incidents.
The London SUP paddlers were annoyed at the decision and a few of us campaigned hard to reverse it. We accepted there were risks just as there were with rowing and kayaking which were allowed in central London – but that these could be managed. I've coached kayaking on the Tideway since the 1990s so had a fair understanding of how the risks in SUP and kayaking compare.
After months of getting nowhere in what was becoming quite a test of our patience and resilience, Sara Aghdami a local coach and keen paddler got Vauxhall MP Kate Hoey involved. We prepared a report on the issue which Kate sent to the new CEO of the Port of London Authority.
A meeting was quickly arranged with the Chief Harbourmaster David who came out on the river to try SUP. As an ex submarine commander (two nuclear one diesel) he was very at home on open water and instantly appreciated the attraction of the sport. He also quickly understood that the risks were similar to other paddle sports. He set up a lengthy risk assessment process to which Active360, British Canoeing and individuals contributed.  David's main concern was that a growing number of untrained SUP paddlers with no knowledge of the river and its specific risks would take on the Thames and cause nuisance to the PLA and other river traffic.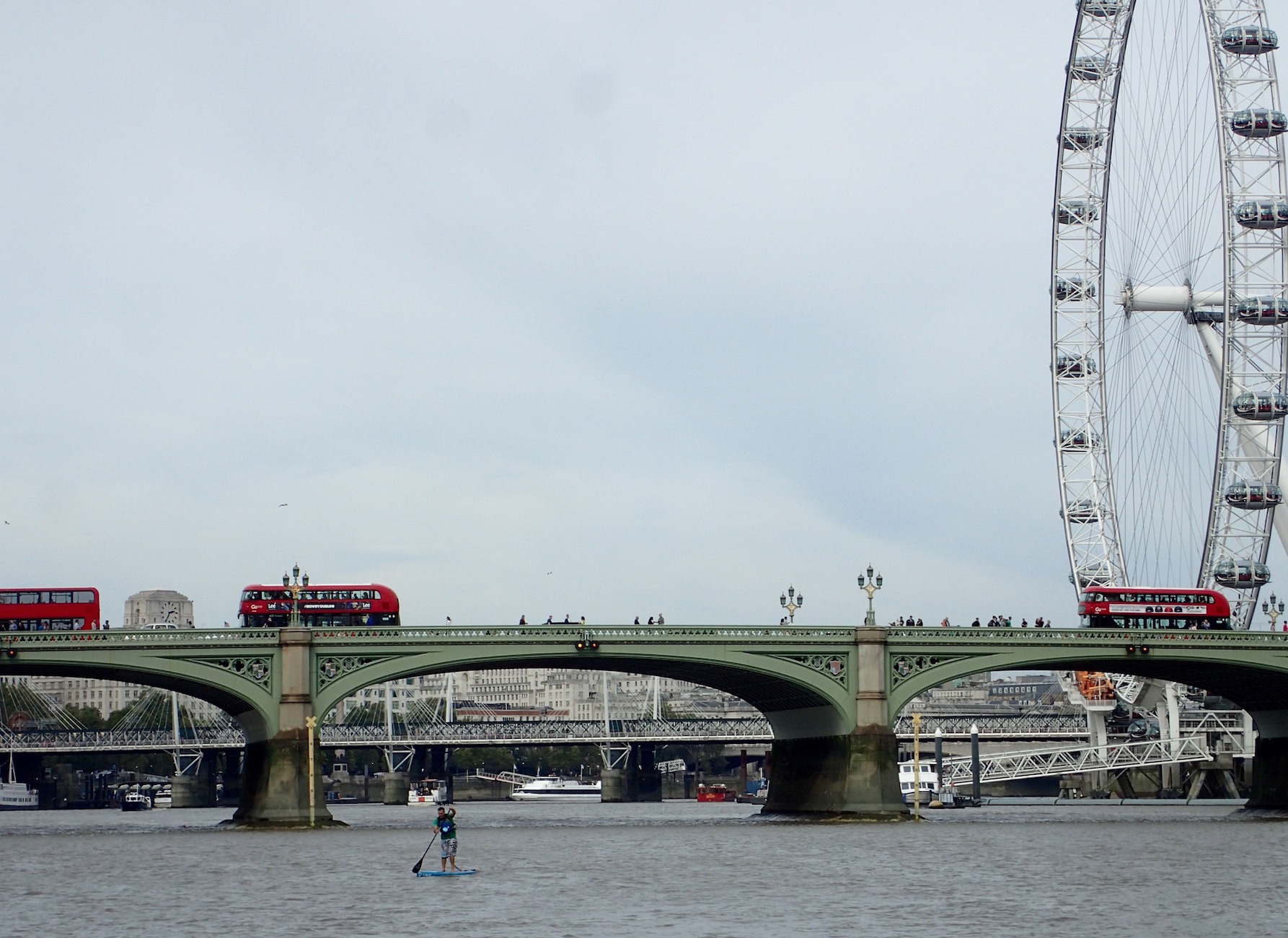 Thames Training Programme
Active360 offered to set up a training programme aimed at everyone who ventured downriver of Putney and others who just want to understand the river better. We named it 'Thames Skills and Knowledge 1' (TSK1) and piloted the first courses in summer 2015. It took a few more months for the PLA to change their rules and actually allow paddling down to Chelsea Bridge. The first groups to go there since the restrictions enjoyed the chance to take in the historic bridges and landmarks along the river.
In Sept 2016 we piloted a TSK level 2 course which is for people who want to paddle down as far as Tower Bridge.
The Level 1 course covers wind and tide effects and safety hazards on the Tideway including rowers passenger boats and other craft. Also safety equipment and how it can best be used to reduced the balance of risk. There is a 2 hour off water session followed by 2 hours on water.
TSK 2 consists of 2 x hrs off water and 2 x 3 hours on water. The theory part covers passage planning, dealing with pinning situations and knowledge of the bridges and specific hazards in Central London. We also discuss how to deal with a pinning situation and basic group leadership. The response from participants was good and also the PLA participated in theory sessions and gave positive feedback. The course finished with a one way paddle from Kew Bridge to Chelsea Bridge – starting in early evening and finishing after dark. After a spectacular sunset we passed under Albert Bridge in darkness. The bridge lights threw a huge pool of light on the bridge approach making it a very special experience on a calm September night.
Current SUP restrictions
There are still restrictions in place but now they are mostly reasonable. For example SUP paddlers should be in groups of three and one of the group should carry and be licenced to use a Marine VHS radio. Also there are restrictions on the time of paddling in central London particularly during the busy summer season and night paddling anywhere on the Tideway is only allowed by TSK1 or above trained paddlers.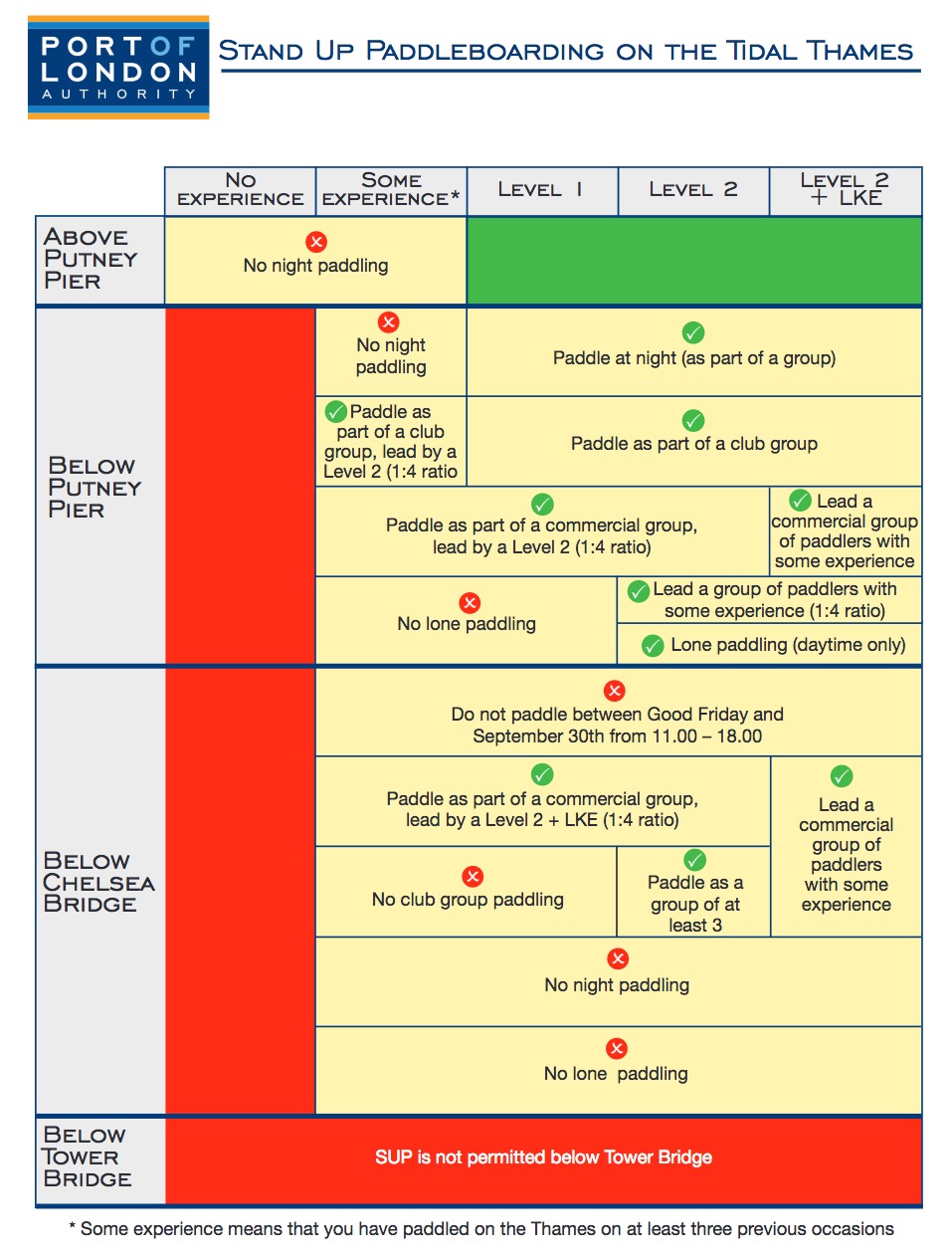 A new Paddling Guide has been drafted by the PLA and is still under discussion. There are a few points of discussion – one being that all SUPs and canoes are advised to "work the slacks". This means like rowers you would paddle on the left side of the river in designated places to benefit from the reduced current there. The downside of this is that at busy times you would be in a stream of faster moving rowers who are of course facing backwards. I'm fairly sure we can agree something safer and meanwhile if you do this take great care!
To date around 80 people have taken TSK1 training and over the summer we organized regular daytime trips down to Chelsea Bridge. On 24th September as part of the Source to Sea Thames SUP Relay we ran a paddle down to Westminster Bridge with Tideway staff including Andy Mitchell their CEO. Tideway are the engineering company building the "super sewer" under the Thames Tideway to greatly reduce the problem of stormwater and sewage being dumped in the river after heavy rainfall. They sponsored the London legs of the Relay including the first 20km SUP race into central London – the Big Ben Challenge.
On 25th Sept the last leg of the Relay ran from Vauxhall Bridge to the Thames Barrier. Andy Mitchell joined us again – this time dressed in a suit to please Tideway's Media team! We set out before high tide and reached the Barrier approx four hours later on the ebb tide. We passed right through central London stopping for a few minutes at some of the many iconic buildings and landmarks along the route. These include Parliament, the London Eye, HMS Belfast, Tower Bridge (which opened up to let a beautiful steam boat through), Canary Wharf, the Cutty Sark, Greenwich Naval College, Trafalgar Steps and finally the Thames Barrier. River traffic on a Sunday morning is light and at high tide the river is big and wide.
We are looking forward to running more courses throughout 2017 and we are working on ways to develop the format with the training agency Skills Active. Four of us have already trained as trainer/assessors and this gave us lots of new ideas for developing the courses and developing an assessment process and making them part of the Skills Active National Training Framework.
As a measure of how far things have moved on I'm now part of the PLA's Thames Vision project which is all about making better use of the river over the next 20 years. SUP is now seen as a good addition to the river with an excellent safety record. I get the PLA's river incident reports twice yearly and unlike rowing SUP hardly gets a mention even tough there are now many people padding this historic and scenic stretch of river.
You can find more about SUP on the tidal Thames on www.boatingonthethames.co.uk/Paddling
Words : Paul Hyman
Photo : Active 360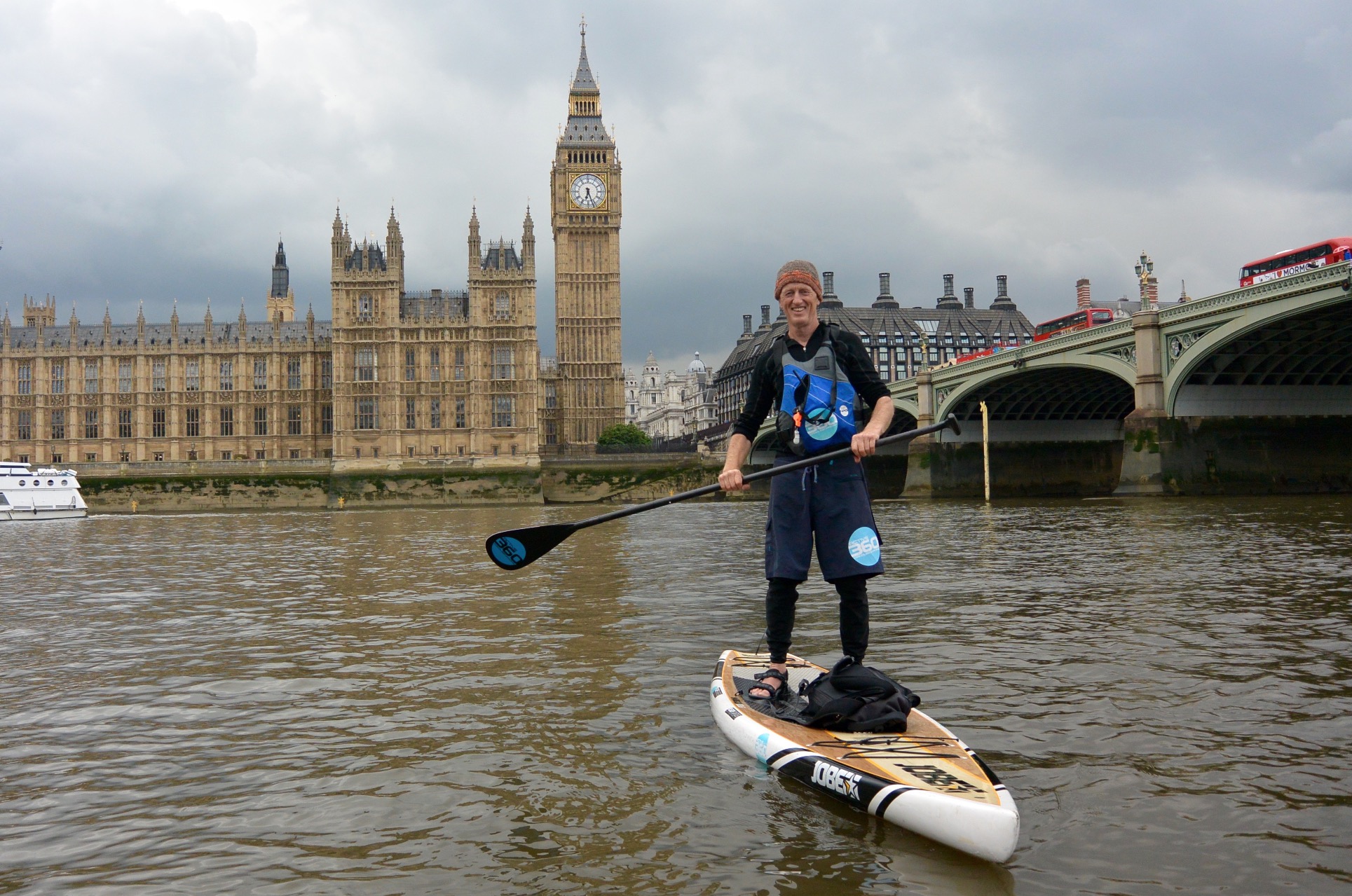 On behalf of all SUPers, the SUPboarder team would like to thank Paul for all his hard work in getting central London accessible by SUP. There really is no better way to see the sights of London. But to ensure it remains that way for everyone to enjoy, please stick to the rules, be sensible and be safe. 
For more information about the Thames SUP Skill and Knowledge training programme click here.