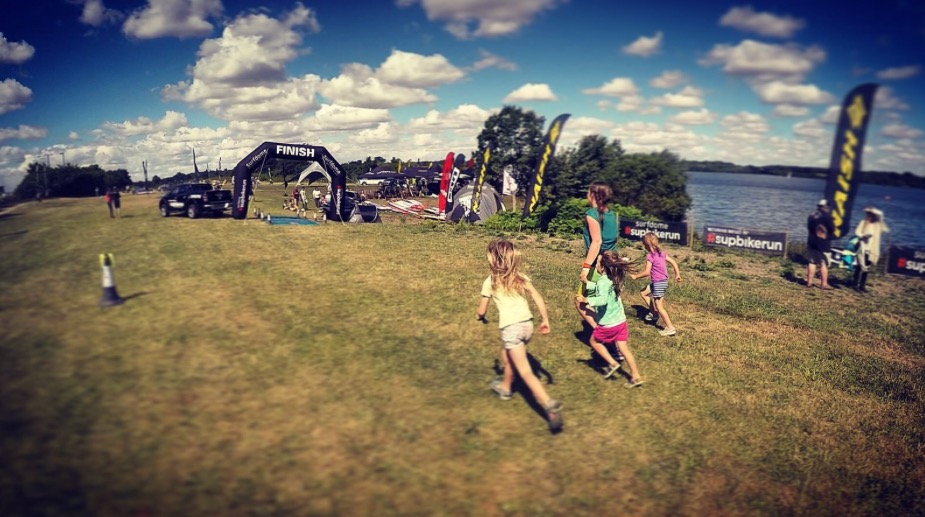 Doing something for yourself now and then, is vitally important (especially when you have kids!) But finding the time to exercise is not always easy, as it can often feel as though there just aren't enough hours in the day! It takes motivation, family support and something to aim for.
Working mum of three, Ceri Rogers decided she needed such a challenge, and set herself the goal of taking part in the supbikerun triathlon at Alton Water on the 30-31st July 2016. A 3km SUP, 15km bike and 5km run set in the beautiful 400 acre reservoir surroundings in Suffolk. Teri tells SUPboarder her inspirational story from her first training session to the finishing line, and why she's planning on coming back for more!…
In early 2016 my baby was about to turn 1 and I had returned to work. My baby is my third child and over the preceding 5 years I had willingly and almost completely given up most of the hobbies and activities that had characterised my life pre children. Then when I returned to work I found that any spare time I had previously found for exercise apparently vanished into thin air. Like for so many people, exercise is important both for my mental and physical wellbeing. I needed to find a way to ensure exercise became part of the game plan again.
Initially I thought what I was just looking for was a challenge but frankly juggling the demands of my job as a solicitor and my family was challenge enough. What I craved was to do something for me, not just to exercise but to find something to aim for so I could feel my own sense of achievement. I also increasingly wondered how my older children would view me as they grew up, I wanted to show them what I was made of and maybe inspire them along the way.
I decided I needed an event to work towards, to help me prioritise my goal and carve out some time each week for training. But, what? I had seen many friends complete marathons and half marathon and various epic bike rides. These ideas did not particularly enthuse me, I do not like running and I didn't have a bike! I had completed Trailwalker in 2009 and contemplated another long distance walk but I knew from experience that training properly for this event would require hours and hours of training time – time I wouldn't have. I had often thought that I'd like to do a triathlon, if it wasn't for the swimming and the running. However I concluded that I needed to nail this running business, everyone around me seemed able to run so why couldn't I? Plus running short distances seemed a good way of exercising because it was something I could do in even a very short window of time. Still triathlons started with a swim and I wouldn't know where to start when it came to the swimming, I am far more at home on top of the water in a sailing dinghy than I am floundering about it in. I had found very few opportunities to sail over recent years and I missed it, I missed getting out on the water. I had taken my older children out sailing a few times but we had spent more time using simpler vessels such as kayaks, rowing boats and more recently stand up paddle boards and we had loved these trips as there was less focus on what we were doing and more on just having fun on the water. That was what was important, at least initially.
Then there it was jumping out of my newsfeed – supbikerun, it looked awesome but initially I was daunted, I thought it was way beyond me but then I read more, two distances. It sounded fun, I had no idea how difficult or otherwise a 3k sup would be, I suspected much would depend on the wind but I knew enough about the sport to know it was hugely accessible to all ages and abilities. Equipment wise supbikerun made it easy, I could hire a board as part of the ticket price and there were various events all over the country, one of which was only an hour's drive from home. The 15k on the bike sounded ok, and I was just going to have to nail this running business. I purchased my ticket.
I trained before the children got up and after they'd gone to bed, this meant I was fortunate enough to be cycling around the seawall and local countryside during some beautiful sunsets – and so I stopped and took it all in and remembered how good it is to be alive. I went and bought the bike that I'd been promised since I was expecting our son. I really had to do the event now I'd fully invested.
One morning, when I was woken at an unmentionable hour I ran round the seawall with my older children on their bikes, I say ran but their enthusiasm lasted all of 5 minutes and so determined not to lose the training opportunity I pushed them both around with me. Sometimes the children were ill, work was manic or we moved house and I didn't run for weeks but eventually I'd get back on it because the last weekend in July wasn't far away. But time after time I found I just couldn't do it, I just couldn't keep going for the whole 5k run but then one evening, I ran with a friend and chatting we both ran – without stopping a whole 5k and then we did a short bike ride. I was relieved but the inescapable truth was that I hadn't paddle boarded or cycled before the run!
Alton Water is a fabulous location and the course is shared access with the public. I had a strong sense of how hard supbikerun must work both to negotiate running the event from the venue and to pull it off so seamlessly. We arrived on the Saturday and immediately wished we had camped. The sup sessions included in the ticket price were really useful. My son (6) asked when the mini supbikerun was and could he take part in the sprints. We all wanted to join in the sup yoga!
The day arrived, I was nervous, but my nerves soon disappeared. From registration to the pre-race briefing (which incidentally is repeated time and time again by Sam so that participants can start as and when they like thoughout the day) everything was so friendly and laid back. There is no enmasse start, unless you chose otherwise, the only person you are really racing is yourself.
The paddle was windier than I'd hoped, I worked hard, trying to make use of the techniques we'd be shown during Saturday's supmasterclass but mostly I was just enjoying being underway and notching my way round the course, first one mark then the next. On the bike I kept on pushing myself, I loved the fact that the kilometres were marked off on the course so you knew just how long you had left. I didn't know I had suspension on my bike or that I should have switched it on (until everyone laughed at me complaining about how bumpy the second part of the course was) I was busy kicking myself that my water bottle wasn't working and that prior to the race I hadn't managed to learn which gear I should be using to save my legs. The course was mostly flat but I rejoiced inside when I made it up the larger inclines. Each time I was overtaken the other competitors each one of them checked I was ok before moving on, I tried to hold onto them for as long as possible.
I didn't run much on the run. It was hot, I didn't know which way to go, I panicked I managed to go the wrong way, I went back, it was hot. Everyone was encouraging, the marshals, the volunteers, the other participants, I walked for a while, I jogged, I stopped, I repeated. I was frustrated that the run (which I'd been so focussed on and had spent most time training for) had stumped me. I ran across the line with my daughter who is 4 holding my hand smiling and it didn't matter, I'd got round and I'd done it in 2 hrs 5 mins 20 secs!
The trouble is that now I want to do it again, I want to try and see if I can do better and if I can handle a different course, I want to do another supbikerun. The event gives me a fantastic reason to visit beautiful areas of the country and I love the fact that the supbikerun course utilises a range of skills and is accessible to a huge range of ages and abilities. However it is the supbikerun experience as a whole and everything that the weekend at Alton Water encompassed which will mean that I will be looking out for the 2017 events, badgering friends to join me (and keeping up the training of course!)
Words – Ceri Rogers
Well done Ceri. A fantastic achievement and a great inspiration for other mums out there. So come on SUPboarders, why not set yourself a SUP challenge this year? It might be just the excuse you need to find the time to do something for yourself!
The supbikerun events take place in beautiful settings across the country and tickets are still available for the next supbikerun event at Bassenthwaite, in the Lake District on Saturday 24th/Sunday 25th Sept. So what are you waiting for?! Get involved and challenge yourself in 2016.