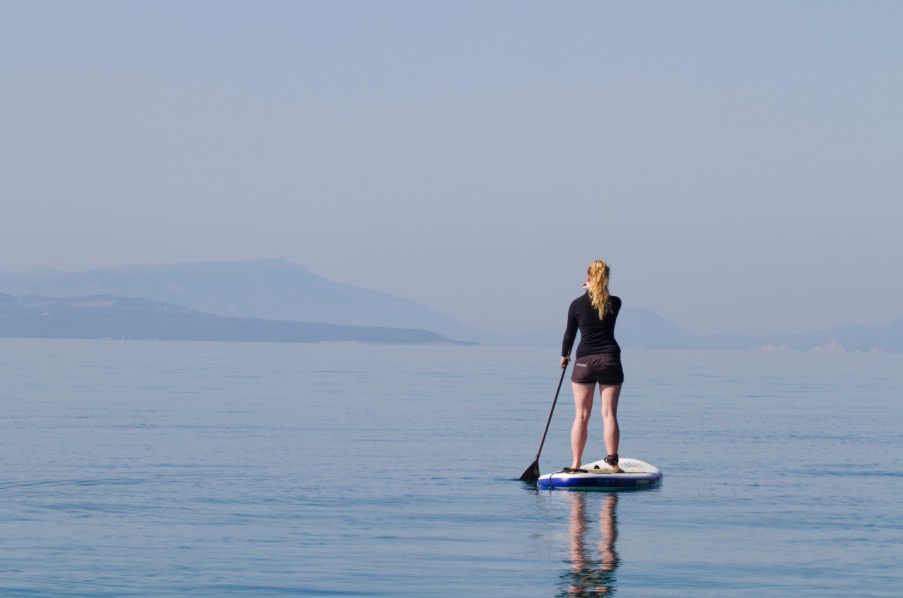 You can't beat Stand Up Paddleboarding in Greece, with its warm climate and clear waters. Greece is a great place to learn to SUP in the calm mornings or search out the afternoon breezes for some downwinding action. Ollie Denton from Ocean Elements tells us a bit more about what Greece and Ocean Elements has to offer for a SUP travel holiday…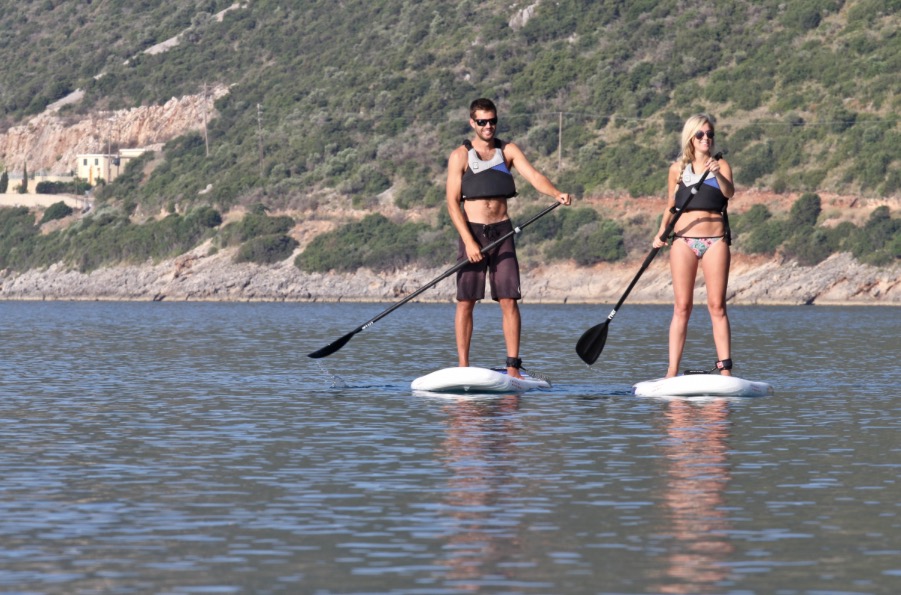 If you haven't heard of Ocean Elements before then you're missing out! They are an award-winning holiday company dedicated to providing high quality water sports holidays at beachfront locations in Greece. If you are looking to learn to windsurf, sail, stand up paddleboard or even kayak then this is the place to learn. You are greeted with wall to wall sunshine between the months of June to September with warm crystal-clear water and beautiful beaches.
When it comes to stand up paddling then you can take your pick of any of their resorts. Each provides stand up paddleboard tuition and hire. It doesn't matter if you are new to SUP or are an experienced paddler there is a great range of equipment to use and some beautiful scenery to explore. If you are looking to take your own kit then you will not go wrong with a touring or race board to make the most of the incredible areas to explore with glassy flat conditions. There are some stunning and secluded beaches hidden away in Vassiliki and Pelion and they are all within paddling distance. Agio Filli Beach and Alatas Island are definitely not places you want to miss out on visiting.
Fancy something a bit more competitive? The resort of Porto Heli is host to the annual Dakine and Starboard SUP Challenge. This event is open to everyone with a range of categories for men, women and kids to enter.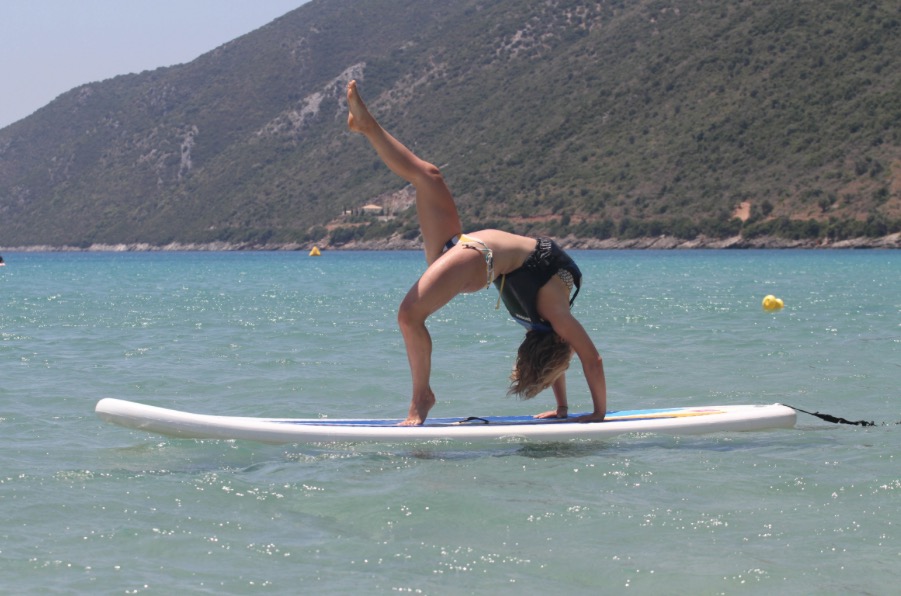 Greece isn't just perfect for touring and exploring. Ocean Elements offer SUP yoga sessions to customers to try, included in the cost of your holiday. With a trained yoga instructor on site to help you relax, stretch and test your balance whilst trying some interesting exercises floating around on a paddleboard.
So what else is good about their holidays? There is a range of accommodation to choose from with B+B accommodation in Vassiliki and half board catering options in their Pelion and Porto Heli resorts. You can expect plenty of fresh seafood alongside Greek specialties such as moussaka, spetsofai, saganaki, pastissio and grilled kebabs. Greek salads, stuffed vine leaves, courgette balls and grilled zucchini are all popular choices as well.
If you somehow manage to get bored of paddleboarding then there is plenty on offer to keep you busy. Try your hand at windsurfing or dinghy sailing with complimentary RYA tuition and courses available for all levels (resort-specific). Porto Heli and Horto offer brilliant conditions for dinghy sailing with slightly lighter winds, whilst afternoons in Vassiliki offer stronger conditions for intermediate and advanced windsurfers.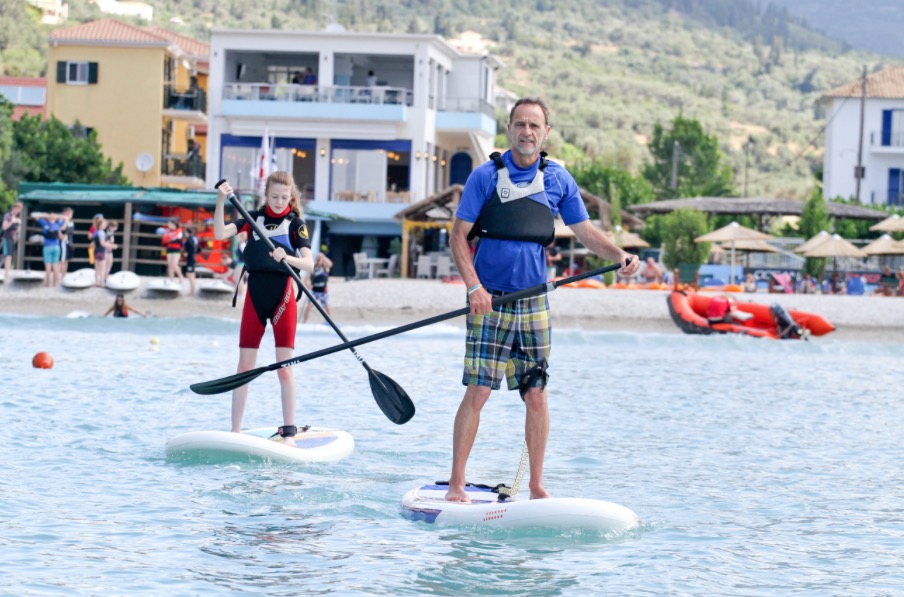 Ocean Elements top 5 tips to help SUPboarders experience the best stand up paddleboard trip.
1. Location – Pick a location to suit your ability and needs. If you are a beginner then look for calm flat conditions to start with. It's always nice learning in 30 degrees, sunshine and warm water.
2. Traveling easy – If you are traveling somewhere warm then you don't need to pack heavy, just the essentials. Board shorts, t-shirts, suncream, waterproof camera and good pair of sunglasses. You also don't need to take equipment when traveling with us as we have a range of equipment in each resort.
3. Paddling somewhere new – It is always a good idea to use a local guide if you are paddling somewhere new. You always want to stay nice and safe and explore the area with someone who knows it well.
4. Getting the best price – Keep an eye on Ocean Elements' deals page and find the best package to suit you.
5. Hydration – When paddling in the heat it is essential to stay hydrated. You will be able to paddle further and for longer when you stay hydrated.
Beach Club holidays in Greece start from only £499pp including flights, transfers, activities and catered accommodation. For more information visit the Ocean Elements website here.
Words : Ollie Denton (Ocean Elements)