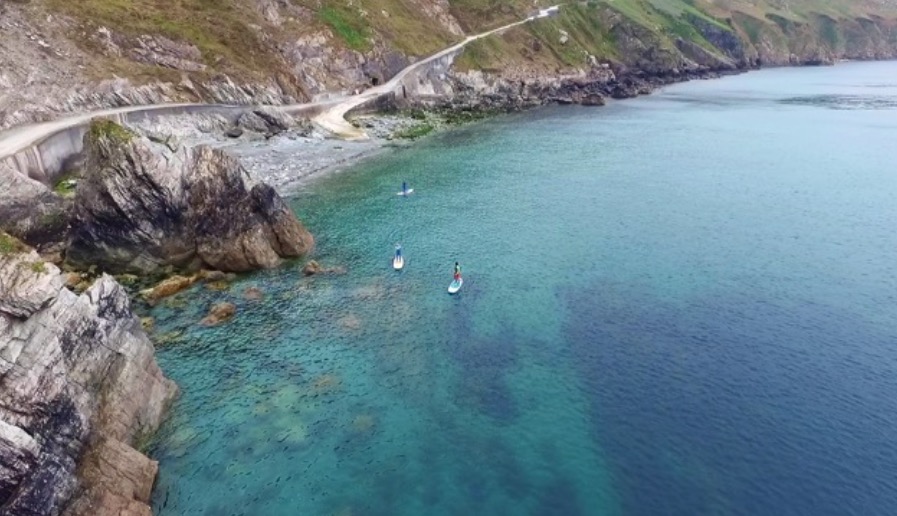 Set 10 miles off the coast of North Devon, Lundy Island is a unique coastal environment. Towering 400ft above sea level this small island boasts being the UK's first marine conservation area and consequently has a plethora of wildlife and is renowned for being peaceful and unspoiled in comparison to anywhere else.  Now thanks to SUP South West you can experience this incredible island by SUP. SUPboarder was invited along to sample Lundy 'SUP style' experiencing not only incredible paddleboarding and wildlife but all packaged up into a incredible, uniquely 'British' excursion….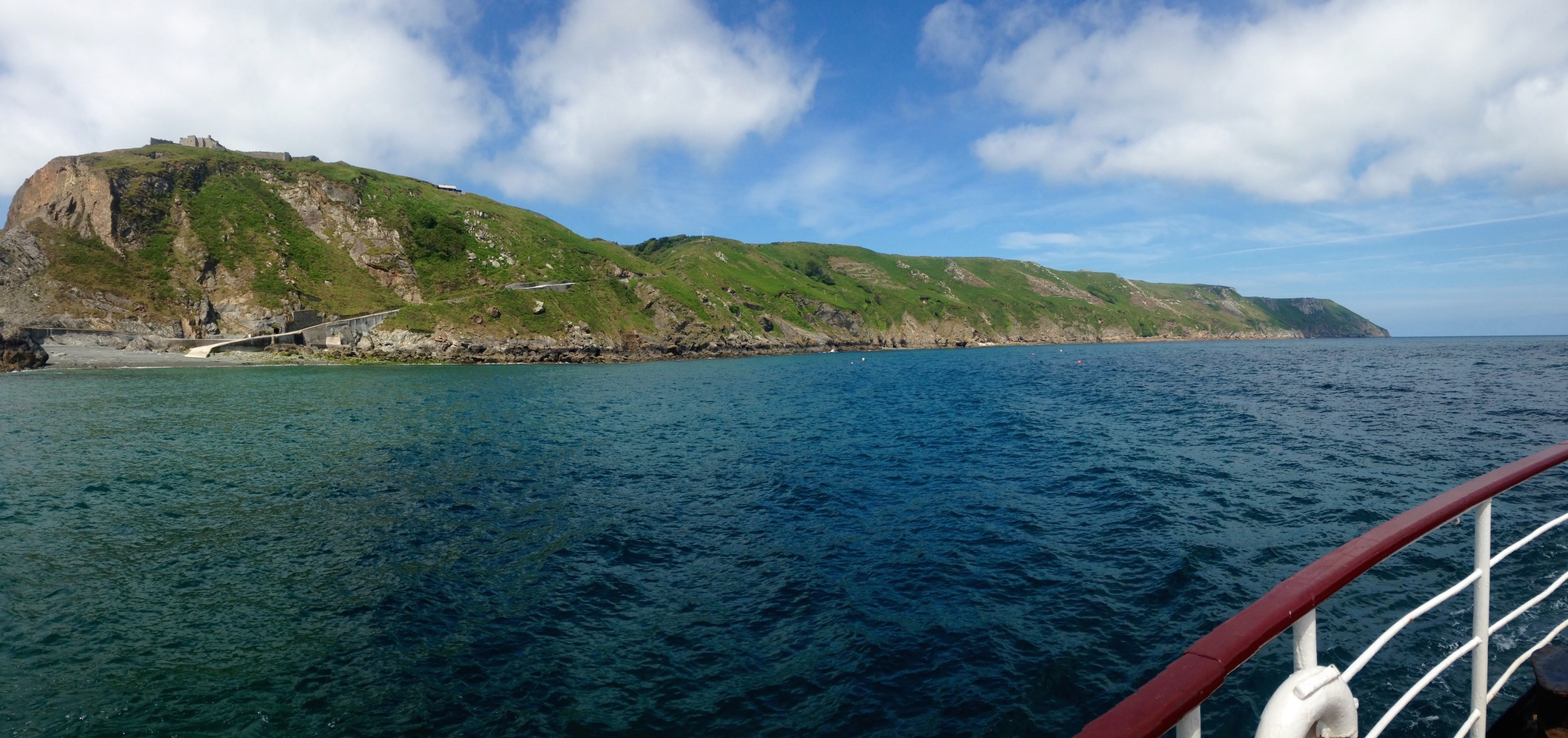 Exploring marine environments by SUP is a great experience, high above the surface of the water you have a perspective that other paddle sports just can't achieve.  You can look down clearly into the depths of ocean, river or lake and while standing you can peer over trees, rocks, banks and fine great places to explore. There's no doubt that Lundy is an incredible place to explore. The waters around Lundy were designated as the UK's first marine conservation area and consequently the ocean and its bays and beaches are full of sea life relaxing in this harmonious environment.  The island has no roads, streetlights and only 23 holiday properties to stay in, so it's never crowded and promotes itself as 'a place apart' compared to the hustle and bustle of the main land.
SUP South West, based in Woolacombe, North Devon, UK offer day excursions and overnight adventures exclusively to the island, and work closely with the Landmark Trust who manage the island to offer trips for visitors to get a great experience of the uniqueness of this incredible environment.
Check out SUP South Wests excursions information; Lundy Island Tours
Our Lundy Experience
Arriving early to a sunny Ilfracoumbe the harbour was bustling with activity.  The MS Oldenberg, the lone ship in harbour was being packed full of supplies to be shipped to Lundy.  We met the team from SUP South West who briefed us on the day of fun ahead.  The wind was a little busters so the plan was to SUP the Eastern side of Lundy on a Mega SUP allowing Simon, the local newspaper journalist and also a complete SUP rookie to experience the full SUP experience on Lundy incase the wind was too strong for a beginner.
The MS Oldenberg has been a passenger ferry since 1958 and although originally built in Germany to ferry passengers from the German mainland to the Friesian Island of Wangerooge she now offers a distinctly 'British' experience with tea/coffee and bacon sandwiches sold by the incredibly welcoming crew.  As we headed out of Ilfracombe for our 10 mile crossing to Lundy we ate our breakfast taking in the much talked about Damien Hirst statue of Verity and the imposing cliffs of the North Devon coast – a mind blowing sight! As we rolled gently into the ocean we looked forward to what wildlife Lundy would present us with, and we chatted to the ships captain about Lundy and the ship – an incredibly friendly guy who made an effort to speak to many of the passengers.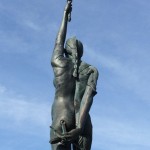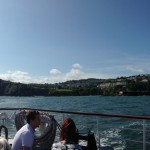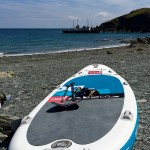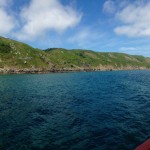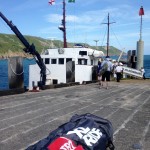 On arrival to the island and as the other tourists dispersed on their own adventures around the islands we met the islands warden who gave us a brief on how to approach the wildlife on the island – explaining what creatures we might spot she highlighted that we shouldn't get too close, but expected the seals would probably be extremely inquisitive.
Common wildlife on Lundy includes seals, a vast array of sea birds and if you're lucky basking sharks, puffins and dolphins.
Following lunch we were all excited to get on the water and as a team pumped up the giant SUP and set out on a paddle under the high cliffs of the eastern side of the island.  It wasn't long before the true diversity of wildlife became apparent.  Vast numbers of sea birds circled us, going about their daily business of fishing for food for their offspring.  It wasn't long before we spotted seals which inquisitively followed us as we headed up the coast.  The coast was covered with seals, basking in the sun – a truly spectacular sight!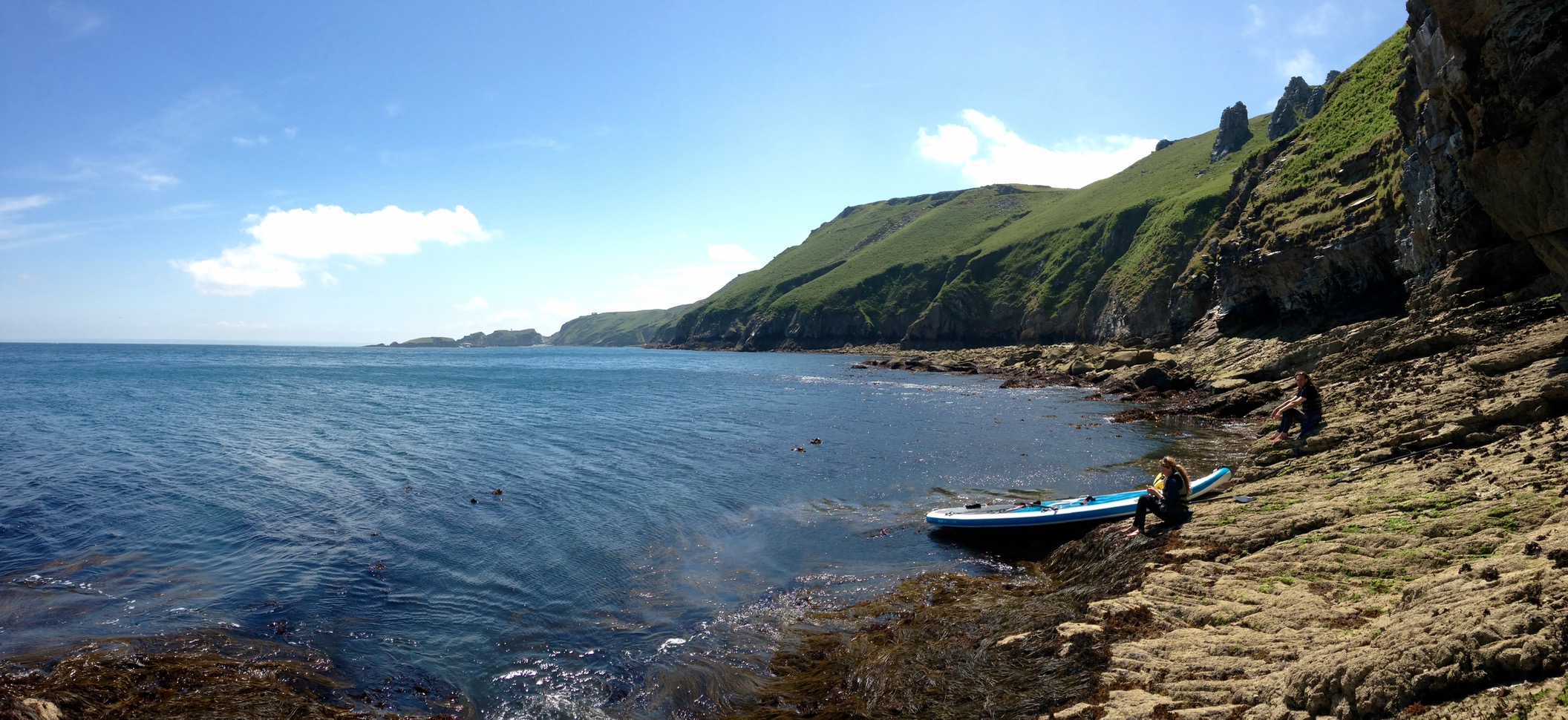 Stopping to just 'take it all in' – Surrounded by sea life.
There weren't many words, but smiles beamed and worries disappeared.
Although the sun was out, so unfortunately was the wind, but Marc from SUP South West got us working as a great team to reach our destination of Gull Rock, home to huge colonies of sea birds and even more seals.  Stopping on the shoreline of our upwind paddle we all took a moment to take in our surroundings.  A truly breathtaking place… quiet, unspoilt and rich in wildlife.  There weren't many words, but smiles beamed and worries disappeared.  Its fair to say we all felt particularly lucky to be experiencing such a unique experience.  Perching on the shoreline near Gull Rock the group took in our surroundings while the wildlife kept a close eye on us!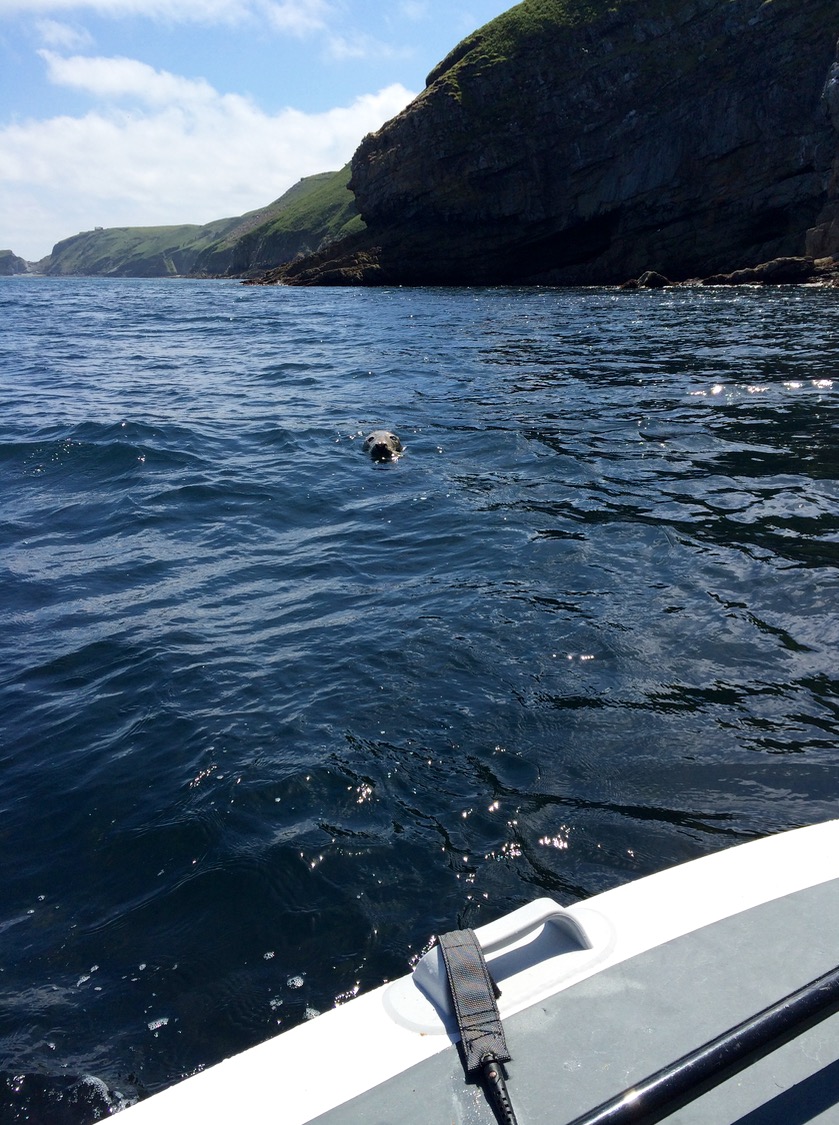 Wonderful wildlife on Lundy – never far away…..
The paddle downwind home was faster and required less paddling. As we glided down wind we had the opportunity to spot yet more wildlife and even go for a swim.  As we packed up the kit ready for our return sailing, we were all a little disappointed, mainly because we wished we had signed up for the two day trip – we had all become a little fond of this wildlife haven in the middle of the ocean and wished we could stay a little longer.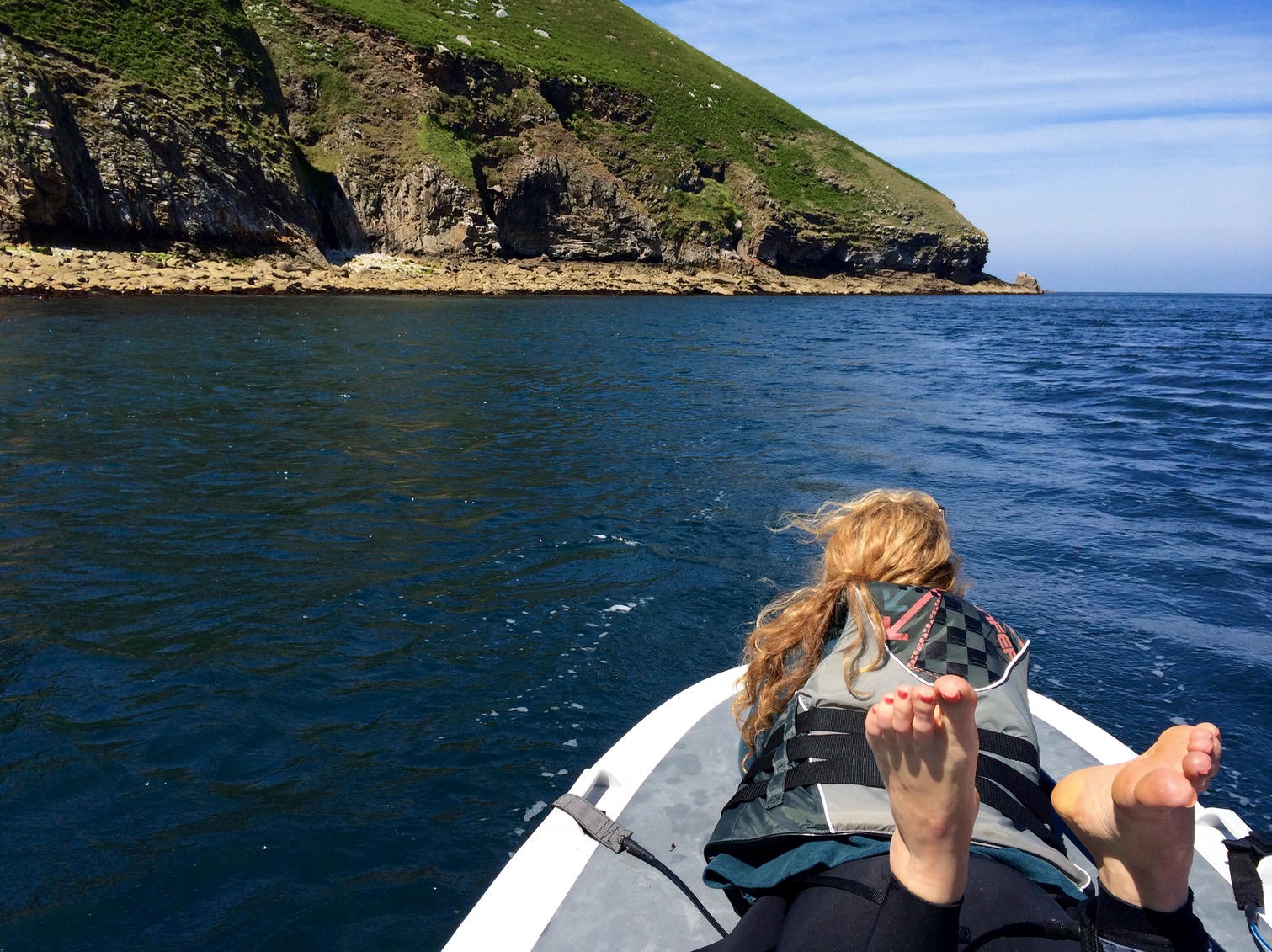 Packages from SUP South West
SUP South West have packaged this trip up into two options – a one or two day all inclusive excursion.  The two day trip includes camping. Check out the poster…. Lundy Island Tours
Lundy is a fantastic and unique SUP experience – allowing you to get close to the wildlife on a SUP where your presence is non disruptive, was truly incredible.  Although we didn't see some of the less common wildlife their was more than enough to take in. SUP South West have really put together a great package here – the day trip will give you a very unique SUP experience and if you want to see more of Lundy, sign up for the 2 day excursion and increase your chances of seeing the less common wildlife!
Useful links about Lundy: www.landmarktrust.org.uk/lundyisland/