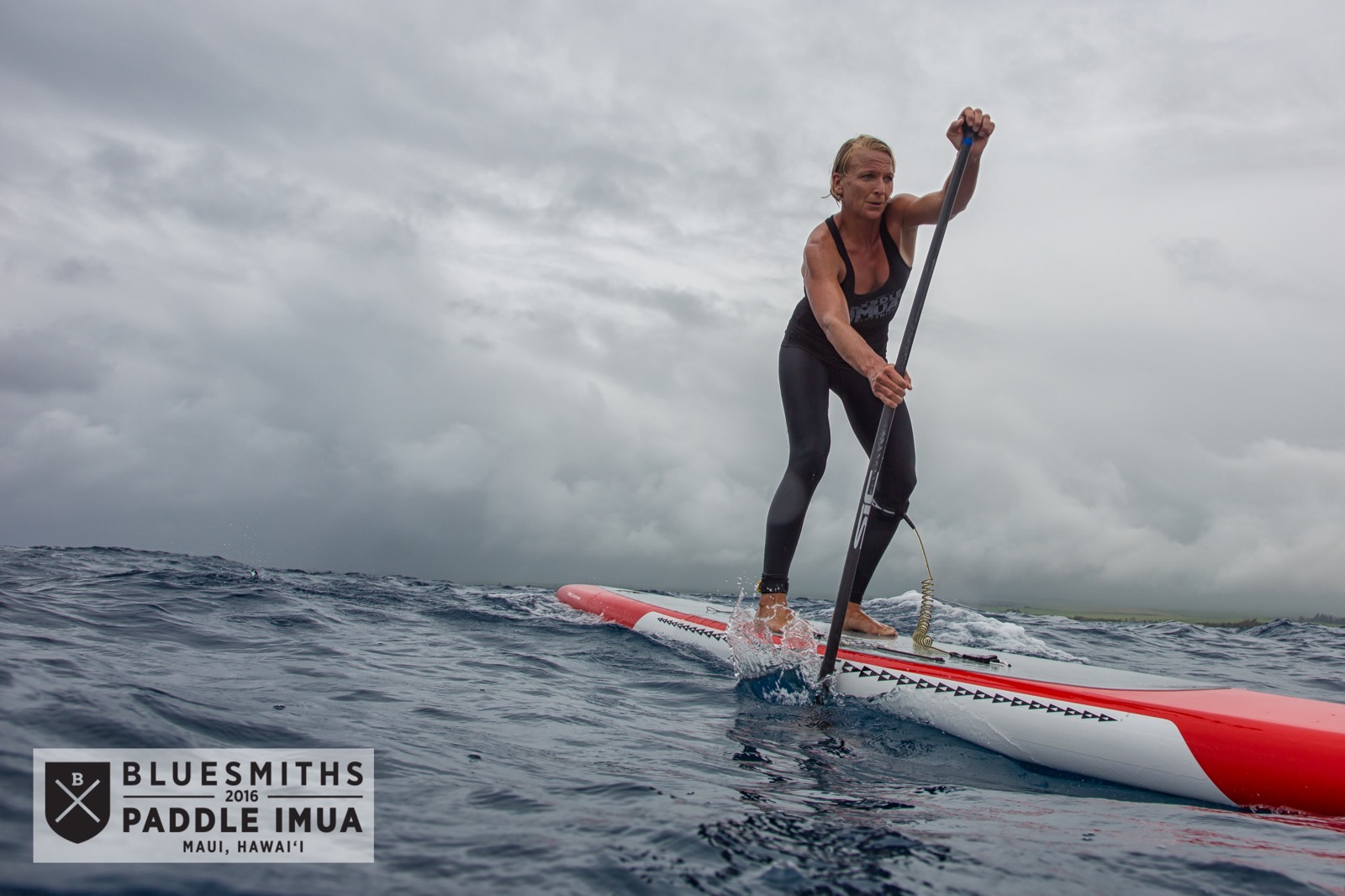 5th Annual BLUESMITHS Paddle Imua 2016
James Casey & Sonni Hoenscheid dominate a fleet of 181 athletes on a wild & wet day in Hawaii
Paddlers had been watching the weather forecast closely as Maui's trade winds took a break for a few days. The North Shore of Maui is wild and rugged and Saturday it delivered one of the most challenging races in Bluesmiths Paddle IMUA history. Stand Up Paddlers, Prone Paddlers, OC1s, OC2s, OC6s, Surfskis and even a few sail boats lined up on the start line inside Maliko Gulch with the ominous 10 mile Maliko-Kahului coastal run ahead of them.
It was interesting to see how the different competitors reacted to the changing weather conditions. Paddlers such as Maui based Bart de Zwart were relishing in the tough conditions while others, more at home in the downwind swells, were apprehensive with the lack of wind and bumps. The 15 knot onshore wind and building NW swell promised to make this Maliko Run one to remember.
The event opened with a beautiful Hawaiian blessing followed by the race briefing and all important safety announcements, which today seemed more poignant than ever. BLUESMITHS Paddle Imua brings together the oceans sports community in unique way: Everyone paddles for the benefit of Maui's children with special needs. The nature of this benefit event no doubt incentivized the 181 athletes when faced with tricky, wet, onshore conditions. For the competitors, this event is about the kids first and foremost.
The Women's Elite SUP race was a showdown between two of the world's top ranked paddlers Fiona Wylde (Hood River, OR) and Sonni Hoenscheid (Germany) ranked 3rd and 4th respectively by SUPracer.com. Unlike the classic high wind action from last week's Olukai, the Imua race would turn into a tactical paddle battle, testing riders to their physical limits
"Paddle Imua is a special race because you're not just racing for yourself. You're racing for an incredible organization called Camp Imua that provides outdoors camps for children and their families with special needs. It truly is a community event, and those are some of the best events! Fiona Wylde (Starboard, Werner Paddles, O'Neil, Dakine)
At the start, the wind was light and swells hard to find. There were some bumps and that handed the advantage to the riders on Unlimited boards over the standard 14ft race boards. In the early stages Fiona (14ft Starboard) was able to match Sonni stroke for stroke but as the driving rain started to ease the bumps became more organized and Sonni was able to build a commanding lead with her 17ft SIC. In addition to taking the Women's win she was 5th overall and less than 2 minutes behind 3rd placed Male Bullet Obra. Fiona finished strongly in 2nd overall for the women and taking the 14ft title. Both riders will now leave Hawaii with Sonni looking to defend her Euro Tour title and Fiona heading off to Japan for the first leg of the Stand Up World Series.
"Today was really wild and a lot of fun. Initially I tried to get far outside with the hope of the wind building later but I took a bump to the left and realized that there were rides to be had. This helped me to get into my rhythm and I tried to surf every little bump I could find. I am super happy with the result and I am looking forward to heading off to Europe tomorrow to continue racing." Sonni Hoenscheid (SIC, Quickblade, Bluesmiths, Mercedes Benz, Chiemsee, Black Project Fins)
The men's SUP race featured a star-studded field including Bullet Obra, Bart DeZwart, the young Australian James Casey and downwind legend Jeremy Riggs. Tactics would play a large part in the overall race with a confused north west swell. While the outside line was the likely favorite before the race, no paddler would give up his strategy. It was an interesting mix of riders from endurance paddlers, down-wind specialists and Stand Up World Series racers. In the grueling conditions the winner would certainly have to work hard for it!
With legendary waterman Dave Kalama, last year's winner, opting to paddle a two-man canoe, we would see a new SUP winner in 2016. The young Australian James Casey (JP Australia) impressed last week at the Olukai and is no stranger to racing in Hawaii. After a close battle in the early stages James built a commanding lead and entered the mouth of Kahului Harbor nearly 5 minutes before the next paddler Jeremy Riggs. As the brightly colored James crossed the finish line a new BLUESMITHS Paddle Imua champion was crowned and James took his first international win.
"Super stoked with the win, there were some bumps out there but I had to work for it, stoked to get my first international win. The BLUESMITHS Paddle Imua is a great event, it is on my calendar for every year now. Next up is Japan for the Stand Up World Series then back to Hawaii in July for Downwind Month and the Molokai to Oahu race." James Casey (JP Australia)
"That felt good, I tried to stay offshore, find some bumps and keep it going." Jeremy Riggs (SIC, Bluesmiths)
One of the unique aspects of the BLUESMITHS Paddle Imua is the diversity of water craft on the water at the same time. Seeing the sailing boats at the start line was new and exciting. Today the fastest finisher was SurfSki paddler Michael Owens in a time of 1 hour 15 minutes more than 8 minutes ahead of the first SUP finisher. It will be interesting to see whether any SUP hydro-foil boards are in use next year following Kai Lenny's widely publicized recent downwind sessions and if so if they can beat the existing craft over the entire distance.
Dave Kalama and Junya McGurn won the Men's OC2 and were second overall in a time of 1 hour 16 minutes.
ABOUT THE RACE
The BLUESMITHS Paddle Imua is more than a race. This race has raised over $100,000 over the last five seasons which has gone to fund Camp Imua, a critical one-week recreational summer camp for children with special needs.
John Smalley, founder of Bluesmiths Crafted Waterwear, has paddled in all five Imua races.
"It was a phenomenal race, very light winds and extremely testing, there was a bit of swell out there so it was about getting the good glides which was tricky. It was my first race on an unlimited board today and that took a bit of getting used to. I really recommend people making the trip to Maui for this event next year. So many people paddled in conditions which were exceptionally difficult but they were doing it for the kids and the whole community got together. It has to be one of the best races in the world." John Smalley, Founder of BLUESMITHS & Paddle Imua title sponsor.
Being part of this special event is a humbling experience. The BLUESMITHS Paddle Imua is one of the most enriching paddle races on the planet, with every stroke, riders know that they are helping kids reach their goals. If you are a keen paddler and want to help others through your enjoyment of the ocean, then consider planning your vacation time around a trip to Hawaii and an entry in the 2017 BLUESMITHS Paddle IMUA.
"Get yourself over here, it is awesome, it is the best fun you will have, if you are into paddling then just do it." Justin Ormonde, Australia
Thanks to all the competitors, volunteers, organizers, safely crew and sponsors who have once again made this special event possible. A special thanks to the Hawaiian Canoe Club for hosting the event.
BLUESMITHS Paddle IMUA Official Results
Men's SUP 12'
Alex Mawae
Searay Beltran
Royle Taogoshi
Men's SUP 14'
Bullet Obra
Bart De Zwart
Ryan Funk
Women's SUP 14'
Fiona Wylde
Shanna Upton
Alyssa Joy
Men's UNL SUP
James Casey
Jeremy Riggs
Sam Parker
Women's UNL SUP
Sonni Hoenscheid
Devin Blish
Jenn Biestman
Men's OC1
Felipe Gomes
Ryan Murphy
Quinn Whiteford
Women's OC-1
Catherine Deboni
Lisa Fanning
Thersea Felgate
Men's OC-2
Junya McGurn
Women's OC-2
Michelle Cerizo
Mixes Age Group OC-2
Kristina Dougherty
Marian Frank
Stephen Ross
Men's PDB Prone
Nicholas Franco
Hogan Kania
George Foster
Womens' PDB Prone
Christine Corey
Men's Surfski
Michael Owens
Eric Rolozcski
Doug Ruppenthal
Full results are available here 
ABOUT BLUESMITHS Crafted Waterwear
Bluesmiths builds the hardest-working, most versatile waterwear in the world. Based in Maui, Hawaii, we live for real innovation & problem solving, best-in-class fabrics, timeless styling and uncompromising manufacturing standards.
Learn more here
ABOUT CAMP IMUA
Run by Imua Family Services and a team of volunteers, Camp Imua is a recreational summer camp held annually children with special abilities an opportunity to try new activities and connect with each other and peers in their community.
Learn more here