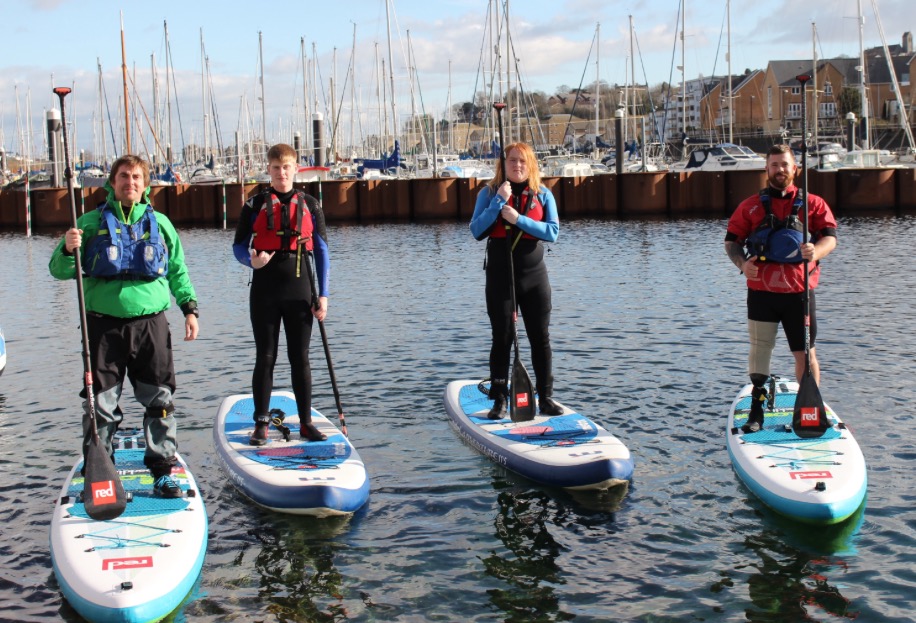 SUPboarder contributor Dan Willmore is always up for a challenge and his next one is definitely that! Dan along with Gearing Hillard, a former serviceman and amputee, plan to raise the bar and paddle largely unsupported around the 440 mile Welsh coastline. Their aim is to raise over £20,000 for Ysgol Y Deri.
Dan explains more about this epic and worthy challenge…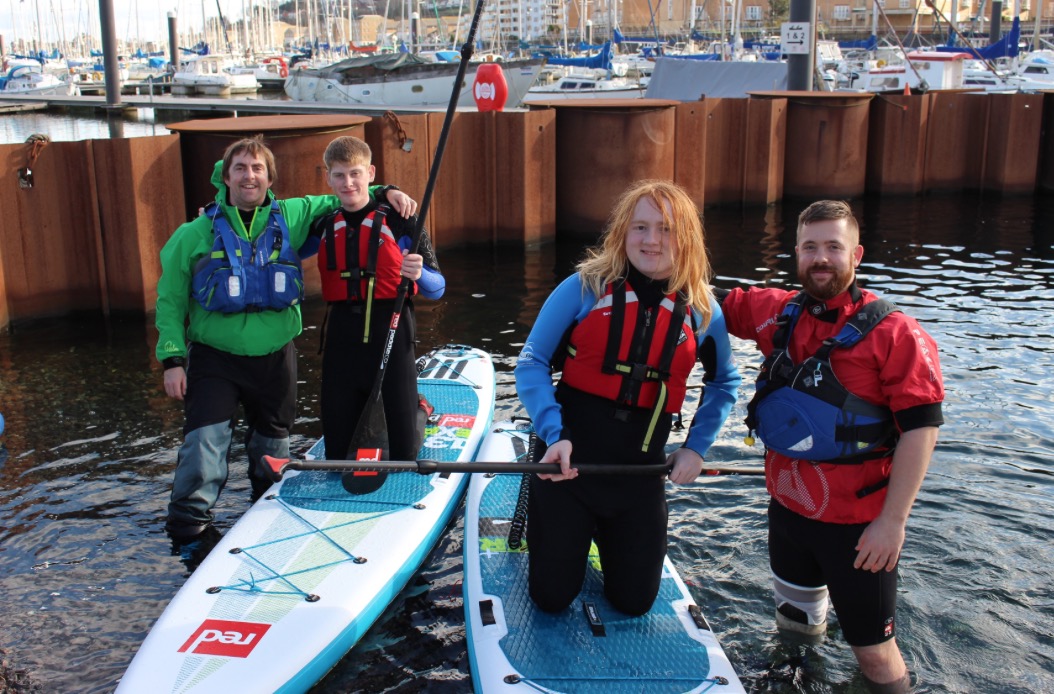 Ysgol Y Deri learning community and it's programs like 'The Surf Experience' have been working extremely hard for the last 4 years to show what differently abled individuals are truly capable of. We believe they can achieve anything they put their minds to. All they need is the self-belief and a little help from their family and friends and the sky is quite literally the limit.
On 28th May 2016 the SUP Challenge Wales team plan to stand up paddle the whole 440 miles of Welsh coastline to support the dreams and aspirations of the pupils at Ysgol Y Deri. We will be aiming to raise upwards of £20,000 for specialist outdoor equipment. We want to support them in achieving some of their goals and expanding their horizons as well as raising awareness and support for other organizations around Wales that offer similar opportunities to people with disabilities be it physical or mental. The final 6-mile leg of the journey we will be joined by some of our pupils so please come and give them your support.
We hope you will support us on the incredible trip by spreading the word, donating a little or a lot or simply wishing us well.
The Plan
The challenge will be starting on the 28th May 2016 on the welsh boarder in north Wales and finish 4 weeks later in Cardiff bay.
The team, consisting of Dan Willmore, lead instructor and founder of the The Surf Experience and Geraint Hillard, a former soldier and amputee, plan to complete the whole journey largely unsupported with only a few meeting points to stock up on much needed items.
Along the way they hope to have local charities, clubs and business' that offer outdoor opportunities to differently abled people to come and paddle, on whatever craft they wish through small sections of the journey. The aim is to raise awareness and highlight the places where people can go and take part in these incredible activities as well as hearing some personal stories of how outdoor pursuits that have helped and inspired others.
The Reason
Outdoor education is very important to the Ysgol Y Deri pupils and staff. It offers life experiences that no other form of education can give. It has a direct impact on the way a person feels. It boosts confidence and self esteem while promoting team work and develops social skills. The list of benefits is endless.
Geraint Hillard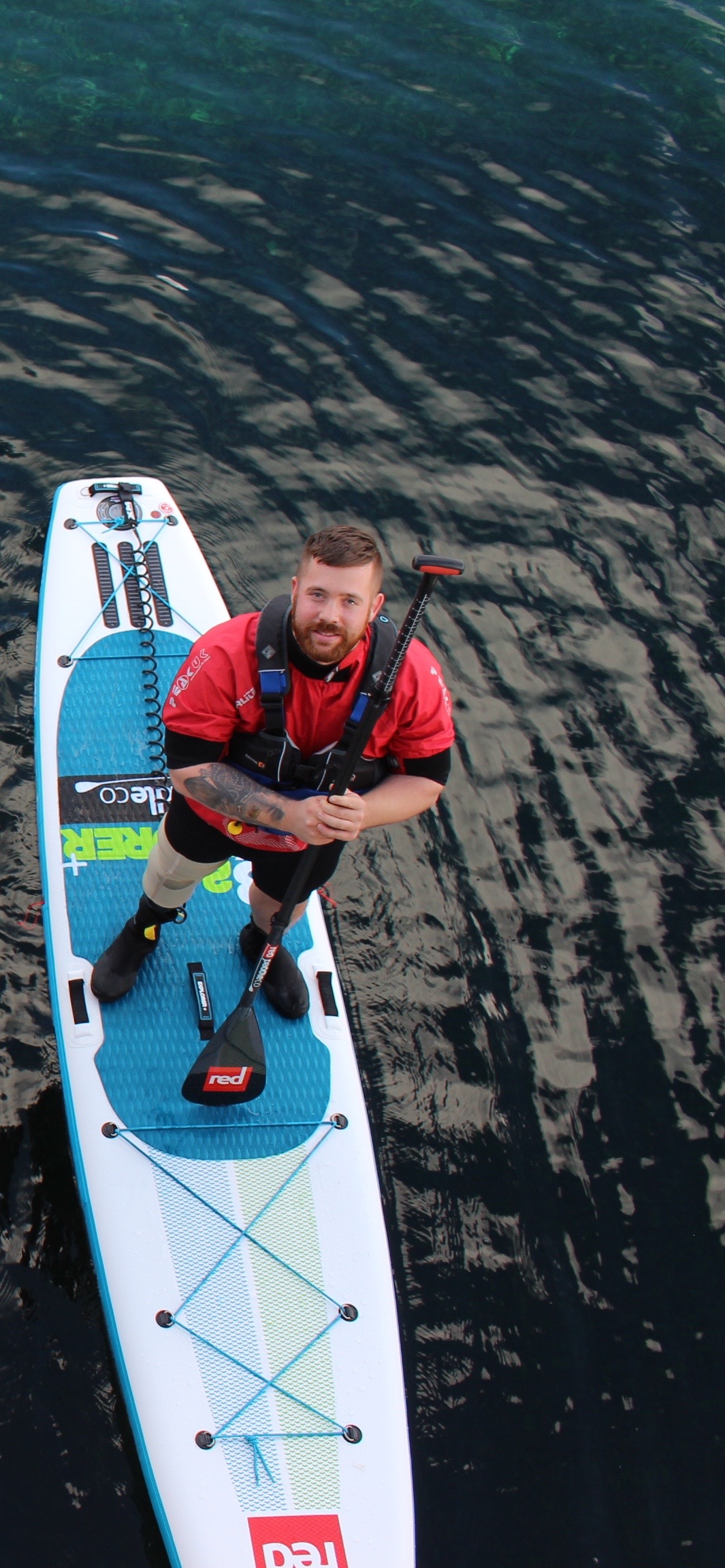 Geraint's childhood was spent travelling around the country with his family. His father and subsequently his step father were both in the royal marines and army respectively.
As a child he was very outgoing and loved sport and being in the outdoors. He participated in many outdoors activities and loved camping and pushing himself to the limits through sports like skiing, ski diving, rugby and basketball.
Geraint joined the 1st Battalion Welsh Guards in 2003 and became a Lance Corporal. He Served in Iraq, Bosnia and Afghanistan. Whilst in the army he was deployed on courses and exercises to Cyprus, Germany, Gibraltar, Belize, and Ireland.
When he started in 2003 he joined the Anti-Tank platoon responsible for the Milan Anti Tank Weapon.  He was deployed on active service to Iraq for 7 months. Following this he moved platoons and joined the Heavy Weapons platoon. In this platoon he was a section 2i/c and platoon Team Medic.
During his time in Afghanistan he was the team medic, he came across many incidents and helped 13 casualties. He was awarded the Armed Forces Hero of the year award 2010, which he is very proud of.
In 2009 Geraint was deployed to Afghanistan for another 8-month tour of duty, as part of the Fire Support Group. On the 12th June whilst on Patrol Geraint's Jackal Vehicle was hit by an IED (Improvised Explosive Device), which disabled the vehicle leaving him and 3 other soldiers seriously wounded. Geraint sustained 22 injuries including fractures to his back, pelvis and hip. He had a ruptured spleen and damaged his stomach and liver. He also sustained two head contusions to the frontal lobe and the Basel ganglia as well as broken teeth and numerous broken bones in his legs and feet and light shrapnel peppering to his face, hands and arms. Subsequently, due to infection this led to the loss of his lower right leg. The following 4 years were spent in rehabilitation at M.O.D's Headley Court in Surrey, where he was treated for his injuries and provided with a prosthetic leg. He was later discharged from service in 2014 and relocated with his family to Barry, South Wales.
On his return to Wales he volunteered at Maes Y Dyfan SEN school. It was the first time in nearly 5 years it allowed him to focus on helping other people instead of being the person that everybody wanted to try and help.
Because I now have a disability I feel that this gives me a better understanding of how to help children who may face similar struggles in life and I now feel that I have valuable skills that I can pass on to them and I hope that I can be a positive role model to these kids who face varying struggles and challenges in life.
He later joined Ysgol Y Deri in Penarth, where he first met Dan Willmore. Since becoming an amputee he has learnt to canoe and been on trips to the French Alps white water rafting, learnt to snowboard in Colorado but stand up paddle boarding was a whole new skill.
"So I think the key to this challenge is about proving that no matter what your disability or limitations, physical or mental, you can achieve anything with a bit of help whether on the battlefields of Afghanistan or the water ways and seas around Wales. Anything can be achieved if we can give differently abled children the tools to do so."
Dan Willmore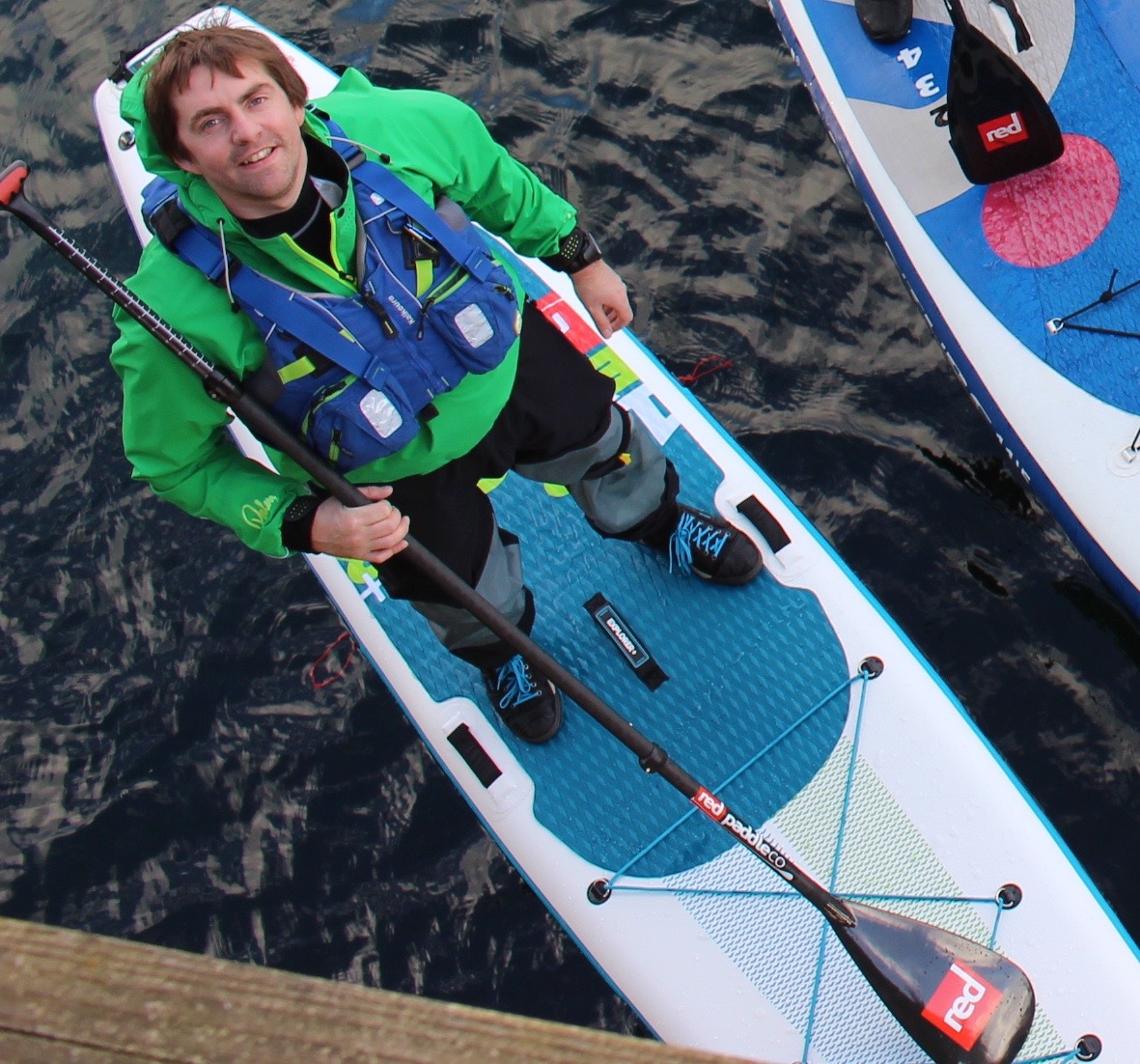 Dan has been a passionate surfer for the last ten years. He recently discovered stand up paddle boarding in 2011 and has fully embraced the sport in all its aspects from surfing to adventure paddles and distance.
Dan specializes in working with differently abled children and young adults and has been involved in this area for almost nineteen years.
Dan is a fully qualified SLSGB lifeguard and surf instructor as well as having his open water, surf and adventure SUP coach awards. He has also written various articles for international paddleboard publications on SUP travel and education.
For the last five years he has been working in the SEN school Ysgol Y Deri and responsible for two programs: The Surf Experience, which is a surf and stand up paddleboard program and the Rock School program teaching music and band skills.
His recent achievements have been organizing and completing the SUP Challenge Wales event in 2013, which was a grueling ten hours and twenty-three-minute paddle covering the forty-three miles from Swansea to Cardiff raising £6000 for Ysgol Y Deri.
In 2015 he wrote a disability coaching manual for the Water Skills Academy. This is a qualification for Sup instructors wanting to work within SEN (Special Educational Needs). He is also the founder of The Surf Experience CIC and the brain child for SUP Challenge Wales 2016.
Ryan Higgs, Sam Chick & Josh Watkins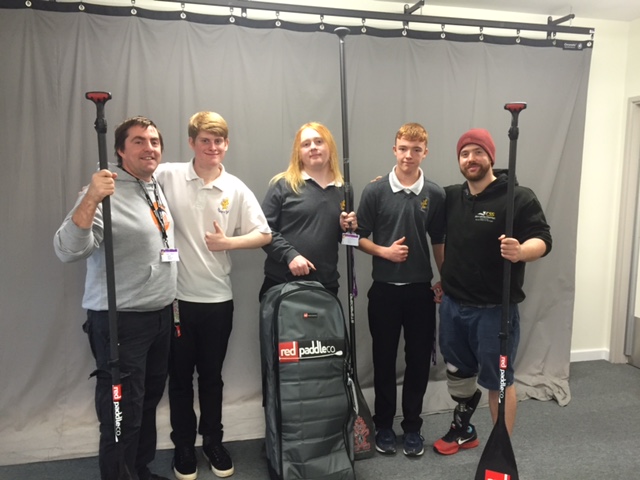 This group of young men have been taking part in The Surf Experience in one way or another over the last 4 years. They're all currently working towards a lifeguard qualification. Sam and Ryan have both been on the SUP program for a while and are both intermediate paddlers. Josh has just joined the group but is doing extremely well. Josh is also an accomplished surfer winning the 2015 differently abled surf comp last year. All three boys started off learning to surf.
These pupils will be taking part in the last section of the SUP Challenge Wales paddle, which will be around 5-6 miles. Please come and support these incredibly brave young men.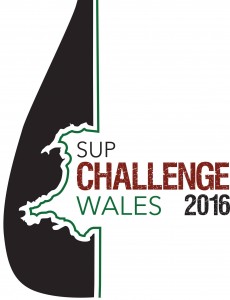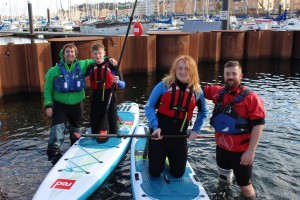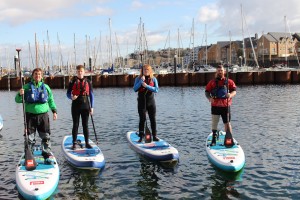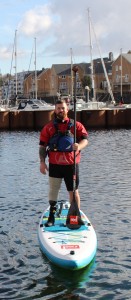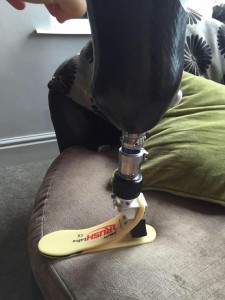 Throughout the challenge updates will be posted on the team's social media;
Twitter SUP Challenge Wales – @SUPWelsh
Instagram HashTags – #whatSUPWales #FindYourEpic #WalesAdventure #disabilitySUP
And donations can be made through Just Giving
SUPboarder will be following the progress of the SUP Challenge Wales team throughout their 4 week journey with regular updates on their progress here on the site. 
Show your support by joining them on the water along the way or making a donation.