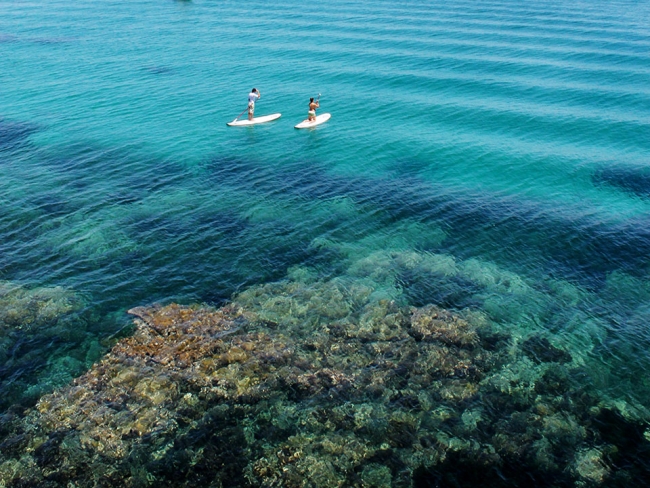 Winter weather is often severe enough to keep even the most committed paddler out of the water. Some will take to the gym, others to the pool and some by SUPing indoors. Another way to cope with the winter blues is to travel and find better conditions elsewhere.
Paul from Active360 has done exactly that with several trips to SUP San Pietro, a small island off the coast of Sardinia. Paul explains what San Pietro has on offer for SUP enthusiasts, and how Active 360 can help you escape the cold UK this April…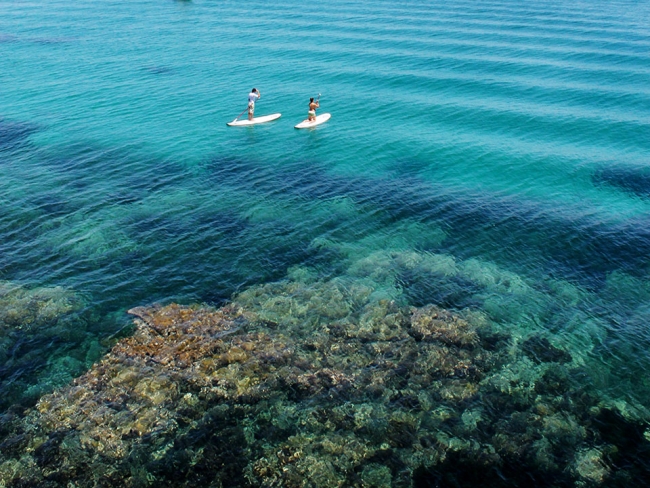 My first visit to the Island of San Pietro off the Southwest of Sardinia was in early December 2014. I checked out the coast there after being invited by local SUP School, SUP Adventures to run some trips there from London. We met up with the owners Mario and Diana a month earlier and thought that the mix of unspoiled beaches, spectacular cliffs and sea caves would make a good SUP setting and for SUP Yoga.
The water temperature in early December was warm enough to wear boardshorts and light thermal and to comfortably paddle barefoot. Weather varied a bit with sun and showers and quite strong winds. San Pietro is quite a small Island (a good paddler could circumnavigate the island by SUP in a long day). This makes it quite easy to avoid the wind by paddling on the sheltered side, or to use the wind for a downwind paddle.  Generally the winters there are mild by UK standards so by mid April when we are planning the next trip it should be typically warm and sunny.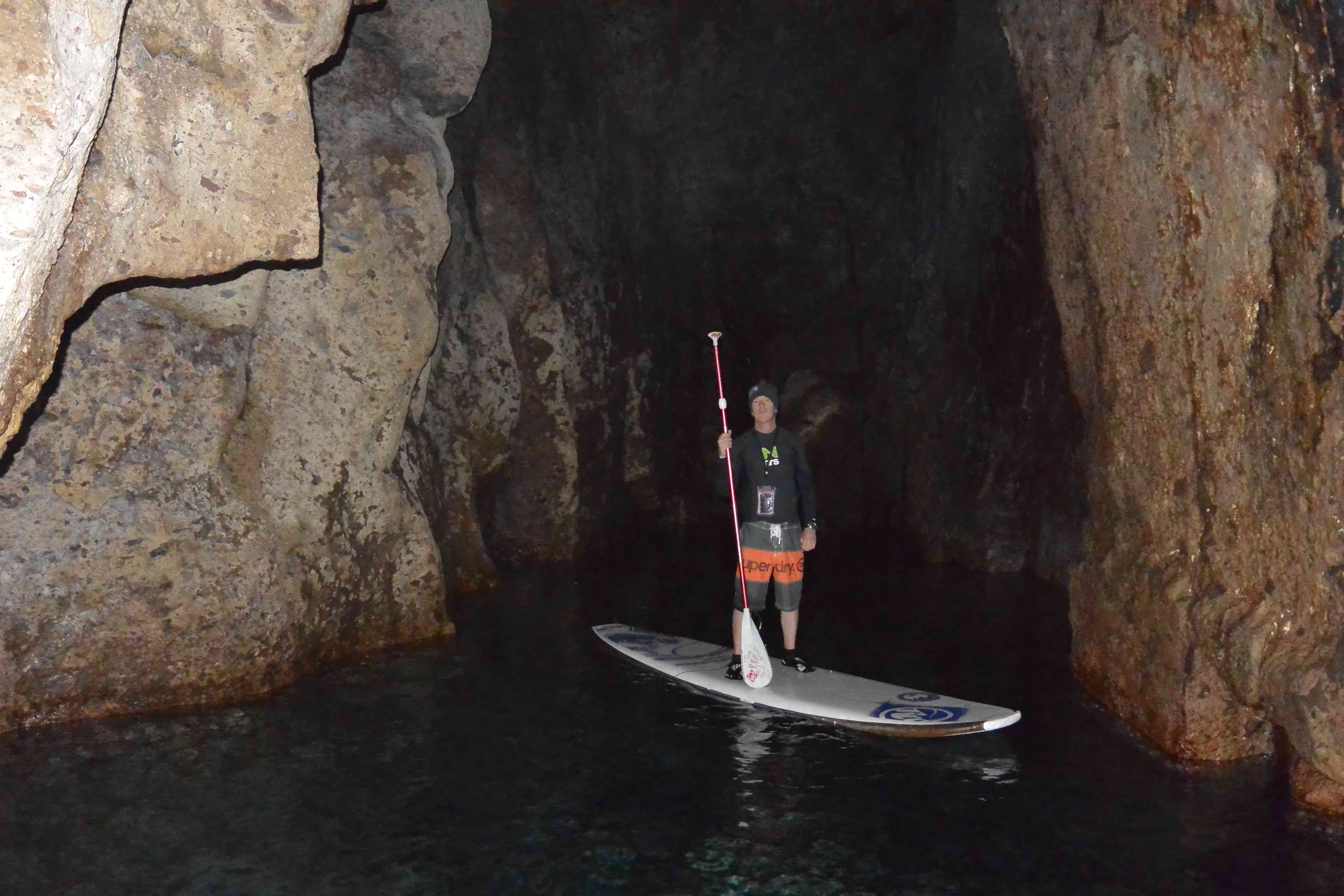 My first paddle was around the North coast where there are many sea caves in the volcanic cliffs. You can paddle safely into most of the caves, and with a head torch and helmet it would be possible to go deep into the cliffs. Even on a cloudy day the rock colours were impressive. The sea was calm in the shelter of the cliffs and in many places you could see coloured rocks 4-6m below. I lost count of the caves but there are many, and sizes vary from cathedral like spaces to smaller ones with just enough space to get in to explore.
As we headed south the calm sea became a 1-2m swell and for an hour we paddled into a strong headwind.   This was much more of a challenge and we were after 4 hours of paddling quite glad to reach our destination.
Next day the wind direction had changed so we tried a downwinder on the South of the Island   This was fun and physically much easier with a 20 knot wind and gentle swell helping us along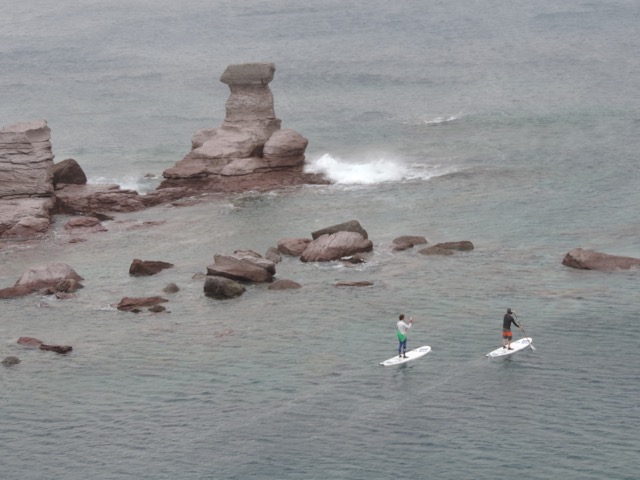 Good food is easy to find, and as locals Mario and Diana guided us to the best restaurants and cafes. Mario grew up on the island and Diana is from Northern Italy but has lived in Sardinia for 7 + years. Seafood is naturally the local speciality but there is plenty of other good Italian food on offer and very good coffee everywhere.
We stayed in the Hotel Paola on a hillside 2km from Carloforte the only town on the Island. This was a very good hotel run by a brother and sister and their mother. Very friendly, excellent food, plenty of outdoor space to chill out and to eat outside, and panoramic views across the sea to Sardinia.
Our next trip to San Pietro was Easter 2015. We left a very cold northern Europe to find air temperatures of 18-20c. This trip the caves were out of bounds because the strong northerly winds and a swell of 2m plus made the north coast dangerous. However, we found the rest of the island fine for a mix of SUP Yoga, downwind paddling, SUP Ball and SUP Surfing.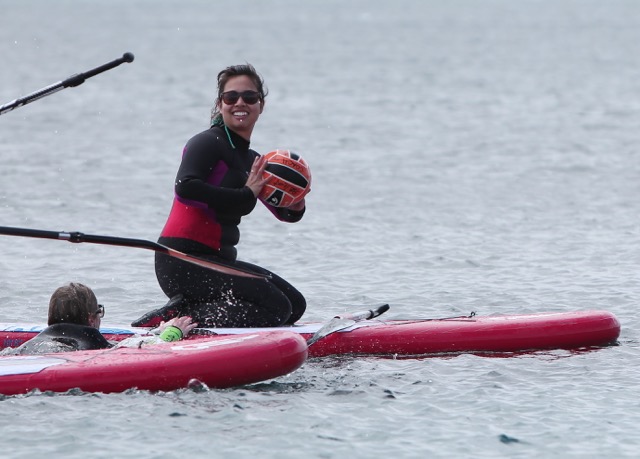 The group were fantastic. At 16 people, bigger than expected as we sold all places quickly, we expanded the trip by flying extra boards over but it worked well. Diana and Mario are perfect hosts and know every part of the island and its coastline well. We paddled for hours every day, chilled in the local cafes and bars and went for long walk and bike rides. Jen started every day with a yoga lesson (optional) on the hotel terraces.
The level ranged from a few complete beginners to experienced paddlers and included TJ a beginner who went on to SUP the English Channel a few months later. Everyone enjoyed it and a typical comment was from Adam Osburne who came along to introduce Sardina to SUP Ball.
"Beautiful landscape, warm waters, friendly people and happy times. An adventure playground of SUP, sea and good food"
The local team won (just) and SUP Ball is now played regularly on San Pietro. This year we plan to beat them!
If you are looking for a break from the storms hitting the UK this winter then the next Active360 trip to San Pietro is in April. For more information check their website or e-mail them on info@active360.co.uk. SUPboarder readers can get a £50 booking discount using the code Supboardersardinia when making a booking.