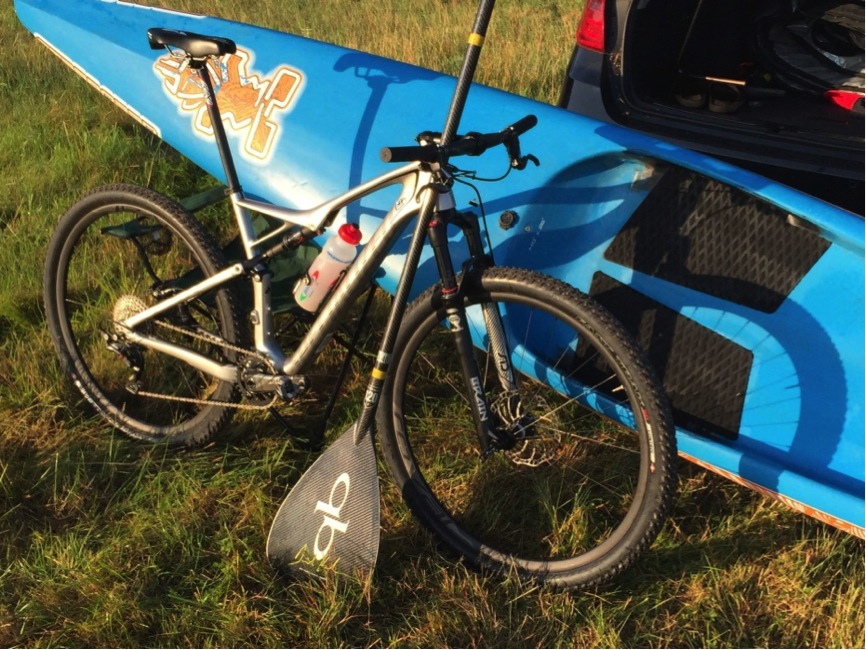 At halfway Scott had caught Maff and their elastic to me had well and truly snapped. By the time we got to the end of the 3Km SUP paddle, Maff was a minute clear and Scott was now 90 seconds up the road. Scott coincidentally set the fastest SUP paddle of the day.
Cycling was always going to be my strongest suit and once paddles were exchanged for wheels, I got straight to work on catching them and gaining as much time as I could on everyone else. I've got a couple of my final bike races coming up and this was going to be good training so I went flat out from the gun without any form of pacing being applied. It wasn't a technical course which made it suitable for anyone without much off-road experience. However, it was very hilly and there was some mud that required a bit of attention at times. I was pushing hard, had a couple of bum-clenching moments when I was taking it too hard in corners, but it all came good in the end. I started to blow a gasket at three quarters of the way through but the last 6k was back on road and downhill so I pretty much got into an aero tuck and kept the speed high. I was a triathlete in a former sporting life but my run was always pretty horrendous so I needed as much margin as I could get now. Ultimately the bike got racked up, trainers were slid on and it was out onto the run leg. This was the point where my own chickens came home to roost. My back was pretty tight from the SUP and both of my calves started to twang like guitar strings pretty much from the start of the run. A kilometre or so in and I had to stop to stretch them out before something went bang completely. Anyway, I lumbered my way round the course like a drunk gorilla and probably demonstrated more brute force than grace but I got the job done.
In the end, it panned out well. I had sliced over 2 minutes off my SUP time from the year before, set the 2nd fastest bike ride of the day and despite my troubles, had somehow still run a minute or two faster than the year before. I ended up 3rd overall but was only 20 odd seconds behind 2nd. That was annoying but still hell of a lot better than my 11th last year. Still the SUP specialists had generally all done well.  Jason was 5th, Scott 13th, Maff 27th and Colin 35th and these were all cracking results out of the 160 people that were there. I think the format would be more popular with the SUP crowd generally if the paddle was lengthened to increase its impact proportionately. With 50% of the race spent in the saddle, there is only so much time you can gain over people in a 3Km paddle. Either way though, challenges like this are good for your general fitness and it does stick a bit of variety in your race season. This year's event was well organised, well signposted and there were plenty of tired looking smiles in the sunshine afterwards so the format seemed to be a hit. The music being played full blast from rescue boats on the water as you paddled added to the atmosphere.
So where will the entry level go from this event? Will the SUP course be increased for next year? One thing is clear that all the SUPers are loving this new style of event and we can only look forward to seeing what next year will bring. A massive congratulations to all the SUPbikerun participants this year and a big thumbs up to Bryce for his 3rd place finish. We look forward to seeing him on the SUP race scene again next season when he puts down the bike and picks up the paddle. 
That's the last of the SUPbikerun events for 2015. If you're keen to have a go at this unique event format next year, bear in mind that this year's events sold out, so don't leave it too late to enter. And start training!
 Find out more about SUPbikerun here.