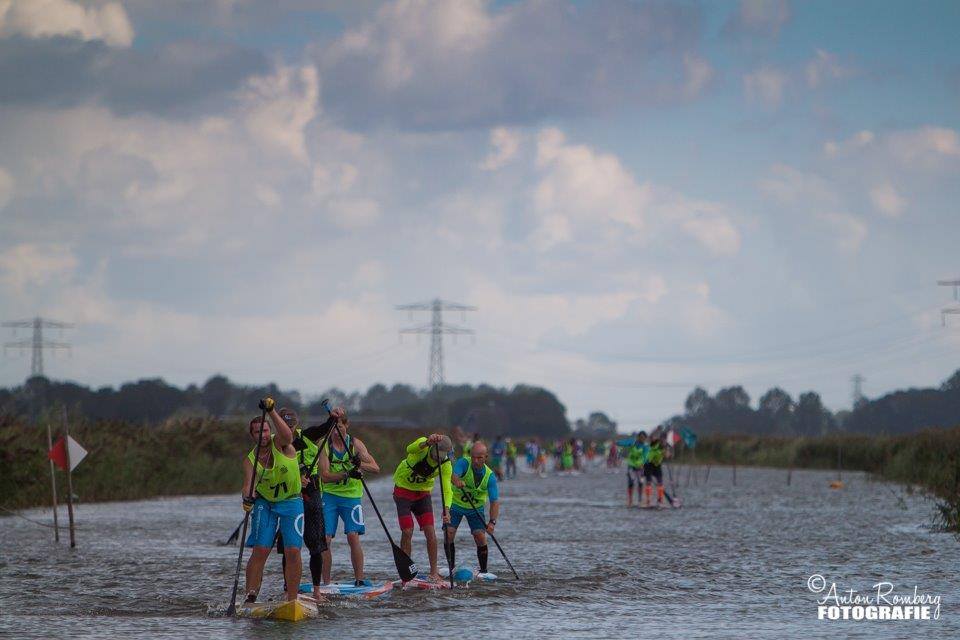 Crispin Jones from South Devon is another UK paddler who recently took part in the gruelling 220km 5 day '11 Cities Tour' in Holland. Having done it before, and with limited training he knew it was going to be tough. But the challenge and the opportunity to have a holiday (!!) was just too hard to resist. If you're considering taking part next year or have ever wondered what it feels like to race for 5 days straight, read on! Crispin gives SUPboarder a recap of the gruelling 5 days of racing…
After a hectic year of UK racing something seemed to be missing off my calendar, having had a break in 2014 I strangely missed the thrill, pain and family spirit of the 11 cities, it was time to return! My brother Dan Ashford and I knew we had to go back for another go and it seemed plenty of others from the UK were also keen to join in. Having a busy summer teaching down at Waterborn I had plenty of time on the water but sadly not to the level needed to truly be ready to undertake one of the toughest races on the SUP circuit. So with minimal training and just being pleased to have a 'holiday' and to paddle faster than 2kph it was time to head to Leeuwarden, the start of the 11 cities adventure.
As we arrived to the start area, there was already a buzz of excitement, the non-stop racers had already been round the entire course and the prologue paddlers representing their culture had meandered through the canals of the city already. It finally sunk in that I was back for my 3rd shot of this crazy and unique race and the nerves started to kick in. It was great to see so many faces from the far corners of the world who shared my passion for this sport of SUP to the extremes, little did we know the 'extremes' we would all face over the coming days. It's still hard to know exactly why I ended up on the boats for accommodation again, cramped, hot and not great for anyone over 5'8" it does have a strange allure, one that encourages you to bond and make friends with your fellow crew.
Leeuwarden à Sneek à IjIst à Sloten – Day 1
Morning soon came around and it was time to get everything ready for the big all important start for day 1, where ultimately, the race is won and lost. The wind whistled through the trees and the ground was already heavily saturated, but a sense of calm filled the air in Leeuwarden, what was happening outside the shelter of the city was however an entirely different matter. I had as much breakfast as I could stomach and then got my board prepped, I use Onit Pro xtreme clean and blu glu to make sure my board is clean and slick through the water. Race jersey, GPS, Hydration pack, gels all accounted for it was time to say the final good lucks before I got my race head on and hit the water. In a change to previous years the tour went first, 30 minutes later the ladies fleet left then 30 minutes after that the men's fleet. Some 60+ paddlers sat on the line all looking to get ahead of the main chop and carnage and get an edge in the clean water.
As I looked around me at some of the big names in the sport I couldn't help but feel a sense of pride just being on the same start line, I relished the moment and got ready to start some 5+ hours of paddling! GO, GO, GO!
The canals boiled with a torrent of paddle strokes and boards clattering and banging together, the camera man in the water must have felt like he was being charged by a brigade of horses thundering towards him. I wobbled and countered every movement to keep a good rhythm and pull my way through the pack, everyone set off at such a blinding pace I knew there was a lot of work to do to catch up and make the day count. Feeling fresh and eager to secure a good result for day one I powered through, picking everyone off one by one as I ploughed through the field of competitors. Headed out of the city the water settled slightly but the wind was less favourable, being slightly, well, bonkers, I didn't mind the challenge and got down to business and started pushing through. It's hard to know exactly what happened for the first 17km but I felt strong and lead a small train, I had kept myself amused for the most part and tried to keep distracted.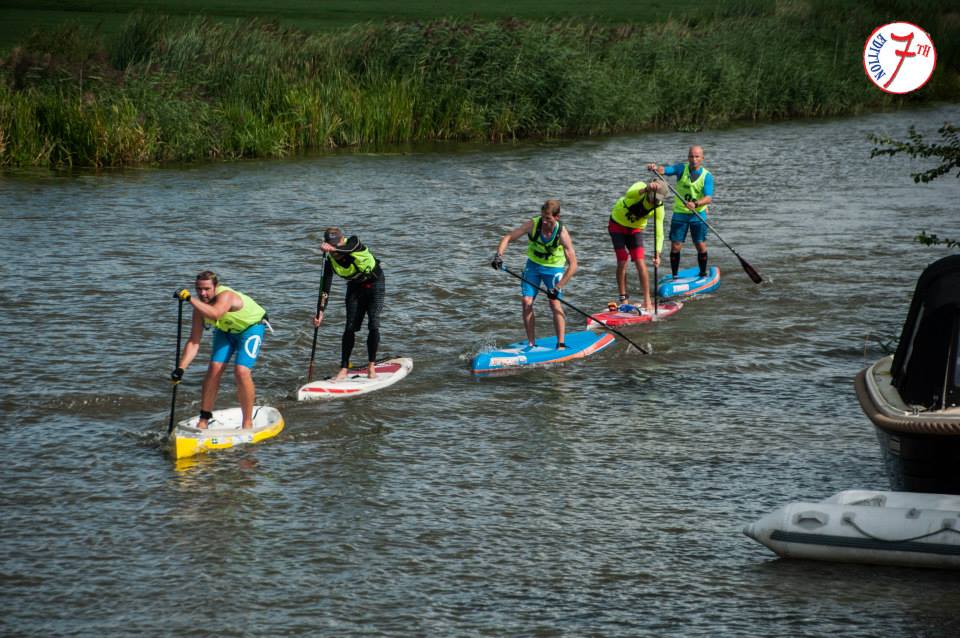 From behind me I heard a familiar voice, "Hello big man", it was Pete Holiday, he had a bit of a shocker with falling in and his hydration pack coming undone and had spent the last 2 hours chasing me down, we worked as a team to try and close the gap on Andre Le Geyt and before long we had reeled him in. We all took turns out front to keep up a good speed and the lead groups were never too far away. We came into Sneek together and sat by the water's edge to enjoy our 'rest' thankfully overseen by our UK support crew Ali Pereira and Joanne Hamilton-Vale, a quick swap of hydration packs, some soup and bananas and it was time to hit the water again. The wind was beginning to really get to us and paddling on the left hand side for most of the day was less than fun, although we hugged the right hand side and kept as much shelter from the bull reeds as possible it was fierce and demanding. A group led by Richardo Haverschmidst was chasing us down and Pete, Andre and myself kept changing every few km in order to keep the gap but they eventually caught us. Not wanting to let them just draft us only to overtake once we hit the lake we slowed the pace a little to try and encourage them to pass, they didn't so we took it as a breather for ourselves and planned to go for a sprint in order to break the train down to a smaller group. Unfortunately that didn't work either, our group of 7 caught sight of the Slotermeer and our hopes of a good crossing were dashed…. White cap whipped across the lake, waves from our right hand side came crashing over the boards, thankful for my nice stable barge I wasn't wobbling around but I wasn't so thankful for the extra windage and weight I had to pull through the water. Any teamwork was now out the window, it was the last 4km dash to the shelter of Sloten. Having spent the day paddling almost constantly on our left hand sides you felt every stroke as you tried to claw your board back against the elements. Even taking a high line across the lake in some foolish attempt of a down winder didn't pay off. I managed to hold my line across the lake but my muscles were burning. My legs were working overtime in order to try and claw any extra directional turning from the board but there was only one thing anyone could really do, just, keep, paddling…. As I cleared the lake and got some shelter from the wind I hammered down the final stretch into Sloten, the first day was almost over and that massage was going to be well deserved.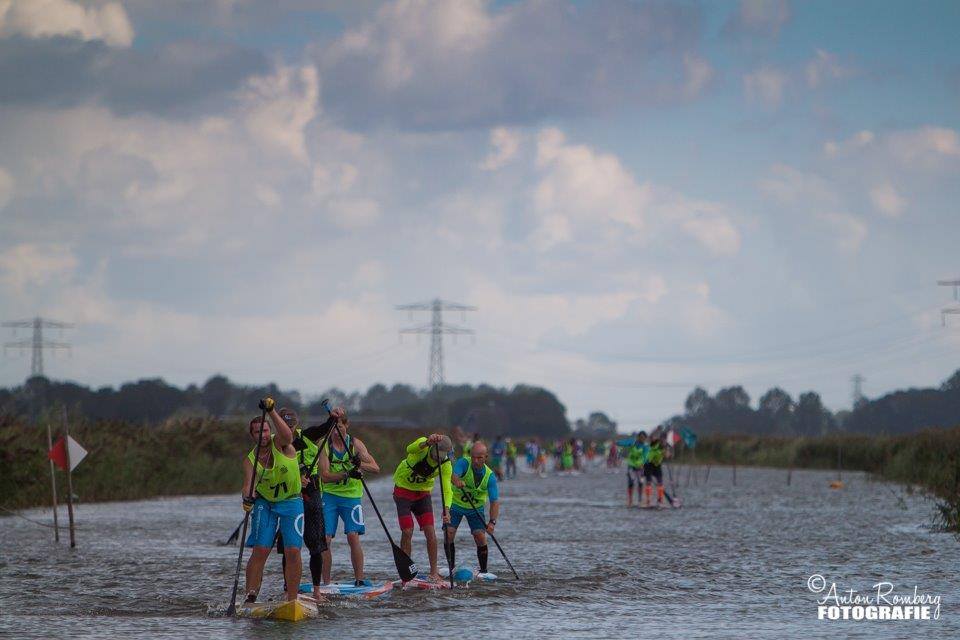 Sloten à Stavoren à Hindeloopen à Workum – Day 2
Much like the night before, much of the talk in the morning was about the lake, mainly the Slotermeer but also the two other lakes on the way towards Stavoren. The morning was calm and the wind was yet to build, if we could have started at 07:00 we could have got away with the best of the day's weather however by 10:00 we had rain and wind to contend with. People were nervous about what to expect and already muscles were tired and the lack of sleep was apparent, as the countdown clock ticked ever closer I tried to work out why I signed up to this race once again, the gun went and I pushed that thought from my head. As we all pushed up the canal towards the lake it looked as though we had some luck, the lake looked much calmer than the previous day, for some this was their first encounter of the lake as they had red flagged it the day before and some competitors were shipped towards Sloten for safety reasons. Trains formed early and I started my into wind crunches and pulled passed the UK train led by Ryan James, his new board didn't sit well in the water and passing him is not something that normally happens. Andre, Pete and myself were again in charge of a train although it had a lot of other members snaking back and we really wanted to shake a few before we hit the forest.
As we passed under bridges along with Chris Parker from Supracer we tried to sprint off out the other side desperate to create a gap so we could settle into a nice rhythm and work well together once more. We hit the forest with Richardo taking the lead, we snaked from side to side like we were following a drunk driver, and the only benefit we saw was that there was no space for anyone to pass us in the narrow canals but we must have increased our mileage for sure. As we hit the second lake I couldn't match the pace of the train, being so far back the sprinting and catch up every 2 minutes or so from others further up the pack was really tiring me and I couldn't keep going in the draft, once under my own steam again I managed to find a suitable pace, before long Dan caught me up and I gave him a breather for a few minutes, he obviously knew I was struggling and overtook and told me to slot in behind his group, again I was stuck at the back finding it hard to keep up, thankfully thought it wasn't quite as strenuous on my muscles and I did manage to recover slightly, that was until some of the worst conditions I've ever paddled in decided to arrive. Torrential rain, strong head winds and lightning storms battered us as we approached the canals towards Stavoren, I joked about that not being a camera flash and very shortly afterwards the echo of thunder filled the air. I was getting somewhat annoyed at this stage, I shouted skyward for a break, and not very politely, and got my head down to charge for the rest stop which was only a few km away. I pulled clear of our group but not on purpose I had just had enough of all the weather and was starting to get a little cold in just my race vest.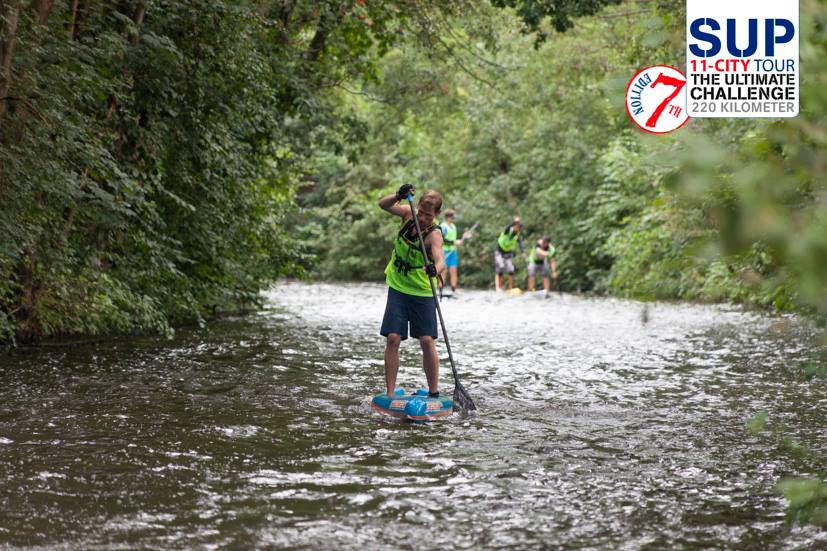 The rest stop felt like a refugee camp, people huddled in corners and under tents, wrapped in blankets and huddled round cups of soup shivering. Thankfully, 15 or so of us were bundled into a small laundry room but the situation was very similar in there too, chattering teeth and drenched clothing everyone looked dumbfounded by the current situation, a saving grace was that we were allowed double the resting period (30 minutes) in an attempt for the storms to pass over. I quite enjoyed the freedom the extra timescale gave us, I wasn't cold anymore but didn't want to let my muscles cool down so I kept warm as much as possible and dried out pretty quickly. I was ready to go again and started paddling towards Hindeloopen one of the Bell, stamping points, after a few km Dan caught me up and I was drained and knew my pace had dropped, he took the lead and kept a good pace going for most of the afternoon, I took over whenever I could but was well aware the average speed was well down. Dan's effort during the morning to catch us and then in the afternoon really took its toll, he was broken and was looking like he would topple off at any moment, I took the lead and spurred him on towards to finish, deciding that we would help each other complete the day.