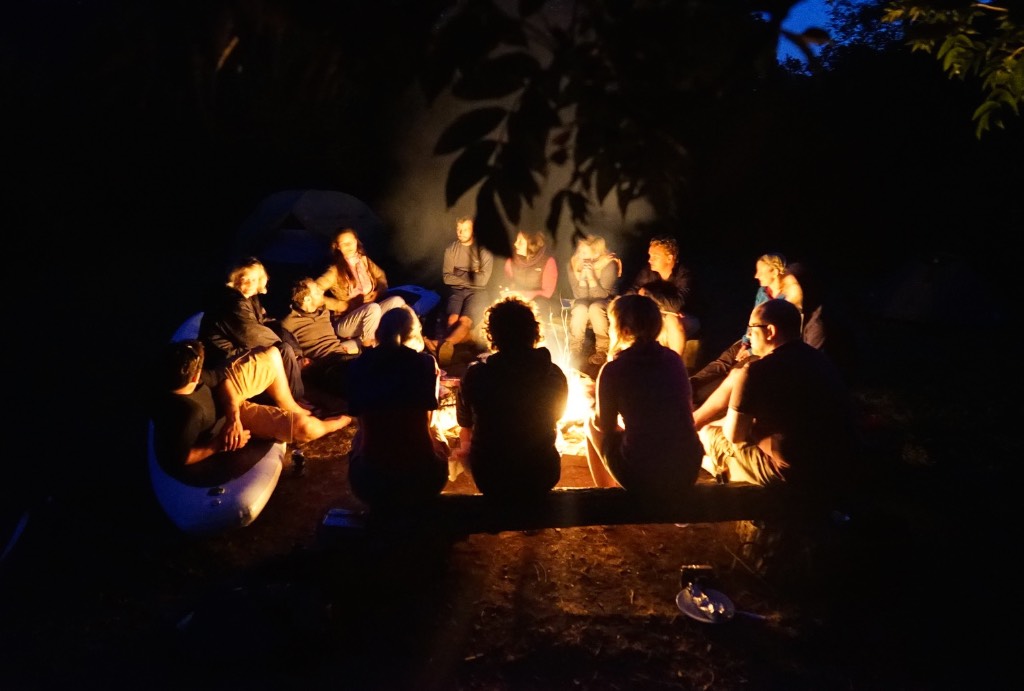 There are so many great things to do with a SUP during summer. But few things will beat the feeling of a wild SUP camping and exploratory weekend. Recently a group of novice paddlers went on a wild camping and foraging weekend on the Cornish coast with two well known adventures Dave Cornthwaite and Ian Prickett. 
Novice paddleboarder Terri Witherden was there taking part in this fun and action packed weekend, and tells SUPboarder all about it…
In early July a group of intrepid paddleboard novices took to the Cornish coastline in search of adventure. Led by Origin Paddleboards and Vertical Blue Cornwall, the weekend promised a new way of touring the iconic west country coastline with a spot of seaside exploration and foraging added for good measure.
I was fortunate enough to join this weekend adventure. A paddleboard beginner I was soon falling in love with the meditative peace heading towards the horizon under your own steam can bring. Under the guidance of paddleboard pros the group soon discovered why SUPing is one of the fastest growing sports in the world.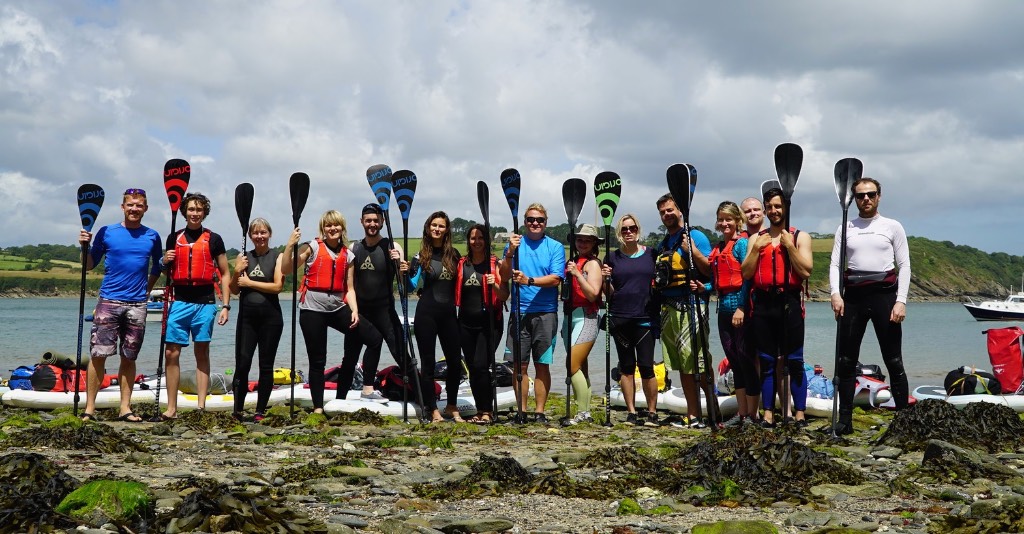 Covering open coastlines and navigating rocky outcrops and seaside swells, the group were treated to a new perspective on an old coastline. Ducking in and out of secluded coves usually reserved for the local wildlife it is not hard to see why the cornish coast was popular with smugglers. Heading up from St Anthony along towards the Helford estuary, we stopped for lunch and a lesson in seaside foraging, A bag full of limpets and whelks later we headed back out onto our boards, smiling with fresh seaweed between our teeth.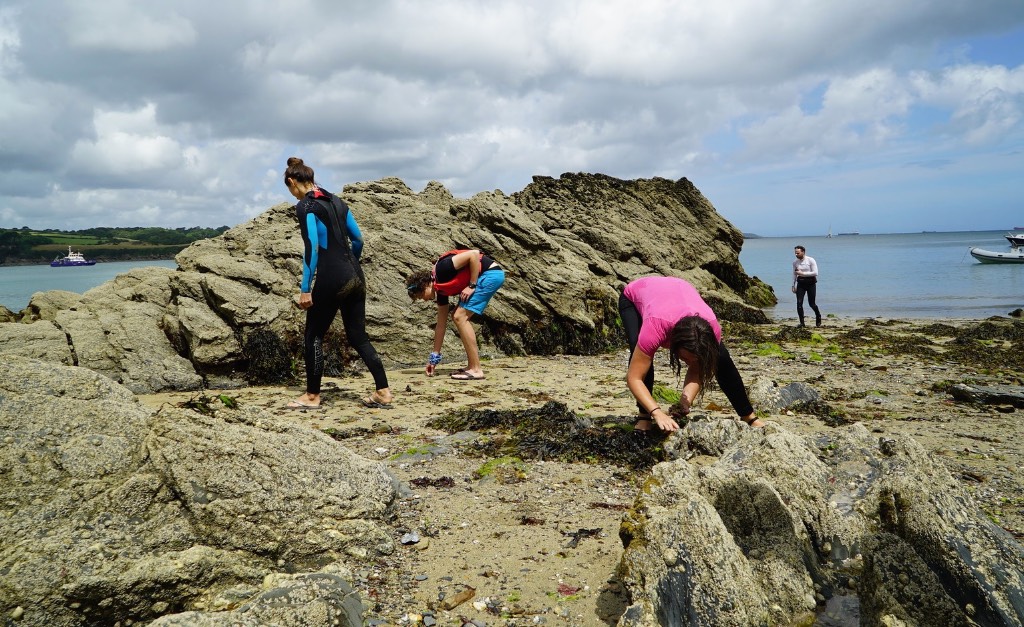 As we tucked into the mouth of the Helford Estuary however we were faced with a headwind that brought even the seasoned paddleboarders to their knees. Undeterred and still having fun the group met the challenge and slowly made its way towards our destination. Learning a variety of strokes and the perils of currents, tides and wind determined to push you back out to sea, the group of SUP beginners soon cut through the river water confidently; revelling ever so slightly in the jealous looks from riverside pedestrians.
We welcomed in Sunday with an early morning paddle, accompanied by a slow moving thunder cloud that rumbled ominously overhead. When the rain finally caught up we found ourselves gliding across a dappled and dimpled river surface, our UK manufactured boards gracefully sliding through and adding their own ripples to the pattern in the water. It was a SUP experience worth waking up for .
Our final journey saw us turn 180 degrees and head back towards the sea. The headwind became a tailwind and we discovered a speedier SUP experience. Trading boards across Origins range I now found myself on a 10'6 Sport board sailing at a speed that tested my beginners balance whilst creating a stable ride. As our confidence and agility grew, conversations amongst the group of no-longer beginners inevitably turned to adventure planning. SUPing the Thames, Severn and Channel were discussed and I truly believe you'll be reading about those adventures here soon too.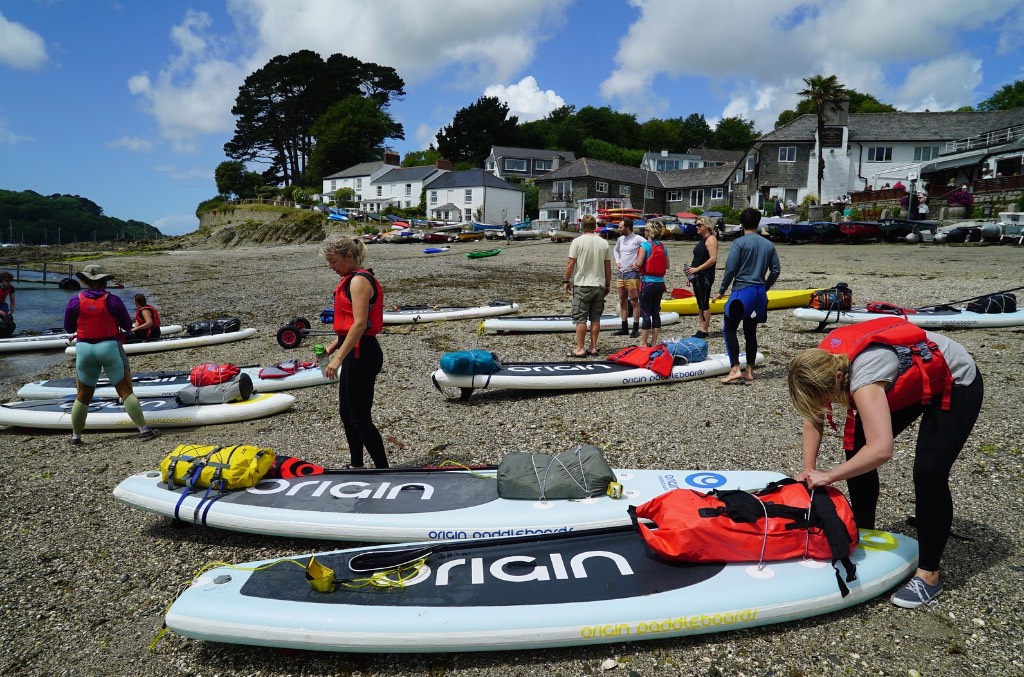 Deflating the boards on the sandy beach was a sad sight, but seeing 15 majestic boards fit into one vehicle could only make me smile. With tools and equipment which are so easy to pack up, as well as a whole new array of SUP skills which are easy to pick up, I can confirm that this will not be the last SUP adventure for any of the group.
Images: Dave Cornthwaite
For more information about Dave Cornthwaite and his adventures click here. And to get involved with Vertical Blue in Porthleven for SUP and Kayak tours click here.