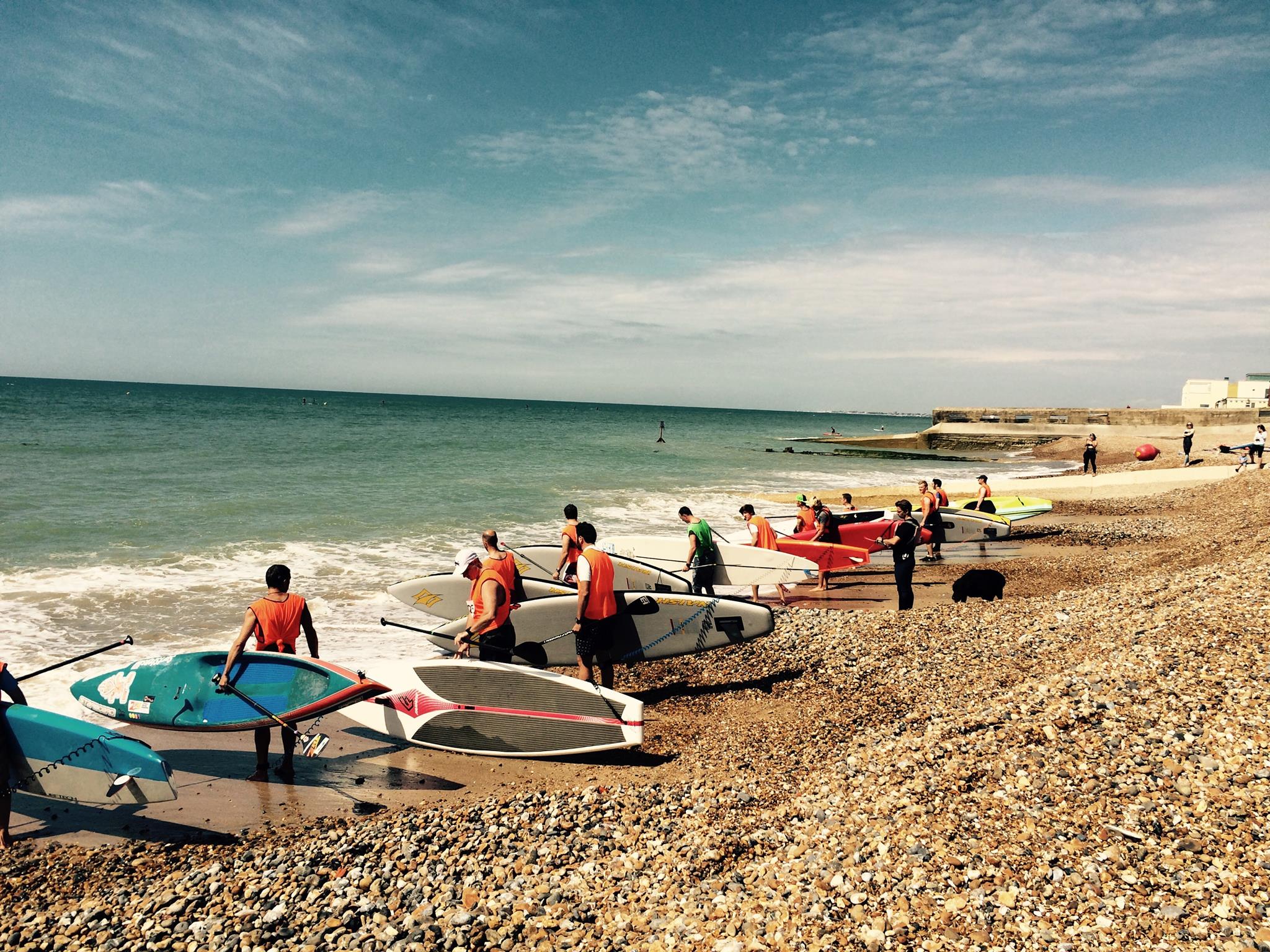 Last weekend saw the fourth round of the 2015 UK SUP Race Series. After a 3 week break paddlers were keen to hit the water for a technical race in Hove lagoon on June 28th. As with the third round the days racing also included a round of the Junior series.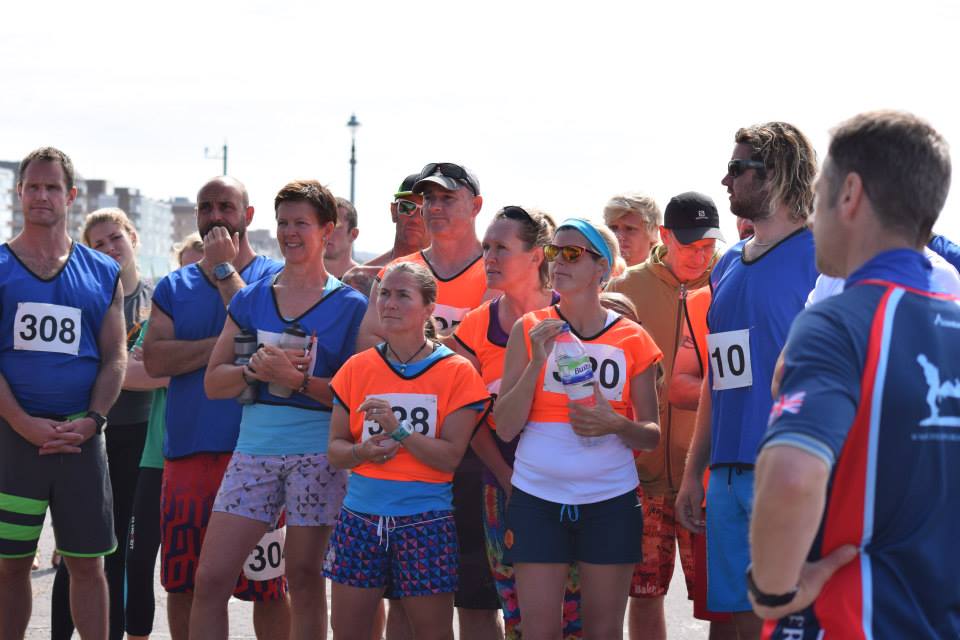 Crispin Jones and Georgia Wharton update SUPboarder on the racing:
Crispin Jones – competitor in the 14′ class: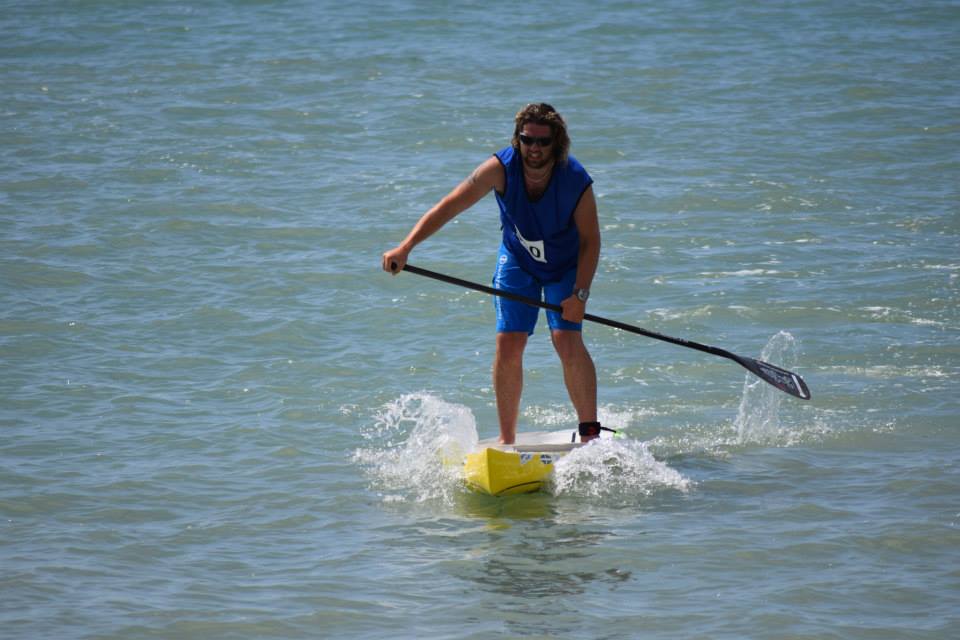 This Sunday was the 4th UK national series race of the year, Hove Lagoons chance to showcase their location and club. A 6km technical race involving a beach start, out through some changeable shore dump and a series of buoy turns, another lap and back in with a board and paddle finish across the line.
Having taken a small break from training after my Germany Lost Mills trip. I was looking forward to just turning up and racing with less pressure, or so I thought. After the usual meeting and greeting of friends from around the country I realised I had to capitalise on the fact certain close series rivals were not in attendance and an opportunity to maintain a strong hold on series standings were possible. The race format did not play to my strengths favouring long distance flat water, and my trusty C14 is definitely a flat water board but I certainly wasn't going to let that hold me back, I do love a challenge!
As we stood up on the promenade overlooking Brighton and Hove having our briefing it was clear a good start was going to be pivotal. Sets coming in ranged shore dump from just a foot to a good 3ft, the course had been changed to eliminate a beach run between laps and I can only assume this was due for the safety aspect of both paddlers and equipment on the shingled shoreline, thankfully this played into my hands for my board choice. As we lined up at the water's edge I set my mind to the task at hand and kept trying to read the waves to get a good start, waiting 5 seconds for a wave to pass can prove vital in a clean launch. We were off, Ryan James, Ben Payne, Phil Plume and Scott Brown all got blinding starts and I tried to match pace on the sprint out to the first buoy turn, as we approached and started to turn onto the swell balance became an issue and some people found high cadence paddling hindered balance and they took an early bath. I tried my best to get across and start a draft but the swell, tide and wind created too much surface chop to really be affective and so riding small pocket waves were the only chance to gain ground.
Happy enough with my balance on the ocean I didn't ever feel too unstable but I was taking on water and my drainage holes couldn't keep up, with every trough adding just a little more and causing extra weight to pull through the water. I watched as Ben and Ryan jousted for position of the top slot, but my gaze was firmly fixed on Phil who had control over 3rd place but he was making slow gains on every leg on his all water board. Unfortunately not a lot changed placement wise in the top of the 14' fleet but it was great to see a healthy number of 12'6 paddlers taking to the water some of which it was their first time on the sea, kudos to you, it certainly was not an easy day to be paddling. Warm and choppy it took a lot of effort to stay dry as I crossed the line in 4th place. Really happy with a respectable amount of points to add to the series totals, this may prove vital further down the line.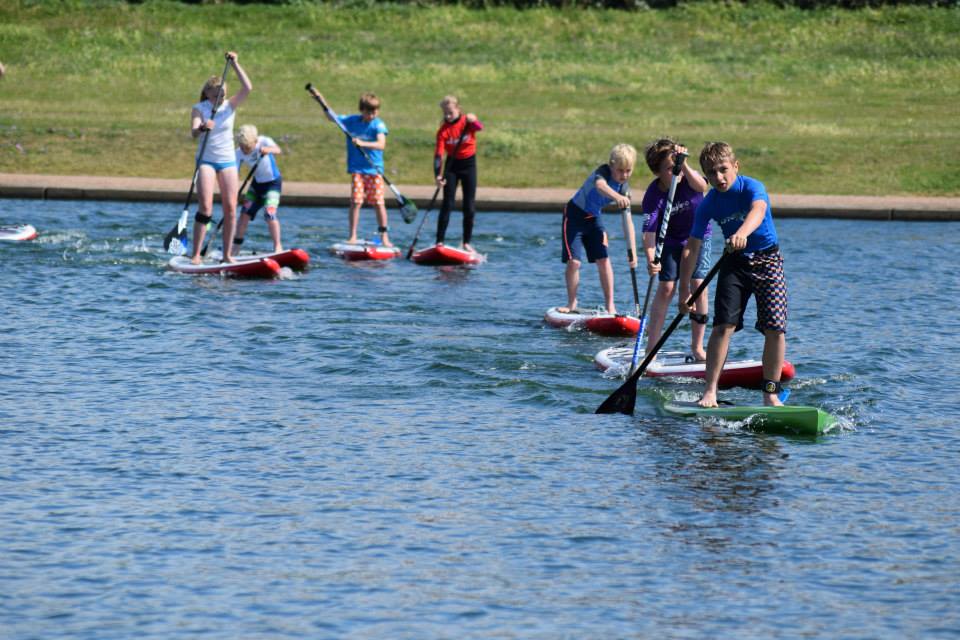 While the adults were having their fun, Red Paddle Co. Were keeping the paddlers of tomorrow busy with a series of races in the shelter of Hove Lagoon. They first had out and out technical sprint races then had a technical sea course, once everyone else was safely back on land. Split into age groups, their best times from on the lagoon were then added to their sea time to produce a result, perfect to combine flat water as well as technical skill. I missed out on seeing the lagoon racing but I was really impressed with how all the youngsters did out on the sea especially handling the shore dump both out and in.
A series of knock out sprints were also held for the adults on the lagoon later on after the BBQ and prize giving. A completely blind out of the hat draw yielded some of the fairest match up's you could ask for, my favourite was the semi final between Belinda and John Smith, potential for an awkward car journey home there… My Thanks go out to Robin and all the volunteers from both Hove Lagoon and also UK SUP and to everyone who continue to support the sport by turning up.
Next stop Norfolk Broads, and back into my comfort zone for racing. Training now starts for the 11 cities after my few weeks break so fingers crossed ill see some marked improvements by Mid July. See you on the water!
Crispin Jones – Waterborn
Georgia Wharton – dedicated supporter and spectator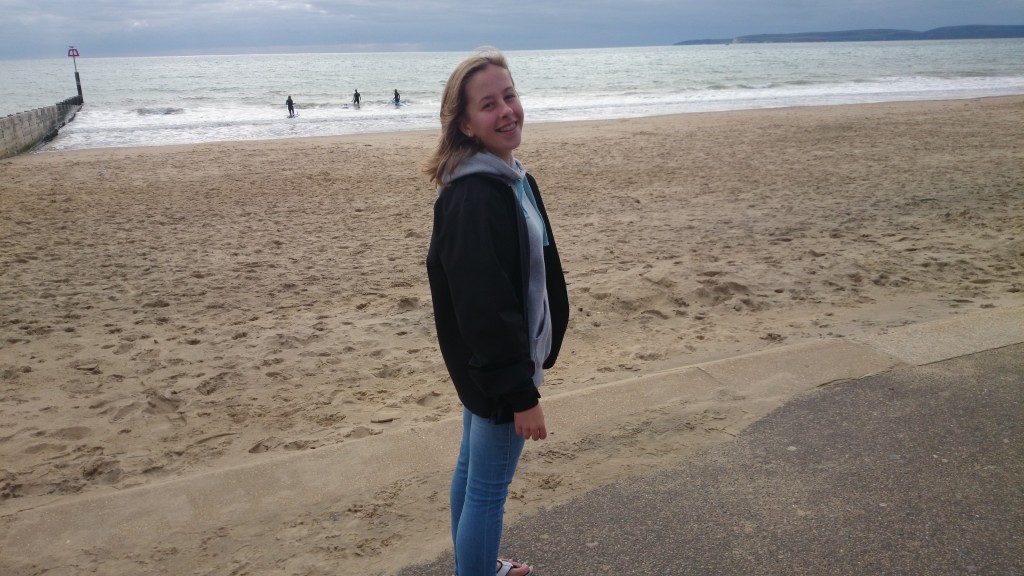 It was another warm start for stage 4 of the UK SUP clubs race series. There was moderate wind with slightly choppy conditions that dropped off a bit as the day went on and the races began. There was a bit of shore break which was enough to catch a few people out at the start and the finish. It took place at Hove Lagoon, overlooking the beach and was a 6km technical beach race, starting from on the beach and finishing with a short run through the flags.
Stage 2 of the Red paddle Co. Junior race series was also held. For the junior competitors there were sprint races on the lagoon and a distance race held on the sea.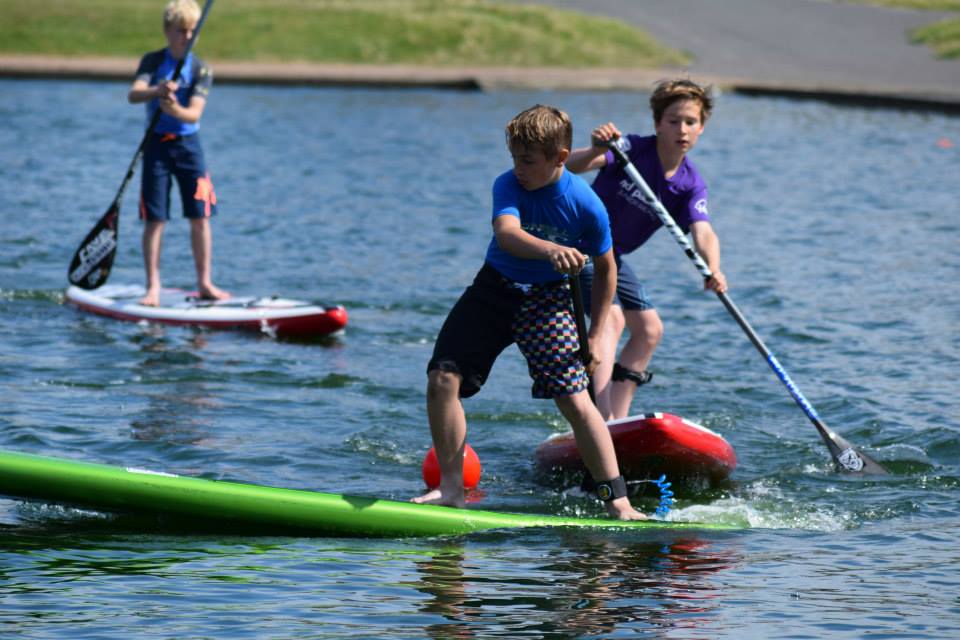 The senior race briefing took place, and the course was set to be 2 laps around the technical course. The first adult race took off at 10:30, and was the male's 14ft, followed by the 14ft ladies, the 12'6 men and then the 12'6 women, each with 10 minute intervals between starts.
Taking 1st place for the 14ft men was Ryan James true to his form, with Ben Payne following not too far behind. Phil Plume was another who had a very good race, coming in 3rd. The rest of the 14ft men racers were evenly spread out.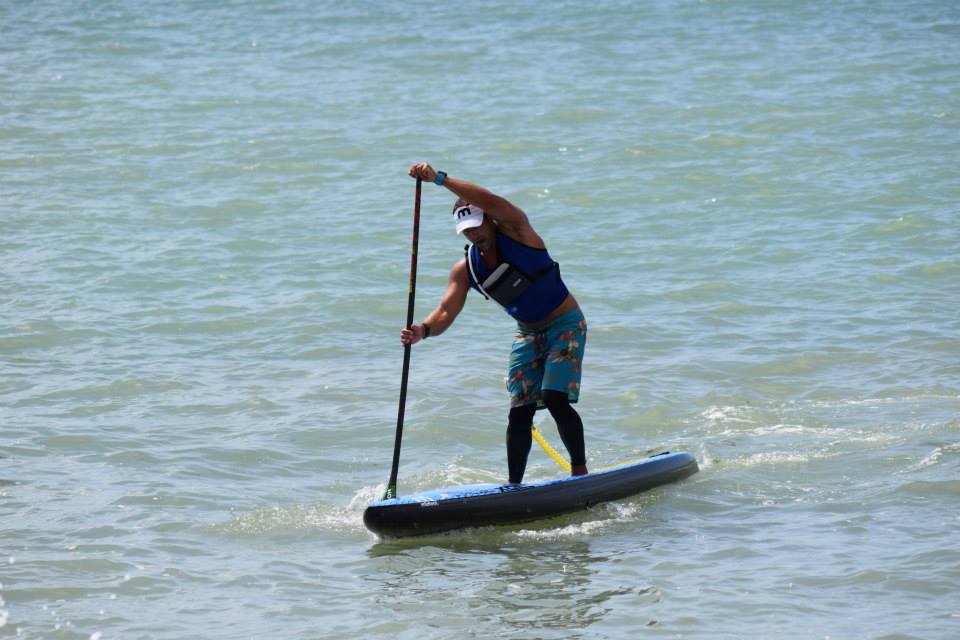 For the 12'6 men, Andy Joyce had a convincing win, with Charlie Jones and Jason Sawyer taking 2nd and 3rd place, having had a close race with Charlie pulling away towards the end.
The women's 14ft took off next. All the ladies had a great race, with Christine Anderson taking the win, after getting back to fitness. Coming in second, we had Sarah Thornely, who enjoyed the conditions far more than the stage 3 beach race. Helen Trehane came in 3rd, filling the last podium place with a steady race.
Emily King, who's always a consistent racer, took 1st place for the women's 12'6. Followed by Belinda Smith and then by Anni Ridsdill Smith taking 3rd on her first ever technical beach race. A total of 34 competitors took part in the senior race categories.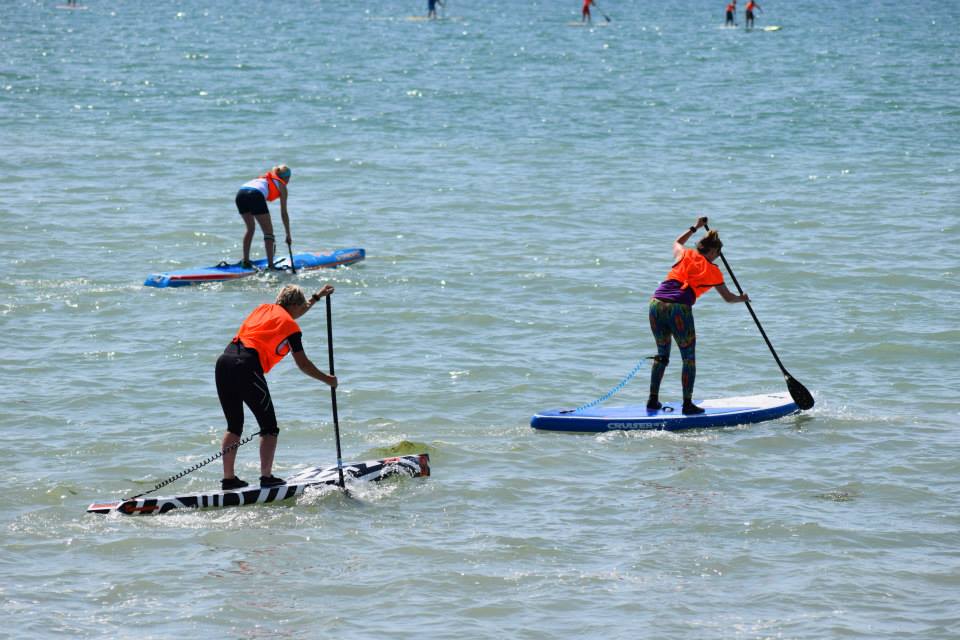 The atmosphere was very cheerful. Everyone raced really well, and as always, it was great to see some new faces taking part.
Georgia Wharton.
All images : Georgia Wharton
Junior Race Gallery
Senior Race Gallery