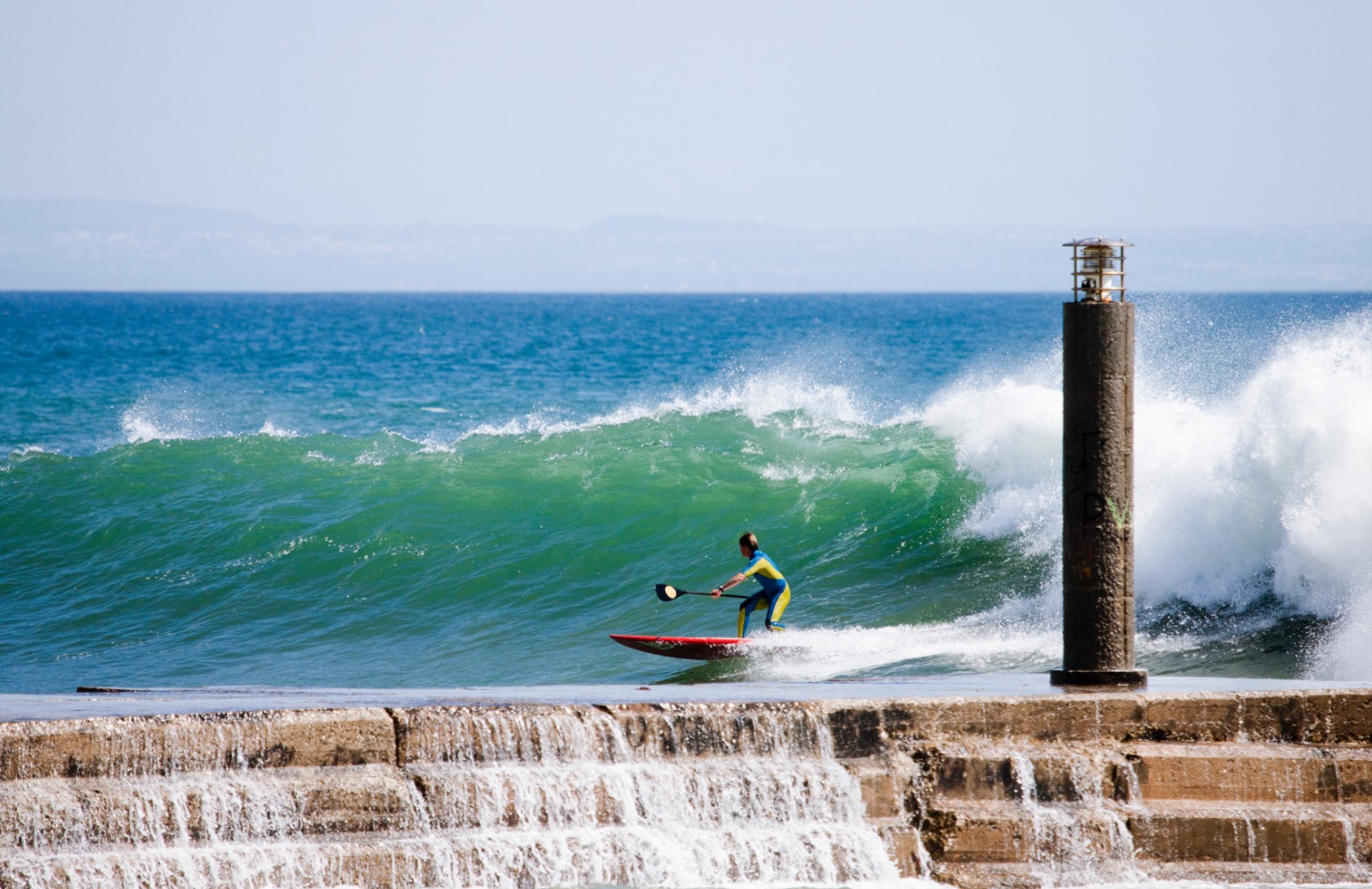 With 800+km of coastline, a pleasant climate, and easy access via car/ferry/plane Portugal is a great SUP surfing destination for all abilities. It's a swell magnet, picking up all the swell that passes up through the Atlantic. You'll rarely get a flat day, but if you do there are plenty of beautiful bays and inland waters to explore,  plus other sights to see.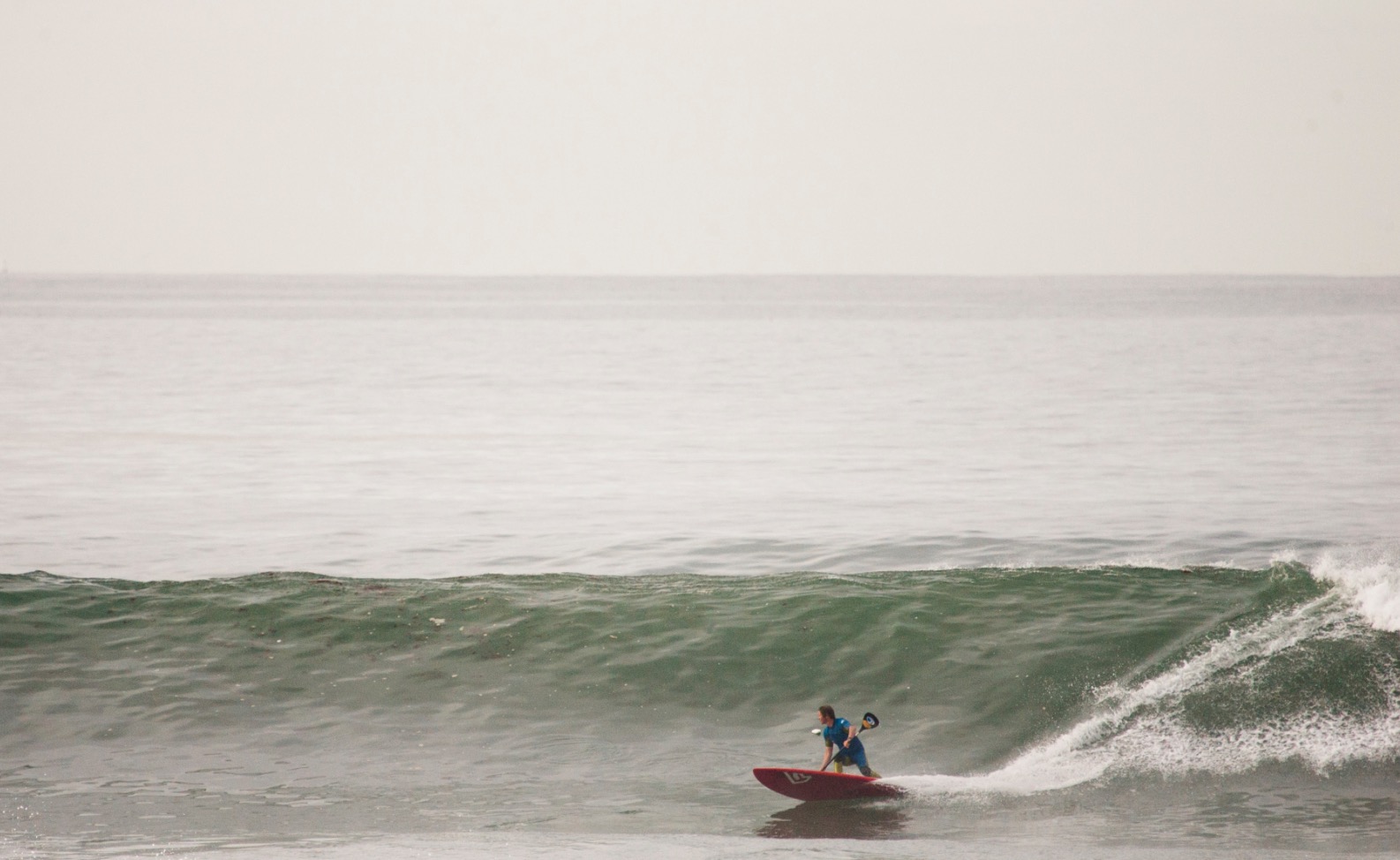 The Lisbon & Cascais areas of Portugal have some excellent SUP conditions for surfing,race training & coastal and inland exploration. Only 20-30 mins from the city, and with a paradise of waves. Alex from Moana Surf School shares with SUPboarder his local knowledge of the area and why it's worth a surf visit with your SUP.
Surf spots
The coast from Lisbon to Cascais has numerous waves spots, great for SUPers of all abilities. If you take the (Marginal) coast road you'll pass many well known spots plus plenty more (I'd have it write a book not an article to go through them all!) These spots are best in north or easterly winds, and during the months of September/October.
The first is Carcavelos Beach. This is a powerful beach break which works best in northerly winds. It doesn't normally break in summer as needs a bigger swell to wrap around from the west. It's a fast, unforgiving wave that needs good timing, and changes depending on the sand banks and tide. An urban beach and only a 15 mins drive from Lisbon means it can get very crowded with surfers.
The next break is Sao Pedro (20 mins from Lisbon). This is a right handed point break, which faces south and therefore best in a northerly wind. (There is also another reef further down with a left at high tide and a right at all tides.) All can be reached from the main car park on the top of the cliff, and have an easy launch off the beach. These reefs need a bigger swell to break and therefore are mainly a winter spot. The main point at Sao Pedro is great for SUP but can also be crowded with surfers. So you need to go early and be lucky, or catch an uncrowded moment on a bad weather day or just be lucky!
Further along the coast and 25 mins from Lisbon, Parede is a popular SUP spot. An easy right hand reef break with easy water access. When small it's the perfect spot for learning to catch your first few waves. Works summer and winter, but closes out when big. There is an easy vibe in the water amongst the SUP community and not many surfers. But you must still respect the peak and take off area. Launching is easy apart from on a high tide with big swell.
Next you'll find Praia da Rata in Cascais, next to the train station, and only a 10 mins drive from Sao Pedro. From the bay it's a 10min paddle to the jetty where there's a really fun break. For the more experienced you can jump in off the jetty.  The wave breaks on the reef and off the jetty, and is perfect for SUP.  Just line up with the jetty for a point of reference when you're in the water. It's an easy right and breaks even when big. Summer is often flat but it's a great winter spot. Mid tide is best, high tide OK, and low tide recommended only for more experienced SUPers due to the rocks. Offshore in a northerly wind. If you are lost and can't find the train station or bay for launching ask for the Albatroz Hotel.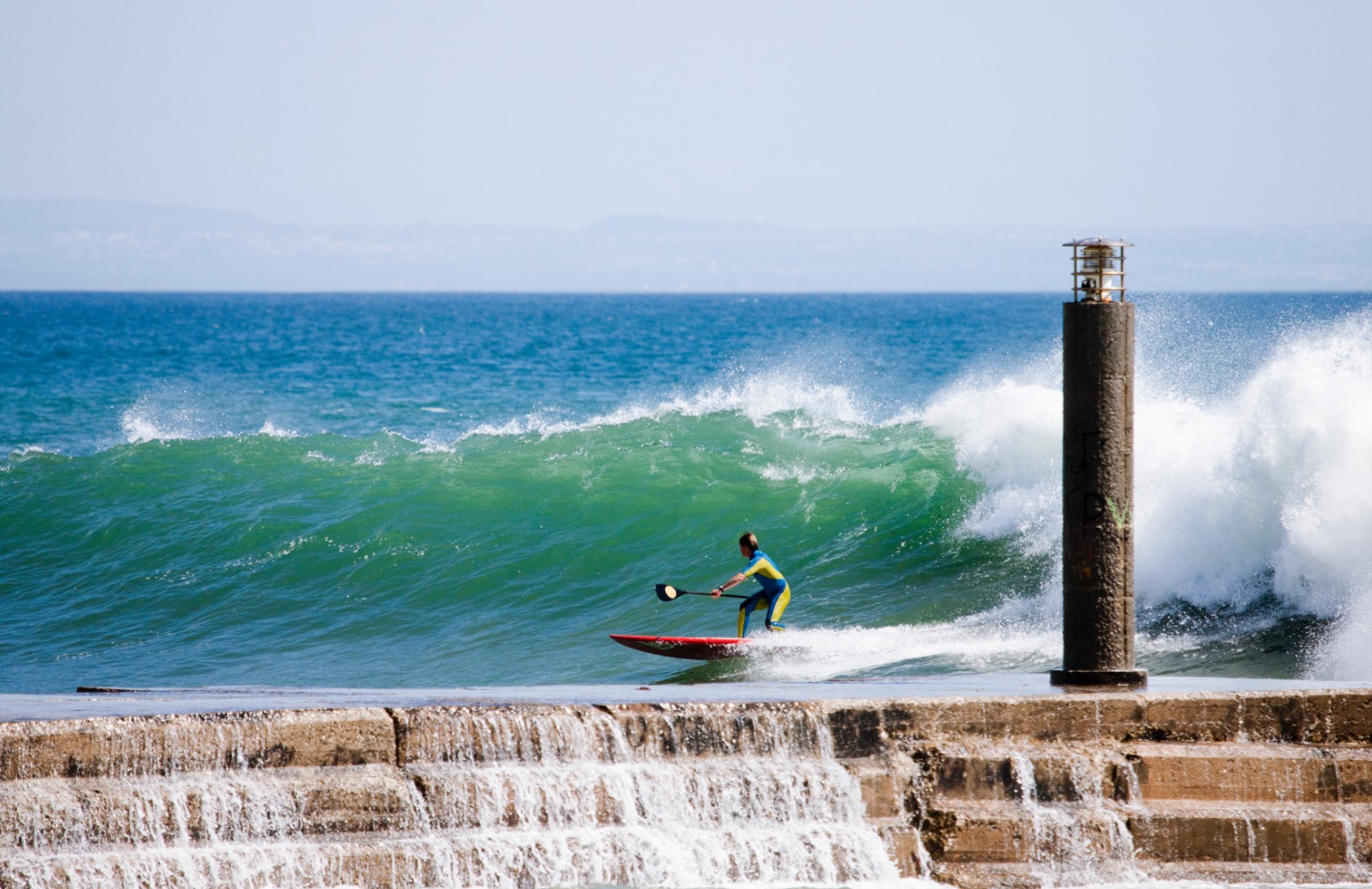 When flat, the above spots and many more in-between are perfect for just cruising and exploring. The Bay of Cascais itself is very protected making it a perfect race training location.
From Cascais the coast turns and faces more west. Here you'll find the spectacular Guincho Beach. Only a 30-40 mins drive from Cascais and yet so wild and unspoilt… so far at least! An amazing beach break and a MUST place to visit. Guincho breaks in both summer and winter months, but is often too big and messy in winter. In summer depending on the sand banks, it has lots of different peaks to choose from, but the conditions can change very quickly depending on the wind, banks, tides and swell. Easterly offshore winds are best, but it's also good in a north east and sometimes a south wind too. In the summer it's worth getting there early before the thermal winds pick up (mid afternoon). Be careful of the currents and rocks in the middle of the beach, and the rocks at either end. It's always a good idea to sit on the beach and watch others first. Moana Surf School is based at the North End next to Bar do Guincho. A great Bar/Beach bar/Terrace/restaurant.
There is also a point break at the northern end of the beach called Ninja. The beach and views are amazing whilst on the water. The place is magic!! After a good SUP session go to 'Bar do Guincho' for a great burger! And come visit us at Moana Surf School where we'll happily give you more knowledge about the area. There are loads more surf spots up and down the coastline, aswell as inland rivers and lakes if you want to go and explore more.
Getting around and places to visit
The best way to get around is probably to rent a car (online beforehand) from Lisbon airport. You can then easily explore the surf spots and other nearby areas of interest. If you want a break from SUPing it's worth visiting the castles and gardens in Sintra, a 20 mins drive from Cascais. The coastline is also amazing for biking and hiking. Stop at the most Western point of Mainland Europe, Cabo da Roca. Great place and views. Lisbon the capital city of Portugal is also a great place to take a day off from SUP and explore the streets, sights and nightlife!! In Lisbon there are plenty of things to do and see, and there's a great friendly multi cultural population.
Accommodation
1.Guincho Wind Factory has some rooms and Paulo Silva has a great SUP shop below the accommodation. Close to Guincho Beach and Cascais.
2.You can also stay at Muchaxo Hotel on Guincho Beach. The location and views are amazing.
3. Try www.myfriendshouses.com. They have all types of accommodation. Send an email to Celine.
Mention myself, Alex at Moana Surf School as we're good friends and I'm sure they'll give you a good deal!
4. There is also camping near Guincho called 'Camping Guincho Orbitur'. Here they also rent bungalows walking distance from Guincho Beach. And the nearby village of Areia has some great places to eat.
5. If you want somewhere a bit more special (and expensive!) check out 'Farol Design Hotel'.
It's best to book all accommodation on line – cheaper and easier that way.
Places to eat
In the village of Areia near Guincho Beach you'll find a good choice of restaurants. The 'Biscoito' waiter Fernando is the coolest waiter ever and serves very good, cheap local food, as does 'Carloto' restaurant. There is also a great indian restaurant in Areia.
Nightlife
Cascais has lots of Irish and English bars. But if you explore the back streets you can find some really nice local bars and restaurants. For real nightlife you have to go to Lisbon. From Cascais a taxi is approx 40 euros. Go to the old town 'Barrio Alto' for some drinks then if you want onto the clubs! e.g Lux & Urban Beach.
Top tips for travelling in Portugal with your SUP:
Respect the surfers in the water.
Drive safely.
Try and explore the coastline as much as possible.
Don't speak Spanish with the locals!
Lock your car properly and don't leave things in sight.
Top Tip: Enjoy and have fun!!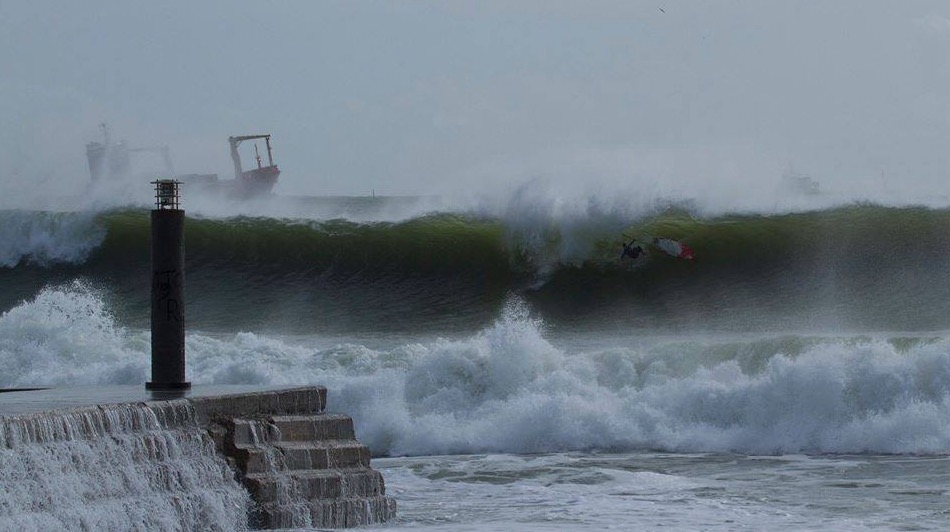 I hope this information inspires you to visit Portugal and this fantastic area. I can only write so many words to try and describe how good it is. As they say on the big days… if you don't go you don't know! – Alex Unwin from Moana Surf School.
For more information about Moana Surf School in Portugal check out their website and Facebook page.