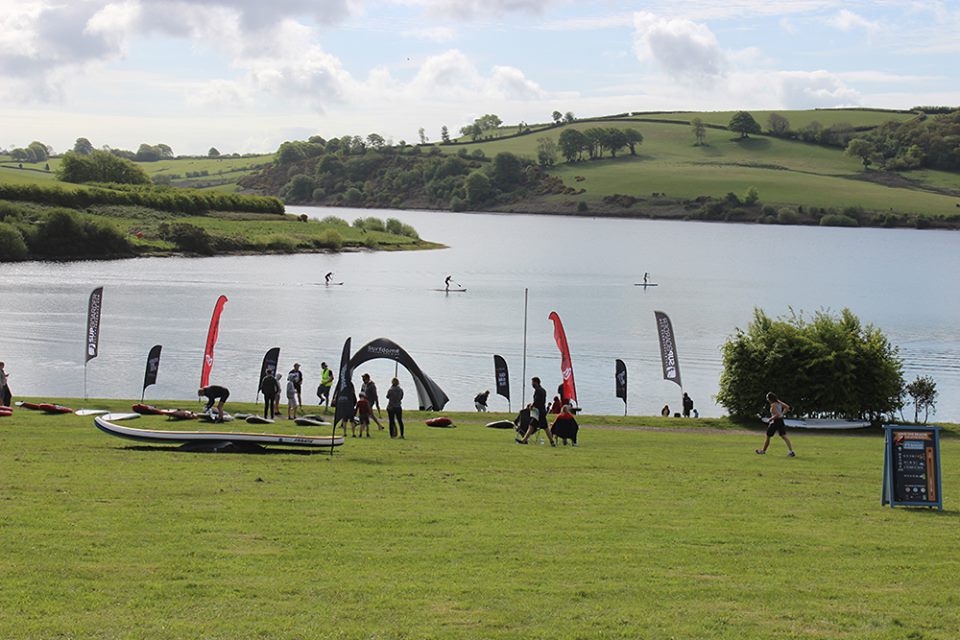 In the third and final part of  'A Rookies Guide to SUPBIKERUN' Caroline Major talks us through her first triathlon, shares some top tips and gives a real insight to what its like to be involved in this unique event. Jelly beans, jelly legs and much more…
Well, it's done! We did it! And what a fantastic day it was. The weather gods were on our side with light winds and patchy sunshine. I was amongst several participants who stayed overnight the night before, and the atmosphere of the whole event from start to finish was fantastic, with a real friendly feel and supportive camaraderie set in the most incredible surroundings in Exmoor national park. From serious competitors to those like me who were entering just for fun, everybody seemed to look out for each other and support each person's individual achievement.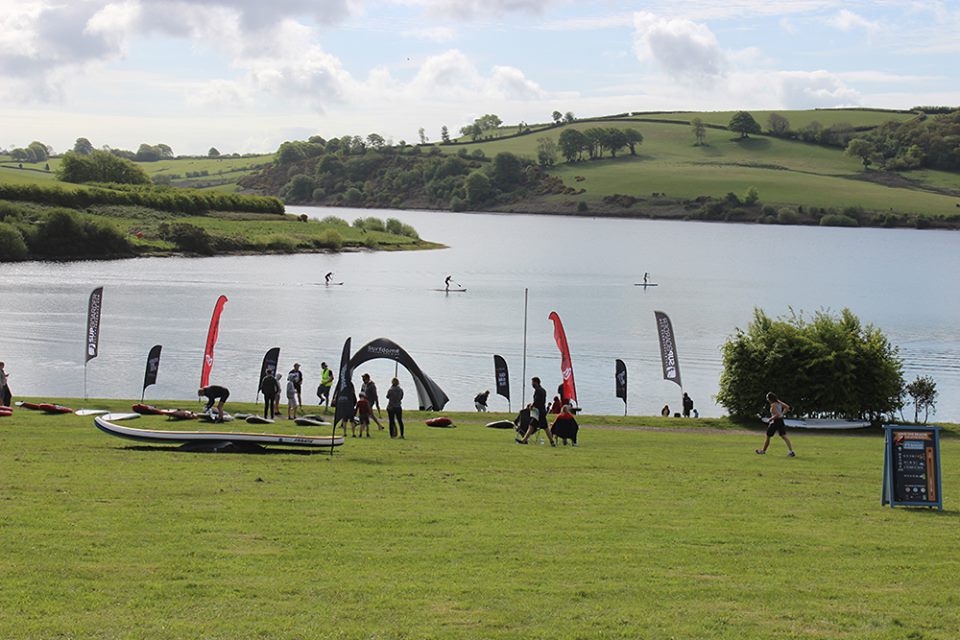 For me this event was the culmination of several years of hard work and heart ache stemming from a serious injury that left me believing I would never run again. After years of struggling even to walk, I finally obtained the treatment I had been needing about a year ago, and through positivity and hard work I built up my muscles again to allow me to do minor exercise. So entering SUPBIKERUN earlier on in the year felt like a mammoth task to complete. However having that impetus to train, knowing that I had something to prove to myself, the event became my focus, and my inspiration to get fit, so completing the day in one piece was really an incredible feeling.
Here is my account of the day, hoping it brings back some good memories from those who were at Wimbleball, and some helpful hints for other rookies entering the next couple of events this year.
THE START
The start was well staggered, in fact you could start whenever you wanted during the morning so there was no big rush to enter the water and this made it very stress free. When my body and mind felt ready to start the challenge I did, with awesome friendly encouragement from the starting marshals.
SUP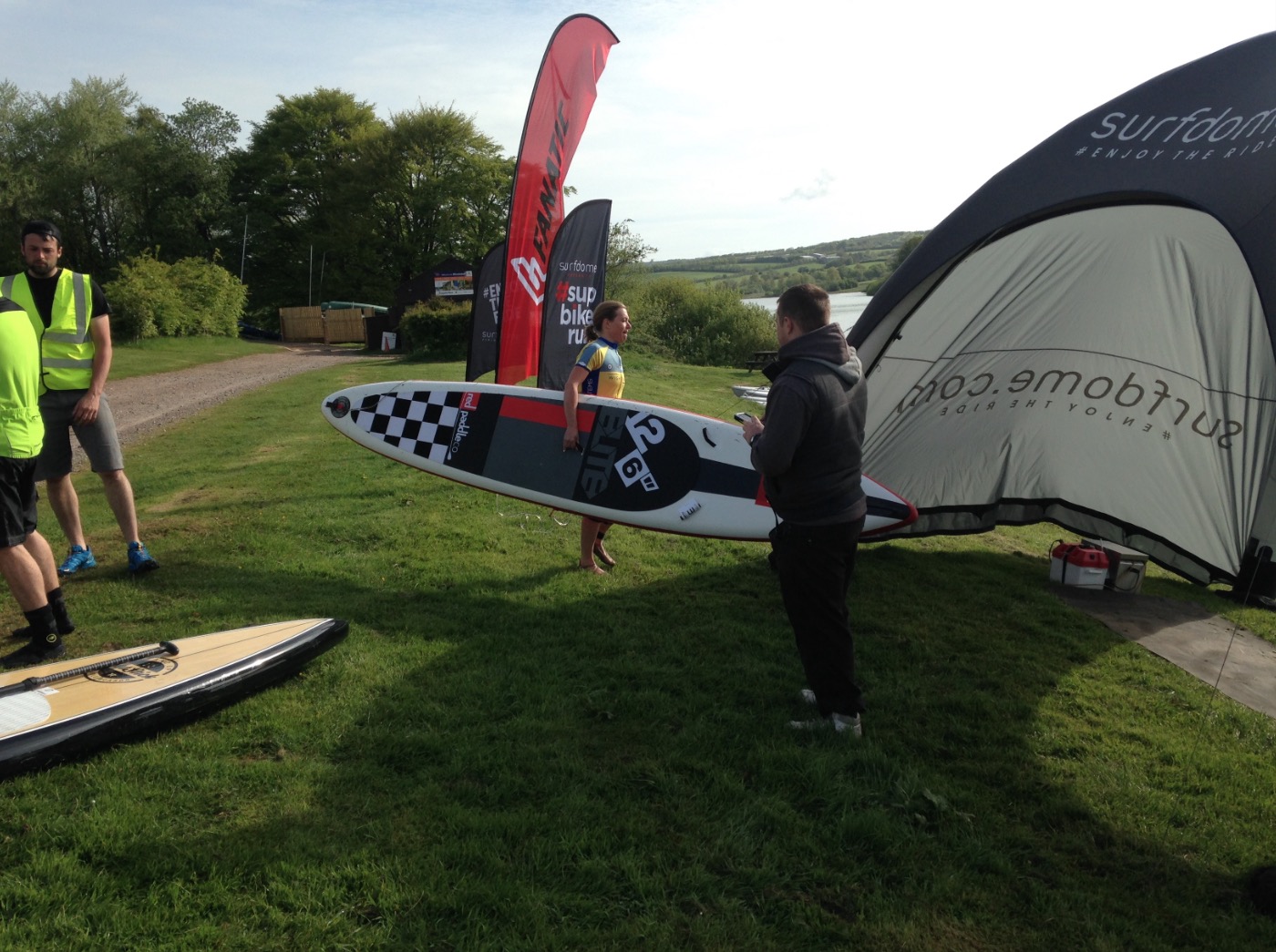 The SUP course was set on the beautiful Wimbleball lake which for me made it easy to forget I was competing and easy to believe I was out for a Sunday morning explore. Until people on their fancy race boards began overtaking me, which soon spurred me on to get my mind back in the game and pick up the pace. After I had been overtaken by several fellow entrants, all greeting me on their way past, I decided I would quite like to overtake somebody myself! So the bloke in front of me became my target and my mission and all my focus was on paddling strong and steady enough to paddle past him. Well I didn't, but it did really help me keep my pace up.
Helpful tips:
Do practice paddling this distance at a good speed if you are focusing on your time. It is very different ambling along, as I was at first, compared to getting your head down and 'racing'.
One thing I hadn't included in my training was turning around the buoys, which I wish I had after my second collision with the big yellow inflatable buoy. No harm done, and fortunately I could laugh at myself, which I'm pretty sure the spectators on the shore were doing too.
THE TRANSITION
Each section of the course and transitions are timed separately thanks to a clever bit of technology strapped round your ankle. Therefore you can get a split time for each section of the course and an overall time. Being a complete triathlon rookie I didn't realize this until 4 minutes into the transition whilst pottering around leisurely drying my feet, putting some fresh socks on, checking my confectionary stocks for the bike ride ahead…
Helpful tips:
The transitions ARE timed, and form part of your overall time. So even though you may feel like a bit of a lemon, jogging from one to the next is acceptable and encouraged.
If possible, wear what you intend to wear on the bike, for the SUP too (aside from footwear) as you will get your feet wet on the exit from the SUP. I wore shorts for the SUP and thought that in my leisurely transition I'd have loads of time to change into leggings for the bike. This was not the case, and I set off on the bike in shorts, only to realise after a few km that there's a legitimate reason cyclists wear lycra. It's called chaffing. And it isn't pleasant.