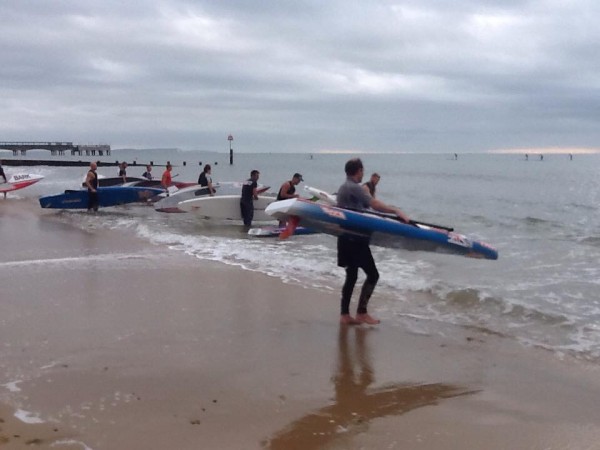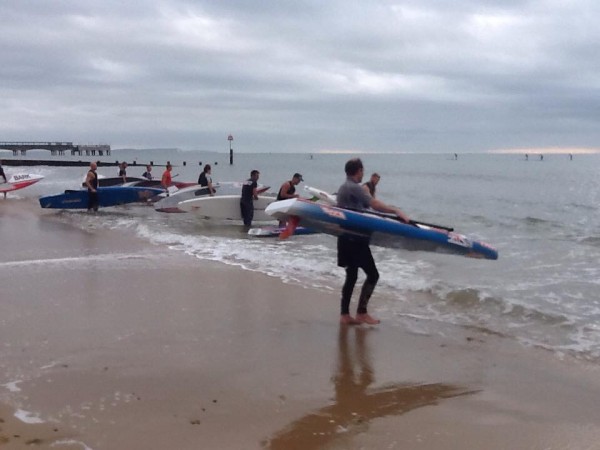 The first of this years BaySUP Frostbite Racer series was held on October 25th at Surf Steps Surf School on Bournemouth seafront. 31 racers took part in a technical race over a 4 km course in calm conditions and warm temperatures, it was an ideal start to the winter race season. The event attracted a number of newbie racers, great for the SUP scene on the south coast.
The weather was overcast with hardly any wind, a welcome change from previous years which have seen some 'crazy' conditions.
On the day there were three categories contested with 12′ 6″ men and women and a 14′ men's race with Open and Masters competing in both the 12'6″ races and Open, Masters and Veteran men racing in the 14′ race.
All competitors gave it everything which made for some great racing with Marie Buchanan leading the ladies home, showing her international experience to win by over 4 minutes from Emily King who was chased to the line by Debbie Roberts 40 seconds back. In the mens 12'6″ race Paul Simmons, Pete Holliday and Mark Slater were separated by only 38 seconds with Paul and Pete ahead of the leading 14′ paddler Tim Harley. In the 14′ class Tim lead Will Vincent by nearly 60 seconds with Scott Brown less then 30 seconds further back.
Special mention to Michelle Foresbury and Hannah Ramsey who completed their first ever race!
The next race in the series is on Saturday 22nd November, see the Frostbite Facebook page here or the Bay SUP website here for more details.
Race 1 was sponsored by Bomber Eyewear who provided some super cool sunglasses for the event raffle, check them out here.
Results
Ladies 12'6″
Marie Buchanan (Masters)
Emily King (Open)
Debbie Roberts (Open)
Kerry Baker (Open)
Venecia Mankarious (Open)
Michell Foresbury (Open)
Hannah Ramsey (Open)
Men 12'6″
Paul Simmonds (Open)
Pete Holliday (Open)
Mark Slater (Masters)
Ryan James (Open)
Charlie Gridley (Open)
Andy Joyce (Masters)
Maff Wall (Masters)
Sean Gridley (Open)
Zac Wharton (Masters)
Barry Short (Masters)
Steve Trott (Masters)
Richard Lipp (Masters)
Men 14′
Tim Harley (Open)
Will Vincent (Open)
Scott Brown (Open)
Rob Stewart (Open)
Phil Plume (Open)
Nick Watt (Open)
Ben Bailey (Masters)
Jock Patterson (Vets)
Matt French (Masters)
Will Littleboy (Masters)
Bruce Dyer (Open)
Chris Jackson (Vets)
Dan Willmore (Open)