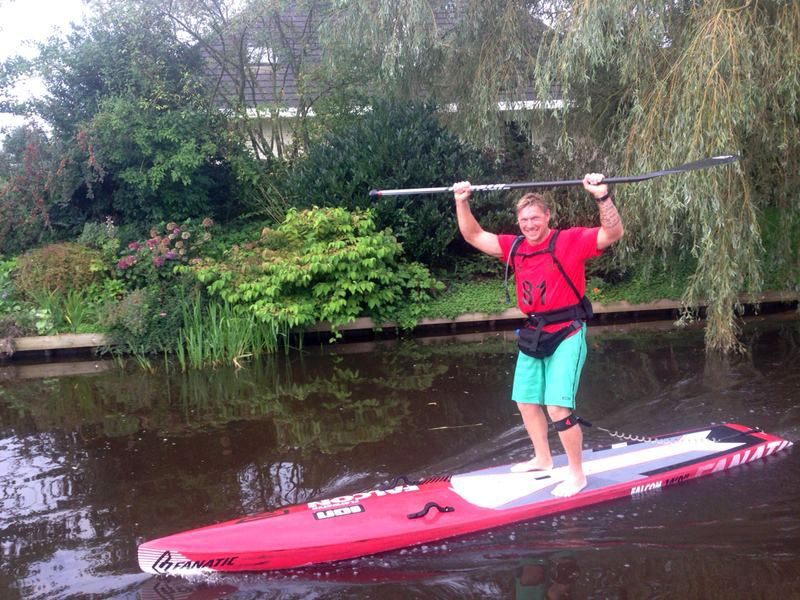 If it's tough, long and involves a severe lack of sleep… then SUP endurance paddler Mark Slater will always be up for the challenge! So the 11 City non-stop SUP tour had his name all over it! The 220km 11 City tour is normally held over 5 days, but the non-stop 11 City tour involves exactly what it says… 220km non-stop! Mark tells us how he came about to take on the ultimate challenge and what it was really like to paddle that far in a race. Over to Mark as he talks about "My fun weekend in Holland!'

So I heard about the 11 City SUP tour holding a non stop category earlier this year and thought it may be a good one to try. However I did have my reservations, as the event was at the beginning of September and I do really struggle to get much training done throughout August due to work commitments and dad duties! So as the deadline for entries approached…
"I thought what the hell, a visit to Holland could be quite pleasant!"
The jolly nice overnight Stenna Line ferry got me to Holland in style on the Friday morning and registration was planned for later that day in Franeker, where the 5 day competitors were at the end of their third day. After a super quick briefing we were told to be at the start in Leeuwarden and ready to go at 4am Saturday, with another quick talk/briefing beforehand at 3.45am!
In the lead group that set off from the start line, it was Arnaud, Ike and Wolfgang, that set off at fast pace. I initially chose not to try and stay with them and just pace myself. But as we left the lights of Leeuwarden, the mist closed in meaning limited visibility, and this coupled with the fact that:
a) I didn't have a clue of the route
b) I had opted to not bother with my head torch
c) My eyesight is not the best even in daylight!
… meant I had no option but to put my head down and get a little closer to the trio before I totally lost the faint glow of their torches leading the way in the distance.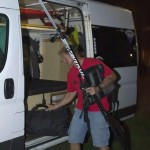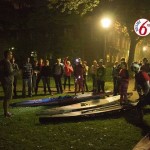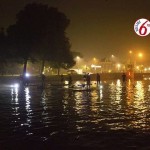 I planned to paddle the first 43km straight through and have my first stop at Sloten, which is the equivalent to the end of Day 1 in the 5 day event. I came in feeling ok and lying in 3rd, but a slight mix up with the 11 City support meant I had to wait around 15-20mins for my bag with all my food and provisions. Now unfortunately for me the other paddlers had their own support and were doing some super slick food stops.
So as I  pulled out from Sloten to start the Day 2 stage of my journey to Workum, which was the longest leg being a 45km slog, I think I was now lying around 7th. On this section I did have to stop paddling a few times to call the organisers as I was unsure of the route. But eventually I made it and had another welcome fuel stop.
The next leg was to Franeker and the end of the Day 3 section, which would be a real big mental milestone for me as it meant I would be well over halfway. I did however decide to have a little break and stretch my legs around midway as my body was starting to feel a little battered after doing the first two sections straight through. I eventually pulled in for my 3rd food stop at around 10.30pm. After refuelling and setting off into the darkness my psychological boost (knowing I was over halfway) was a little marred by the fact that the next stage to Dokkum was going to be throughout the night. Luckily the moon did keep making a slight appearence through the cloud cover, so there was a little light reflecting off the water helping to show the route ahead. But I found it required real concentration, and my mind along with the trees did start to play tricks with my mind and various weird and wonderful visions were looming up around me! After what seemed like an eternity some lights and real buildings (as oppose to the imaginary ones I had been seeing for the last few hours!) came into view, so I presumed I was now approaching my 4th and final food stop. But after padding through the town, with no sight of the support team I stopped and phoned the 11 city crew once more.. only to find Dokkum was still another 8km away! And my oh my, they did seem to be 8 very long kilometres indeed! To keep motivated I had to tell myself all I needed to do was just get to this stop then it was only a 27km leg to the finish.
I arrived at around 5.45am, had a sumptuous breakfast of porridge oats, total gainer powder and milk, then was off on my final leg back to Leeuwarden. As I started paddling I tried to work out how long this last section would take. And after converting the km's into miles, realised that 'this last little section' was still an 18 mile stint, which meant it was actually further than any of the training paddles I had done before the event. I really tried to push myself now as I had no further need to attempt to maintain my body and mind, with the single goal now being…
"just get to the finish line as quick as possible and get it over and done with!"
About 15km in, Riste and Todd, who had been helping with support, appeared in a small boat and stayed just behind me all the way to the finish. This not only helped with my morale but also kept me pushing to maintain a good pace. As the finish approached, I was presented with a very big dilemma. The water quality of the canals did not look particularly good, but I had been paddling hard now for nearly 30hrs and was in a very sweaty and quite probably smelly mess. So a decision had to be made! As I crossed the finish line, which was the better option? Smelling of a) canal water or b) 30hrs of sweat?!!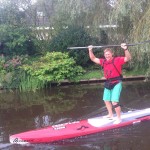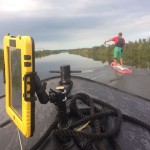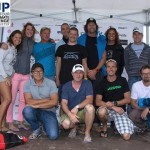 The canal won the vote and as I wallowed in the water all the pain and suffering made way to a great feeling of elation at completing the challenge. All that was left now was the drive back to the Hook of Holland to catch the overnight ferry to the UK, where a couple of pints were order of the day at the bar, before retiring to the cabin and the welcome sight of my bed.
I must say a massive congratulations to all those who attempted the non stop challenge, and especially to the 3 paddlers who came in before me. Arnaud, Ike and Rico (Richard) with truly amazing finish times.
Also thankyou to Riste, Todd and Aukje who helped with support on my journey and of course Fanatic, ION and K-66 who provide me with fantastic equipment, apparel and accessories. Another big thankyou also goes out to my long suffering girlfriend Rebecca and daughters Mia and Lola who have to put up with me and my ways 🙂
Until the next time… Mark Slater
So… anyone else up for the ultimate SUP challenge next year?!! You'd better get training now!