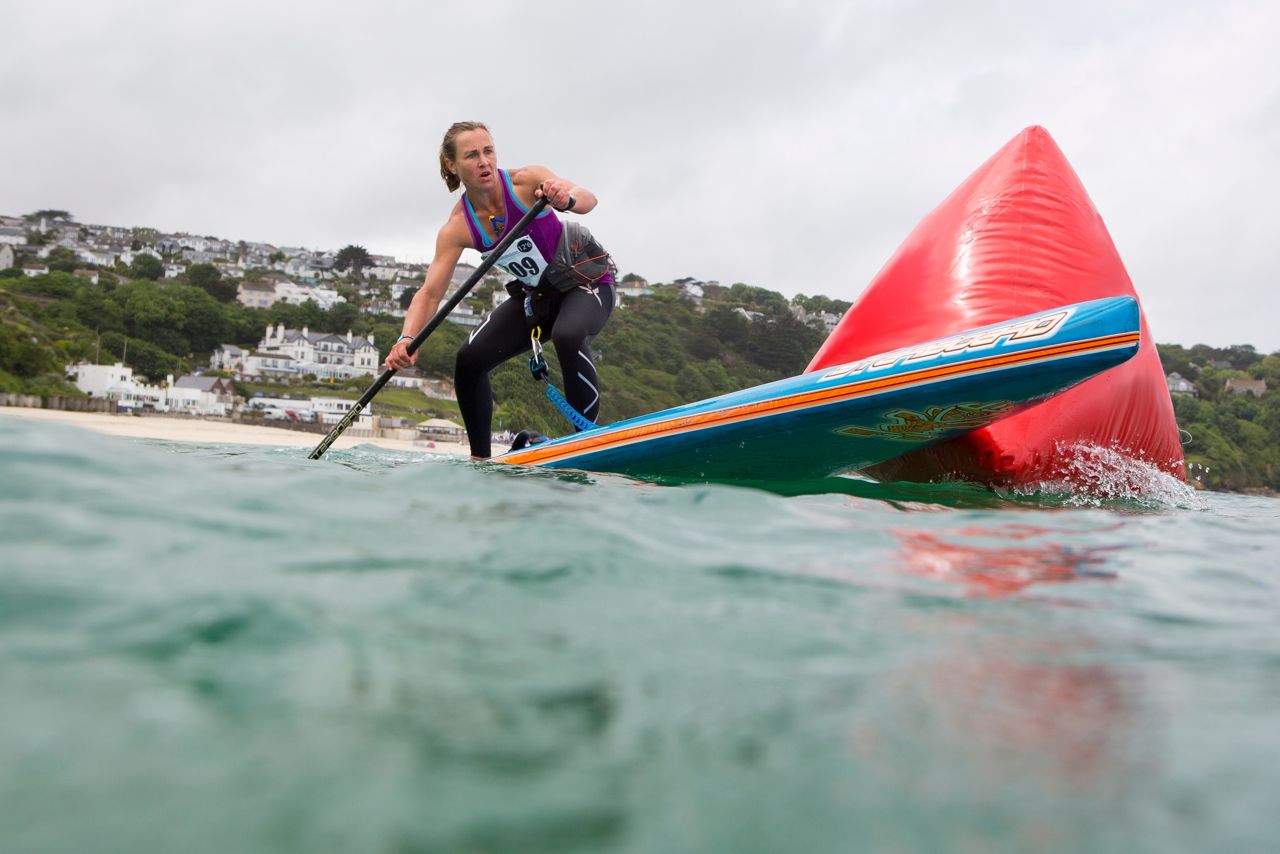 SUPboarder team rider Marie Buchanan has just flown out to California to take part in the biggest BOP race in the world this weekend… the Rainbow Sandals Battle of the Paddle. 200+ competitors, chaos and carnage, a gnarly shore break, and up against the worlds best. Might not sound like everyones idea of fun, but Marie loves it and tells SUPboarder why she's prepared to fly half way across the world with her race board for it!…
SB/What is a BOP race?
MB/BOP stands for Battle of the Paddle. It is a technical style of SUP racing originating from the surf beach at Dana point, California in 2008. Traditionally, the BOP takes place in the waves and has a beach start where racers line up along the shoreline with their boards & paddles. There is a mass start with competitors simultaneously launching into the surf, paddling out through the wave break, out and around a buoy set just outside the break zone. The race continues at near sprint pace traditionally around an 'M' shaped course, with multiple laps and beach transitions. Each lap racers negotiate around at least one buoy set within the breaking waves which often leads to chaos and mass carnage! There's great interaction with spectators on the beach during the transitions where paddlers run through the crowd before launching back out into the surf again for another lap.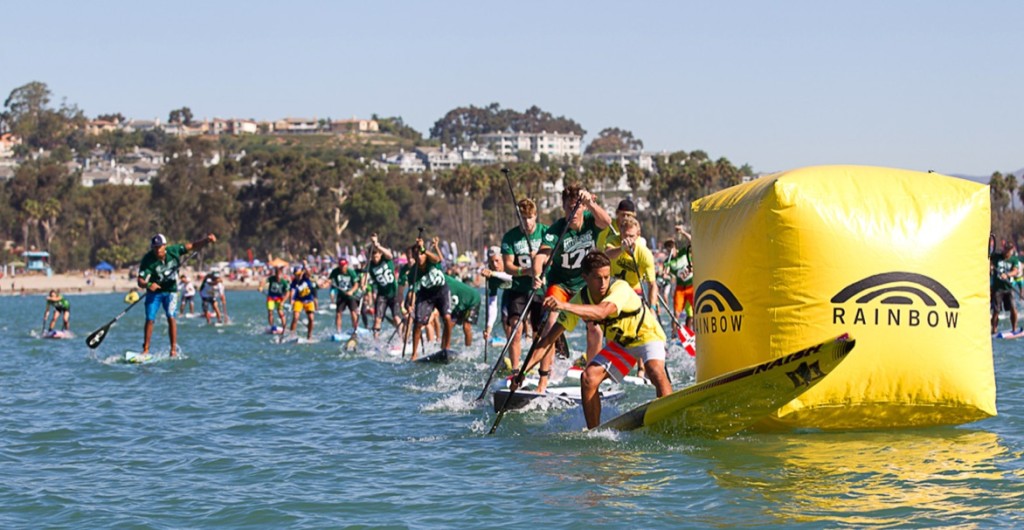 SB/Tell us a bit more about the Rainbow Sandals BOP.
MB/The Rainbow Sandals Battle of the Paddle, California has taken place once a year since it's debut in 2008. Each year it attracts one of the biggest fleets of elite paddlers from around the World including big names like Connor Baxter and Annabel Anderson. It is amongst the most prestigious (if not the most prestigious) race on the SUP racing calendar. This year, the event will be held at Salt Creek, a short distance along the coast from Dana Point. It's more exposed to the predominant swells and has a bit of a reputation for its gnarly shore break which could make things interesting! Last year there were around 200 competitors taking part in Saturdays Elite race. The race was split  into two qualifying heats where woman joined the men in their respective heats. The top half of both men and woman fleets won a place in the all men or woman's final later in the same day.
SB/Have you been before? If so, how did you get on?
MB/This will be my second time competing in the California BOP.  Last year (2013) was my initiation to this event, only 3 weeks after winning the 220km SUP 11 cities race! Last year, for me was all about experiencing the event and not so much about the end result. It was fantastic to be competing alongside many of the Worlds best paddlers and in waves which is a rare thing in the UK!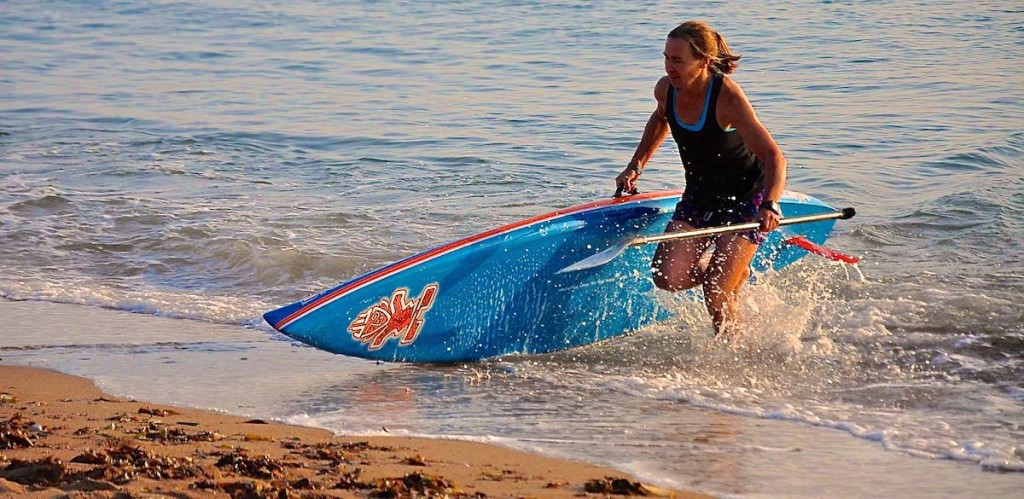 With a massive fleet of 46 elite woman we were divided into two qualifying heats which were held alongside the men's elite qualifying fleets. So each heat had around 80-100 male and female competitors, battling it out for a place in the finals… an awesome experience to say the least! Despite not having expectations I was totally stoked to finish 11th out of 23 woman in my heat, with the top half making it into the all woman's elite final in the afternoon. The final was just rammed with all the top woman so I was pretty happy to finish 19th overall.
SB/What makes you want to travel so far for this one?
MB/There is no other race like it in the world for attracting the biggest, most elite field of female and male racers from around the world. It's such a great opportunity to be racing amongst these guys and girls and an amazing atmosphere and spectacle to watch. Its also warm, sunny and the Californian people are super friendly!
SB/What prep have you been doing for this event? And what kit are you taking with you?
MB/ I have been practicing in the waves as much as possible on my race board over the last few months. I'll be flying out with my 12'6" Starboard Turtlebay which is great for wave riding, a couple of Starboard Enduro carbon paddles. I am also squeezing in my 7'7" carbon Pro Surf SUP for a bit of playtime once the racing has finished!
SB/What is it you enjoy most about BOP style racing?
MB/For me, it's by far the most exciting type of SUP racing both to take part in and to watch. I love riding waves on my race board and enjoy the extra challenge of  negotiating the surf & turns in a race situation. There will be a good bit of adrenalin flowing from start to finish and it certainly puts me out of my comfort zone!
SB/What do you find most challenging about BOP racing?
MB/Last year the most challenging part was negotiating and escaping the chaos around the inside 'hammer' buoy turn, when the woman and men were bunched together in the qualifying heat. This year, I think the biggest challenge for everyone is going to be surviving the Salt Creek shore break!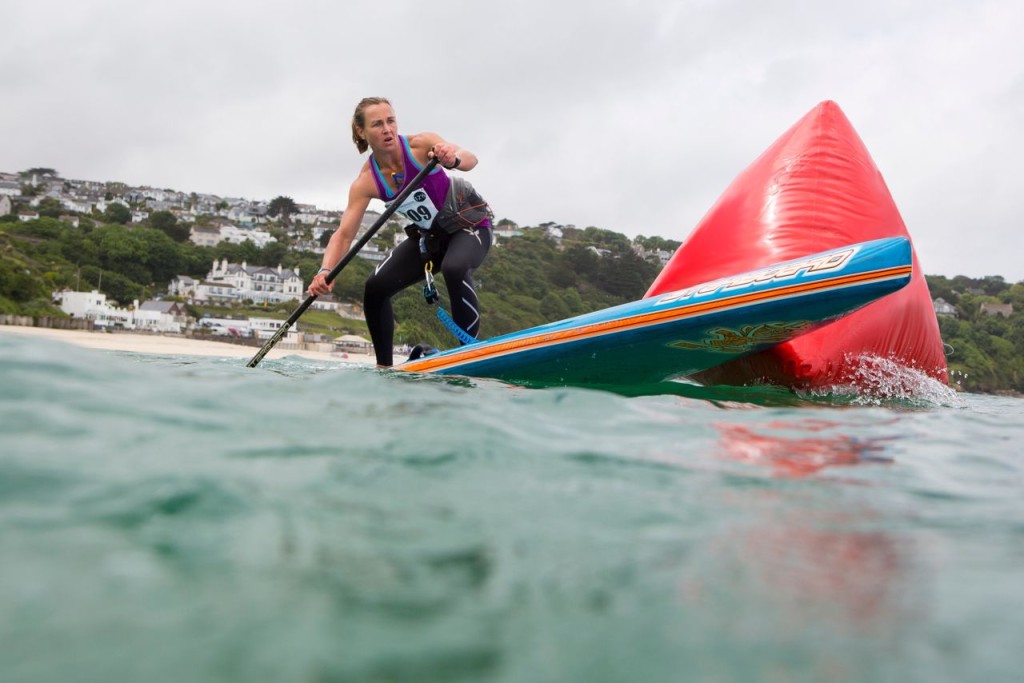 SB/What feelings do you have when you are about to go off the start line with hundreds of other competitors beside you?
MB/A serious case of nerves and excitement!  I try to settle my nerves by focusing on the horizon and getting around the first buoy as fast as possible! I try to avoid thinking about what might happen along the way!
SB/What would be your advice for getting out there and travelling with a race board?
MB/I'd highly recommend flying with Virgin Atlantic to the US. They have the best baggage policy by far when it comes to travelling to the US which makes the whole travelling with race boards much less stressful!
SB/Who is going over from the UK and Ireland this year?
MB/This year there is a team of about 10 of us going from UK and Ireland; Ollie Shilston, Ryan James, Paul Simmons, Sam Ross, Crispin Jones, Charlie Jones and myself from the UK and Peter Kosinski from Ireland. As far as I know all of us will be travelling with hard boards apart from Sam and Crispin who will be on inflatable race boards.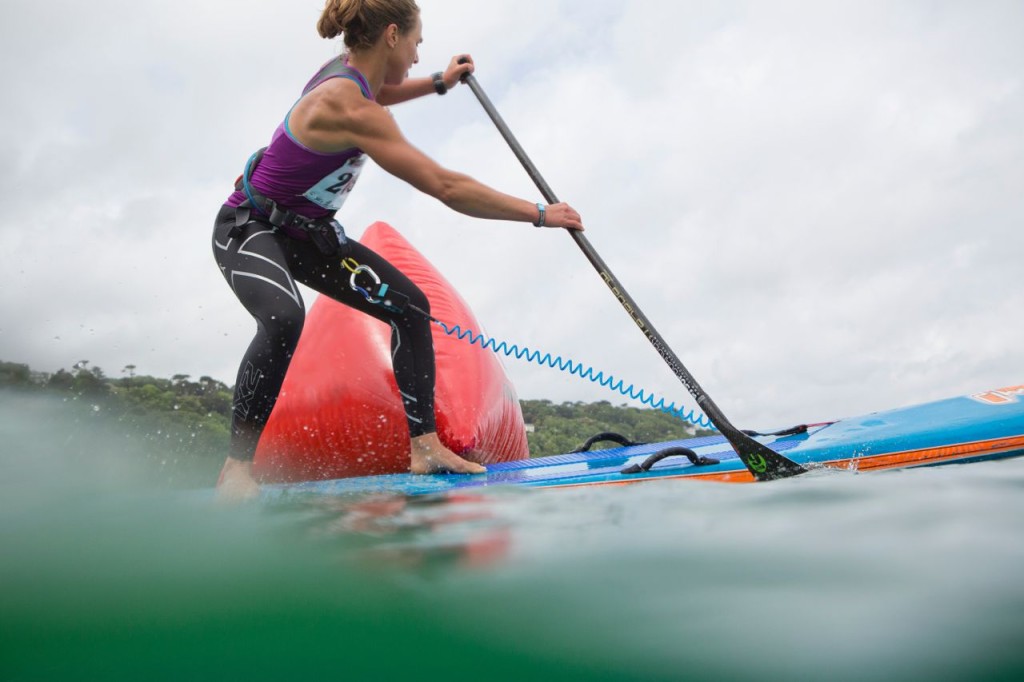 SB/If somebody wanted to get into BOP style racing what would you suggest they do?
MB/Pick a BOP or technical style race to enter back home. This year the UKSUP clubs held 6 technical races at various beach venues around the UK. Although there's no guarantee they'll be waves on race day, you'll gain valuable experience… beach starts, buoy turns, fast pace racing and beach transitions. Basically all the key elements that make up the BOP.
SB/Have you got one top race tip for us?!
MB/Amongst all the chaos and adrenalin off the start line it's very easy to forget to breath! A top tip which came to me from Starboard rider Ryan James before my 11 cities race was to focus on my breathing and try to relax…. so simple but so important!
Best of luck to Marie and her fellow SUPboarder rider Peter Kosinski and the rest of the UK riders this weekend. For more information on 'The Rainbow Sandals Battle of the Paddle' click here. To see the best bits of previous BOP races watch the videos here.