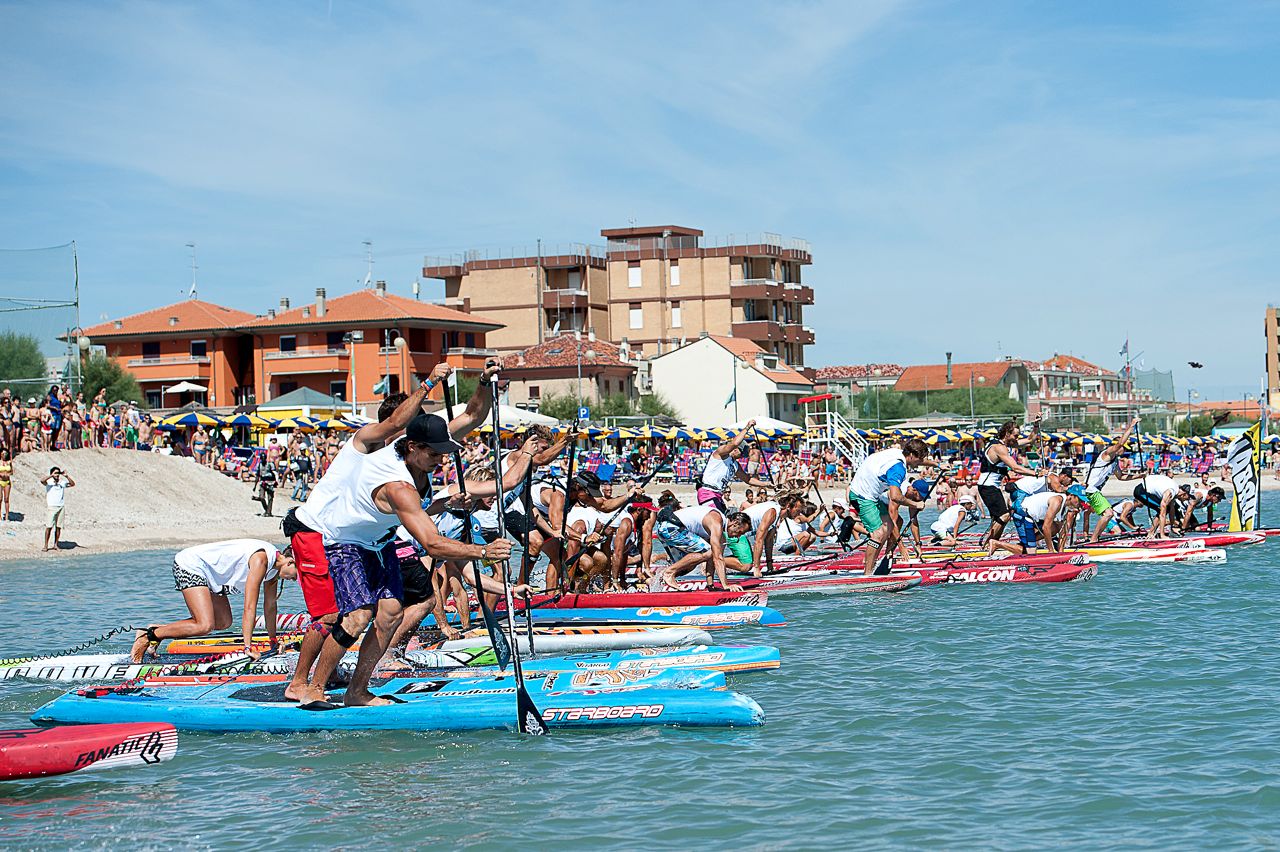 A super sunny day for the first appointment of the Adriatic Crown, a great number of athletes rounded up for the European fraction of the NSP European Tour 2014. The organizing committee  didn't leave anything to fate, everything was studied down to the minimum detail.
A technical circuit, studied by paddlers for paddlers, which saw all the athletes fight up to the last "paddle".
The circuit was the most technically challenging seen up to now and almost all paces were applied. Two full routes 1.2 Km in crosswind, 2.5 Km in upwind, 7 Km in downwind and  the final portion 3.5 Km in full upload.
Well-known names on the world scene such as Zane Schweitzer, Leonard Nika, Roman Frejo, Branislav Sramek, Peter Bartl, Woltans Leeb, Christophe Salmhofer, Fabrizio and David Gasbarro Codotto and the top "SUPers" of the Italian panorama David Ionic, Claudio Nika, Susak Molinero, Paul Marconi and Nicola Zamuner.
This slideshow requires JavaScript.
A message of strength and perseverance was given to the race by a little girl, Laura Del Pont (age 10), despite having missed the entrance buoy and having been informed by the jury, she turned back and passed correctly, continuing her race, crossing the finish line after three hours and twenty five minutes. A true example of Laura's personal commitment and strength!!
Legendary Zane won the race, followed by Nika and Sramek.
The "speedy" Susak Molinero dominated the girls race over the talented Silvia Mecucci and in the category 14' board, Roberto Mandoloni, the home idol, won over Wolfan Leeb.
The organization replicated on Sunday with the Beach Race valid for the Italian Championship and the foreign athletes, who were already in Marotta for the Adriatic Crown, joined in.
The Adriatic Crown organizing committee would like to thank the staff of Windsurf Center Marotta, great guys, all the athletes who participated and made ​​the Race a real show.
A special thanks to Zane Schweitzer for his humbleness and his kindness, a true champion in and out of the water … he has demonstrated that passion has no boundaries!
A special thanks to those who made ​​it all possible…the Sponsors!
Words : Adriatic Crown / Lorenzo Piergiovanni
FRUTTONERO NATURAL COSMETICS  http://www.fruttonero.it/
LUCY PLASThttp://www.lucyplast.it/intro.aspx
GO & FUN ENERGY DRINKhttp://www.goandfun.net/
SAN BENEDETTO ACQUE MINERALIhttp://www.sanbenedetto.it/
99 NOVENOVEhttp://www.99novenove.com/home.php
CHALLENGER SAILShttp://www.challengersails.com/it/
BOTTEGA SPA http://www.alexander.it/
NAUTICA URBANhttp://www.urban.it/
JAN SURF http://jansurf.com/
RRD, Fanatic, 4sup, 4surf, vedetta.org, standuplatino, SUPboardermag, standupmagazin, consiglio regionale e regione marche