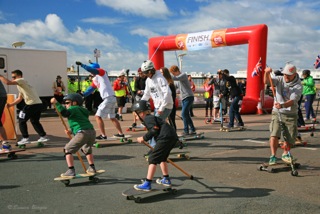 On the 23rd March 2014 the UK's first ever 'Land Paddle Race' took place in Brighton, in aid of Sport Relief. Land Paddling, if you don't know what it is, is "the latest addictive and exciting new land based board sport to hit the UK. It's born out of Stand Up Paddle Boarding (SUP) as the paddling action when Land Paddling almost exactly simulates Stand Up Paddle Surfing. It is reported to be a fantastic cross training tool for SUP enthusiasts giving you a total body workout including core, back, shoulders, arms and legs. The land paddle allows you to power yourself on any longboard, skateboard, mountain board or pretty much any board you would normally ride on the street.  And the combination of the longboards and land paddles give you increased stability making it accessible to a wide range of people, young and old." – Land Paddling UK.

Check out the race review by Chris Laing from Brighton Land Paddle;
After 3 months or so of planning and organising, myself Chris Laing from Brighton Land Paddle with the help of good friend Gary Evans at LPUK, hosted the UK's first ever Land Paddle Race on Brighton's iconic Madeira Drive. Late last year, the organisers of The Paddle Round The Pier Festival and Brighton Sports Relief, David Samuel Associates, approached me and suggested that the race could be a possibility and a great way to raise money for the fantastic charity that is Sports Relief. Riders came from all over the UK – Portsmouth, Devon, Kent, Essex, Worcester, Leicester and even as far as Liverpool and Southport to take part. We had GBs SUP Team rider Charlie Grey, Jay Manning and the guys from South East Area SUP, Central SUP, SUP North, and Perch Rock Paddle SUP. Riders paid a race entry fee, all of which went to Sport Relief. I'm pleased to say that we raised £415 with Gift Aid to follow!
So the race itself was a close run thing. It was a 3 mile race on a 1 mile loop. Madeira Drive was closed off and ours to tear up so we shot off pretty fast with a magic tailwind. Lots of big long strokes and carves! The return 1/2 mile though was into a headwind so it was heads down, pumping hard. The break away pack including Brighton's own Charlie Grey and Paul Nelson, along with Terry Smith and Alan Taylor (SUP North) were having a good old tussle upfront. It was eventually Charlie Grey that came in 1st with Paul Nelson 2nd and Alan Taylor 3rd. In the ladies race Megan Lawrence took 1st, with Brighton's Laura Reseam and Katie Boys 2nd and 3rd respectively. In the kids race the double trouble duo of Jack and Alfie Plume gave several of the adults a run for their money and then in 3rd place was Brighton's Lilia Hodges.
At the end of the race everyone got a Sports Relief medal and there were trophies and medals donated by Gary at Land Paddle UK. Also Jay Manning from Fanatic brought down some top stuff for some random prizes.
In all it was a great day for the #landpaddle #landsup #streetsup scene here in the UK. Everyone who competed and spectated really enjoyed it and the vibe down there was so good. It was also great to meet new people and see their ideas and designs. There was some awesome kit on show! It looks like next year is definitely on and it can only get bigger.

You still get a few funny looks with land paddle but it's one of the fastest growing board sports in the world. The benefits of being outdoors and active are fantastic and the social scene is great. The UK's first Land Paddle race has brought a new dimension to the sport which we hope to expand on in the future! Racing or leisure, it's all good fun.
Words : Chris Laing from Brighton Land Paddle
Photos : Eunice Bergen
For more shots check out www.flickr.com/photos/svanstraten/sets/72157642807227724/ from Sacha Van Straten
If anyone wants to get involved get in touch with Brighton Land Paddle at:
chris@brightonlandpaddle.com
And for more information on Land Paddle UK visit:
It's also worth checking out the facebook group – UK Land SUP where you'll find loads of gear, ideas and chat to get you up and running!
So if you weren't able to join in all the fun for Sport Relief 2014, make sure you keep an eye out for future Land Paddling events near you this summer.