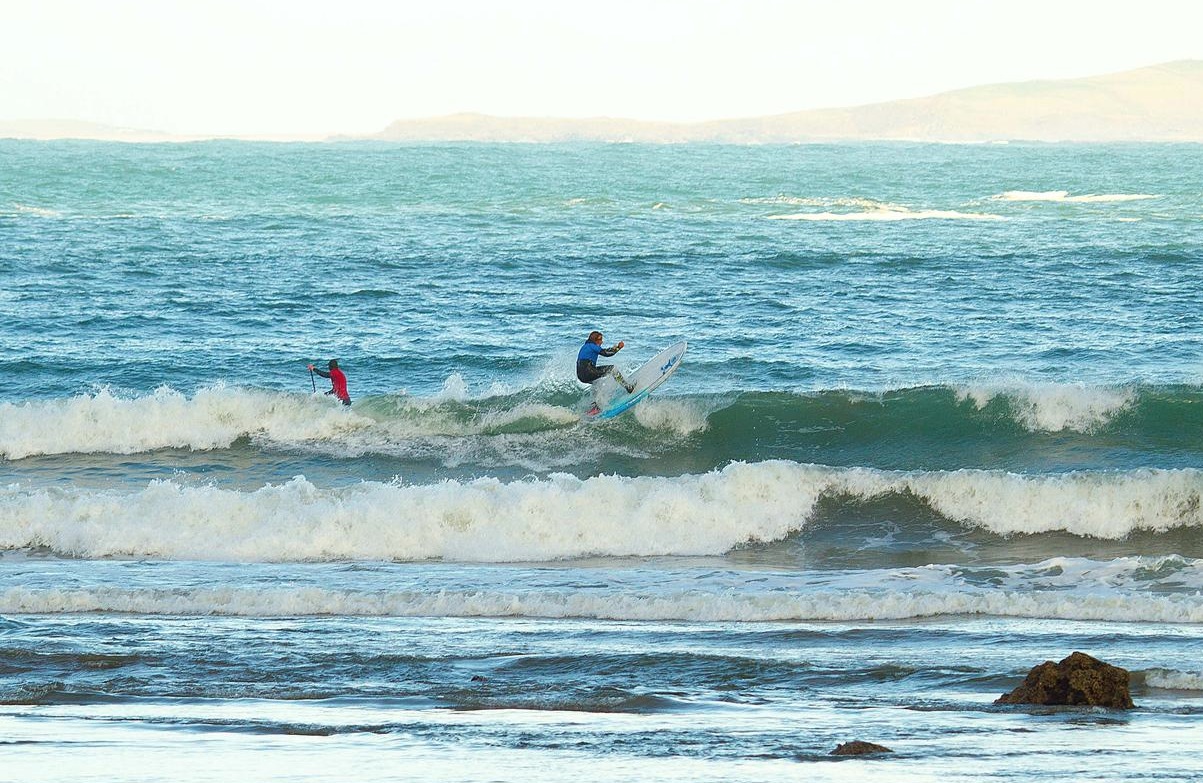 The 2014 'Irish SUP Surf Classic' was all action last weekend! And definitely an event not to be missed next year. Ireland has some of the best surf breaks in the world and also some top all-round watersport athletes. But the question is… who can beat the Irish legend Finn Mullen?!! Event organiser Paul Byrne from IrishSUP updates SUPboarder on how the weekend unfolded, and who to look out for this season…

In ever typical Irish West Coast style, 2 days of hail, snow, cold, sun and warm spring weather greeted the biggest turn out of a Irish SUP surf competition to date at Aughris, Sligo, NW Ireland. Fun waves, fun times and a relaxed competitive atmosphere are the watchwords for this event as competitors from Ireland, Northern Ireland, England, Wales, the BVI and Australia got together to meet old friends and make new ones, check out the latest kit from Mistral, Simon Anderson, Starboard, Jimmy Lewis and Walk on Water while mixing it up with back to back heats and great food from the famous Beach Bar and Restaurant at Aughris. History was made in the women's division with the biggest entry to date and a sign of the popularity and fastest growing sector of the sport with all 4 girls in the final showing grace and performance are not mutally exclusive. Katie McAnena and Dee Harmon both fresh back from winter training in Hawaii placing first and second respectively. Finn Mullen won the Masters, 10ft+ and sub 10ft while Tony Doherty blitzed the first timers with confident surfing in conditions similar to his home breaks of the North Coast of Northern Ireland. Other stand outs of the day were 14 year old Ollie Laddiman showing great promise for the future and his father Steve who he managed to beat in the final!, Dave Owens who dominated his semi final with a series of big moves on set waves, Mark Flynn showing his power surfing Clare roots by surfing his rarely used longboard on rail in the 10ft+ category and finally Paul Byrne surfing his school board most of the day like a short board and just missing out by a fraction of points on a place in the final 4 of the sub 10ft and podiums in the masters and 10ft+.
"Amazing event with a great vibe and huge thank you to Paul Byrne from IrishSup for organising and Dave Owens for the amazing trophies and everyone who attended for a super fun weekend :)"  – Finn Mullen
"What a weekend we just had in Aughris, Co Sligo! Two days of very contestable surf, multiple weather seasons, and the mighty craic!!! Massive thank you to those who supported the event, this is one weekend that I'll remember for a very long time. Special thanks to the event sponsors, Mistral SUP, and Dirty Dog Eyewear, and to Darren and his staff at the www.thebeachbarsligo.com Looking forward to next years already……! – Paul Byrne
IRISHSUP SURF CLASSIC 2014 RESULTS:
Ladies:
Katie McAnena
Dee Harmon
Orla Doogue
Michaela Vonstein
First Timers:
Tony Doherty
Ozzie Jay
David Mangan
John Stapleton
Masters:
Finn Mullen
Paul Byrne
Steve Laddiman
Owen Waters
10ft and Bigger:
Finn Mullen
Mark Flynn
Steve Laddiman
Paul Byrne
Sub 10ft:
Finn Mullen
Ollie Laddiman
Dave Owens
Steve Laddiman
 For more information on paddleboarding in Ireland visit the Irish SUP website here.