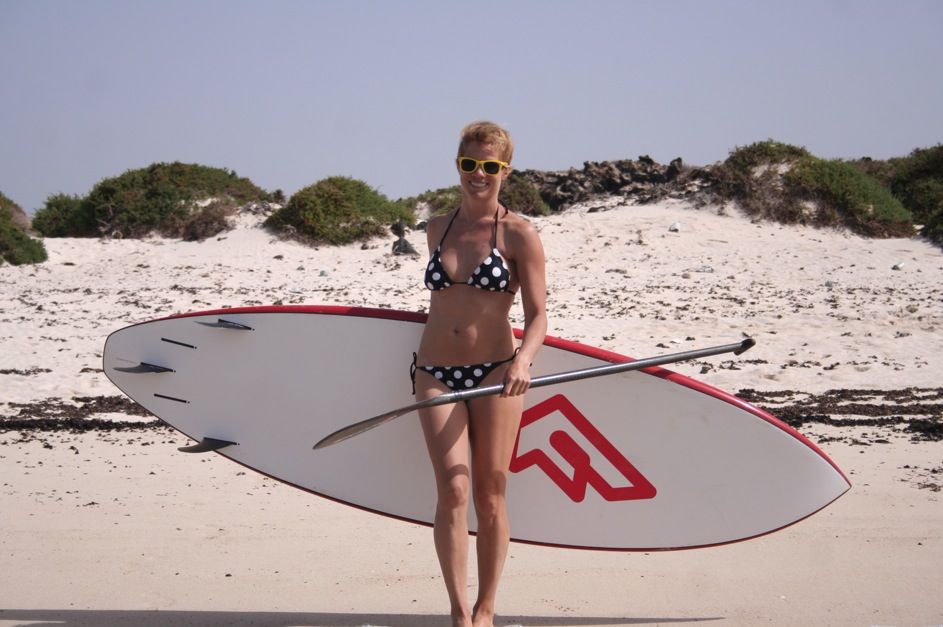 Are you a SUPboarder who everyday dreams of sunnier climates, surfing in boardshorts and no need for neoprene? Or do you enjoy the challenges and variety of weather we face by our UK climate? Paddleboarder Lucy Robson talks about the pro's and con's and her own experience of relocating for SUP.
I remember dreaming of my annual trip to sunny climes with perfect SUP conditions.  I couldn't wait to board the plane and land in what I imagined to be paradise and then surf my heart out until I had to go back to the UK and face the often less inspiring weather and conditions that we are faced with at home.  For the first couple of weeks I would try and keep my motivation up and not be dispirited by the cold and grey and often fickle waves that we find on the south coast of England.  With a mixture of stubbornness and stoicism I would pretend that it wasn't cold and I was having just as a good a time at Shoreham harbour as I was in Maui!  When I look back, that trip to Maui had taken me over a year to save for and was over in what seemed like the blink of an eye.  I spent those few weeks on holiday finding myself looking at the local surfers and envying their lives.  They got to surf in perfect conditions and often in just shorts.  I wondered what it must feel like to be local and not just a visitor and to make that your life.  Most of us will be familiar with feeling tied to the UK either through work or family commitments and often it doesn't even seem an option to decide that you want to make your sport your priority and just up sticks….or, does it?
Just over a year ago I moved from the UK to Fuerteventura in the Canary Islands.  I came to the decision that I wanted to base my life somewhere where I could SUP and windsurf every day uninhibited by bad weather and poor surf.  It probably helps that I'm fairly impulsive but I made a quick decision, handed in my notice at work, left my rented apartment and packed my bags.  Save, missing friends and family and feeling nostalgic for the handful of good days I had at my home spot, I have never looked back.  I SUP almost every day and rarely wear anything thicker than a summer wetsuit on a cold day.  And the best part is, I am improving at a rate unimaginable had I just stayed in the UK and continued trying to make the best of it.  Is relocation for everyone though and is it even the best thing?  This month I caught up with Lucy McCormick of SUPfit at Hove Lagoon whom I met on the water in Fuerteventura this winter season and we chatted about this very topic over a couple of lattes under a surprisingly bright, late winter sky at Lagoon Watersports…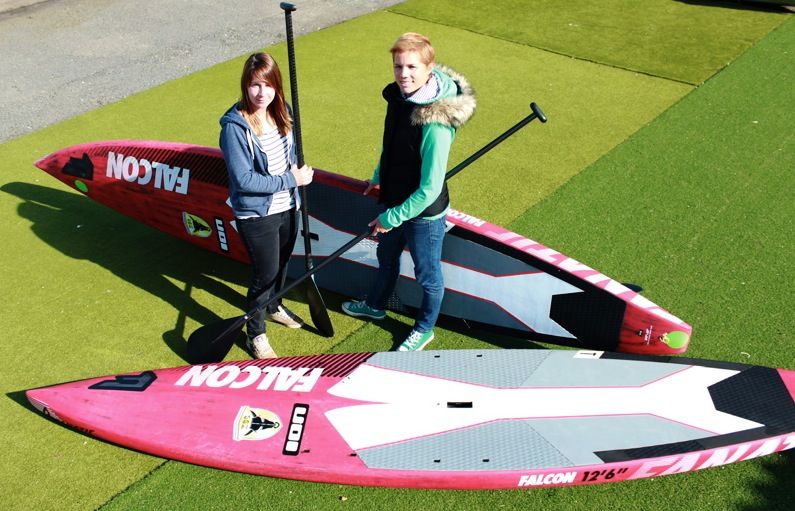 Tell me about yourself, Lucy?
"My name is Lucy McCormick, I'm 33 years old and am the founder of SUPfit (www.supfit.co.uk). I've been SUPing for 5 years and do SUP surfing, distance, downwinders, cruising and fitness."
What is your SUPing preference and how would you describe your sessions?
"What appeals to me about Stand up Paddleboarding is that I can get out on the water in pretty much any weather conditions. Living in Brighton we aren't blessed with regular sessions with clean waves, so we have to make the most of the conditions we have.  For instance, long distance trips along the scenic Brighton coastline or a trip up the River Adur on windless days, downwinders in the south coast swell when the wind comes in and if we are really lucky a SUP surf at the 'Hotpipes'. I also use the boards for fitness – whether it's interval training or teaching a SUPfit class it's just great to be on the water!"
How do you find SUPing in the UK?  Can you SUP all year round?  How are the conditions suited for what you like to do?
"I think that the SUP scene in the UK is great. Everyone is really friendly and encouraging and it is never intimidating. For the last four years I have been SUPing throughout the winter in the UK. Some of the best days on the water I've had have been at this time of year. Sometimes you really do have to use all you motivation to get yourself on the water but you never regret it. I guess I would say that, no we don't get the best waves, or the glassy flat water or have the best climate, but that's whats great about SUP – there is something you can do in any condition."
Where do you go on trips?  How long do you go for?
"For the last three winters I have been lucky enough to escape for a month to Fuerventura and I must say it gets better every year!  The SUP scene is amazing. There are so many people on the water and the conditions never disappoint.  I can't wait to go back!  Cornwall is also another location that I try to get to a couple of times a year for the long weekend of SUP surfing."
If you were able and it were feasible, would you relocate abroad to indulge your SUP passion?
"I'm not sure. I guess there are pros and cons to every location. Right now I can get on the water most days on one SUP or another and I have a great time, so I think I'm happy where I am for now."
Obviously there are merits to both living in the UK and moving abroad and don't be disenchanted if you perhaps don't have the opportunity to move abroad and sample a different way of life. Not everyone has the means or indeed the desire to do so. Relocating is not for everyone and Lucy from SUPfit and many others are proof that there are fantastic ways to enjoy your SUPing within the UK and get on the water as much as you want to!  "Living the dream" doesn't always have to be in beach shorts!
Words by – Lucy Robson.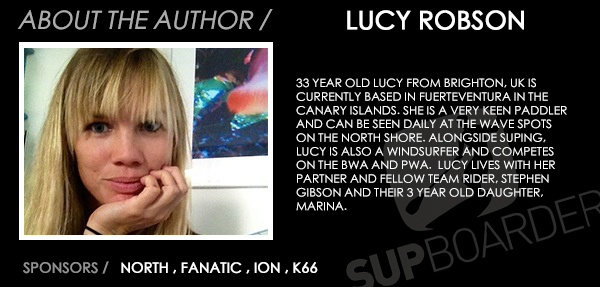 Photos by Stephen Gibson
If you fancy sampling SUP in Fuerteventura, Lucy Robson is running a girl's SUP camp later this year. Places still available for 13-20 September 2014.  Click here for more details.
Let us know if you've relocated for SUP… or would like too! Or are you happy SUPing at home and saving up for your sunny SUP week away once a year?