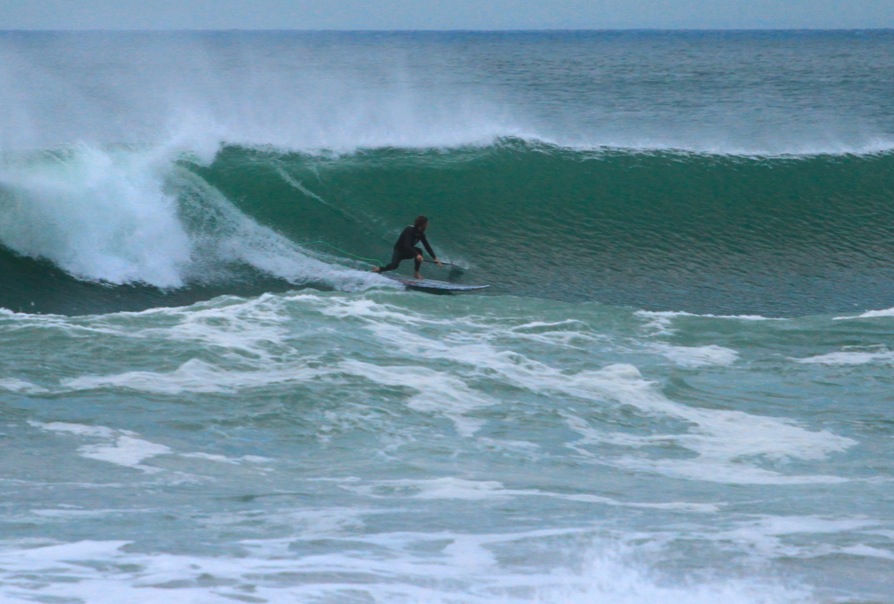 Once upon a time there were just longboards in the line. But now there are shortboards, body boards, knee boards, surf ski's and everything in between… and of course SUP. 
But unfortunately let's be honest, there's not always love in the surfing line up! (I should know because I've experienced them all over the years.) Much like a food chain there appears to be a surfing food chain too.
Whether you like it or not, or want to believe it, it's a fact that many longborders hate shortboarders, shortborders hate bodyboarders and bodyboarders hate everybody else! So where do we the SUPboarders fit into this big mix? Well unfortunately for us because we are generally catching more waves, further outback in the lineup and standing up in full view of everyone all the time, it appears that currently we are at the top of the hate surf chain! I am not saying that everybody hates everybody out in the surf but whether you want to admit it or not, there is not always love where there is SUP.



So, where is the SUP love?
Being a SUPboarder the chances are you've already discovered your love for SUP and understand why SUP is currently the fastest growing watersport in the world. But that love is not shared by everyone… why?
One reason is that sometimes things that are new or not understood fully can become feared or hated. Or the perception that SUP surfing is easy – because you've got a big stable board (in relation to a surfboard) and are already standing up (which many people find difficult) taking out one of the hardest parts of surfing. But those of us who own a small surf SUP know that's not all true.
Some surfers also say that SUP is not true surfing and they have little respect for it in the line up. Being a SUP surfer it's hard to understand why, but each to their own, unfortunately these surfers will probably never change.
One of the other big reasons why paddleboarders are often not wanted on local beaches and breaks around the world is due to surfers previous bad personal experiences with SUP surfers in busy lineups. It only takes one bad SUP experience to spread a bad word about SUP a hundred times.  And it unfortunately takes 100 good top turns in front of a surfer to spread one good word about SUP.
After SUP surfing many different surf spots around the world, and experiencing a mixture of different attitudes towards SUP, I've come to realise that there is often a story or history behind why a surfer feels the way they do about SUP.
Surfing on a stand up paddle board is great because it allows you to see waves approaching and move quicker towards a shifting peak. It also allows a more diverse range of surfing abilities into the surf environment. And yes, although this is good, it does have its drawbacks too, especially if the SUP surfer appears unaware of those around them and is a novice in surf. Unfortunately the sight of a lone SUP surfer paddling out through a busy line up, taking all the waves he/she wants, and holding little or no regard for other people's safety tends to be an all too common theme.  So who can blame other surfers for hating SUP?!
So, what can we do as SUPboarders to help grow the love for SUP and future of the sport?
Well there's a few things.  By being aware of the above issues and understanding why others may not always share our love for SUP is surely halfway to solving the problem. By helping to educate every SUP surfer (and all surfers for that matter!) about surfing etiquette. Understanding the rules and knowing how to make friends not enemies in the lineup is everyones responsibility. By not paddling out through busy lineups and standing in the middle of a busy pack of surfers, when just a little bit further down the beach there's an empty peak with nobody on it. Find your own spot, you'll have twice as much fun and catch twice as many waves. I know paddleboarders can't be held solely responsible for acting in such a way, as lots of other surf disciplines are also to blame. However, unfortunately for SUPboarders we do stand out from the crowd! And it's always easier to blame the minority than the majority.
Why not sit down on your board out back and talk to other surfers. Maybe even offer them a go on your board and share the love that you have for your sport. The chances are that if they give it a go they will realise that SUP surfing is not quite as easy as it looks! They might not admit it but you never know, one go on a SUP might be all it takes for them to get the SUP bug themselves. This is by far the best way I have found of making new friends and new SUPboarders at many surf spots around the world. It's also a great laugh watching a really good shortboard surfer trying to stand up on your small SUP for the first time in front of his mates (when it's obviously easier than surfing).
But why should we make these changes for the future of SUP?
Having a good SUP surf session is not just about the waves. The atmosphere on and off the water is just as important, if not more so. You can't beat turning up at a beach for the first time, being welcomed by a crowd of friendly surfers, catching some top waves and making new friends. If you're greeted with a smile when you paddle out back then the chances are the surfers will have had a good experience from paddleboarders themselves previously. There are some fantastic SUP ambassadors out there, and for what you've done so far, thank you.
On the other hand if you turn up to the beach and start getting stink eye before you've even got your SUP off the roof. Then you can probably thank another paddleboarder for giving them a reason to hate you. It was only last week I heard of a shortboarder getting his arm broken by an out-of-control SUP in a busy line up. From that point onwards it's easy to understand why that shortboarder and everyone around them will naturally have a grudge or a bad feeling about SUP.  I mean, who can blame them? This type of behaviour can so easily be avoided. There's no excuse. It will take a few months to heal a broken arm but years to patch a bad SUP reputation. Don't ruin it for other SUPboarders.
By working together for the future and being aware of the issues that we all face as surfers, we can all make our surf spots a more chilled and friendly environment. So do your bit for the future of SUP. Have fun. And hopefully we'll all be able to surf happily ever after…
Words: Reuben Ellis
As Jerry Lopez says in this video, "it all started with LOVE"… lets try and share that love!