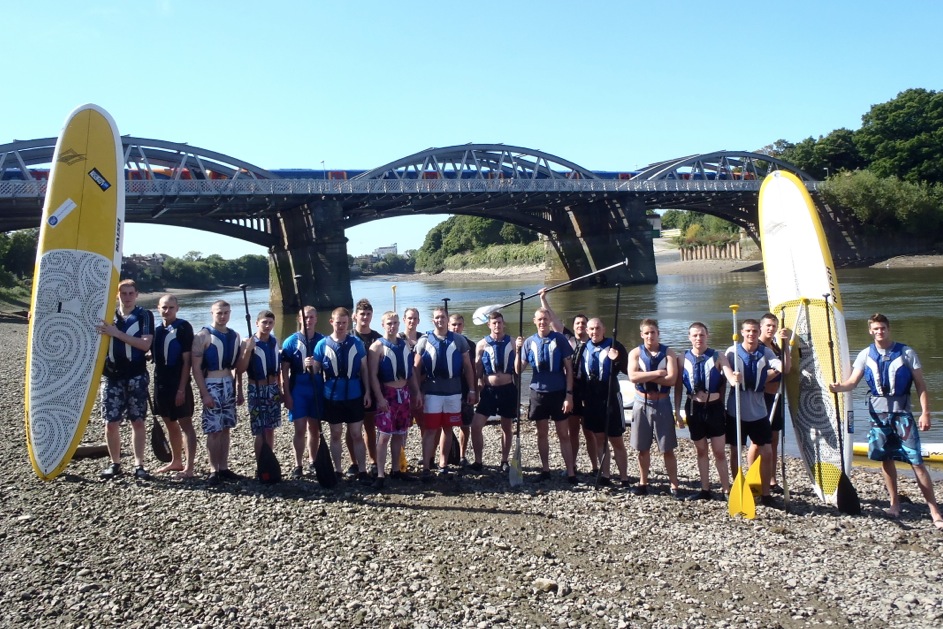 Fancy a challenge this year? Do your bit for charity, see the London sights and have fun on your SUP all at the same time!
Event – The 40tude curing colon cancer's London SUP Marathon
What – a mass charity paddle to raise money for the 40tude curing colon cancer organisation
When – Saturday 14th June 2014
Where – on the Thames from Shepperton to Putney.
Entry Fee – £195 (or £160 if you own your own paddleboard, paddle and buoyancy aid) includes all the event costs including loan of paddleboards, paddles and buoyancy aids, an event T-shirt, qualified instructors, full marshalling, safety boats, first aid assistance, license fees, transport of equipment, snacks and energy drinks, breakfast, lunch and party in the evening on the riverbank in Putney (excluding drinks).
Starting on the Thames at Shepperton and finishing at Putney, the long distance (approx 26 mile) mass charity paddle combines tidal and non-tidal sections of the river passing through three locks and under 14 bridges while taking in some of the river's most picturesque sights – including Hampton Court, Syon House, Kew Gardens, Ham House and Richmond Hill.
It's the second year that this unique event has taken place.  Take a look at the fun everyone had during the 2013 challenge:
All equipment as well as mandatory pre-event training is provided by the event organisers – Active360
'40tude Curing Colon Cancer' is an organisation that has been established to fight the second biggest cancer killer in the western world.  In the UK alone, there are over 40,000 new cases of colon cancer each year, and over 16,000 deaths. The good news, however, is that colon cancer is one of the easiest cancers to treat if it is detected early.
All fundraising, sponsorship and any profits generated from the event will be channeled, via 40tude Curing Colon Cancer, to the St. Mark's Hospital Foundation and from there into 40tude sponsored projects.  Full support provided to help with fundraising and to set up a 40tude charity giving page.
To find out more visit their website where you can download further information about the event.
To take part, please contact: Olivia@40tude.org.uk for all the registration details.