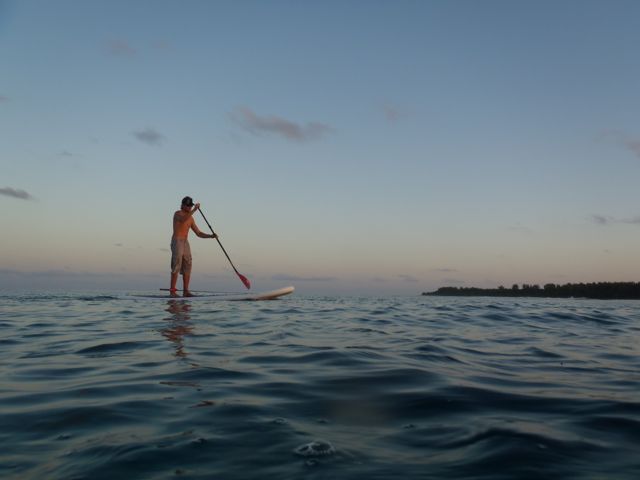 Paddle boarding (or SUP) is believed by some to be the fastest growing sport in the world. Some believe that the fastest growing sport in the world is Mixed Martial Arts (or MMA). Suffice to say, SUP is regarded as the fastest growing water sport in the world and is thankfully quite different from MMA most of the time! Although anyone who has seen a beach start to a SUP race may dispute this!
But why? What is it that appeals to so many?
SUP has something to offer to almost anyone but the most confirmed hydrophobe. Racing, surfing, touring, white water paddling and even yoga is done on paddleboards. With these range of disciplines within the sport, it means you can be as seriously competitive or as seriously chilled as you want.
So how do you start? Well all you need is a board, a paddle and some water. While this is technically true, there are about as many different styles of board as there are disciplines. On top of this there are then the different lengths of those boards in each category from 17 foot racers to 7 foot surfers. Choosing the right board can be tricky and they all look so pretty! Depending on what you want and what is most practical for you, there may be a further decision over a hard or inflatable board too.
So, the sport is highly varied and is complimented by a high degree of versatility which therefore increases its accessibility. Add to this that SUP is also extremely good exercise and with the dangers of obesity prevalent throughout the media today, its small wonder that an accessible and versatile sport is catching the attention of so many. Once you start paddle boarding, you soon learn that the community of SUP'ers is generally incredibly friendly and encouraging of those new to the sport too. It's not just a tool for those looking to get fit though, pro surfers have been discovering the benefits of SUP enabling them to get out on the water and get in a conditioning workout even on flat days. One barrier to the accessibility of SUP is the initial cost. To actually own your paddle and board it is likely to set you back several hundred pounds, but this too can be overcome to a degree by getting in touch with one of the many SUP clubs popping up across the country.
But if the main appeal of SUP were just as an exercise, surely joining a gym and handcuffing yourself to a treadmill would be cheaper? Possibly, but then that would be nowhere near as fun. For me, the best reason I can think of as to why we SUP is down to just how enjoyable it is. The joy of being on (or often in!) open water, gliding along a crystal clear lake in the sun or chasing that wave that looks like it's going to be the best one of the day. All this takes place in usually gorgeous surroundings and often getting you closer to wildlife than ever before.
My route in to SUP was a result of my surfing "experience" which started in the form of a lesson on my 29th birthday at Carbis Bay in Cornwall. I'm six foot two and around sixteen stone now (I was heavier then) but as soon as I caught my first wave, I was hooked. At the end I was told that they hadn't ever had anyone wipe out so hard and so often but pop up smiling every time. I didn't get to my feet once but it didn't matter. I knew I sucked and I didn't care. That summer I spent a week camping near Saunton Sands in Devon, was out in the water for several hours every day and had the time of my life. I stood up once that week, this was progress. It was here that I saw SUP for the first time and I decided that if I were already stood up, surfing would be easy. I started looking at SUP as a way to overcome my limitations, when I found the versatility it had to offer. Even at my size with the flexibility of a steel girder and the natural balance of a drunk, three legged spider, SUP has become my passion. I still can't surf but I love to SUP wherever there is water. But why am I hooked?…
Do you remember running everywhere as a kid, just for fun and just for the hell of it?… I do, and for me SUP brings back this same exhilaration and enjoyment. For me it is freedom, peace and feeling like I could paddle all day if I wanted to, just for the hell of it.
Words by Dan Osmond.
So with summer feeling like it's now definitely on its way, there's no better time to give SUP a go. You don't have to race, you don't have to be super fit, you don't even have to get wet! What you choose to do on a SUP is totally up to you. So what are you waiting for?… Find out where your nearest SUP club is, go along to a local SUP event or just have a go on a mates board. And let us know how you got on!