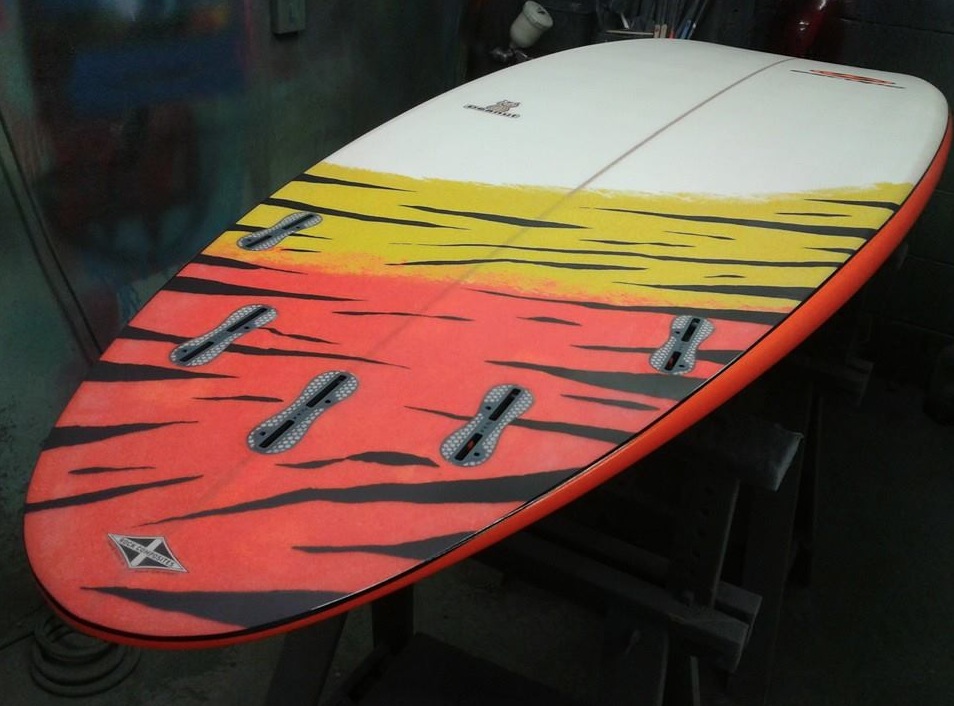 Escape SUP have launched a new board in their SUP range. Following on from the 'Funk' released last year, the 'Peanut' is their new board for the all round paddler who's getting into waves.
Shaper, Bill Atlee tells us what it's all about: "We are confident that our 'Peanut' range of SUP boards will do for SUP boarding what our Peanut surfboards have done for surfers. The Peanut is by far our biggest selling surfboard model and the reasons are simple; the Peanut is super adapted to both our varied North European surfing conditions and to various standards of surfing skill. It is these attributes that make the Peanut the weapon of choice for surfers of all levels surfing a variety of breaks.
The Peanut SUP is not just a scaled up Peanut surfboard, we have adapted the shape to enhance the boards paddling stability this is mainly down to a change in the deck and rail shape. Below the waterline the Peanut SUP sticks to the tried and tested formula of single to double concave bottom shape wrapping around a moderate nose and tail rocker curve. The Peanut SUP retains its smaller brother's smooth curvy outline shape which gives a balance of stability, manoeuvrability and control. Also fitted with convert FCS fins you can surf the Peanut either as a quad, thruster, 5 fin, or even twin. We've fitted the new FCS11 system on this particular board as the systems quick release system is going to save time when you want to tune your board to the prevailing conditions or just have a go with a different fin set up.
As with all our SUP boards this one is constructed with an EPS foam core which has high density fin placement reinforcement before being laminated with 2 layers of epoxy saturated glass on the bottom and 4 layers on the deck with extra patches in strategic places, the board is finished with Durepox 2 part epoxy finish which is abrasive resistant. This 8'6 Peanut has around 120 litres of volume and weighs in at 7.45 kilo. We will be making this board is sizes from 7'6 to 9'0 to adapt to sizes and ability levels of our customers. We are hoping to offer all our boards in custom sandwich construction in the near future. Please feel free to drop in and see the boards being made and where possible take one out for a spin, if you can't make it down here give us a call on 01208 863962."
Custom graphics and fin configurations also available.
For more information about Escape SUPs visit their Facebook page here and their website here.