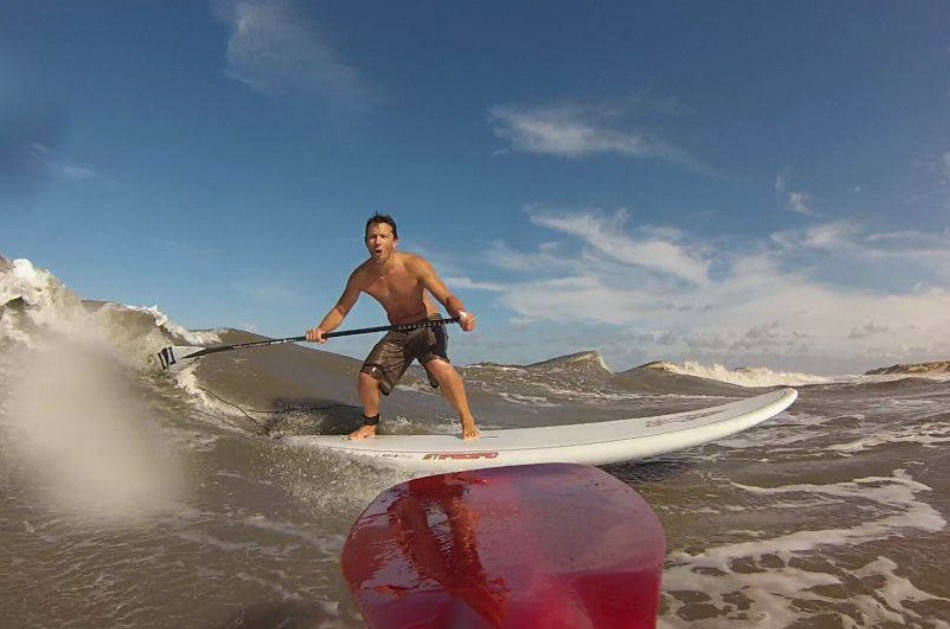 Alan from Sup North explains how he discovered SUP and waves in Merseyside!
After breaking my hip in August 2012 whilst skateboarding on a predominantly kitesurfing holiday in Portugal I decided that during my long rehabilitation process a SUP board would be the best craft to get me back on the water I love. So in January this year I purchased an inflatable paddle board and soon met up with a couple who were already paddling around Southports sea and marine lake, Simon and Lucy.
Within a month Simon, Lucy and I had completed several considerable distance paddles after putting in the miles training on our marine lake. We had paddled from the Wirral across the Mersey (14 miles) to our home beach and paddled out to an oil rig 5 miles out to sea. Simon, Lucy and I then went on, fulled by our passion for SUP to create Sup North… a stand up paddle board school and on line shop. In all this time we never realised the untapped waves right on our door step that in the right conditions could indeed be surfed on our paddle boards.
In August on a group down wind trip we had organised leaving from Formby Point just to the north of Liverpool, the switch was flipped and as we stood on the beach looking out to a stormy wave filled sea loaded with hydration packs, rucksacks, caps and sunglasses we realised never had we noticed waves like this on our coast. The down wind paddle was abandoned and an unplanned wave riding sesh and battering commenced! For the next hour and a half whilst battling heavy winds and waves, not your normal glassy ones that you see on magazine covers but rather mushy crumbly walls of chocolate brown water were being ridden. Most importantly we were all having a blast catching and surfing waves right on our home beach, something we that would never be possible without a sup board and paddle. We have had fairly regular surf sessions over August and September, just looking out for strong local wind driven swell that is ideally followed by a light offshore wind making waves fit for surfing on a sup. The size of the board and the power of the paddle make small waves that back off and reform possible to surf in a way impossible before on any surf board.
My father has been a surfer for 40 years and lived in Southport, and he has always had to travel to north Wales or much further to surf. Now with the invention and realisation of the paddle board and paddle we surfers no longer have to travel to get our surf fix. It can be practiced right on our door step making our onshore slop super fun and rideable. We have many new people contacting us to paddle and some of them local surfers who have seen our pictures and have been inspired to sup surf the Merseyside coast line.
For more information please contact Alan, Simon or Lucy at;
supnorthuk@gmail.com
www.supnorth.co
sup north facebook