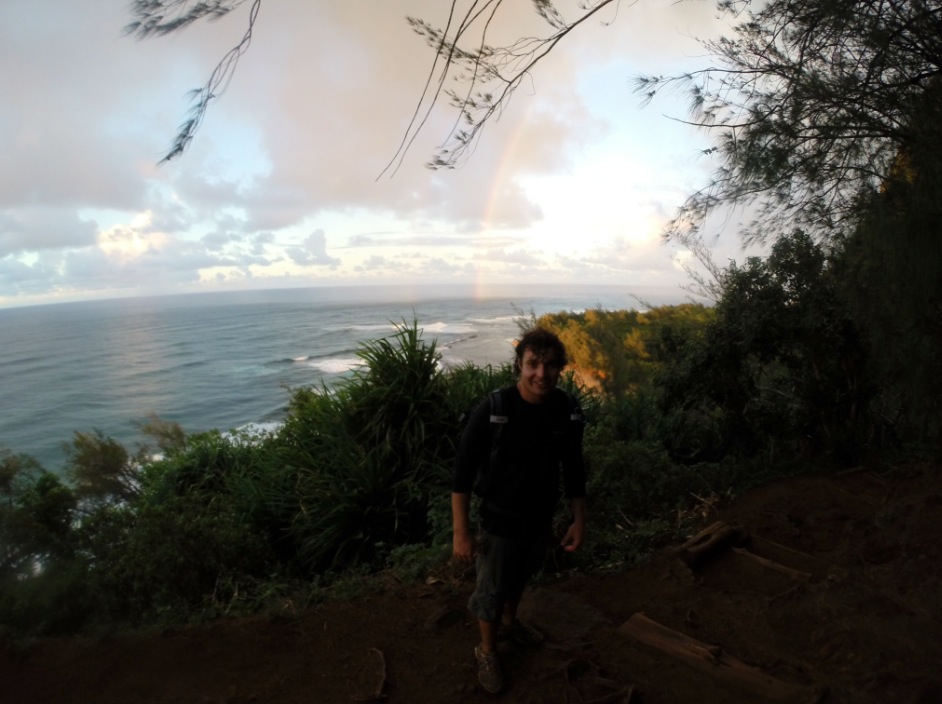 Living the dream… is it really possible? I'm sure many of us have spent many hours thinking about where we'd rather be, and what we'd rather be doing. But all too often it's just a dream rather than becoming a reality as 'life' just seems to get in the way. Work, family life, money, other commitments… the list goes on. But sometimes you just have to do it! And that's exactly what Stuart Howells did, when he quit his full time job, and took time out from his paddleboard school (Island Paddleboarding) to head to Hawaii for 6 months for a life of sea, sun and SUP. And to take part in the biggest SUP race of his life, the 13 mile 'Turtle Bay Stand Up World Series Final Event.' Here in Stuarts blog he shares his experience 'living the dream!'…
Blog 1
Sitting on the new British airways A380 plane, leaving friends and family behind – finally it's sunk in. I've quit my job in London, I've given up my life as I know it in Mersea, left my brother in law to look after Island Paddleboarding, which he'll probably do a better job than with me around! All to do what….? Some would say to go and be a beach bum others would call it going to live the dream! Either way I'm off on an adventure of a life time to go in search of sup, surf and to meet some incredible new people!
Heading to LA for one week on the start on my 6 month adventure in Hawaii –  I'm staying right on the beach front in Santa Monica with a really cool guy called Dean – who sleeps in a hammock!!! I can see the ocean from the window! I've been here less than 24 hours and already I'm off to hit the surf as he has a surf board hanging up above his hammock! Who knows what the rest of the week will bring… all I know is that in less than 2 weeks I will be entering a 13 mile paddleboard race on the North Shore of Oahu, in the Stand Up World Series Finals at Turtle Bay. I need to find a SUP board, get some training in and get to grips with the surf.
Blog 2
As I'm sat in 35 degree sunshine on the promenade in Santa Monica it really is easy to see why people love California. You can surf before breakfast, grab a beach cruiser bike and enjoy the miles and miles of sandy beaches or just chill and enjoy the beauty of the ocean which is right on your door step. Being here has completely changed my opinion of LA. I came expecting it to be dirty, fast paced and full of people rushing around with too much to do. Pretty much like any other city. But here everybody is friendly, everybody is healthy (apart from the amazing burgers at misfits) and everybody seems to be happy – so much so that I could live here! People seem to have a love for the outdoors as nearly everybody surfs, swims, bikes, runs or does some form of exercise… but with the sunshine it's easy to see why.
Anyway on my search for SUP, the guy I'm staying with Dean, took me and my 2 metre long paddles on his scooter half an hour away to Malibu. That was an experience on the Californian highway! We stopped off at Malibu Surf Shack where we hired some SUP boards. Dean hadn't ever paddled before so I gave him a few pointers and off we went! We were out for 5 hours cruising past multi-million pound beach villas and super yachts, stopping off on private beach fronts and just enjoying the scenery. To top it off we paddled with a pack of dolphins which was truly amazing!
As I wonder with excitement and anticipation what is in store for me in Hawaii, a part of me is sad to be leaving this wonder city and this beautiful community on the beach front! Thanks Dean for your hospitality. I'll never forget climbing on top of your apartment block and watching the sun go down!
Blog 3
The North Shore of Hawaii is a special place – it's known for its big waves, picture postcard beaches and Aloha spirit! Well after being on the main island of Oahu for 3 nights, I've definitely found all of those and much more. You know how when you are younger you dream of going to the beach where the palm trees shade your spot in the sand and the water is so clear you can see turtles swimming… well Turtle Bay is pretty much that, it's pretty close to those childhood dreams of paradise.
After spending two nights in Honolulu at Waikiki Beach, on the crowded yet beautiful, built up city on the beach I got a bus up to the North Shore where I am staying and competing in a 13 mile stand up paddle board race. I'm staying 6 miles away from Turtle Bay and am biking along some of the most stunning scenery to get to where I am training.
So I haven't talked much about the waves or the water but I got my first real taste of just why so many surfers come here – the power of the waves here is awesome. I would even say scary. But when my first ever lesson was with Kai Lenny, one of the biggest names in this sport and all round waterman it's not so bad. What an experience to spend almost a whole day paddling and learning from such a great guy. But it's made me slightly nervous ahead of the race. I've managed to secure a Naish Glide 12'6 board from the guys at the Waterman League so I'm pretty much all set.
Despite some bed bugs at the hostels I've stayed at, and my foot which has swelled up and I'm having to ice every night. Roll on the race and whatever that brings with it.
Blog 4
It's the night before one of the biggest races in my life. I've run the London Marathon and I've paddled 26 miles, but what I'm going to do is something completely out of my comfort zone. 7,500 miles from Mersea Island, 11 hours time difference and not knowing anybody here I'm racing 13 miles on the North Shore of Hawaii. This place is where some of the biggest waves break, the strongest currents in the world rip and where the power of some of the waves have taken people's lives.
Ok… to the guys that call this place home it may seem straight forward and just another race, but to a curly haired Essex guy from a little island called Mersea it seems a whole different league and a million miles from home.
After going snorkelling and seeing some amazing fish in the morning I had my first experience of being thrown against a coral reef, (yes it hurts!) after having a good session in the water. I'm feeling a lot more confident after spending more time getting used to surfing a race board and just coping with the power of the ocean. It helps that I got some more advice from Kai Lenny and the ultimate waterman, Robby Naish.
So some nerves, well quite a lot, as I go to sleep the night before the race. But if you don't push yourself, you never feel alive! Right? There is some excitement as well. When I wake up I will line up against some of my idols and race one of the biggest races of my life. Wish me luck…..
Blog 5
After racing yesterday I have a new found respect for anybody that enters the water – especially in the waves in Hawaii! 

I raced the Stand Up World Series Final and finished 13 miles along the North Shore of Hawaii with a time of 2hrs 51mins in 20th place. It was one of the most nerve racking things I have ever done. 
After being on the island just 5 days and getting my board 3 days before the race, to say I was scared, as I lined up against the world's best, is an understatement. Let me put it like this…. everybody else turned up in their sponsored vehicles and brand new kit, and backed by growing up on these shores where they have paddled everyday for years. Myself, I had to cycle 6 miles, about 45 mins in 35c heat to get to the resort. I couldn't afford to stay in the £250 a night turtle bay hotel and was staying in a £25 hostel down the road.
 After very little training in these conditions, none of that mattered as the starter horn went and I jumped up on my board and started to paddle. We had to navigate our way through the breaking waves, which I managed without falling over and round the buoy and head out to sea. My legs were like jelly, my board felt like I was standing on an ice rink and every time a bump came I felt like I was going to get slammed into the coral below.

 Connor Baxter, Kai Lenny and all the top guys set off at an incredible pace, I was just fighting to stay on the board in the waves and swell, let alone try and paddle, as I fell to the back of the pack of racers.

 After 10 miles of battling, my body was aching, my legs cramping up, my arms felt like they were going to break and there were no other paddlers in sight. I was struggling! It was me against the ocean. With the 40c heat bearing down on me, I had to dig deep, really deep, to a place that I've never been pushed to before! But I was going to complete the race. I couldn't get out! To the left were breaking waves on coral reefs and to the right was open ocean – all I could do was carry on throwing my paddle forward, my core pounding and my arms felt like breaking as the paddle felt like concrete not carbon fibre! 

With 2 miles to go the safety jet ski pulled up alongside me and Sam the driver offered some much needed words of encouragement. I was blowing… I just wanted the pain, the agony to stop! What kept me going was thinking of those back home who had stayed up to 4am (probably just my sister Charlotte and brother in Law and co-founder of Island Paddleboarding, Simon) to support me and I knew I couldn't let them down.

 As I rode the final wave into the shore I heard the announcer congratulate me and I ripped my leash off and ran the few steps up the beach with my paddle to the finish line. WOW! I dropped to my knees got a huge congratulations from the race organiser, Tristan Boxford, and despite my body feeling like it had been put through a tumble dryer on a hot wash I felt so proud of what I had achieved. To be the only guy from the UK, all on my own, from Island Paddleboarding on Mersea Island in Essex, to compete and complete the World Stand Up Series Final, made me feel like I had achieved something. And quitting my job and leaving my life as I knew it, seem worth while! And I tell you the first beer afterwards never felt as good!
Blog 6
With knees cut, legs bruised and a swollen foot I leave the North Shore of Hawaii, after 5 incredible days with a warm feeling inside. I travelled thousands of miles on my own but the people on these islands in the middle of the Pacific Ocean have made me feel so welcome. Everybody is friendly, and just like on Mersea you walk down the street and people say hello. From the bus driver who gave me a free lift with my gear because I didn't have any dollars, to Tristan and his wife Koui who took me back to their house after the race and gave me a beer over looking Sunset surf break. People talk about the Aloha spirit and it's used commercially but I've found it really does exist and flows through, well, everybody I have met so far. People are happy and enjoy life (I know it's hard to see why they wouldn't with the paradise surroundings they live in) And it's refreshing to see that human nature and values do still mean something.
The day after the long distance race in the Stand Up World Series Final I entered the sprint races. A battle through the surf, round 2 buoys (the American pronunciation makes me laugh, they say it boyie) The waves were big, between 6-8 feet and I didn't manage to get out of my heat but it was another experience I'll never forget. The final was incredible. Connor Baxter battling it out against Kai Lenny for the overall Stand Up Title. And guess where I got to watch it? From the helicopter, right above the course as I was asked if I could film the final in the helicopter…people pay hundreds of pounds to fly above the North Shore and I got to do it for free!
So off to Kauai now, and guess who asked to borrow my phone as he had left his in his car…Robby Naish who said anytime I'm in Maui to drop in and give him a shout. Well I think I'll just do that soon!
Blog 7
Arriving on the island of Kauai I was greeted with a storm and torrential rain! It was 7pm and getting dark. I discovered that buses didn't take SUP paddles so the only options were to hitch-hike or pay $100 dollars for a taxi to Hanalei Bay, where I had accommodation booked for a couple of nights. Not fancying the hitch hike in the rain I chose the taxi.
Waking up in the morning to bright sunshine glinting through my curtains, it was the opposite of when I arrived. Walking along the tarmac road, there were no footpaths here, it was 9am and already roasting hot. I met up with Ethan, a waterman of over 20 years and fellow ASI accredited instructor. He had to move his outrigger canoe as he was going to the UK to complete another course and asked if I could help him. If anybody hasn't tried outrigger canoe surfing then I thoroughly recommend it. Ethan described it as "SUP but sitting down" and that's about right. A two man canoe shaped hull with a float that sticks out on one side! When you catch a wave, the front person, me, has to jump out of my seat and lay across the float to keep the boat balanced as we rode the 5ft wave, whilst the second person, Ethan steered at the back! Great fun, a little bit hair raising at some points especially as we almost flipped it going down a wave. Shame I didn't have my camera!
With Ethan lending me a SUP board and making me feel very welcome I've decided to try and stay here for a while. Hanalei Bay is like paradise. I've said that about each place I have been, but here really is out of the world, beautiful. The sunrises are amazing, the water is so warm and the bay just like the ultimate picturesque play ground, with 4 rivers great for flat water SUP that feed it as well. The bay has 4 different breaks great for SUP surfing, however I'm warned that soon 20-30ft waves will start to roll in and somebody "got munched" a few weeks ago (hit by a shark!)But being hit by a shark is less likely than getting hit by a bus in London (don't worry too much mum!) I'm planning to stay here for a while, with Ethan gone for 2 weeks, once again I know nobody and I need to find a room share or somewhere more permanent to stay. I have moved to a cheaper room, with a single bed but not much else. On the plus side though the room is 10 seconds walk from the beach and at the weekend Alana Blanchard and Bethany Hamilton are hosting a surf competition so it's not all bad.
Blog 8
Being on the island of Kauai a week, Hanalei Bay is a sleepy, secluded surf sanctuary on one of the most beautiful coastlines I have ever seen. Lucky enough to hitch a ride with my new house mate for the month, Tom, he took me as far as the road goes about 8 miles past the town. The road stops at a car park where you can hike the Na Pali coastline by foot. Crossing mountain rivers which run over the road, bright green covered mountains on one side and yellow sand glistened coves on the other it really was a scenic drive! Life in Kauai is slow, laid back and nobody goes anywhere particularly fast, and why would you! It takes an age to cross single lane bridges but around every corner there is a different cove or bay that takes your breathe away. The beaches are truly magical but paddle into the water and you are greeted with the full force of the Pacific Ocean.
The waves here make you feel like a small pin head in a tumble dryer, I really know the meaning of 6ft waves and I'm told that they're only going to get bigger, much bigger. Catch it right and surfing feels like you're untouchable, it feels like you are defying nature, it's like riding a magic carpet at 100mph! When you catch a wave and feel the power underneath your feet, you feel invincible. But at the end of the roller coaster ride you're going to get eaten up, thrown around and spat out but it's so worth it.
I was lucky enough to meet Alana Blanchard and Bethany Hamilton, two of the most famous female surfers. Bethany, suffered a shark attack when she was younger and lost her arm. She did what most people thought was unthinkable and now surfs with just one arm, truly remarkable. The girls were judging a surf competition for youngsters in the bay and seeing some of the these 10 year olds "shredding it" on the waves made my attempts look very pathetic, more practice needed!
With all it's natural beauty Kauai is a very active island during the day. It's very much early to bed, early to rise. People here are in the water at sunrise, about 6.30am but come sunset and darkness about 7pm there are very few people about. So I'm here for a month at least as I've just found a room in a house share a few miles from the bay. I'm sure I can handle the laid back surfer lifestyle but the lack of social life I'll have to see how I get on with that…
Blog 9
Bit of an emotional blog update this one… What I witnessed yesterday has made me realise that nobody knows when the clock is going to stop ticking, when the lights are going to go off or when you're going to kick the bucket! It's made me realise even more that life is short and we need to make the most of every day and every second of it because you never know when your time is up!
Yesterday I was hiking along the Na Pali coastline – along part of the 11 mile stretch of cliff top and jungle inaccessible by vehicle, 5 miles out of phone signal. It was one of the most beautiful, yet treacherous stretches of mountain trails that I have walked. 1000 foot drop into the ocean on one side, with sheer stone cliff on the other. The path or mud stream that you have to walk along is narrow, barely two foot wide in places. I had trekked about 7 miles and was making my way back from the most stunning undisturbed waterfall and secluded beach when I heard a scream. "Call the police" "Call 911" I turned the corner and there was an elderly man lying unconscious on the floor receiving CPR. I'd had some first aid training and tried to help. I checked the guys pulse. Nothing. I took over with the chest compressions and told a few other people to go and get help while we carried on with the CPR!
An hour later a helicopter came to take 68 year old Edward away! We believed he had passed away – his wife being consoled by strangers. At that moment seeing the helicopter going off into the distance the scene was very heart wrenching but we did all we could. On the two mile hike back to the car park where the trail begins, helping the elderly wife, there was no room in the helicopter for her, back down. It was very humbling to see the good will that is in human beings. There were about eight of us who tried to help the old man but it was no use. It was devastating for the wife, who's name I didn't even get, as we trudged back down the cliff edge.
We found out that he was recovering from a heart by-pass and I presume he had had a stroke.
It was fitting that he loved to hike and climb. There really was nowhere more breathe taking than there. A rainbow shone as we walked back down the mountain side – maybe saying he had gone to a better place, maybe showing those that were left that life isn't so cruel after all.
I saw something on that mountain side that I hope nobody has to see, I saw somebody's life get taken away with no warning and no chance to say goodbye. But it's made me realise that although we take the people we love and care about for granted most of the time…once in a while just tell them that you love them!
Blog 10
Unfortunately my dream is over. No job and run out of money so I've had to come back to the UK.
They say all good things come to and end and that's exactly what's happened as I'm sat here in LAX airport waiting for my flight back to Heathrow. This time 7 weeks ago I never thought I would be back so soon. Unfortunately travelling around without a job has it's toll on the bank balance and unfortunately my bank account is not a bottomless pit. Hoping to find work in Hawaii and support my stay, that didn't happen. So I've had to end my travels and come back to the UK.
I've met some truly amazing people, Dean in LA, yes dude Im will give you that $100 back! Tristan & Kui, thanks for all your help at Turtle Bay and at the World Series final. Jason, & Leanne, an amazing couple thanks for letting me stay in Honolulu. Ethan & Jenna in Kauai, you guys live in one hell of a place and thanks for showing me outrigger canoeing. I'm hooked! Ritchie, you're a legend with your VW Jetta, I'm amazed it got up the Waimea Canon. And a big thanks to everybody else that I've met, Kai & Robby, I will be back to Hawaii and hook up with you in Mauai!
I've done some truly amazing things and surfed in some of the most stunning locations on the planet.
It's been a roller coaster ride and travelling alone, meeting new people everyday has been amazing.
My trip has made one thing even clearer and that you only live once and whatever dreams you may have go set them free, don't sit and wait for them to happen. Go and live your life and be happy. I've already planned my next little adventure….Mahola