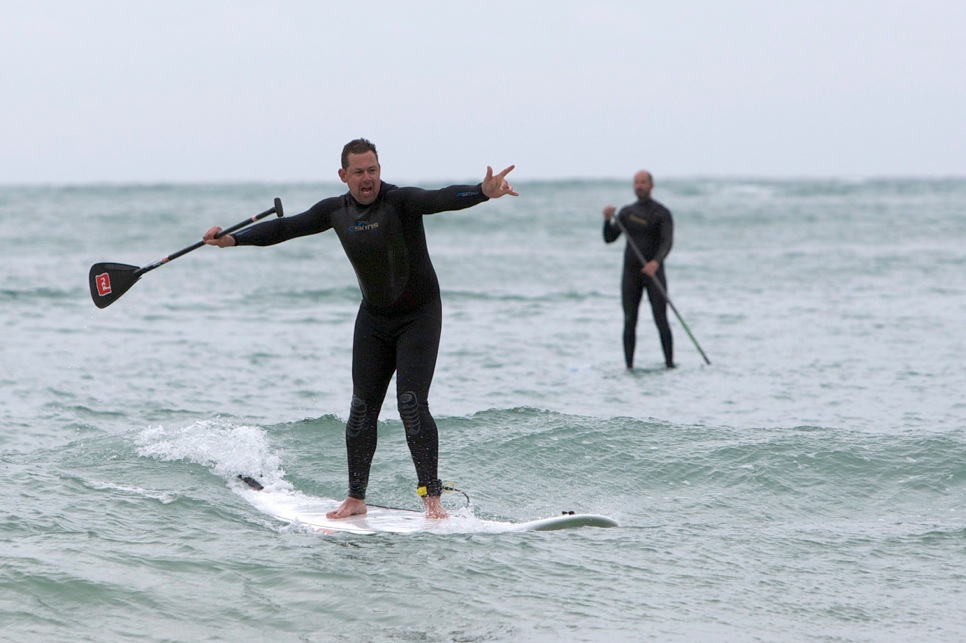 .
Do you love the idea of surfing but have always struggled to get to your feet, been left floundering in the white water, and frustrated by your short rides and sinking surfboard?  If  that sounds like you, don't let your past surfing experiences put you off and shatter your surfing dreams.  Although surfing might not be for you, SUP surfing might just be the way into the waves .
For many years SUPboarder reader Jon, at 6'2″ and 17 stone was a frustrated surfer. But that all changed when he discovered SUP.  Here Jon tells his story from a sinking surfer to a stoked SUP surfer.;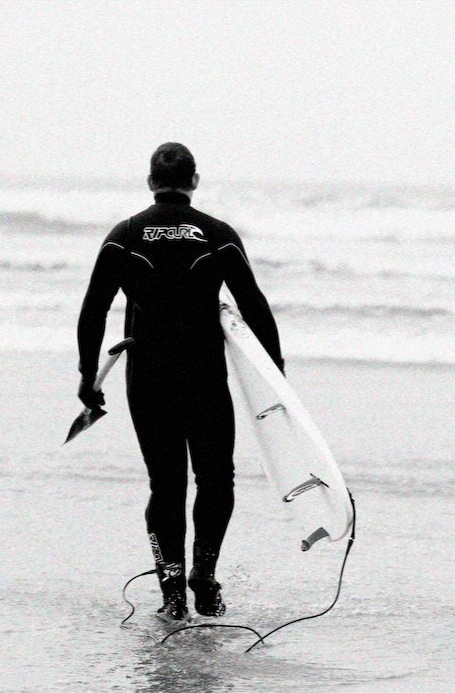 "I love being in, on or near water in all it's guises, and having grown up in the landlocked Midlands, this guided me towards flat water. Initially it was for fishing but then moved onto kayaking, sailing and then windsurfing. Latterly, as the windsurfing trips got less and less, this has been for Stand Up Paddling (SUP). With all of the above mentioned sports when you buy the respective magazines that go with them the majority of coverage is not of canal, river or lake participation but out on the ocean and in particular in waves. The fascination with all things wave based takes hold of most people and you only have to look at the cars on the south bound motorways on Fridays to see this in full effect as the weekend wave warriors head to get their fixes.
For some of us though these journeys are less frequent and don't feature 6 foot sticks. Whilst as a kid I enjoyed success with a plywood belly board and then progressed on to a bodyboard to try to catch the odd wave, surfing left me behind as I grew up. This was mainly due to the frustration of being left floundering in the knee deep white water. Looking back, part of this was as a result of the infrequent attempts to grasp the basics and part (the major part) due to being large and lumbering and therefore unable to get up or stay up for more than a split second.
"My sporting talents growing up were more suited to smashing through tackles on a rugby field and in scaring batsmen with fast left arm bowling, than springing up onto a foam log in a single fluid movement".
Years passed, the odd attempt on a hire board continued when on trips to the coast but still no joy was forthcoming in being able to even stand for a second or two. Worse still in the latter years was that at 6 foot 2 and 17 stone some of the boards actually sank under my weight. A laugh was sure to be had about it in the pubs afterwards but the frustration was still there along with the marvel at anyone that was seen getting up onto waves.
Through a few years as a sports photographer I was asked to cover an event of a new sport that was soon to take hold on my sporting life. The sport was SUP and the event was the September Sessions organized by John Hibbard. Boards were big and long (this was a couple of years before the slashly Matt Smith type style came into it) and there were some big guys ripping. Now obviously they were also bloody good surfers already but it was an eye-opener to me and awakened the desire to cross off standing up on a wave from the bucket list. At the time though I was adamant, despite knowing that this could be a sport that I could easily get into, that this was not going to happen as I had a garage full of every other type of sports equipment available gathering dust. I could ill afford another one to add to the list.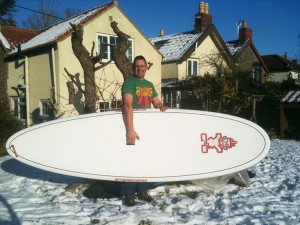 More events were covered, including flat water racing events and eventually I purchased a SUP for some river and canal cruising. Instantly hooked by how you could paddle on the same stretch of water but in completely different ways from a leisurely cruise to a full on training session that burnt more calories than a trip to the gym I eventually changed boards for a more performance oriented one and also, after some hard thought, an absolute barn door of a surf type board. At 34 inches wide the Starboard Whopper was the tool that was to unlock years of frustration in the waves (well ok, in the white water for the first year or so). As mentioned, at 34 inches wide and 10 foot long this is a beast of a board but make no mistake, what it lacks in looks or surf shape, it more than makes up for things in stability and the fun that it can bring to people new to surf, those with little ability of balance and those of us with both of the aforementioned plus lots of kilo's.
The high volume of SUP boards, along with the propulsion that the paddle gives you means that the chance to be pushed along by a wave is open to everyone and bypasses the years of frustration were you to carry on with the surfboard route. Whilst it still took me some time to improve my balance skills enough to be able to stand up when paddling out this soon got to a level where I could manage it through medium white water and waves. Even before catching a wave the feeling of standing out past the break just paddling around was fantastic.  Again though, just getting out there doesn't mean that waves are automatically going to be caught. It takes a while to sort out how early you have to turn and move for a wave and then how hard you need to paddle to catch the waves.  There were also some classic dismounts and I can certainly testify that water hurts when you hit it hard after going over the front of the board. Despite this, it still beats the surfboard frustrations into a tin hat.
Now I'm not saying that this is surfing, far from it. Whilst I may get to share the same wave with others out there, I'm fully aware that there's surfing and then there's being pushed along by the wave. Same piece of water, same type of board and paddle but at totally opposite ends of the spectrum so it won't be a case of updating online status with "overhead at xyz bay" type things or of getting serious and believing that I can surf.
However, the feeling for me on a knee to waist high wave is every bit as great as anyone else out there gets and that to me is what is great about SUP. If this can be shared with others around you as you paddle "out back with the boys" then it's even better.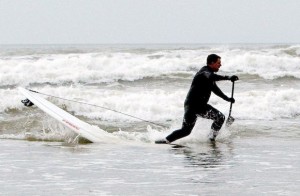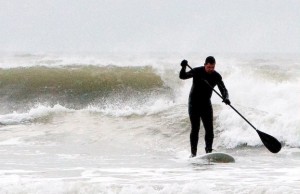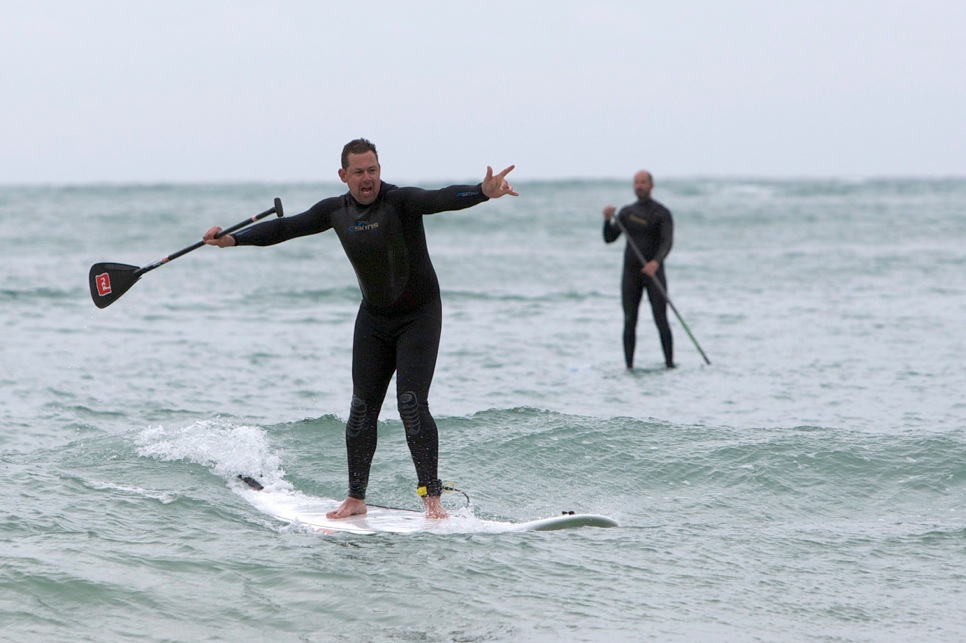 So basically for anyone that has ever suffered for whatever reason to try and get up on a standard surfboard, SUP could well be the answer. Pick a board big enough and wide enough for your build, find some nice conditions, get out there and FEEL THE STOKE !!"
So what are you waiting for?  Go and master the SUP basics on flat water first and then head to your uncrowded local beach and have a go at SUP surfing. You might just surprise yourself!!
For more information about SUP surfing and keeping safe in the surf check out the SUPboarder Zero 2 Hero surfing features here.