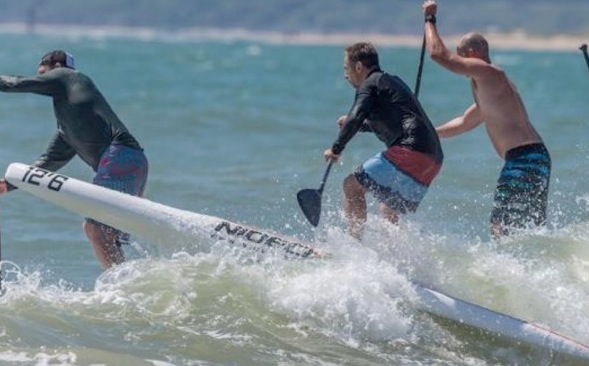 What fantastic conditions for the BaySUP 'Battle of the Bay' last Saturday. With plenty of sunshine and a great turnout it was set to be a top day of racing. Ryan James, top UK racer, tells us more about the days event.
"It was a challenging start at 0700 setting the course due to the conditions of 15-20 knots north easterly wind. Great for the kites and windsurfers but very challenging for the SUP"s. The course was set – 5 laps of an upwind, downwind run with 5 buoy turns in and out through the 2-3 ft surf.
With the sun shining, 70 degrees and 30 competitors signed up it was set to be a great event. Lined up in a knee deep water the start horn sounded and everyone got away cleanly. Mark Slater (fanatic), Pete Holiday (BIC) and Sonny EZ (fanatic) lead the first lap, with Ryan James (starboard int) back in 10th after a poor start. Slater and Holiday started to pull away from Sonny with Ryan trying to make up ground. By the 2nd lap Ryan had pulled 7 places back and was lying in 3rd just behind Holiday with Slater about 150 metres ahead. Ryan then grabbed a lucky runner on the downwind run taking him past Holiday and then Slater, grabbing 1st place.
On the third lap Slater came back with a great downwind section grabbing 1st place. Ryan then came back on the upwind leg back into 1st well ahead of Holiday, but then on the downwind leg Holiday came back with a great downwind run grabbing 1st place from 100 metres back. Ryan then came back at Holiday with a strong upwind section taking first place back and with a good downwind run to finish held on for the win.
With the 12″6 boards still top 3 overall it was a great race for the shorter boards with the 14″s close behind and Crispin Jones taking a top 10 finish overall on his surf shape."
Overall positions
1st Ryan James (Starboard int)
2nd Pete Holiday (BIC)
3rd Mark Slater (Fanatic)
12″6
1st Ryan James (Starboard Int)
2nd Pete Holiday (BIC)
3rd Mark Slater (Fanatic)
14″
1st Phil Plume (Fanatic)
2nd Chris (C4)
3rd Tim Harley (Rogue UK)
Surf Shape
1st Crispin Jones (Starboard UK)
2nd Gary Elford (BaySup)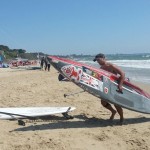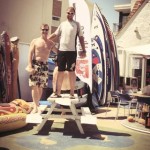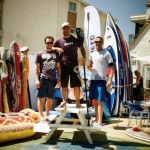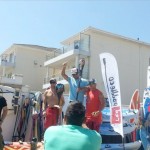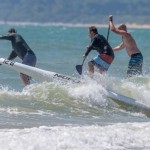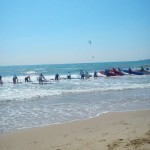 Write up : Ryan James
For more information about BaySUP and their events check out their website here.