We all know paddle boarding is a fantastic way to unwind after work or at the weekends, by cruising along the coast. But why not have a go at catching dinner whilst you're at it? Fishing doesn't have to be all about sitting beside a canal in the drizzle, waiting for a fish to bite on a 15 foot rod. SUP fishing is great fun, cheap and easy to get set up, and you can do it whilst you're going for your normal SUP paddle.
What do I need?
All you need to go SUP fishing are afew things that you can easily find from your local fishing shop or ebay!
Crab/hand line or an object to keep your fishing line around (approx £2)
A length of fishing line (called Mono) at least 100 m long and it must have a breaking strain of 35lb or more ( 60lb + might be a bit excessive!) (approx £3)
A fishing lure. The best all round lure to start with is an Eddystone Eel 155mm long (approx £1.60-£2)
Using a handline is one of the simplest ways of getting into fishing and to be honest with SUP it's one of the best ways to catch fish. There are advantages to sometimes using a rod SUP fishing, but for the majority of the time using a hand line is best. You can easily take a hand line with you on your SUP journey, in your pocket or your backpack. It's a great piece of equipment to always keep with you in your SUPing backpack as you never know when you might come across the perfect looking fishing spot!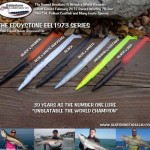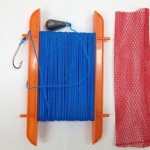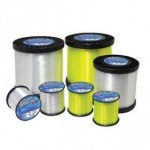 How do I get set up?

Get your handline ready with your monoline of 35lb or more and 100m wound around it. Then tie your lure on the end using a blood knot.
This video also shows you more about the lures and how to attach them to your line.
What technique should I use?
With your handline all set up you are ready to catch your first fish for the table… and here is how you're going to do it. Go for a paddle alone the coast or along a creek near the coast line, in approx 1 to 7m of water (you're going to have to guess as you may or may not be able to see the bottom) The fishing technique you're going to be using on your SUP is called 'trolling.'
You will need to let approx 40 meters of line off your handline. The best way to do this is to start paddling in a straight line and get some forward momentum and then let afew meters of line out. Then paddle abit more and let more line out until you have let out the full distance of the line. The length of line you have out is always abit of guess work, but more is better then less.
With the line out now put your handline in your pocket or in your backpack and get paddling. You will need to keep a feel on the line and the best way to do this is with your handline in your pocket. Or if you're in a wetsuit attach the handline around your leash so you're easily able to feel the fish bite. Living in the northern hemisphere you're not going to be catching 500lb Marlin's so you have no worries about getting dragged off your board into the distance!
While you are going for a nice leisurely paddle your lure will be swimming along behind you looking like a nice little fish that many fish species along our coastlines find irresistible. The best speed is 1-5 mph so don't ever worry about paddling to slow. This is one of the reasons for using a lure like an Eddystone Eel, as it will sit at about half a meter below the water surface so you'll never have to worry about getting it snagged on the sea bed.
How do I know when I've got one and what will I catch?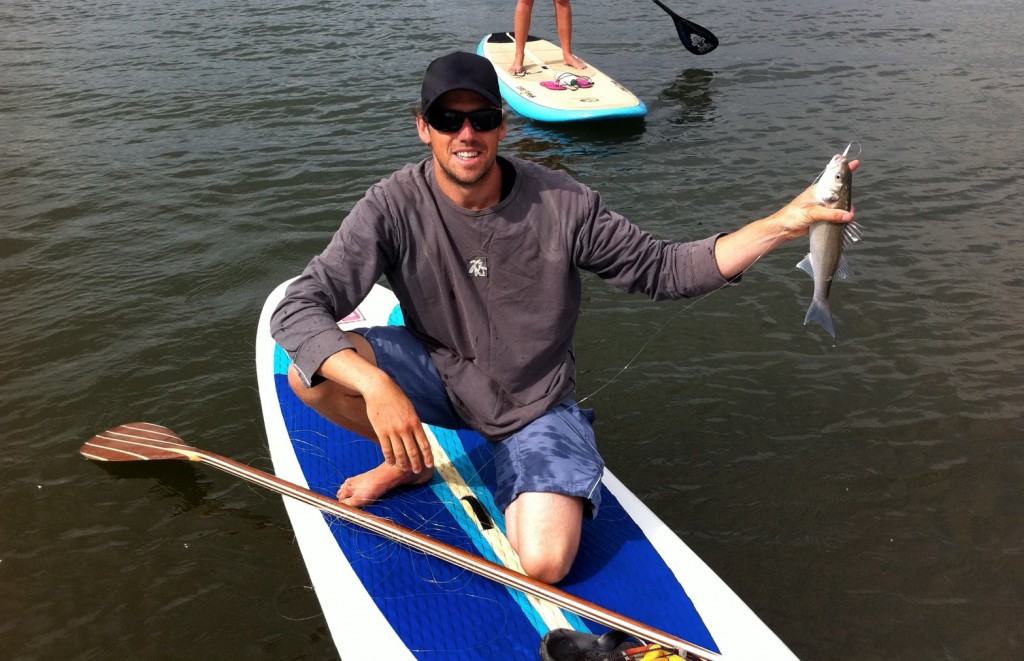 You will know when a fish has gone for your lure as you will feel a pull on your line followed by more taps and pulls. This is when you have to move fast and pull the line in as fast as possible with a continuous pull on the line. It's important not to allow the line to go slack as this is when the fish can easily get off. Also don't try and wind your line in around you winder, as this is too slow a process and you will more than likely lose the fish. Just pull in the line using your hand, putting the pulled in line back in the water or on the board. Another reason to choose a thicker line  (35lb +) is that it doesn't tangle as much.  With a bit of practice you'll find your own technique which works best.
You are likely to catch fish such as Bass, Mackerel and Pollock around U.K.'s coastal waters, and all of which can be eaten. You just need to decide on your favourite way to cook them!
And it's as simple as that! There are many other SUP fishing techniques but this is one of the simplest and best ways to go for a paddle and get some dinner all at the same time. Remember… keep your line tight and the fish will bite! Good luck, Reuben Ellis
If you have any SUP fishing questions please write them below. And remember to send SUPboarder your SUP fishing pics via Facebook or the Contact Us page.
Post update 01/02/16 New Bass UK legislation. From the 1st of January to the 1st of July it's an illegal offence to take or keep any Bass (catch and release only) . And after this date, you may only keep 1 fish a day that is over the new minimum size limit of 42cm.