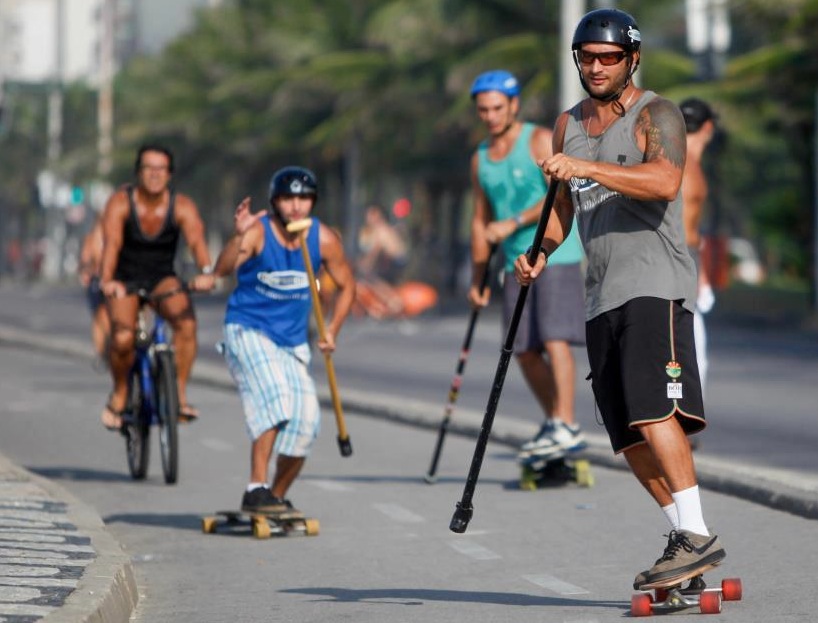 Land Paddling was born out of Stand Up Paddleboarding in the USA, and has seen a huge growth in popularity across the world. It all started with the invention of the Kahuna Creations Big Stick Land Paddle. The Kahuna Paddle was the first of its kind, made exclusively for long boarding and it has created a brand new way of riding a long board skateboard. The Land Paddle allows you to power yourself on any longboard, skateboard, or other board you ride on the street. There is also a Land Paddle for use in the snow to help push through flat sections.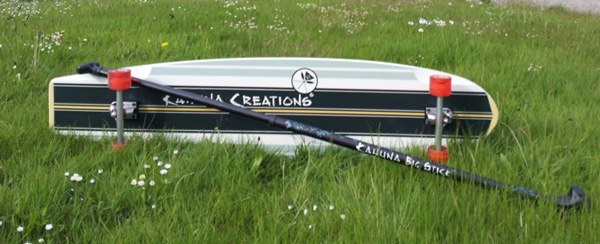 This new sport, is not only a unique way to ride a longboard but is also a fantastic way to get fit, keep fit and cross train for SUP.
When you are Land Paddling you work the same muscles that are used when Stand Up Paddleboarding, so it's a fantastic cross trainer giving you a total body workout including core, back, shoulders, arms and legs. About 90% of the people who use the products are SUP boarders and are using Land Paddling as a way to exercise when they can't get access to the water or have limited time. One of the main advantages is that it is so accessible. You can keep a land paddle and board in your van or car boot so wherever you are you can have a paddle, whether it's for a couple of minutes, a full on workout or just a relaxed cruise to chill out after a hard day. Pretty much everyone has access to an area of tarmac or concrete.
The combination of the wider wheel base of a longboard and the contact with the ground through the land paddle gives you increased stability, making it accessible to a wide range of people young and old. People who have never tried any kind of board sport in the past are surprised at how easy it is to pick up and they just love it.
Or if you are a more experienced skater or longboarder, using a Land Paddle gives you a completely different skating experience.
https://vimeo.com/46460515#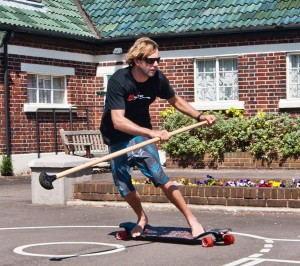 Land Paddle UK
Gary, the director of 'Land Paddle UK' first came across Land Paddling when he was looking on line for somewhere to try SUP. Kahuna Creations popped up on a search and after finding out a little more he knew he had to try it. He hadn't ridden a skateboard for years and got really excited at the idea of this new way of skating, so he got his first land paddle and gave it a go. Whenever he was out riding, people stopped him to ask about it. The positive reaction and interest he got wherever he skated made him think there was more to this than just a new hobby.

A few months later Gary found out that two land locked surfers, Chris Kenyon and Scott Warren had started a new Stand Up Paddle Club called Central SUP about 15 miles away in Tamworth. He met up with them and took over his Land Paddle and longboard. Chris and Scott were the only other people he had met that had tried land paddling, and they were interested in the possibilities of incorporating it into their club. Gary explains it was great to find two like-minded people right on his doorstep and that meeting with Chris and Scott just emphasised the full potential of this new sport and pushed him to set up Land Paddle UK.
Gary contacted Steve McBride, the inventor of the Big Stick and CEO of Kahuna Creations to discuss the possibility of Land Paddle UK representing them over here. Steve and his son Cory gave him lots of advice and encouragement and before long they were set up as dealers for Kahuna Creations and pioneers of Land Padding in the UK.


Land Paddle UK have developed a simple 10 point teaching plan to use at clubs and demo days that gets complete novices riding and having fun within a few minutes. A 30 to 40 minute session gives them the confidence and key skills to take away and improve on their Land Paddling at their own pace.
Also, along with the guys at Central Sup they've developed a Land Paddle training course. Chris Kenyon says "Land Paddling is great fun, surprisingly easy to pick up and compliments SUP really well. Land paddling helps build those core muscles the same as SUP does. And it helps you learn about weight displacement on the board as you would on a surf board." Chris particularly likes the big boards as they are not too dissimilar to long boarding or cruising on a wave.
Chris & Scott at Central SUP are so hooked on Land Paddling that they're going to be introducing it to their SUP Club nights soon and organise a few land paddle events.
If any clubs or individuals are interested in getting more information about trying Land Paddling or would like to run the course or demo days themselves please contact Land Paddle UK or Central Sup Club for more information.
Written by Gary Evansgary@landpaddleuk.co.uk