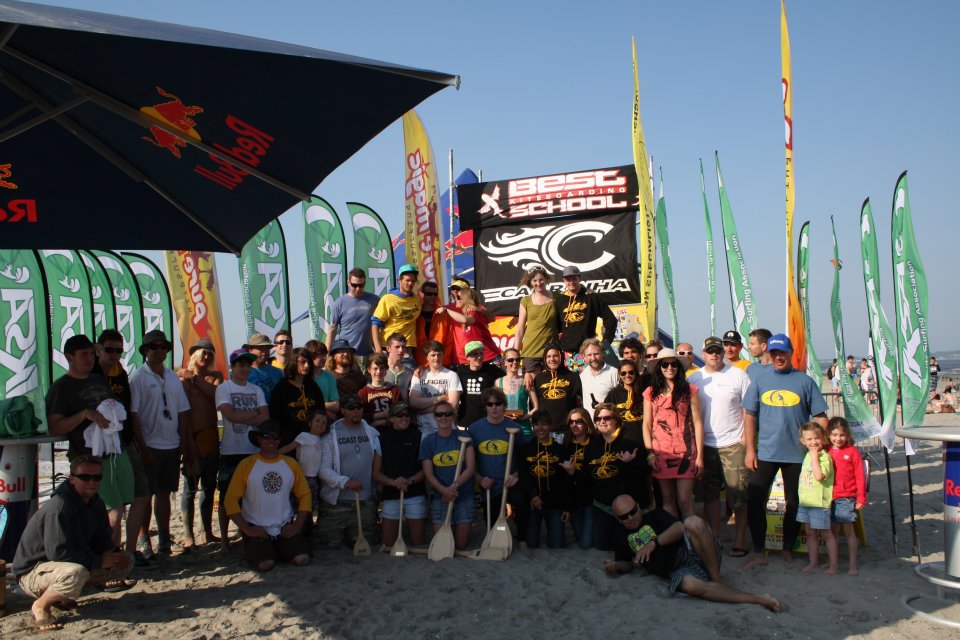 DUBLIN BAY SUP CLASSIC 2013
The second DBSC took place last weekend in glorious sunshine on Dollymount Beach, Co Dublin. This event runs in conjunction with Puremagic Kitesurfing's Battle For The Bay. This combination of SUPing and Kite Surfing works magically.
With over 100 SUP racers and kiters, and about 12,000 spectators over the two days, many suggest this was the biggest and most important watersport festival Ireland has ever seen, and definitely the most important SUP event this year.
Here is the SUP race report from Paul Byrne.
DAY 1: Saturday 25th May – Survivor Race & Technical Sprint.
Saturday started with the Jamie Mitchell style Survivor race and the racers were treated to light wind and sunny conditions. Fourteen paddlers did battle until the group was whittled down to just two final racers, Peter Kosinski and Dave Owens, with the younger Peter coming out on top. Triona McMenamin and Trish Brennan had a similar battle, and on this occasion Trish came out on top taking the win in the ladies.
Later that afternoon the wind had picked up quite a bit and the tide dropped to ridiculous levels leaving a very challenging Tech sprint course. Winds and most of the course in the surf zone made racing very challenging for all. The level of racing witnessed sure reinforces that Irelands has a great future in SUP racing. The two young guns of the Comp, Peter Kosinski and Lewis Eickholt battled it out at the front with Lewis taking it home in first place, a great victory against the in-form Peter.  The Ladies Tech race was all Trionas where she paddled like a woman possessed taking the win easily.
Of course no event with Puremagic would be complete without an athlete's party or three thrown into the mix. Saturday night saw party number two and it was an endurance event in itself!!
Survivor Race Men's Results:
Peter K
Dave O
Lewis E
Jono G
Keith G
Shane T
Ivan D
Neil O'C
John S
Ray T
Survivor Race Ladies Results:
Technical Sprint Race Board Men's Results:
Lewis E
Peter K
Dave O
Johnny C
Technical Sprint Race Board Ladies Results:
Technical Sprint Crossover Board Men's Results:
Keith G
Jono G
Neil O'C
Shane T
Ivan D
John S
Harold S
Fabien M
Technical Sprint Crossover Board Ladies Results:
DAY 2: Sunday 26th May – Marathon & Mixed Relay.
Early Sunday morning we were greeted with windless sunny conditions which quickly changed to a moderate onshore breeze. This was not to the delight of the 20km Marathon racers preparing on the beach. The course provided cross chop, downwind, and shore break conditions for the racers and all were asked to dig real deep to complete this challenging long distance course. Peter Kosinski took out the lead early and pulled further and further away from the rest to finish first in what was a display of great SUP racing. This guy is just 16 years of age and is setting his sights high. Watch this space!! Keith Gorman finished in second place and raced very well, looking much more comfortable than he has been of late. The ladies race was again the Triona and Trish show, both girls displaying their confidence in all water/weather conditions. Triona powered home towards the end to take first place. There was a great buzz on the beach following this marathon race, most just chuffed to have completed the course, well done to all.
The final event of the weekend was a FUN race teaming up Kite surfers and SUPers male and female in a short Team Sprint Relay. The laughter was infectious and really summed up what this festival was all about, hanging out on the beach with friends and enjoying pushing oneself to the limit!!
Marathon Race Board Men's Results:
Peter K
Keith G
Johnny C
David M
Marathon Race Board Ladies Results:
Marathon Crossover  Men's Results:
Justin Van
Neil O'C
Fabien M
Harold S
John S
Shane T
Paul K
Marathon Crossover Ladies Results:
Mixed Team Relay:
Big thank you to all the sponsors, racers and those that came to spectate. We are already looking forward to 2014!!

Paul Byrne