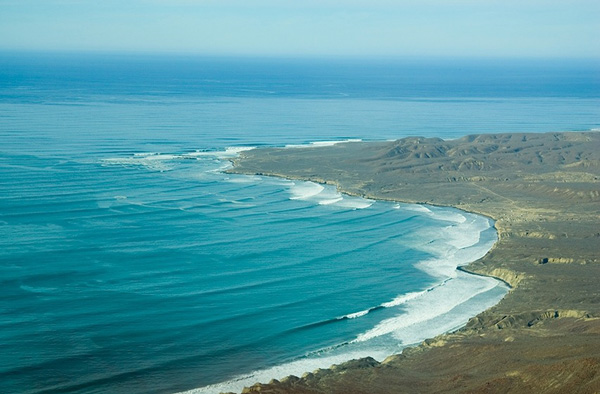 Question – Where was your first time?……
Answer – Punta San Carlos, Baja, Mexico.
Not the average answer you're likely to hear. But that's exactly where SUPboarder reader Gwen Harvey discovered the joys of SUP surfing (aswell as tacos and tequila!) with Solosports for the first time . Punta San Carlos has long been on the windsurfers, kitesurfers and surfers travel map, but only more recently has it become a SUP surfing hot spot too.  Located on the west coast of the Baja Peninsular, 275 miles south of the San Diego-Tijiana boarder, Punta San Carlos is in a world of it's own… 50 miles to the nearest town of El Rosario, and surrounded by simply the Pacific Ocean and rugged desert wilderness, there's nowhere quite like it.
Gwen gives SUPboarder the low down on the Punta San Carlos and Solosports experience;
Punta San Carlos provides the perfect conditions for SUP from an advanced rider right down to a first timer.
What makes this place so good? Is it the epic surf, beautiful sunrise and sunsets, the awesome people, top notch equipment, remote location, or the wildlife? I think it's all of it and more!
At Solosports you get to experience a remote, rugged location in luxury. After a 4 hour dirt road drive away from the nearest town through desert surrounded with cacti and the odd horse, you will see camp coming into view. No matter how many times you go, the feeling of excitement that fills you is just as big each time. Owned and run by the lovely Kevin and Kathy you will feel like Solosports is a home away from home. For the duration of your stay you will have your own tent pitched on the cliff top overlooking the surf which will be your home for as long as you like. Waking up every morning to the sound of the waves crashing on the beach, making you jump out and reach for a board, will mean you'll never want to leave it! The camp is fully equipped with all the newest equipment, a small selection of expert staff, a fully stocked bar and the food is cooked by the on sight chef Amerita and her team who will whip you up some delicious food to keep you going throughout your stay. Due to the small size of camp even though Solosports has been running for 25 years it still feels like you are in a special secret spot. If that wasn't enough to top it all off there are even hot showers! What more could you want?
Punta San Carlos provides some great riding conditions. It has four breaks near to the camp which when firing can join up to produce the longest ride of your life!
The Camp:  A soft, long wave and super easy to get in and out. Pick your day swell wise and you'll learn loads.
Bombora: Breaks off the corner of 'bird shit island' just in front of camp. It is possible to catch the Bombi and connect up with the camp wave creating a very long ride!
The Point: Around the corner from the camp section. A more taxing wave that breaks with more power.
The Chilli Bowl: A pretty full-on break.
Generally the mornings are not windy providing the perfect conditions for some awesome riding. Even when the conditions aren't pumping (which isn't very often!) you can take a nice SUP along the coast and do some fishing. The wildlife experienced here is pretty special too… on one SUP session I saw a sea lion, dolphins and experienced a seal tugging on my leash, as well as the resident pelicans sitting on the famous bird shit island infront of camp.
What makes Solosport's such a great location is the range of activities open to you. If you fancy a break from surfing it is a world class windsurf wave sailing destination, host to the AWT Cactus Cup. It's also a great kiting location, gaining popularity in the last couple of years. If you fancy a bit of land based activity you have a selection of amazing mountain biking and motocross trails to keep you occupied…. and yes if you do just want to chill out in the solace lounge you're allowed to do that too!
But that's not all… when the sun goes down, the fun just carries on!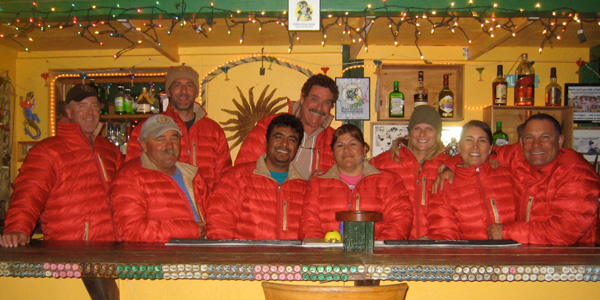 Like they say at Solosports,
" You just don't know until you go!"
I went and it was frickin awesome! – by Gwen Harvey
Photos by Clark Merritt.
To find out more about the Solosports camp at Punta San Carlos and when it's best to go, check out www.solosports.net. All inclusive packages start at $1650 with drive in and fly in options available. Or drive in yourself and solo camp for $5 per night… but be prepared to come prepared! You'll need to bring all your own water and food for the duration of your stay!