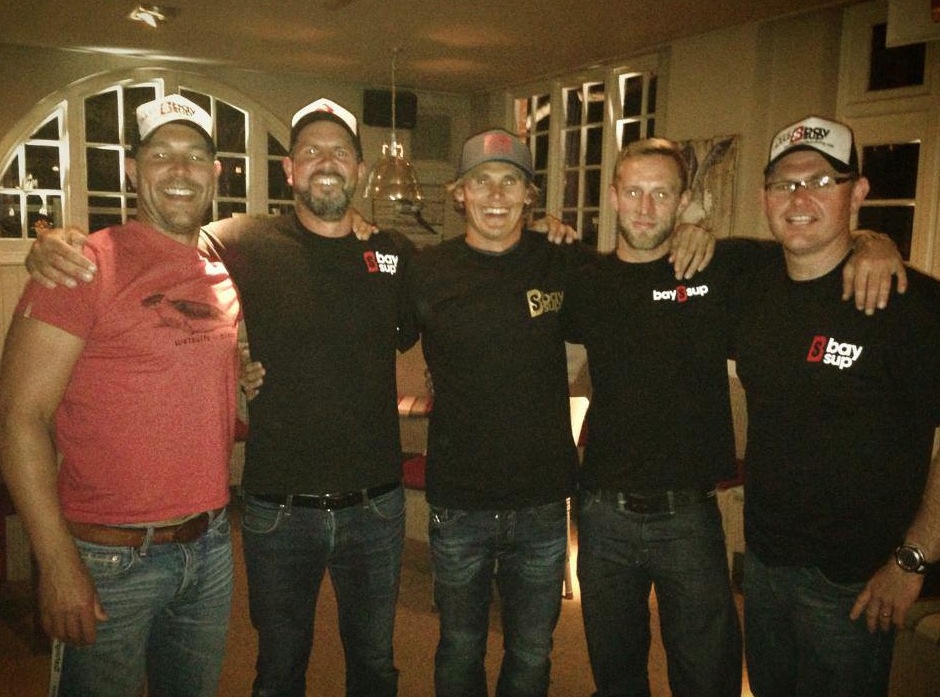 BaySUP with Jamie Mitchell and Steve West
We are still buzzing from a great weekend with Jamie Mitchell who visited Bournemouth along with Steve West to hold workshops and a showing of Jamie's DVD – A Decade of Dominance – on Sunday.
At the Watersports Academy on Sandbanks, each workshop consisted of 12 people made up of local club members and others who had travelled from various parts of the country to be there. Jamie went through, training, fitness, nutrition and paddle stroke analysis and a general chin wag about his experiences. There was some great conversation about his tactics in racing and he talked us through the last stages on the Peru World SUP Games.
We then headed out to the beach from some stroke analysis which was to be highly interesting. Jamie filmed everyone taking a short paddle out and in and then from side to side to see all angles of our technique. The outcome given by Jamie and Westy for all of us was unanimous, we suck! Well that might be a bit harsh but it was clear that we could all make adjustments to get a better technique. We all reviewed our clips with Jamie showing us where we were going wrong and it was clear to see. Just by then going over a few key points, we could clearly see how by making some changes a better technique could be achieved. Nearly all of us were not getting enough reach and not using our bodies to rotate.
Many people commented that at the Thames race on Saturday which Jamie easily won, it looked like he was putting no effort in at all – ok so he has been an amazing athlete all his life but the point is that good technique is a major attribute of Jamie's paddling ability.
So after the workshops it was off to The Cliff at Canford Cliffs to have a few beers and watch Jamie's DVD – A Decade of Dominance. A great turnout with around 50 people. We had a raffle with some great prizes – Quickblade UK put up some top of the range paddles, a  signed Stand-up Paddle: A Paddlers Guide book by Steve West, a Mitcho signed DVD and Baysup provided 20 super cool hats signed by Jamie. Loads of prizes for everyone and the paddle winners were Zac Wharton and Fay Roxburgh – you could say they were rather chuffed. Apparently there was originally only one paddle up for grabs but under extreme peer pressure from Jamie and the cheering crowd, Brad Symington from Quickblade put in the other!!
What a truly amazing day, was a real honour to hang out with Jamie and get an insight into his world. Thank you to the following people:
Steve & Mandy West and Jamie obviously
The team at Watersports Academy
Brad Symington from Quickblade UK
The Cliff at Canford Cliffs
The amazing team of guys behind BaySUP
All the who attended the workshops and came along to the evening
We hope everyone had a great time, we certainly did and it will be a day we remember for a very long time.
So what's next??
Summer Race Series –  8th June at The Watersports Academy with H20 Watersports Demo Day – Enter here as well as full race details –
National Clubs Day Bournemouth – 30th June – try out the sport, meet the club and chill on the beach!
Summer Race Series – 14th September Survivor Series. Details TBD