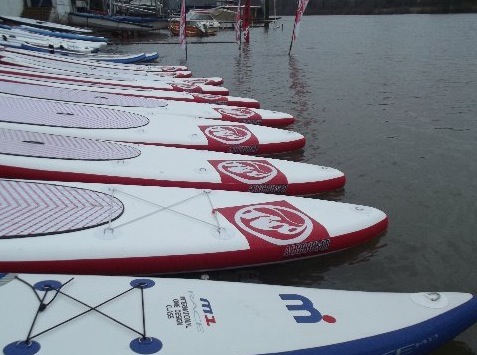 Just when we were starting to think that Spring was on it's way… temperatures plummeted once again around the country and many even had snow! But that didn't stop hardy UK paddleboarders turning up at the SUP events organised last weekend and getting out on the water. On Saturday 23rd March Blue Chip held their 'Inflation Day' at their SUP centre on the Thames –  the largest iSUP demo fleet ever assembled in the UK. And on Sunday 24th March the Aqua Sports Race and Demo Day took place.
INFLATION HAS NEVER LOOKED SO GOOD – BY CALUM PATON – 

BLUE CHIP
The market for inflatable stand up paddle boards is continuously growing, due to their durability and portability. Saturday the 23rd of March saw the largest ever UK ISUP event, with a huge collection of inflatable boards being tried and tested at 'Inflation day,' hosted by Blue Chip.

 Inflation day, at the Thames Sailing Club, Kingston, was the largest of its kind in the UK with some of the sports biggest names including John Hibbard, Paul Simmons, Marie Buchanan and Jay Manning,  all attending – trialing some of the latest iSUP on offer.
Many turned up at 8am rolling boards out and inflating them, ready for eager riders to try them after 10am. Inflation Day was a massive event, with around 50 boards from the biggest brands in SUP: Red, RRD, Starboard, Fanatic and Mistral. "I have never seen so many boards in one place" said Hanno Ellensohn a regular paddle boarder with Blue Chip SUPer Club.

 Despite the weather, there was a fantastic turnout, with inflatable boards flying up and down the river Thames, everyone keen to have a go. We even saw a few sink turns and double board manoeuvres! It was an experience like no other, hopping off of one iSUP straight onto the next, testing how differently they handle. It certainly helped me understand the importance of different boards for different situations. Inflation Day lasted until 4pm when the boards were deflated and packed away. Everyone I spoke to had a great time and the event was an overwhelming success, that showed the growing size of ISUP. Inflation truly has never looked so good.
Photos by – Blue Chip & Dave White.
AQUA SPORTS RACE AND DEMO DAY
There was an impressive turn out at Aquasports even though they had snow and freezing temperartures.  24 people raced and even more cheered them enjoying the BBQ afterwards… Well done to all those who took part and braved the weather.
If your SUP club/school held an event last weekend make sure you let the SUPboarder readers know about it… so they don't miss out on the next one! Find out how your SUP club/school can contribute to SUPboarder here.
Or if you want to find out where your nearest SUP club/school is… check out the SUPboarder SUP Club/School Directory.
The SUPboarder Event Calendaris a great way to find out about all the SUP events happening this year.