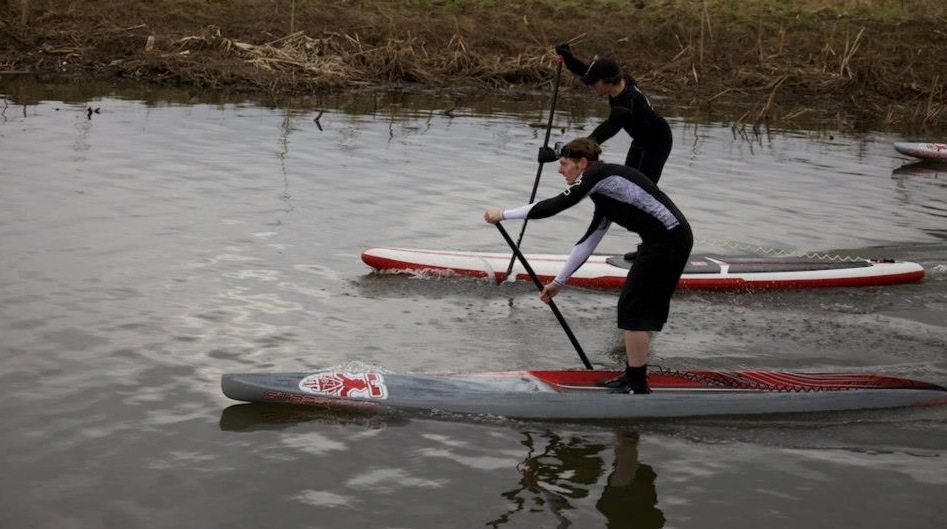 Last weekend (23rd & 24th February) was another chilly February weekend in the UK, but once again that didn't stop the hardcore regular SUP racers and even first time competitors, from joining in with their local SUP club races. Round 3 of the Midlands 5ive Winter SUP Series took place at Central SUP in Tamworth, and the Final of the Winter Fun Race Cup took place at WeSUP in Falmouth.
The numbers participating just shows what a great sport SUP is, allowing you to get on the water and have fun, even in freezing conditions! The pictures say it all!

Midlands 5ive Winter SUP Series Round 3 – by Scott Warren – Central SUP
Despite the dramatic winter weather, the Midlands 5ive has shown the true spirit of everybody involved. With freezing temperatures, flooded rivers and biting winds the previous two rounds have been quite a spectacle testing everyone's skills. But no matter what the weather throws our way, the paddlers in the Midlands have always turned out in force and still manage to have big smiles on their faces. Round.3 was no exception with plenty of people turning up to the pre-race demo session, but it was however a chilly affair, with a few needing a little encouragement to stray away from the kettle and a warming brew inside the clubhouse. We had available some new Red Paddle Co and Starboard 2013 flat-water touring and race boards, and soon enough with the signs of sunshine trying to make an appearance, everyone was soon looking to get out on the water and give the boards a try. Even with a few weak rays poking through the cloud it was barely above freezing, and to cap it off with a harsh bitingly cold breeze numbing the fingers it was set to be a difficult challenge for all over the 2km course.
Once everybody was ready to go for Round.3 it was a short paddle downstream towards the start line. It was clear to see everyone was keen to get going and get warm, with few people taking it easy saving their energy for the race. There was even some light snow as the buoy was placed at the half way 1km point.
For many taking part it was their first time tackling the Midlands 5ive winter course. It is always great to hear why everyone is competing, be it for the overall series win, to better a previous time, or to tick it off the list, each round has provided us with many stories to tell. Round.3 will be remembered for its extremely close midfield battle, some great achievements and three different clubs taking part.
As everyone gathered at the start line you could feel the eager anticipation for the race ahead and under starters orders the tension grew as the siren was sounded for the off. With a pack consisting of race and inflatable boards it looked set to be a good with the river in perfect condition. Myself and Sam Ross lead the way on our 14 footers with Neil and Steve close behind on their 12'6 race boards. The ever impressive Paul Williams then lead the rest of the field on a Red Paddle inflatable getting a blinding start. As everyone powered against the flow to the halfway buoy turn it was a close battle at the front. Sam was hot on my tail with Steve and Neil staying in touch waiting for any chance to slip by.  The main pack could hardly be separated as everyone jostled for a good position heading under the road bridge approaching the buoy turn which must have been a busy one with six paddlers so close together. Back at the front I messed up my buoy turn almost stalling in front of Sam. Inevitably we collided as we both nearly fell from our boards, and as we recovered Steve and Neil were now entering their turns ready for the mad dash back downstream. Sam and I on the fourteen foot boards proved too strong and we finished in 9.18 and 9.05 respectively over Steve and Neil, coming home in 10.33 and 11.21 on their 12'6 race boards. The Midfield then came home in close formation with Paul leading Simon, followed by Mark and Alan, Stacey and Keith all within two minutes of each other. As the spectators and those who had finished cheered everyone in, Lucy and Jen finished strongly for the ladies completing their personal challenge of the course with smiles on their faces. It looked a lot colder standing on the bank, but it is always good to see Paddle Boarding attracting a good crowd to come and watch whatever the weather.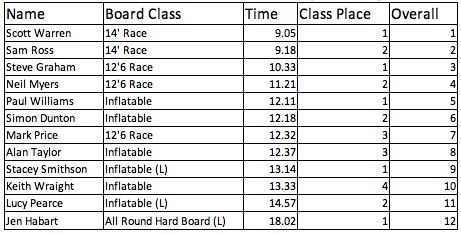 As we all headed back to the clubhouse for a brew and some pasties you could already hear the satisfaction and stories being shared from the race just moments ago. With everyone fed and warmed up the prizing giving commenced and it was fantastic to see the regular Central SUP members, Keith from Inland SUP and Alan, Simon and Lucy from SUP North West all enjoying the day showing just how several clubs can get together and share their passion for SUP.
As we rounded of Round.3 it was clear some people were coming along with their paddling skills. Neil, Paul Stacey and Keith had all gone quicker than their previous times looking to place highly on the overall standings.
For everyone else it was their first time but somehow I don't think it will be their last. I know Central SUP's Chris Kenyon, the resident starter man with the megaphone wants to get involved in Round.4 and who can blame him as the Midlands 5ive is set to grow bigger and further afield.
Round.4 is set for March 31st at Central SUP HQ in Tamworth and is open to all. Be it for a day of fun, close racing or just the challenge of completing the course as quick as they can, I for one cannot wait to get back out there.