Well, we have seen some very chilly weather in the UK, and much of Europe this week, which may have kept you off the water…that said there is plenty of UK SUP news to keep you entertained….
Firstly, if you haven't already seen it, try getting inspired by some snow SUPing, looks good fun, but i'm not sure how long your prized SUP will last on the shallow snow we have here in the UK – the team riders probably don't have to worry too much about trashing kit.
If all the cold weather is getting you down, then this little video from Kai Lenny could solve all your problems, why not just buy Martin Lennys' house right on the beach in Maui? We think it looks like the ideal place for the SUPboarder HQ… right on the beach and perfect for producing our forthcoming video based SUP board and gear information guides.
Keeping the mood warm, out in the Pacific's Marshall Islands, talented UK Surf photographer Si Crowther has been capturing some beautiful SUP surf shots from underwater.   Our feature image this week is one of our favorites and Si tells us that he will be releasing canvas prints of this shot, and others soon – you can keep updated on the release by liking Si Crowther's surf photography facebook page.
In London, there has been a lot of SUP news from the Boat Show, where several brands are exhibiting including Coreban, Hobie and Tower Paddleboards.  Charlie Head, all round SUP mad man and adventuer visited the Coreban stand to talk them through his Ocean SUP adventure SUP plans for 2013.  We will be bringing you an interview of Charlie shortly, asking him about his recent adventure trip from Lands End to London, and speaking to him about the next big challenge, Polar bears and Paddleboards.  Maybe if the guys can pull off this epic adventure on SUP's around Greenland, then there is no reason we shouldn't be paddle boarding in a little snow…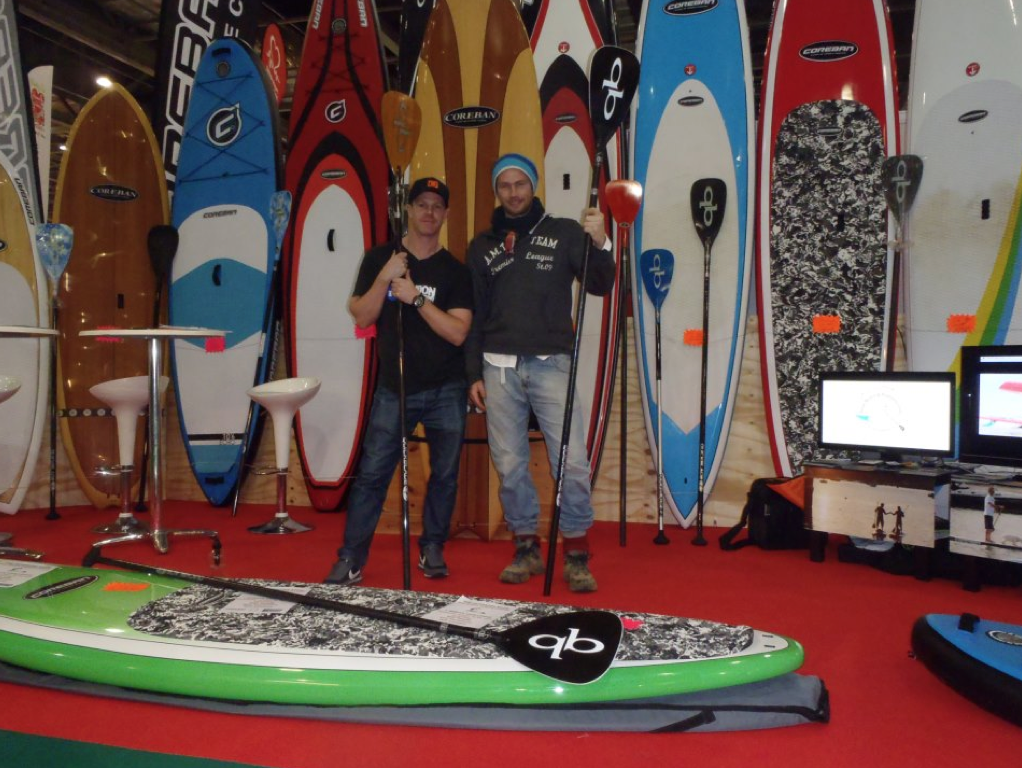 Again, in the UK, one of our own SUPboarder team members, Will Rogers showed us how stoked on SUP he really is by paddle boarding home from a SUP surfing session last week – a few miles of paddling followed by deflating his board, popping in its backpack and walking home through Plymouth city centre.  Read his story here.
If you are looking for a SUP adventure around the Dorset coast then the weather warms up a bit, then check out the great pictures of Clive Maltby SUPing round Chapmans Pool and Old Harry – for us this just demonstrates how versatile and amazing SUP can be!
If like Clive you enjoy cruising around on your SUP you wouldn't want to experience this… we think this guy was lucky to come away from this in one piece after paddling through a heard of Mantees – makes paddle boarding in the cooler climates of Europe seem a little bit safer

And finally, race season is getting closer.  Next weekend the season kicks off with Bay SUP's frostbite and Central SUP's Second Midland 5ive.  Check out all the details in the SUPboarder Events pages, or see our feature on the Midland 5ive to get the low down on the fun event series.  Don't forget if you are running a SUP event, let us know!  For now, to get you in the mood for the race season, check out the first video from Midland 5 Race series.