We have  received this write up from last weekends Bray Lake Xmas Coke Bottle SUP race – it looked like the conditions were perfect for the final race of 2012.  Bray Lake have been running a fantastic series of races all year and have loads planned for 2013 including races and instruction from Ben Swails.  Check out the SUPboarder SUP Events page to see the exciting events they have planned!  Over to Seb from Bray Lake…
Last weekend marked the final Bray Lake SUP Race of 2012 and the year ended in style, great conditions, around 20 competitors and some new demo kit to race on.
The days racing differed slightly from the usual format, with a 3K race circuit followed by a 200m sprint tournament, as the main events and a short warm up circuit to start."
We ended up having some amazing conditions for racing with very light winds and above average temperatures for December. All the racers arrived about 9.30am ready to go and met with a stash of demo race boards from Nah Skwell, Starboard and Red Paddle Co. Big thanks to Richard and John from Nah Skwell and Sam Ross from Starboard and Red paddle Co, the kit went down a treat.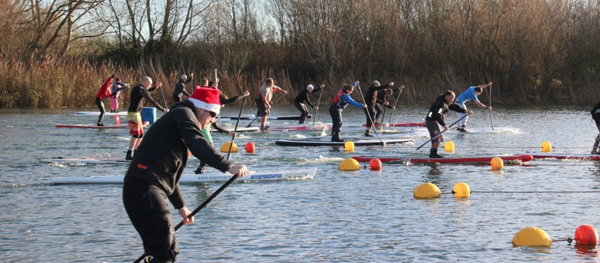 The weekend included two race formats, the 3K and the Sprint;
3K
The Bray Lake 3K course was more technical than most, with a total of 5 right and 3 left hand turns. The fleet of 18 set off on a mixture of 12'6, 14'0 and cross over boards, some inflatable and some hard boards. 3K is not an easy distance to pace, but everyone gave it there all and we had some great results from the locals.  Check out the results at the end of the post.

The Sprint
Based on 3 and 4 man heats, the sprint tournament was run in a knock out fashion with the first from each heat proceeding to the next round. To make the sprints fare all competitors used 12'6 Red paddle Co race boards.
We ended up with a close final, with Charlie Grey winning with Sam Ross in second.  Sam and Charlie faced each other in their first heat and finished at exactly the same time putting them both through. In the final they were both itching to get one over on each other.
Well done to Colin and Mark for winning their races in the B fleet finals (fastest loser's finals from the opening heats).
Lucy put in an amazing performance in the ladies tournament to come first.
See all the results below;

14′ – 3K
1st   Sam Ross
2nd   Mark Hatton
3rd   Simon Hemsley
4th   Ali Pereira
5th   Sandra Elston
12'6 -3K
1st   Charlie Grey
2nd   Colin Elston
3rd   Simon Frost
4th   Phil Richards
5th   Mile Jones
6th  Tom Hicks
7th   Mark May
8th   Lucy McCormick
9th Richard Marsh
10th   Candice Betts
Ladies – 3K
1st Ali Pereira (14′)
2nd Lucy Mccormick (12'6)
3rd  Candice Betts (12'6)
4th Sandra Elston (14′)
5th Susan Jones (Cross)
Inflatable Class – 3K
1st  Sam Ross  (14′)
2nd Phil Richards (12'6)
3rd Lucy Mccormick (12'6)
Mens Sprint Final
1st   Charlie Grey
2nd   Sam Ross
3rd Simon Frost
Mens Sprint Final (B)
1st  Colin Elston
2nd  Mark Hatton
 Ladies Sprint
1st   Lucy Mccormick
2nd   Candice Betts
3rd   Susan Jones
4th   Sandra Elston
A different format from normal, but enjoyed by everyone. The day was topped off with a prize giving, with all the winners in their respective classes receiving Bray Lake branded shot glasses. I think shots were the last thing on everyone's mind after a long days racing, but the prizes went down well. The next big SUP race will be in the New Year, with our winter race series finals in March and the Bray Lake SUP festival on the 15th – 16th of June.  Till then we look forward to seeing all the competitors at the lake over the winter working off their Christmas dinners. Stay tunes and see you all in the New Year, The Bray Lake Team.  Join us on facebook.com/braylake and at www.braylake.com)
 If you have any events that are not currently in the SUPboarder calendar, drop us an email and we will update.