After an epic weekend of action in Seoul, Korea, the 2023 APP World Tour's Asian Champions have been crowned. Read more for the results and event recap.
** Press Release: APP World Tour
After an epic weekend of action here in Seoul, APP's Asian Champions have been crowned, with Japan's Rai Taguchi taking bullet wins in both Sprint and Distance to claim the overall victory and Korea's very own Sujeong Lim taking the distance win and a 2nd in sprints to take the overall for the women.
It was a beautiful weekend in Seoul and the Han River provided the perfect setting for the 2023 APP's Asian Championships presented by KAPP. As Korea's Capital City with 25M residents, it was a fantastic opportunity for KAPP to provide a showcase of the sport to a vast City population, but also welcome athletes from all over Asia to this beautiful new venue that is a hub of water sports activity in the heart of Seoul.
With athletes coming from Japan, Singapore, China, Hong Kong, Thailand, the Philippines and Saudi Arabia, the stage was set for a dynamic showcase of performance paddling, and we were not to be disappointed.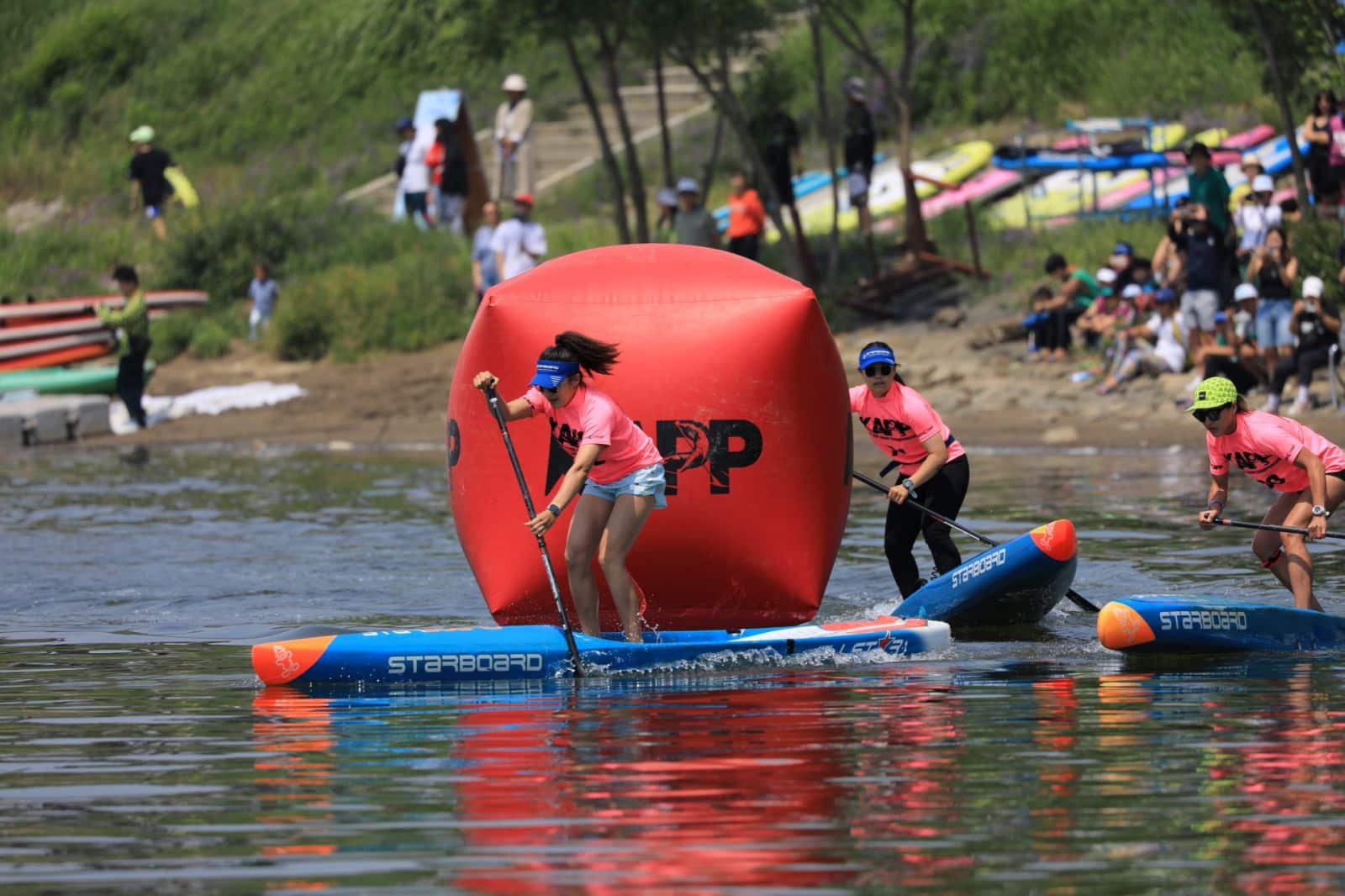 APP SPRINTS
Day 1 featured the APP's sprint format, that saw Pros all the way through to entry level enthusiasts take on the 300m course in front of a passionate crowd.
In the Men's division, clearly feeling right at home here in Korea after a dominant performance at the Busan SUP Open in 2022, Rai Taguchi from Okinawa, Japan picked up where he left of putting on another dominant performance in the sprints, followed by an in form Daniel Hasulyo of Hungarian origins, but now resident in Thailand. In 3rd place, it was another Okinawan legend Ryohei Yoshida who shows that he still has it amidst a formidable field of talent.
In the Women's division, it was all about Jiwon Choi, Korea's proud ambassdor on the APP World Tour in 2022, as she demonstrated her experience and prowess to finish ahead of a rapidly progressing field of talent in Korea. In 2nd place it was Sujeong Lim, demonstrating a big step up in her performance from last year and in 3rd, Hyoju Yang.
As a result of all the great work KAPP has been doing in the region, the development of the sport here in Korea has seen a real spike, with some great open and entry level field stepping up to do battle, coupled with a stacked youth division that clearly shows the future is in good hands. In particular, U12 winner Han Joel will be a name to watch out for as his natural talent mixed with his passion and commitment to the sport was impressive.
APP DISTANCE
Day 2 featured an exciting distance course that consisted of a 3km lap providing the various options depending on the category: 1 lap for entry level, 2 laps for Open and 3 laps for the Pros, complimented by a 1km kid's course for good measure.
In the Pros, it was once again a Rai Taguchi show completing 4 wins in as many races for him here in Korea, although right on his heels for the entire race was the distance power house Daniel Hasulyo. With average speeds up to the 12 or 13km/hr range for a flat water course, the capability to maintain a sprint course cadence was mind-blowing, as neither athlete gave an inch for the entire course. But a strong start saw Rai take the lead and maintain it through to the finish, with Kenta Yamada from Japan finishing in 3rd.
In the Women's division, it was once again a battle between Jiwon Choi and Sujeong Lim, with Sujeong taking the advantage on this race, taking the lead early and holding it through to a convincing win, clearly demonstrating that she is one of Asia's new leading lights. In 3rd place was once again Hyoju Yang, completing the podium for the distance.
In the Open divisions, there was once again some great racing by all competitors with the sheer quantity and natural talent of the girls in the U12 division making waves.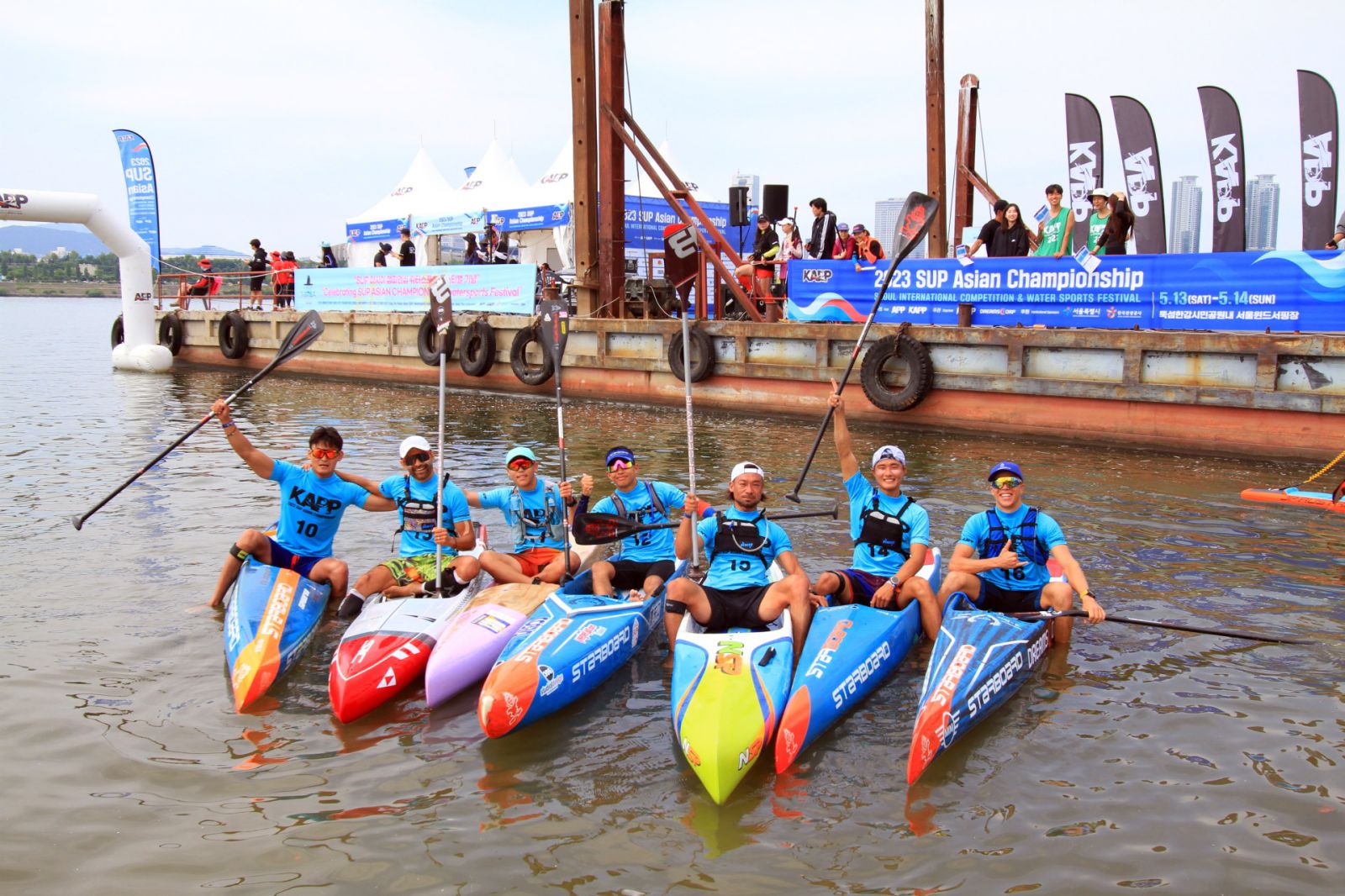 OVERALL RESULT
For the Men, it was of course Rai Taguchi's day, with bullet wins in the Sprint and Distance, followed by an ever impressive, Daniel Hasulyo in 2nd and Kenta Yamada in 3rd.
Meanwhile in the women, it was Sujeong Lim's day to take the limelight with a well deserved victory overall. While both Sujeong and Jiwon Choi were tied with a 1st and 2nd a piece, the tiebreaker for this event was the distance giving the win to Sujeong. In 3rd place was Hyoju Yang.
KAPP once again put on an immaculate event, setting such a high standard for events across Asia, and the passion and excitement around the sport was palpable. As the sport continues to grow and evolve across Asia, there is no doubt that the story is only just beginning. We can't wait to return to Busan in October for the 3rd stop on the 2023 APP World Tour, the prestigious Busan SUP Open taking place from the 7th – 9th October. Stay tune for build up, news and preview content as we lead into what will be a dramatic Asian leg of the Tour in 2023.
Next stop for the Tour will be in Viana do Castelo, Portugal from the 14th – 16th July: see you there!!