THE EYE RACE took place in the waters of Howth Sound and Ireland's Eye, Dublin, on 22 April 2023. Paddle hard and paddle fast was the name of the game in this inaugural SUP event.
Event 7 in The Irish Winter SUP Race Series, organised by Discover SUP and hosted at Howth Yacht Club, this brand new stand up paddle boarding competitive event attracted 26 entrants from all over the island of Ireland, ranging from members of previous Irish World Championship teams to first-timers.
Following an unusual week of intense easterlies and resulting swells, on race day the weather gods conspired to deliver low winds and relatively calm waters with small bumps, providing perfect conditions for an exciting and testing SUP race.
24 boards lined up on the start, divided into two classes – Class 1 for touring and race boards 11ft+, Class 2 for all-round boards 11ft and less. From early on Class 1 was led out by the current series leaders in their respective categories, Ross McGarry and Mary Dowling, as they took on their 11.5km course. In Class 2, current male series leader Paul Kiernan had a fight on his hands before he secured his lead position, while Sinead Murphy, brand new to the racing scene, took the 5.5km course in her stride as the only female in her category.
The choice of board style was a critical decision given the off-shore nature of the courses. The pay-off in choosing faster and narrower flatwater boards didn't come to pass for those riding them, as they fought to stay upright in the bumps of Howth Sound.
In the end, 23 boards crossed the finish line, as rain and hail came down in short bursts. But that didn't put pay to the energy and positive vibe as the fleet came ashore again to refuel in the comfort of HYC.
Class 1 
Mary Dowling – 01:34:20
Carla Milne – 01:48:56
Melanie McGimpsey – 02:00:57
RET – Maria McGivern
Class 2 
Sinead Murphy – 59:57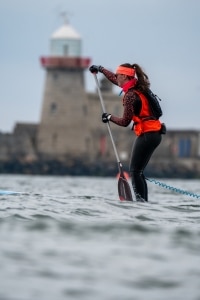 Class 1 
Ross McGarry – 01:14:41
Patrick McCormack – 01:22:08
David Mangan – 01:27:07
Ryan Vekins – 01:46:10
Gary Mcclure – 01:48:17
Patrick Murtagh – 01:49:46
Ed Ruane – 01:51:23
Steven Bishop – 01:52:37
Darren Cox – 01:55:27
Pierre Schneider – 01:56:42
Noel Munnis – 02:03:14
DNS – Karl Walsh
Class 2 
Paul Kiernan – 47:10
Colm Kenny – 49:12
Roy McHugh – 49:31
Conor Battigan – 51:05
Martin Rowe – 56:18
Ciaran Shorthall – 57:39
Gary O Connor – 57:41
Iain Hall – 58:35
DNS – Sean Halpin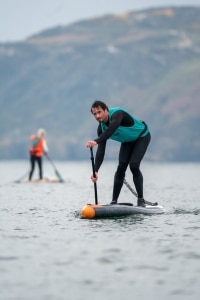 Eoin Kernan of Discover SUP, and Race Director, said after the race, "This has really put Howth on the SUP racing map. It was amazing to see Howth Sound filled with a different type of competitor from the regular sailors. I'm immensely grateful for the support received from our sponsor EXIT Watersports, and to Howth Yacht Club for their superb hospitality. I'd also like to thank our supporters Anulka, A.Blaney Photography, and Windy.app. We've taken feedback from the participants on how we can refine our race events, and plans are already afoot for bigger and better races this year. And then of course it's onwards to THE EYE RACE 2024!"
Discover SUP is an Academy of Surfing Instructors [ASI] accredited SUP provider, and abides by their high standards for SUP operations.