The Berlin SUP Race took place over the previous weekend in Germany and big names took top honours at the event. See the results below.
*Press Release: EuroTour SUP
Beautiful day in the water for  Berlin SUP Race around Eiswerder where the competitors enjoyed a great summer day.
For the fist time in the history of the sport an International SUP event took place on the capital and biggest city in Germany with competitors from 12 countries present.
On the men's side, the anticipated return of Michael Booth after a few weeks away didn't disappoint, claiming his first win of the season after pulling away from the Top 3 pack in the second half of the race.
Staying at the front for the first part of the race was Euro Tour 2022 ratings leader Ty Judson that finished 2nd. Not far adrift was Fernando Perez that looked solid all race to finish 3rd. With the best sprint off the line, Kaelan Lockhart finished 4th right in front of Bastian Grimm which closed out the Top5.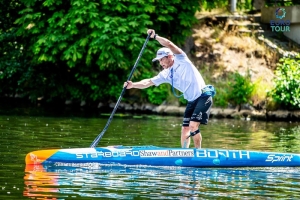 In the women's race we had a repeat of last weekend with the Top 4 rapidly separating from the rest. However it was the youngster Cecilia Pampinella that controlled the group for a back to back event win. The experienced Petronella Van Malsen came in 2nd with a frantic sprint to the line with Anna Tschirky for 3rd. In 4th was Susanne Lier with Tanja Ecker farther adrift closing the Top 5.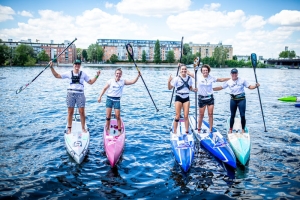 Top 10 Men:
Michael Booth
Ty Judson
Fernando Perez
Kaelan Lockhart
Bastian Grimm
Martin Teichmann
Alberto Casella
Tommaso Pampinella
Tomas Lelovits
Daan Meily
Top 10 Women:
Cecilia Pampinella
Petronella Van Malsen
Anna Tschirky
Susanne Lier
Tanja Ecker
Nicoline Rasmussen
Andrea Kammerer
Mandy Lehmann
Skadi Langbein
Maria Barrena