Welcome to our collection of the biggest news and stories that have taken place in the SUP world. Let's recap what happened in 2021.
Jordan Wylie: The Great British Paddle
-
January
Sadly COVID-19 brought an end to the world record attempt by Jordan, to circumnavigate the UK on a SUP.
However, the video logs he and his team have produced are nothing short of amazing. There's a collection of 22 episodes to watch on YouTube so start binge watching some epic SUP crossings and adventures.
The whole SUP community is proud of you Jordan.
Planet Patrol's 2020 Litter Report
-
February
Planet Patrol has created an app to track litter and led a citizen science program for us paddlers to log how much trash we collect when we go paddling. They have recently released their findings from litter collected during the year 2020 and the numbers are shocking.
Make sure to read the full report, find out more about Planet Patrol, download the app and collect any waste you see when you next go paddling.
Waterbourne Beach Festival
-
March
The Waterbourne Beach Festival houses the National Championships for New Zealand's SUP racers. Taking top honours in the women's sprint was Jo Aleh, whilst Ollie Houghton took home the gold in the men's sprint event.
You can head over to the Facebook Page for more videos and photos from the weekend.
320km SUP Along The River Thames
-
April
Julia set off along the River Thames, UK with Mike Smith and they completed the 320km journey along the Thames. Raising Awareness and funds for stem4, a charity supporting teenage mental health, the 10-day journey took them the full length of the River Thames.
Make sure to follow up with the SUP Thames Challenge via their Website, Facebook & Instagram pages.
Casper Steinfath SUP Foils Kattegat
-
May
In what is by far one of Casper's greatest achievements, he has again managed to cross a Sea using a form of SUP discipline. This time, his challenge was to cross the Kattegat Sea by SUP Foil, a 120km stretch of water between Denmark and Sweden and he completed the feat in 10 hours 53 minutes.
Red Bull Midsummer Vikings
-
June
What a full on 24 hours of action the Red Bull Midsummer Vikings was! Casper Steinfath is the man behind the event and he brings a high level of energy to this fun and immersive event. Teams of paddlers circled the 5km route for 24 hours with the quickest team making 43 laps! Woah!!
See photos and videos from the event on their Facebook Page.
Cal Major: 1000km SUP Around Scotland
-
July
Paddleboarding vet completes 1000km round-Scotland ocean challenge ahead of COP26.
Cal Major, a vet, world-record stand up paddleboarder and ocean advocate, has completed a never-done-before 1000km round-Scotland ocean SUP expedition. During the two and a half months it took her to complete the expedition, Cal experienced enormous Orca paddling under and around her board, huge tidal races around Cape Wrath and epic night crossings.
 She also came across a floating dead humpback whale calf, entangled in fishing gear, suspected to have drowned, and she rescued a gannet with barbed hooks through its feet and body.
Cal was joined by partner, photographer / film maker and fellow ocean advocate, James Appleton, in a kayak who documented the entire journey.
Cal's message is clear: our ocean is essential for all of us; we need to urgently reconnect to its importance, and to properly protect its ecosystems from harmful human activity and pollution.
SUP Safety Refresher
-
August
It's reported that 80% of all callouts for water rescues by the RLNI in Scotland for July were for paddle boarders. Offshore winds, changing tides, weather conditions and exhaustion were the main factors with the rescues, however we know that it stems from a lack of knowledge or understanding.
SUP is relatively cheap and accessible water sport for many and because of this, it's easy to grab your board and head out before checking any weather forecasts or hazards. Because of this, SUP organisations around the world have released safety checklists and advice for all paddlers. And in exciting news, we are launching our SUP Safe awareness campaign and videos aimed at providing paddlers with the complete knowledge and safety of all aspects of paddling, so stay tuned for this. In the meantime, check out some safety checklists.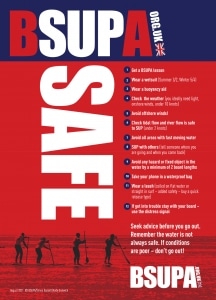 The Long Paddle: Brendon Prince
-
September
Brendon Prince has circumnavigated mainland Britain in 141 days. He has broken records, paddled over 4000km, welcomed support from around the country and more importantly is a step closer to realising his dream creating a water safety based app.
Brendon showed us that determination, a well planned route with backup options and a positive attitude can get through anything. We're all very impressed and proud of Brendon completing this mammoth journey, one that has broken long distance paddling records, circumnavigation records and many more.
By attempting this massive endurance record, The Long Paddle inspires the people of this island nation and beyond. The Long Paddle legacy is to create the worlds first gamified, interactive water safety app.  The app will have specific locations so you can play the app on the way to the beach!  It will also have all the essential water safety and drowning prevention information to stay safe at the coast or inland waterway.
Well done Brendon!
720km Tandem SUP Expedition - Kev Brady & Ylva Linn Hatlebrekke Paddle Scandinavia's Longest River System
-
October
Kev Brady and Ylva Linn paddled source to sea along SUP Scandinavia's longest river, The Klarälven, a 720km journey. The river's source is at Lake Rogen in Sweden, flowing west and southwards through Norway and back into Sweden where they paddled through Europe's biggest lake, The Vänern, before reaching the Baltic Sea.
Make sure to check out their instagram channels for daily updates as they traverse the final waterways to quite possibly take the title of longest tandem SUP expedition: @kevbrady8 & @ylva.travelyogi. And track them live here: https://z6z.co/klaralven/
They raised funds for SeaSisters who are showing new possibilities for local girls and women in Sri Lanka through the ocean, where women are hardly seen. SeaSisters share the same beliefs that women deserve the same opportunities as men and also believe that swimming and surfing can serve as powerful tools of social change. Check out the GoFundMe page to donate to this incredible cause.
As a SUP Yoga instructor I thought I was ready for this… turns out I'm not! The longest distance I've ever covered on a SUP is 10km in good conditions, this trip is 731km in all kinds of conditions (including portaging a giant tandem board and heavy bags – most days on slippy rocks). My body hurts everywhere possible and it's getting colder everyday.

I've realized that this trip is gonna take a little bit longer than I thought. Besides having a proper adventure and gaining a great experience from this, I would love to give this journey a deeper meaning.
– Ylva
The Carolina Cup is a major competition in the SUP racing community being one of the biggest events each year. Held over the weekend of the 5-7 November 2021 by the Wrightsville Beach Paddle Club, athletes competed not only for the title, but also to qualify for a spot on the 2022 APP World Tour.
The long distance Graveyard Race and the technical sprints make up the competition for the SUP athletes with demos and other events happening all weekend. April Zilg won both the Women's technical sprints and the gruelling 13.1 mile flat water Graveyard Race to solid her #1 spot for the weekend. Meanwhile, Danny Ching retuned as strong as ever to long distance racing with a win on the 13.1 mile course, whilst Connor Baxter powered home in the Sprints to narrowly overtake Christian Andersen. With Connor's solid effort in the Graveyard race, he took home to overall champion's trophy for the weekend.
Click the link above for more information and the full results.
TransPac Wing Project: 2nd Attempt
-
December
A project to be the first human to Wing-foil across any ocean, completely unsupported and unassisted, from California to Hawaii. Powered only by a Wing and the wind, while simultaneously collecting valuable & unique data for science and raising awareness and action for climate change, Chris is attempting the impossible. In fact, his motto I'mpossible strives to inspire the next generation to take on new challenges to better themselves and enrich their lives.
We'll be watching very closely.
A Selection of SUPboarder News ion December 2021
-
Our Favourites