Red Paddle Co have released the All Terrain Backpack Transformer, a new iSUP bag included with all 2022 board purchases.
*Red Paddle Co Press Release*
Introducing the All-Terrain Backpack Transformer – The Best Just Got Better.
We've taken our industry-leading inflatable SUP backpack and reworked all the key elements to make it the ultimate bag to transport your board. Ultra-durable, adaptable and designed to take your board wherever you want. The revolutionary 3 in 1 bag allows you to do what we all love and Explore Your World. Available exclusively with all 2022 Red Paddle Co boards.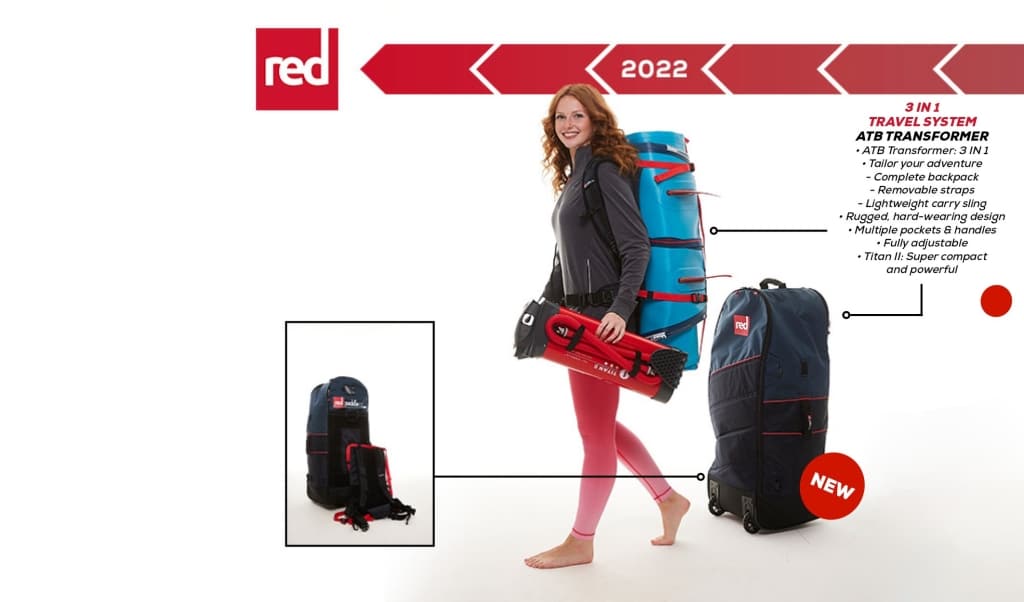 The new integrated lightweight carry system allows you to strip the bag down to the core essentials of a fully supported, ergonomically designed back support and straps. Carrying your board and accessories to the water has never been easier. We designed the ATB Transformer to be adaptable no matter where you're taking your paddleboard. Transportability and adventure are at the heart of what we do. We want you to be able to take your board for an after-work paddle in the city rolling from office to river, throwing your board on your back for a weekend adventure by the lake, or hiking to a remote waterway you've always dreamed of with just your lightweight sling. The ATB Transformer is designed the be the ultimate paddleboard bag with everything you need to be included but stripped back and easy to pack away when you don't need it so you focus on your paddling adventure.
It's the little things that make a big difference. The ATB Transformer is packed with super cool premium features to make transporting your board less of a hassle. The highly engineered and adjustable ergonomic support for your shoulders and back which are fully customisable to your height, ensures that the bag will take care of your body under load. Plus, new compression side straps so you can reduce the size of the bag when needed making it easier to carry and transport.
Made from ultra-durable and hard-wearing fabric designed to give your board the ultimate protection, everything about the ATB Transformer is designed with epic adventures in mind. Chunky lockable zips and large all-terrain wheels will allow you to push the boundaries of your adventures.
These new bags come with every 2022 board purchase from Red Paddle Co. We're stoked with the innovation coming out of the SUP market right now and are excited by what's to come – not only from Red but all brands.